New Mama + Baby Holiday Gift Guide
---
Shopping for a new mama this holiday season? Or even a new mama and her baby (it's all the same when they're that little right)? Before I head off on my trip for tennis lessons in San Diego, I have got you covered! New moms get inundated with clothes, something they probably have tons of already, so this holiday season I am going to give you some other options that are sure to wow every new mom! These could be seen as gift ideas (from somewhere like https://www.gifttree.com/v3/new-baby/gift-baskets) if you are planning on attending or throwing a baby shower and want to extend your gift giving.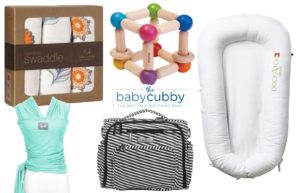 First up, you have to make this easy on yourself. The Internet is an intimating place with lots and lots to choose from so that's why I always suggest heading straight to The Baby Cubby for any mother/baby/toddler products and gear. The Baby Cubby is an online retail store (with some physical locations as well) that is passionate about finding and stocking all the newest and in trend mother and baby products on the market. They are truly your one stop shop and you know you're getting brands you can trust. The Baby Cubby price matches as well so you know you're getting the best deal for the best products. This is not your average baby store but a community you can trust! Since they go out of their way to only stock the most popular brands on the market, the gift receiver is sure to love just about anything you choose from their site. They do all the research so you don't have too!
$0-$50 Budget:
If there is one thing every new mom will love and appreciate it's a super soft blanket or swaddle. I could have 20 and I would use every single one. It's also something that every mom may not splurge on for herself/baby so this is a great/go-to gift for new babies. My two favorites are:
Kickee Pants Swaddlig Blankets like this one found HERE. They are silky soft and feel like pure butter on your skin. These are hard to compare to once you own one!
My second go to is Aden + Anais Soft bamboo Swaddle Blankets. Most people don't know that there are two different options when it comes to these swaddles but make sure (in my opinion) you buy the bamboo swaddles because again the softness just can not compare! Find them HERE!
They also offer a wide range of infant/toddler toys, which are unique and sure to please! I plan to get some stocking stuffers here for sure!
$50-$100 Budget
The Baby Cubby is known for putting together some killer bundles and one of my favorites is actually on sale right now for just under $100! It is this Infant Bathing Bundle found . I LOVE baby bathing products. The smells and textures are all just so refreshing and this is sure not to disappoint!
One must have that I am so glad I was gifted as a new mom was my baby wrap. I wore my babies at ALL times and quite frankly it was the only way I could get things done. You know, like cooking dinner, cleaning up…starting a business! This is one gift you will be thanked a million times over for! These Happy Baby Wraps come in tons of great colors to choose from. This mint one found HERE is super dreamy!
$100+ Budget
Okay, in this price range you can be sure to knock it out of the park with these options. So listen up closely fathers, mothers, grandparents because chances are you're the ones reading this far (ha-ha):
My go-to recommendations these days go to the one and only DockAtot baby lounger and sleep positioners. We have the DockAtot Grand that we use for lounging and even using it now as we transition our 17 month old to her big girl bed but these infant ones are SURE to be just as amazing. I received one not to long ago and have been using it when I babysit my 10 week old nephew and the boy sleeps like a rock in it! It creates the safest/comfiest, most ideal spot for your baby to sleep. Bonus is it's lightweight and portable for your traveling needs! Find the one we have HERE.
No mom can resist a new diaper bag. Especially when it's as practical and beautiful as the Ju Ju Be B.F.F Diaper bag. I can say this because well, I own THREE Ju Ju Be diaper bags. I am beyond obsessed and the functionality of these is beyond superior to many other brands on the market. The Teflon anti-stain coating and machine washable fabric are enough to get me on board but then you add the amazing styles and it's a home run, out of the ball park for any mom! Find my current favorite one HERE.
And lastly I am putting this one here because although it's pricey, I have been crushing HARD on these for my two girls. The Stokke Tripp Trapp, grow with your child, seat is the perfect highchair from infant hood into childhood and any mom could only dream to have one! This is a seat that any new mom will love but as the gift giver you know it's something that will be used for many years to come. You can find the different color options HERE.

If you're taking gift-giving a bit more seriously this time round, you may want to consider gifting the new mom that you know something like a home camera system. Not only does this make their house more secure and safe, but they can monitor any activity in the house; whether that be from household pets or their child (when they're older, obviously!). If this interests you, you may want to check out these home security cameras reviews to help get you started.

Good luck to everyone and your holiday gift buying this season. Whether it's an option listed above or anything else found at The Baby Cubby you are sure to please that special person in your life! Enjoy!