Getting Out With Newborns
| This is a sponsored post. All insights are 100% my own. This post contains affiliate links. |
---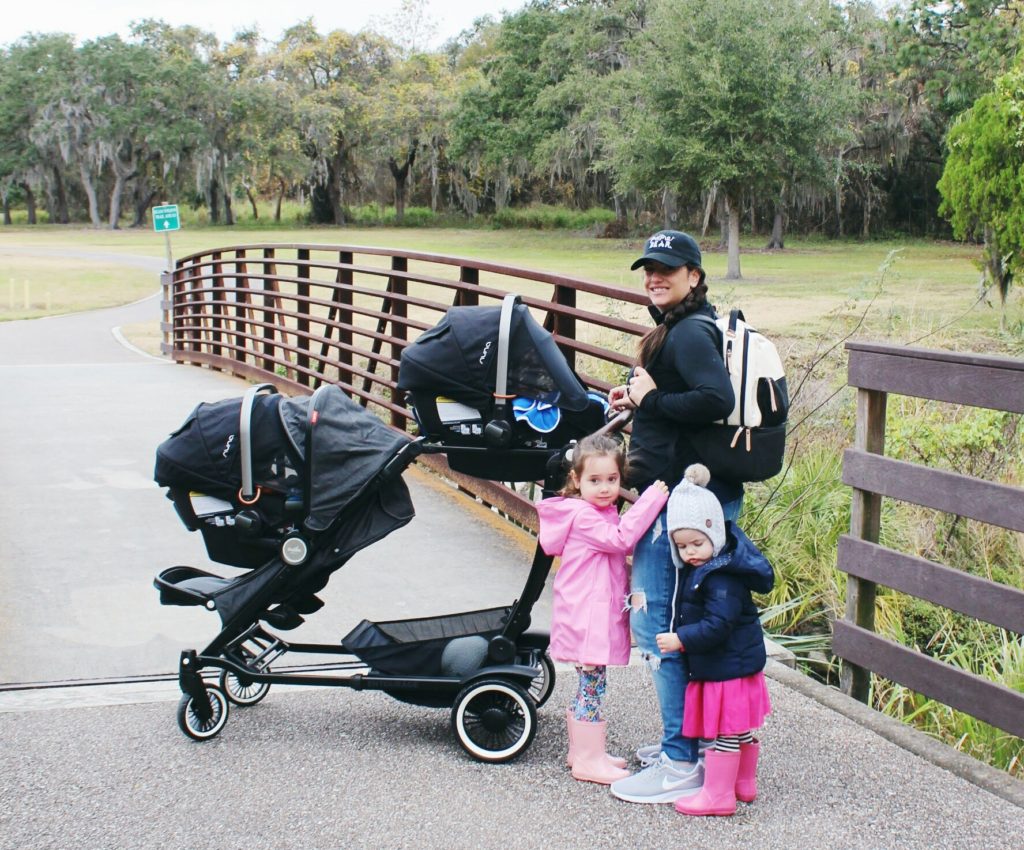 Bringing baby home comes with a lot of stressors. Even after welcoming our 3rd & 4th babes two months ago I still get nervous leaving the hospital. It still blows my mind that they don't come with some kind of an instruction manual or hazard warning! I joke, but I think we all have that moment of realization that these little humans rely solely on us and we don't want to mess anything up. One of the things they tell us right away is to keep babies home until 3 months of age because the chance for infection is so high. I totally get this, I am the queen of worrywart land (just ask my friends!) but FOR ME staying home just isn't an option with two toddlers as well. I have to say that this is in no way me saying it's okay to take your newborns out before that time frame and no matter what you should always solely take the advice of your pediatrician because that I am certainly not! But I am happy to share with you a few things that have made my life easier while getting out with newborns when need be.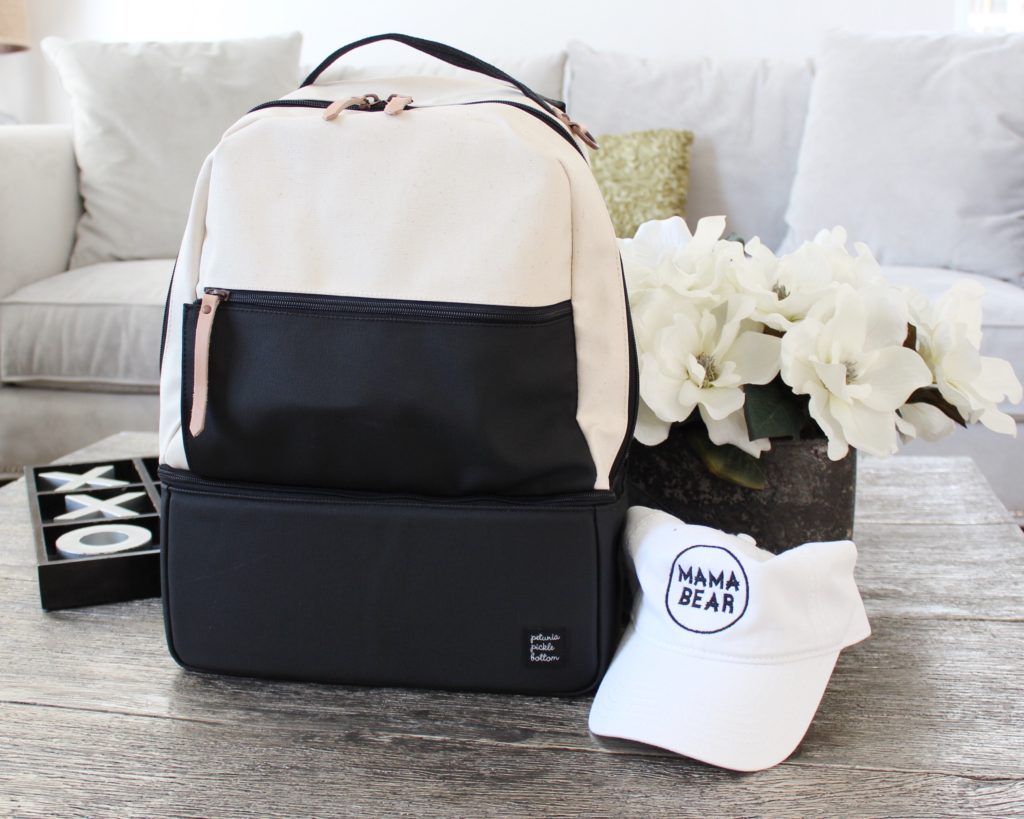 Be Organized + Pack Smart!
Honestly I could just leave it at that because the key to getting out with newborns is JUST THAT. Be prepared! The great thing about newborns is that they sleep most of the day anyways but something they do almost as much as sleep is eat and poop so be prepared for that! My number one advice for being prepared while out and about with newborns is a functional diaper bag. I have recently fallen in love with the Axis Bag by Petunia Pickle Bottom. It's totally drool worthy for any mom on the run! I am forever a fan of backpack style diaper bags because being hands free is so important for me. The wide and padded straps on this bag make it super comfortable to carry, even when I have it packed to the brim (which I usually do!) So we probably all know the basic diaper bag needs: diapers, wipes, bottom balm etc. BUT having room to throw all those items in a bag doesn't exactly make a bag functional to me. Function to me is how accessible everything is when I am actually out and need said items. That is where the Axis bag takes functionality to the next step with their zip around insulated bottom section specifically designed to fit their new Inter-Mix Grid Caddy. The Grid Caddy is a 3-in-1 organizer that can fit in the bottom of an Axis diaper bag, be strapped to the stroller or sit next to your changing station at home. It really is an all in one option to always be organized no matter where the day takes you! The caddy has easy to grab handles for transport that are also easy to attach to the base of the caddy when they aren't in use. Even better the whole caddy is machine washable! Here is mine with some basic essentials that I can't leave home without. Another essential when leaving the home with your little one is a legal contact, my friend recently had a fall because there wasn't sufficient signage around the area to warn for hazards. She thankfully had gainesville personal injury lawyer at hand to help her out.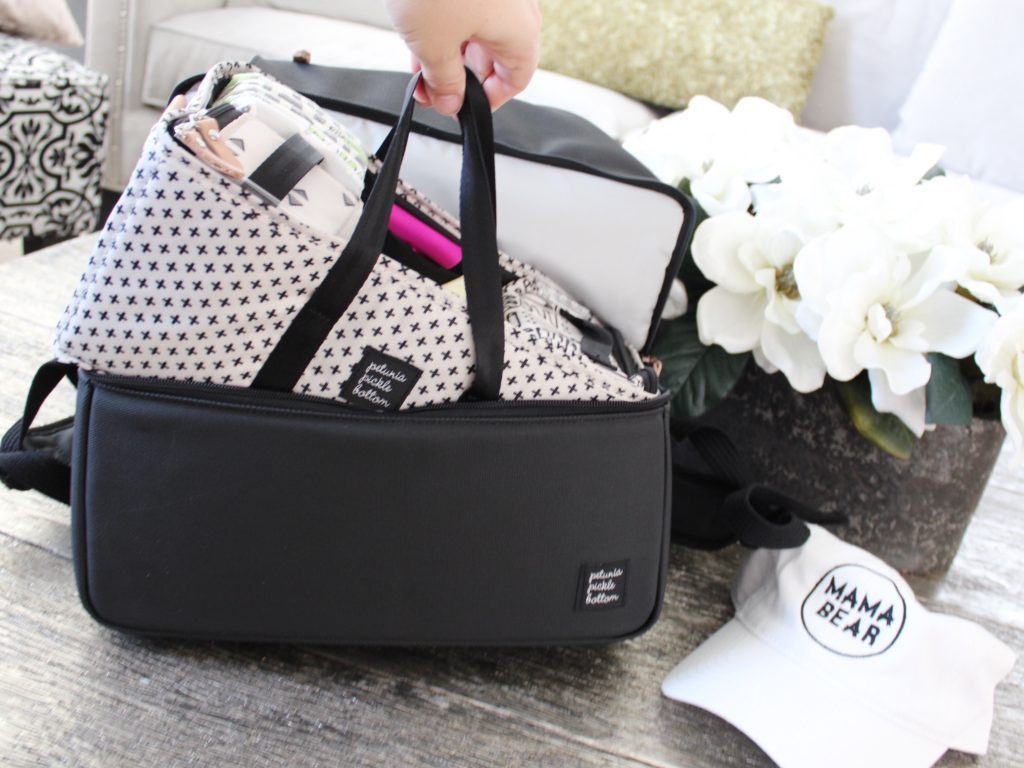 A few other must haves to make getting out with newborns are the following:
Infant Car Seat: I recommend getting an infant seat for your newborn instead of going straight to a convertible carseat because it makes it so much easier to be able to leave your sleeping baby be and just transfer your carseat to a stroller.
Stroller Travel System: Speaking of strollers definitely find one that can be compatible with your carseat. I have recently fallen in love with the Austlen Entourage Stroller, which is great for 1 or 2 children. You can use it with two infant seats, one infant seat and one kid seat, two kid seats, one kid seat and storage and so on. The options seem endless with this stroller and you can check out all the configurations HERE. I currently use it for the twins and it's made getting out and about super easy. The storage underneath the stroller has a high weight limit to make it easy to carry whatever I need. I often use this stroller for grocery store/target runs and use that bottom compartment to put my basket. I always wondered how I would ever get grocery shopping done with twins but so far it hasn't been too difficult with the help of my Austlen.
Travel Sound Machine: I found these little on-the-go portable monkey sound machines on Amazon and they have worked great for us. They block out the outside noise and help ensure the babies get some good/uninterrupted sleep even while being toted around!
I hope this helps you brave getting out of the house with your little ones! Enjoy!
---
Follow along for more on Instagram!
---

---

SaveSave
SaveSave
SaveSave
SaveSave