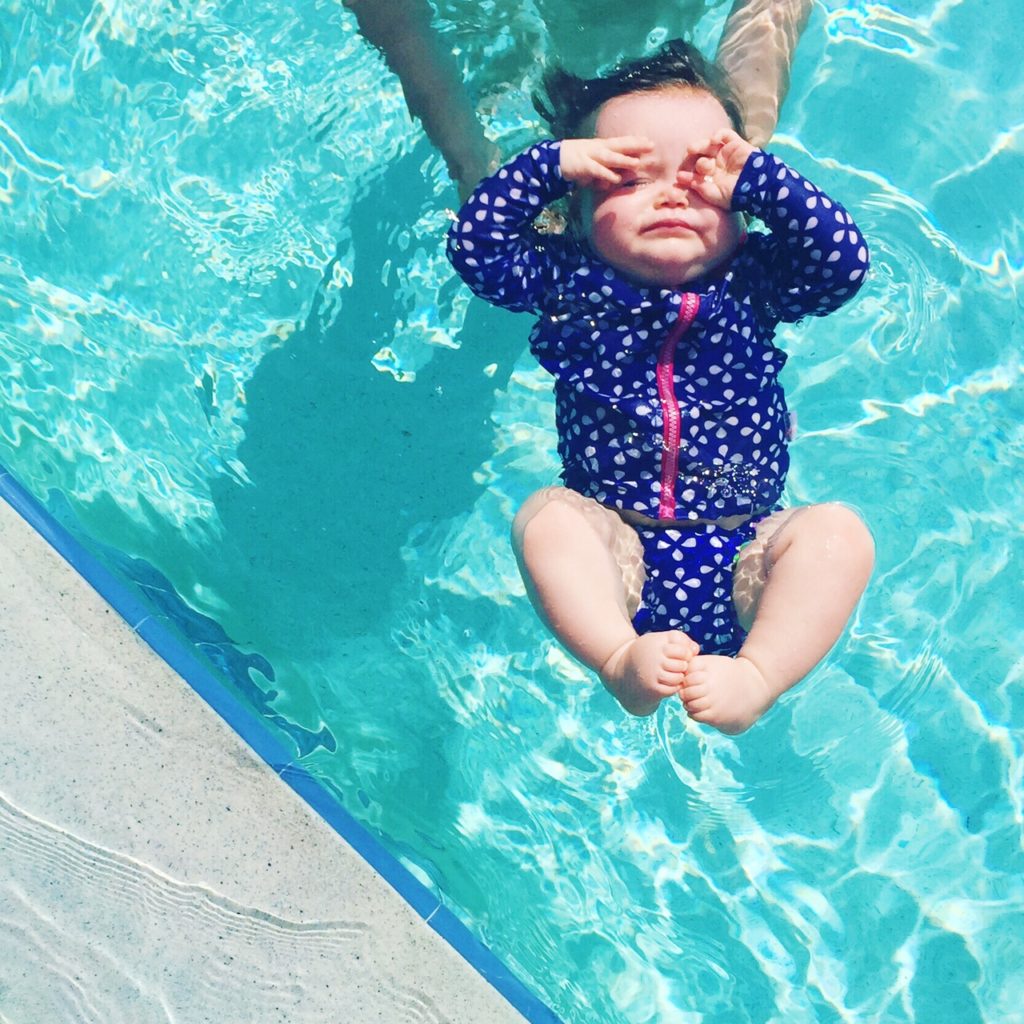 It's amazing to me the things that go viral on the Internet: Crazy dance moves, parodies and of course the occasional mom shaming. Well recently a video went viral of a 7-month-old baby falling into a pool and rolling herself over to the float position. This is called ISR or Infant Self Rescue. It's a technique that is taught to children as young as 6 months old. BOTH my girls started ISR lessons before age 1. One of my daughter's started at 6 months and one started at 9 months. This was because of how the seasons worked and the pool being warm enough to swim. Well after I heard about this story on about every news station I turned to today as well as social media I decided to give my two cents, or really MY 5 reasons why my kids started ISR before age 1.
First, I just have to say that I hate that people even got mad about something another mom posted about their child. My gut reaction is that it's not ANY of their business what another mom deems safe/important for her child (in this capacity). But with that being said here are my reasons and why I am such a firm believer in ISR swim training.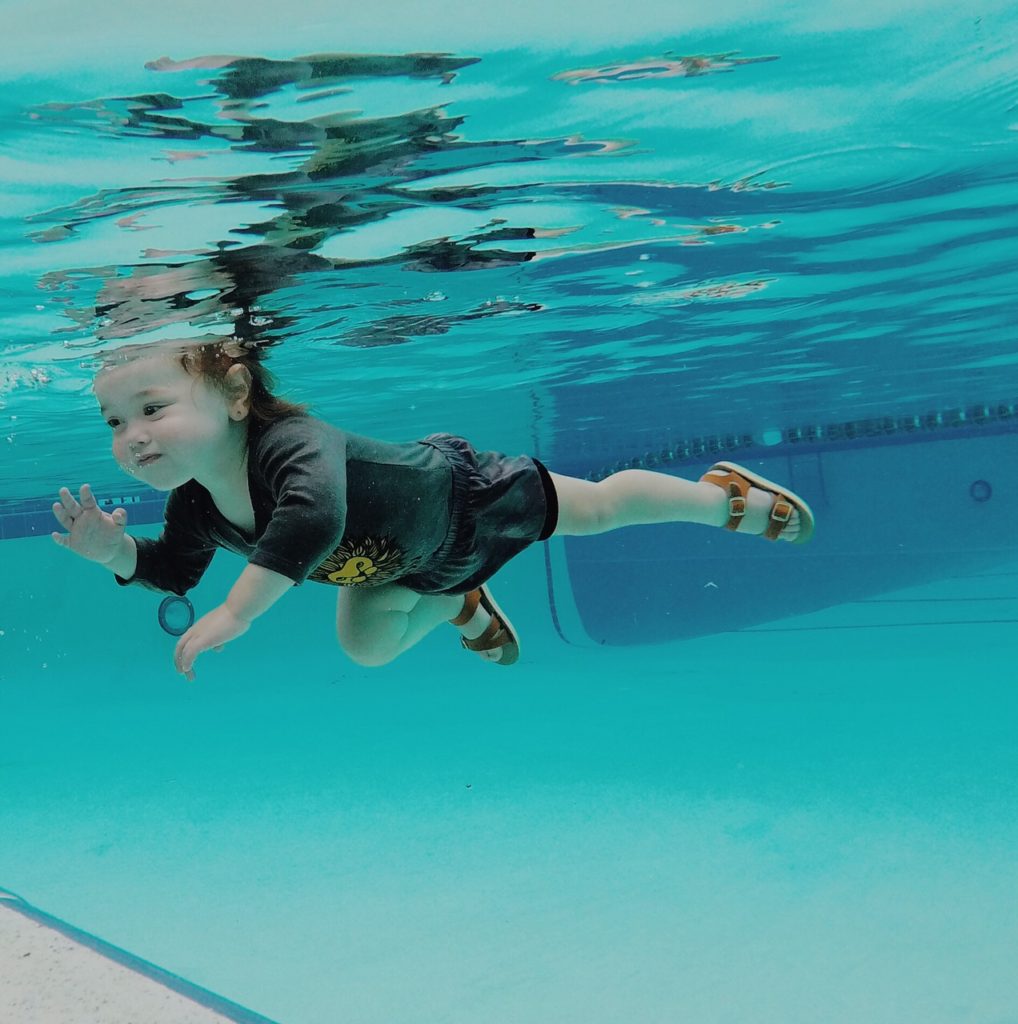 Their mission is, "Not one more child drowns." Who CANNOT get on board with that? These instructors are highly trained and backed by over 45 years of research, which shows in its extraordinary results. Over 4,000 children drown a year proving that there is more to water safety than traditional methods have thought. Chances are when your child falls in the pool they wont have floaties on their arm or a pool noodle near by to hang on to. It will be them and the water and their life will rely on the skills they either learned or didn't learn. I can tell you right now, I want my girls to be prepared if, God forbid, they were ever put in that position. ISR teaches a child who falls into the pool to immediately roll over, rest and breathe giving them a fighting chance of survival until help arrives. Children over the age of one, or generally more mobile, will learn the full rescue technique that teaches them to swim until they need air, roll on to back, rest, breathe and then continue to swim to the nearest wall.
Swimming is a skill; the water is not a joke. Yes swimming pools are there for entertainment but children need to learn to respect the water before they can enjoy the water. Putting floats on your child gives them a false security that if they jump in they will automatically pop back up and be supported. It doesn't take a rocket scientist to know that if they jump in without the floats, the same reaction won't happen and chances are they'll panic. And if they panic, chances are it won't end well. When a child learns the skill of ISR they learn exactly what to do in that situation and just like riding a bike, as soon as they hit the water their bodies will be on autopilot and do exactly what they have been taught to do: roll over, rest and float.
It's important to know that this doesn't mean you can leave your kid unattended at the pool or not put a pool fence up because that is obviously not the case. No child is drown-proof. You still need to take every precaution so that your child never HAS to use this skill but by them learning it, it is just another safe guard for them. With that being said, my oldest daughter is now 2 and she has been full on swimming since 18 months. She still goes to lessons for refreshers and she loves it! She is eager to jump in the pool and she knows how to safely enjoy herself while in the pool. They may not all like the lessons at first but it is for their own safety and now my older daughter is at the point where she looks forward to lessons and is sad when they're over. SO yes when the babies are young, they cry, they hate it, they're struggling but I can attest that it wont be like that for long. They're learning a skill and it takes time. My child protests getting a diaper change but I obviously don't plan to just leave her sitting in poopy diaper all day long. I have that same train of thought when it comes to ISR swim lessons.
The whole secondary drowning debate. These lessons have years of research behind them. Over 45 to be exact. Lessons are 10 minutes long for this exact reason and if your child is doing the technique correctly they shouldn't even be inhaling any water in the process. Inhaling the water while struggling in the water are the biggest leads to secondary drowning and ISR instructors are taught specifically what to look for. Since they started they have delivered over 7,750,000 million lessons safely and the training these instructors go through ensures that they are keeping your child safe while teaching them these necessary survival skills.
Lastly, as a parent it is natural to think of all the safety hazards that surround our children daily. I anchor my furniture to the wall, I cut their food in to small pieces, make them wear a helmet on a scooter and I ensure they are up to date with ISR swim lessons. It's something I find important for my children and all children, especially those who live near the water or has a pool at their home.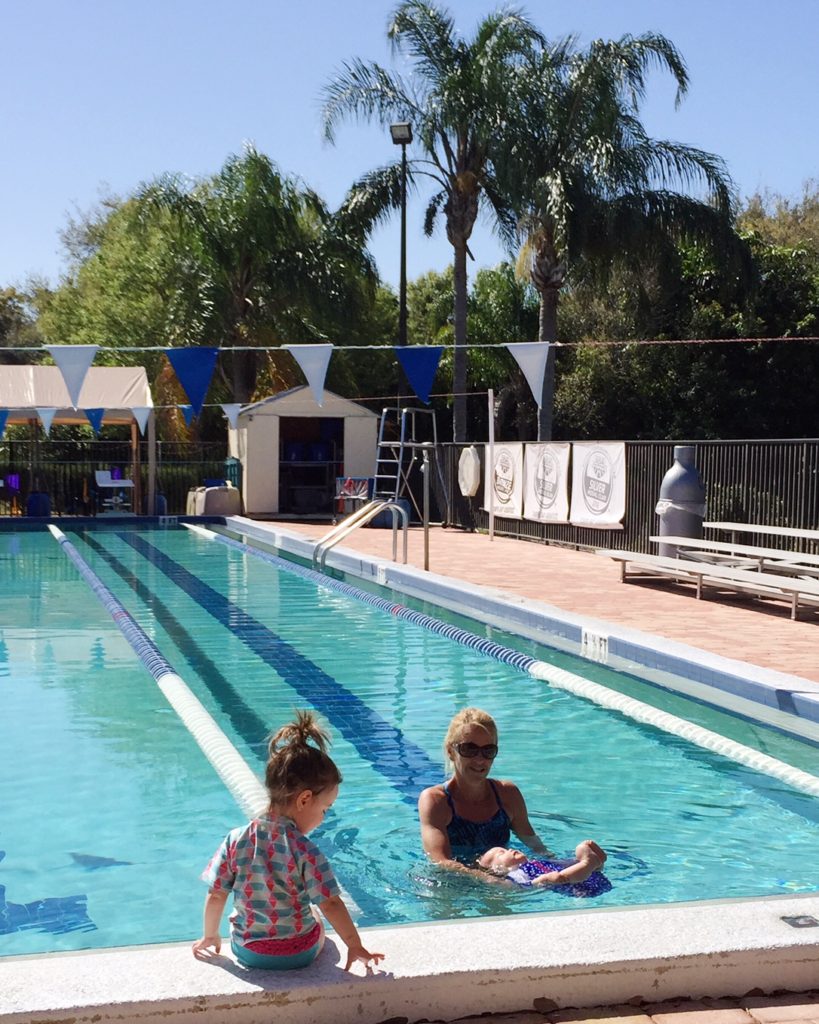 For more information on water safety according to ISR visit HERE. And to find an ISR certified swim instructor near you visit their webpage HERE.
I'd love to hear about your feelings on this! Leave them below!
Xo Noelle