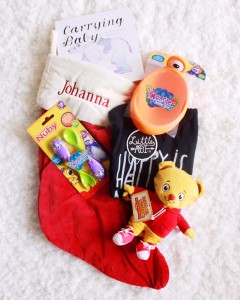 So I'm sure you have heard of the new and popular "Christmas Eve" boxes for your children but if you haven't, let me sum it up. The idea is to give your child a special box on Christmas eve containing the following: "Something to wear, something to read, something you want and something you need." Now, I do think this idea is very cute however I feel like Christmas eve is special all on its own, without any gifts. The anticipation of gifts, in my mind, is what makes Christmas eve so magical! So in true Noelle fashion, I took this idea and added my own special touch to it. I decided I would use that mentality while thinking up some stocking stuffers for my girls. Growing up we always loved our stockings just as much as the gifts around the tree and I wanted to make sure I passed that along to my girls too. I'm not a fan of stuffing the stockings full of candy and useless little toys so I wanted there to be some kind of structure to the process. This also helped me avoid "over stuffing" them as well. So short and sweet, here is an example of my almost 2 year old's stocking stuffers:
Something to wear: This adorable shirt from one of our favorites, @littleadico
Something to read: Johanna got her own @sollybabywrap recently to match mine and I know she will love this baby wearing book from them as well.
Something you want: She is Daniel Tiger obsessed and always wants stuffed animals when she sees them so this Daniel Tiger plush will be a huge hit for sure.
Something you need: Everybody needs to eat, so why not make it fun. These new Monster toddler bowl/Monster fork & spoon from @NubyUSA will be the perfect accessory to meal time in our household!
And just like that, we have one stocking down and one to go! I hope you all find this idea helpful when filling your stockings this Christmas!
Xo Noelle