Twin Bedtime Routine: Get Your Babies To Sleep With Ease
| This post contains affiliate links. |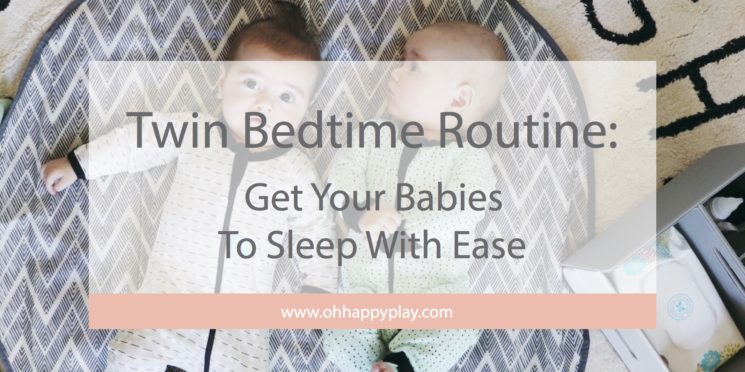 ---
I think any twin mom who has had singletons previously can agree that there is a lot we took for granted when caring for one infant at a time because a twin bedtime routine is NO joke. I knew right away when we brought the twins home that their bedtime routine would look nothing like that of their sisters. I am one of those strange ones who has always enjoyed bedtime with my girls and it's always a peaceful time for us to all unwind together so I didn't want disturb that when we introduced the twins into the mix. My old self can now laugh at my new self because I now know that yes it will be totally different but it doesn't have to be as stressful as it may seem. SO with that said here is how to conquer bedtime with twins and make it so that it is still an enjoyable time to wind down before it is off to sleep!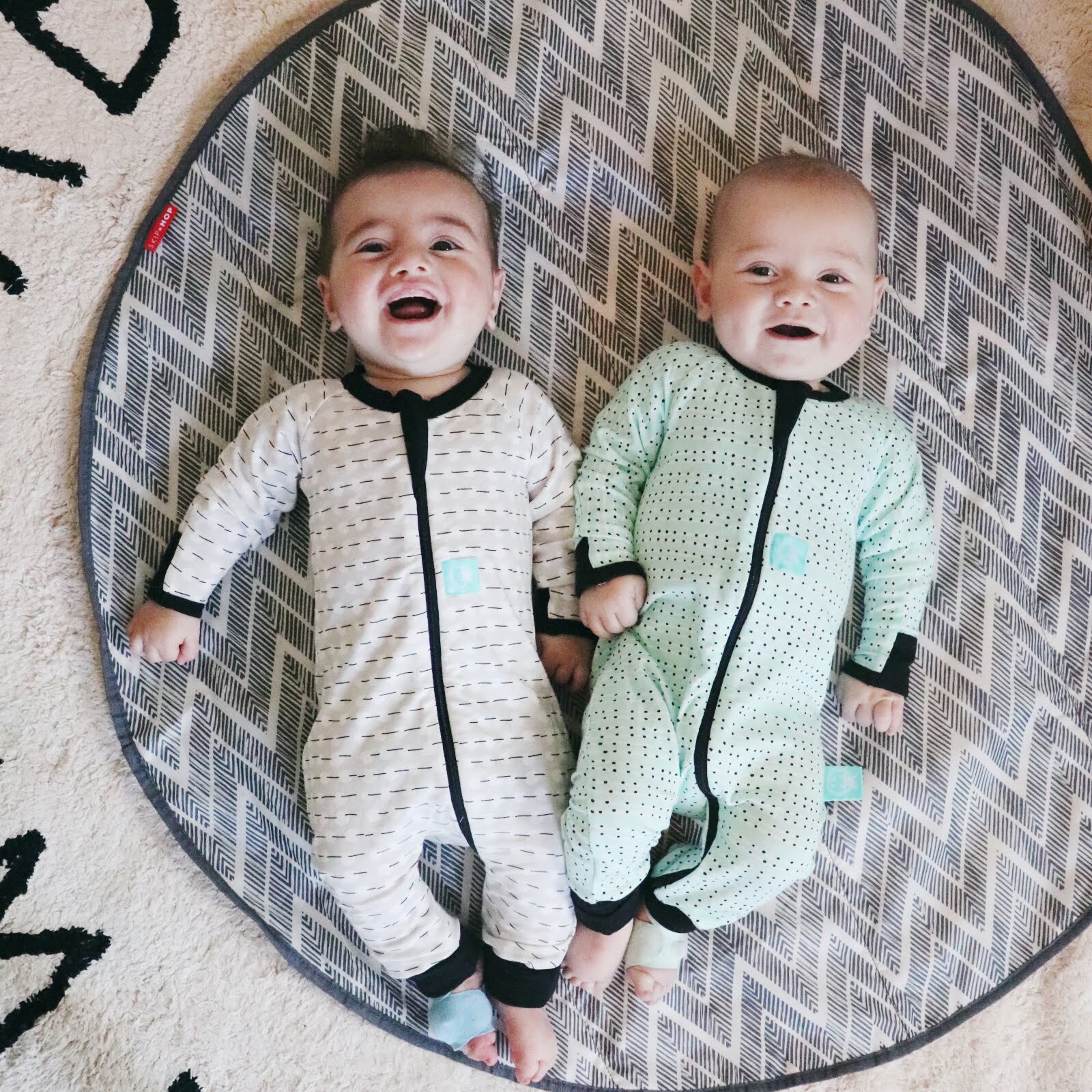 Twin Bedtime Routine
TIME:
Let me start with this. The earlier your child's bedtime, the longer and better they'll likely sleep. Please don't click away yet, I am NOT CRAZY, I promise! It's true! A lot of times the reasons babies don't sleep well is because they're over-tired and over stimulated. Keep a schedule through the day for your babies (you can view ours here– it has since changed a bit but generally speaking we follow this flow) and make sure they are getting consistent/adequate naps. I like to try and make sure they get at least one really good nap, in their crib, every single day. SO for bedtime – pick a time between 6:30pm-7:30pm and make that your babies' bedtime. Try to recognize a time that your babies are usually most fussy and make your bedtime right before that (spoiler alert – they're telling you they're tired with all that fuss). Once you pick a time, stick to it! Kids NEED routine. They need to know that when this time rolls around, bedtime is near and that is my #1 tip when it comes to creating a twin bedtime routine.
ROUTINE:
As mentioned above, babies are creatures of habit. By making a routine and sticking to it EVERY single night, they will just be robots to your schedule. And with that, they will again know bedtime is approaching. When you have twins it is so important to do everything with them (as far as scheduling goes) together. For this reason I make our bedtime routine for them centered around the BOTH of them. Instead of changing one baby, getting one baby dressed then the other and ultimately leaving one not being attended to alone, I like to bring it all together and make this a time we can enjoy simultaneously!
Our twin bedtime routine is this:
Soft music – Lotion – Diaper Changes – Pjs – Bottles (Or breastfeeding) – Lay Down In Crib – Sound Machine on – Leave the room and the boys put themselves to sleep and sleep until 7-7:15am!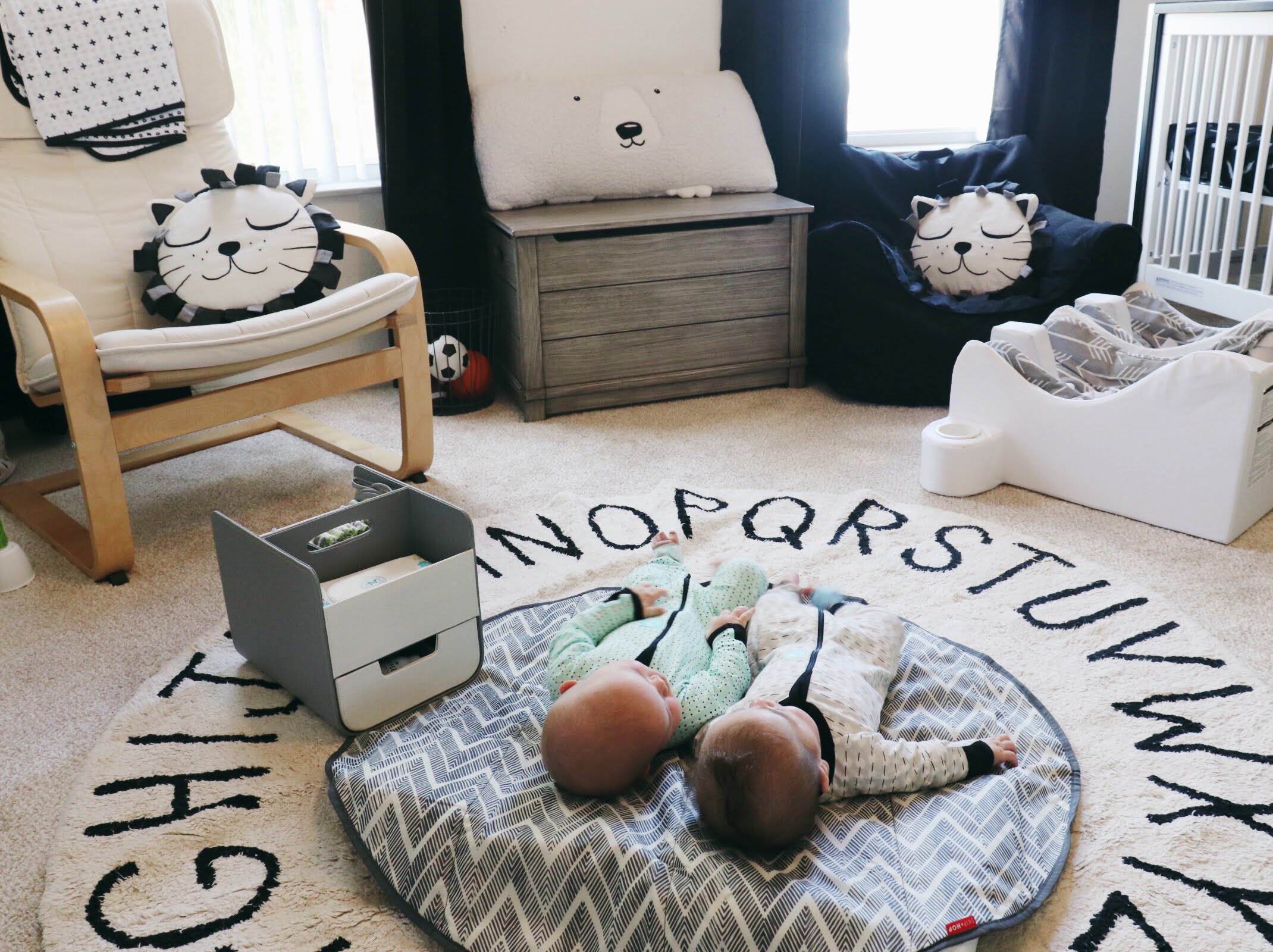 How to Set Up Your Bedtime Routine
Here is how I accomplish getting bedtime done cohesively: 
Have everything set up on the FLOOR! Being on the floor allows you to have hands on both babies and interact with both babies through the whole routine. No baby is left unattended to in another area of the room. They both get to be a part of the whole routine.                                                            
Two key parts to my set up are:
Skip Hop

Grab-and-Go Round Trip Travel Mat

– I use this to have a clean, easily wipeable spot for diaper changing, pjs etc. Having them on the floor is crucial to bedtime with twins and having an area dedicated to just that really helps!

B.box Diaper Caddy

– I love having all my diaper changing baby needs in one place and the great thing about this caddy is you can take it anywhere. During the day it's on the changing table and at bedtime I take it down to the floor with me. It also comes with its' own little changing pad for taking all around the house for easy diaper changes anywhere (or even on the go!) Everything I need is right there in one place!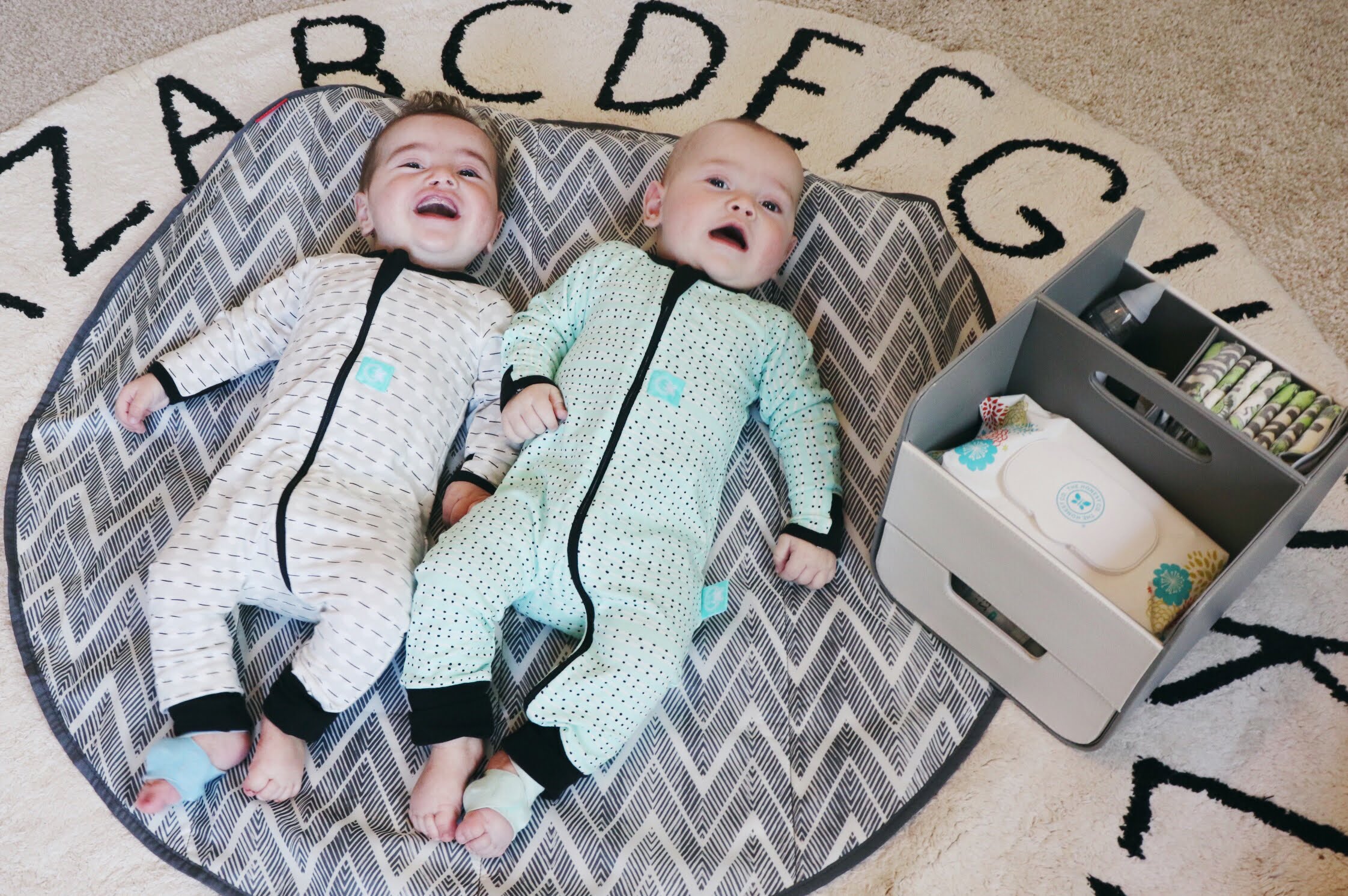 Once you have your area set up you can just easily go back and forth between the babies doing lotion and diaper changes etc. I like to play some soft music during our routine (as mentioned above) to signal their brains that bedtime is near so for this I just use my phone! I get them all set up with pajamas and their Owlets (with separate sock colors) then I move them to our bottle feeding area. 
Pajamas: I have to brag on these new pajamas I have found so useful! They are from Ergo Pouch! They are SO soft and super functional with the double zipper function that you all know I obsess over! BUT these also have another cool aspect. They can either be footless OR have feet covered with a flap that folds over to cover their feet (similar to how hand mittens work on sleepers). I love it! Shop these ones HERE.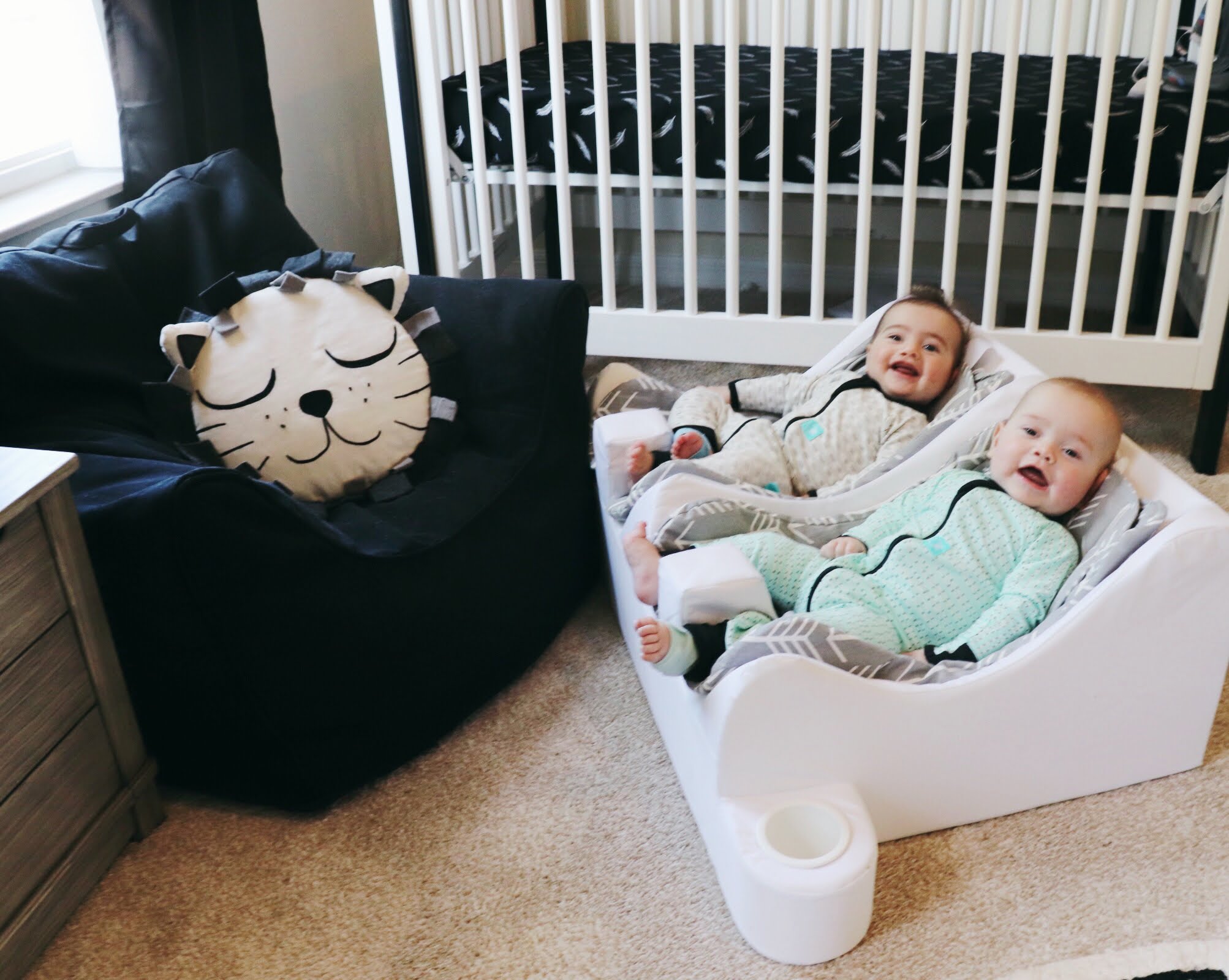 Bottle Time:
I use this Table For Two seat as an easy way to feed both babies at once.

After they are done and burped I transfer them one at a time to their beds.

Bottle recommendation: We use these Gerber First Essentials and honestly they may seem cheap but I am a huge fan of them for the boys now! Before 4 months I preferred the Como Tomo bottles.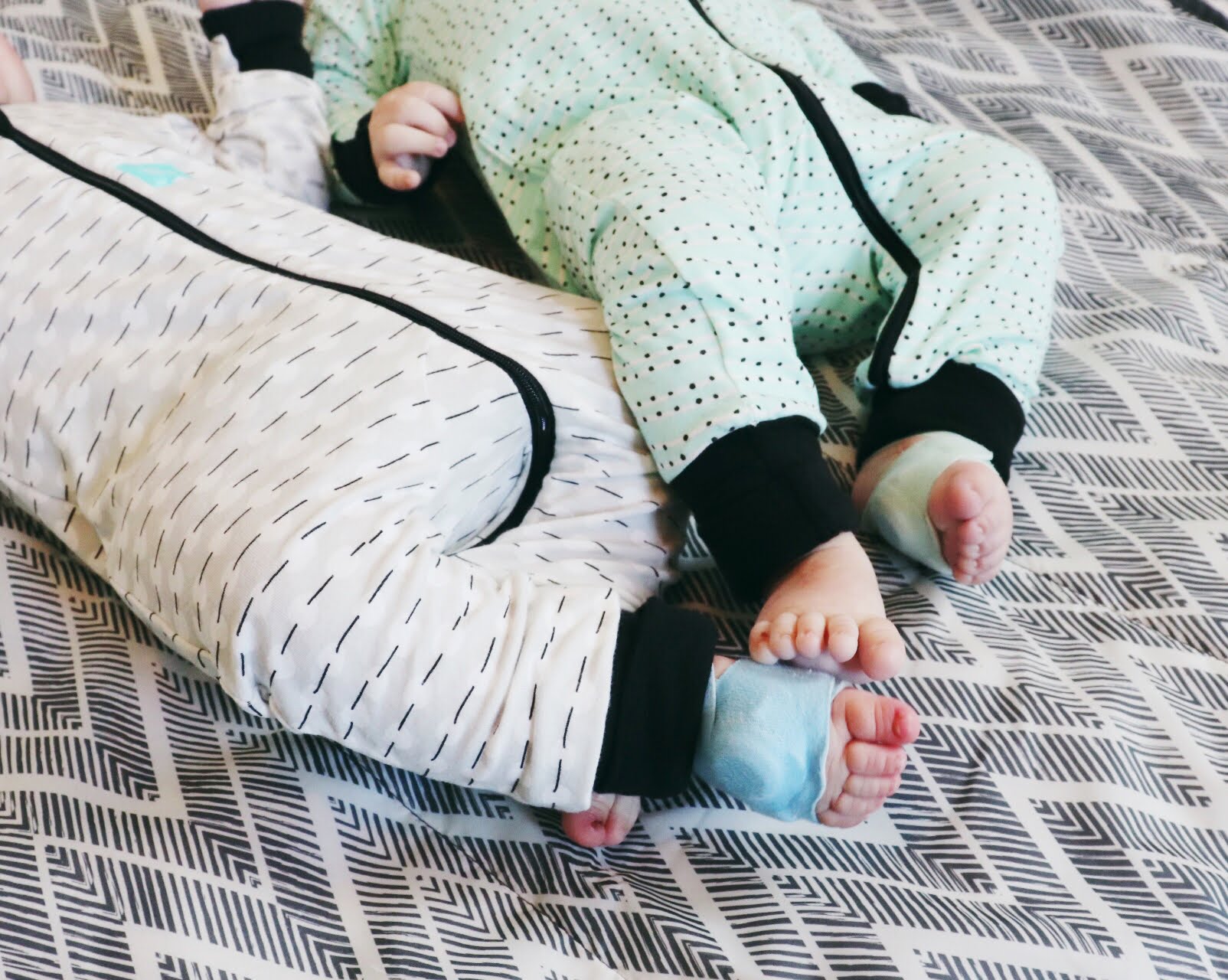 Sleep Time:
All I do at this point is put them in their swaddles (or now swaddle transitional Zipadee Zips– use code HAPPYZIPADEE to save $5 off your order) , turn on their sound machine (we use THIS ONE) and walk out of the room. They are so used to their routine that they BOTH just fall asleep on their own in a matter of minutes! Some people say I got lucky with great sleepers (and maybe I did) but I also worked HARD for these great sleepers. MY whole day is based around their routine and it works wonders for us.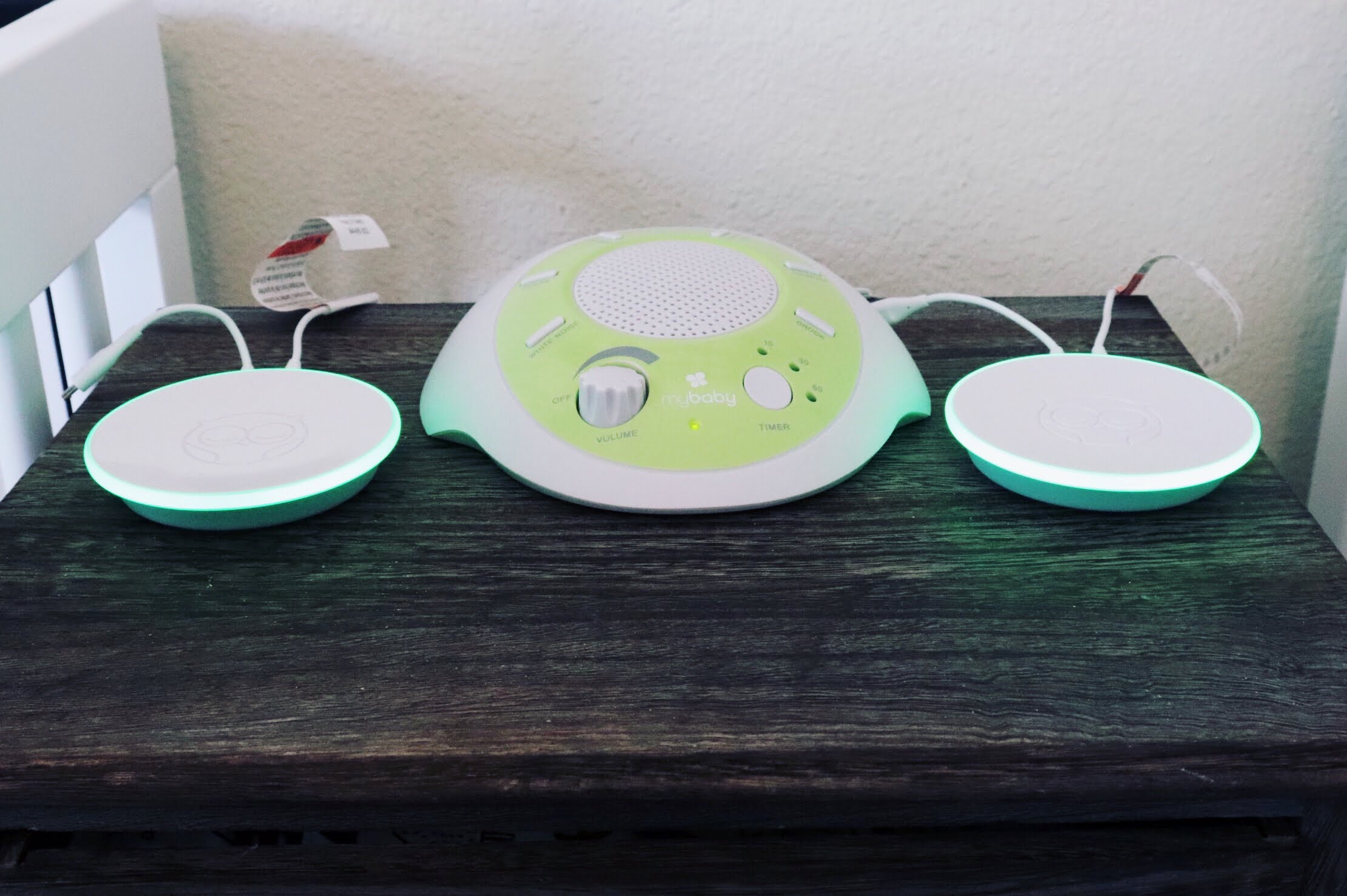 And that's it! Twin bedtime mastered with these simple steps! I hope this helps you as it has me. Enjoy!
Follow along on social media for more! 

SaveSave
SaveSave
SaveSave
SaveSave
SaveSave