How To Create a Montessori Inspired Play Space
---
Have you ever noticed that your children have tons and tons of toys yet they don't actually play with any of them? I noticed that often with my two girls and I just didn't understand it! They would pull the stuff out but they weren't truly engaged in anything. After spending the morning at my daughter's Montessori school and watching how attentively she played (or followed her own work flow) I was truly amazed! I wanted to create a space like that for my youngest to have at home too so I did just that! Here is how to create a Montessori inspired play space at home.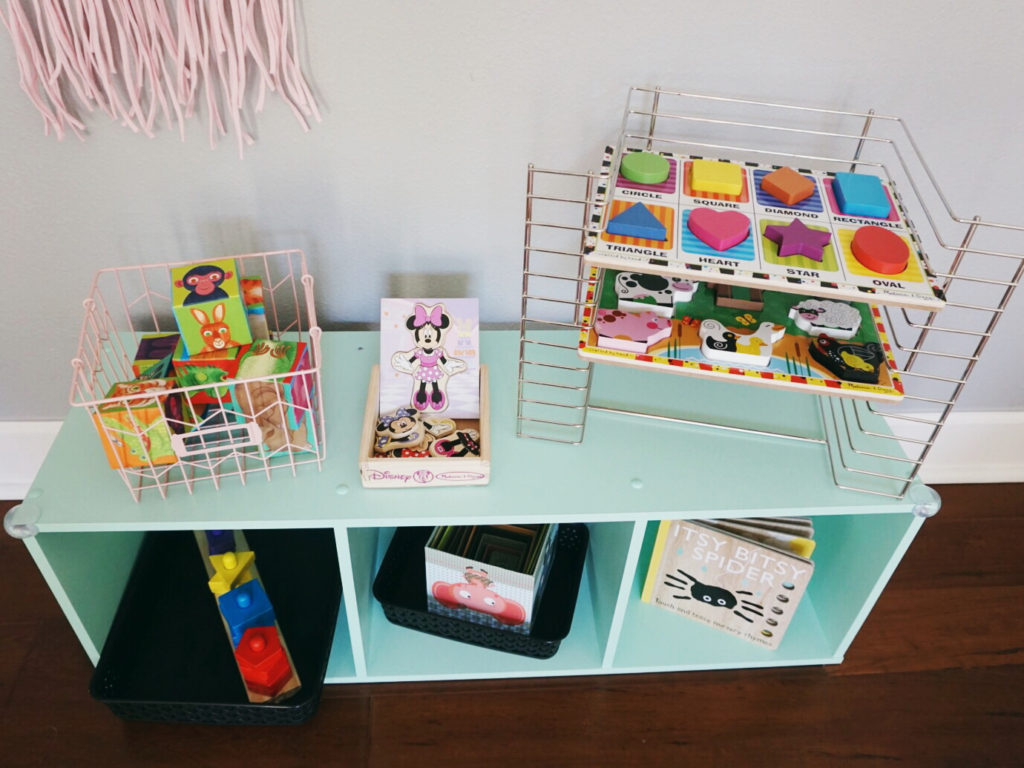 Start with the basics: A Shelf! We are using one similar to this 'Ways Basics Modern Cozy Bench'   found at Diapers.com and I love it because it's the perfect size/height for the little ones. It's open and allows everything to be in reach and in eyesight for your child. This is the most important aspect of a true 'Montessori' style work shelf. 
Choose open-ended play activities/toys. Open-ended means that the child can use their creativity in how they choose to play with something and there is not only one specific way the toy is meant to be used. Think endless possibilities! For example: Blocks (like this Mix & Match Block Stacking Set) – with ONE set of blocks your child can use their imagination to create thousands of wacky and whimsical zoo animals! Open-ended toys are typically those that have multiple uses and focuses on fine motor skills/imagination. I usually stick to a "no battery operated toy" in their bedroom mentality and that goes well with this area because it's meant to be a space where they can let their mind run free! 
Less is more! The key is to not over do it! On our shelf we have these following seven items in order from top left to bottom right (Most all of which can be found at Diapers.com which has quickly become my go-to site for all things baby/child/mama):

Melissa & Doug Puzzles & Wire Rack:
We have the Melissa & Doug Stack and Sort Board – But I LOVE this one that offers more found HERE.
My Daughter received this Itsy Bitsy Spider finger trace book for Christmas and so this one was an easy choice! I say find your child's favorite book and put it in this last slot! Even a couple books are great. You can find a wide variety of good children's books HERE.
Lastly: Change them out! Rotate toys in and out so that every few weeks they have new options available. This will create much more quality play and a happier more satisfied child overall!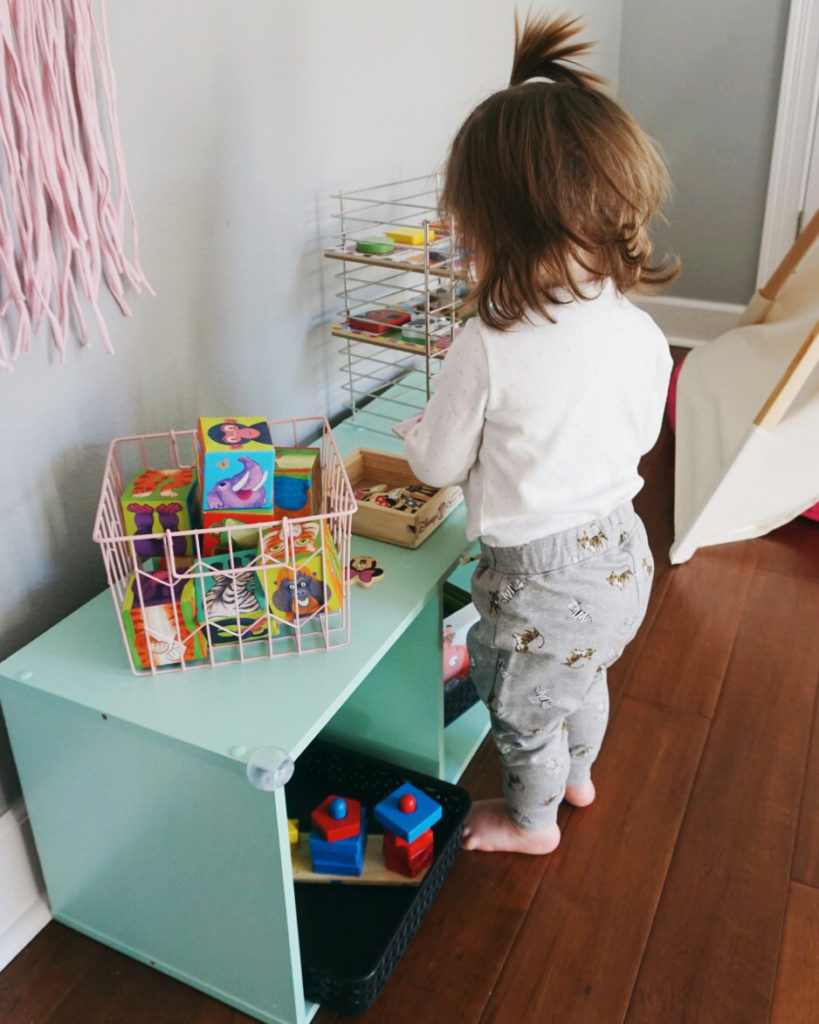 Still questioning which types of toys would most motivate your child's imagination while also creating a stimulating environment? Check out the Melissa & Doug section at Diapsers.com by clicking HERE. You honestly can't go wrong with this brand and Diapers.com has you covered with a WIDE variety of their products!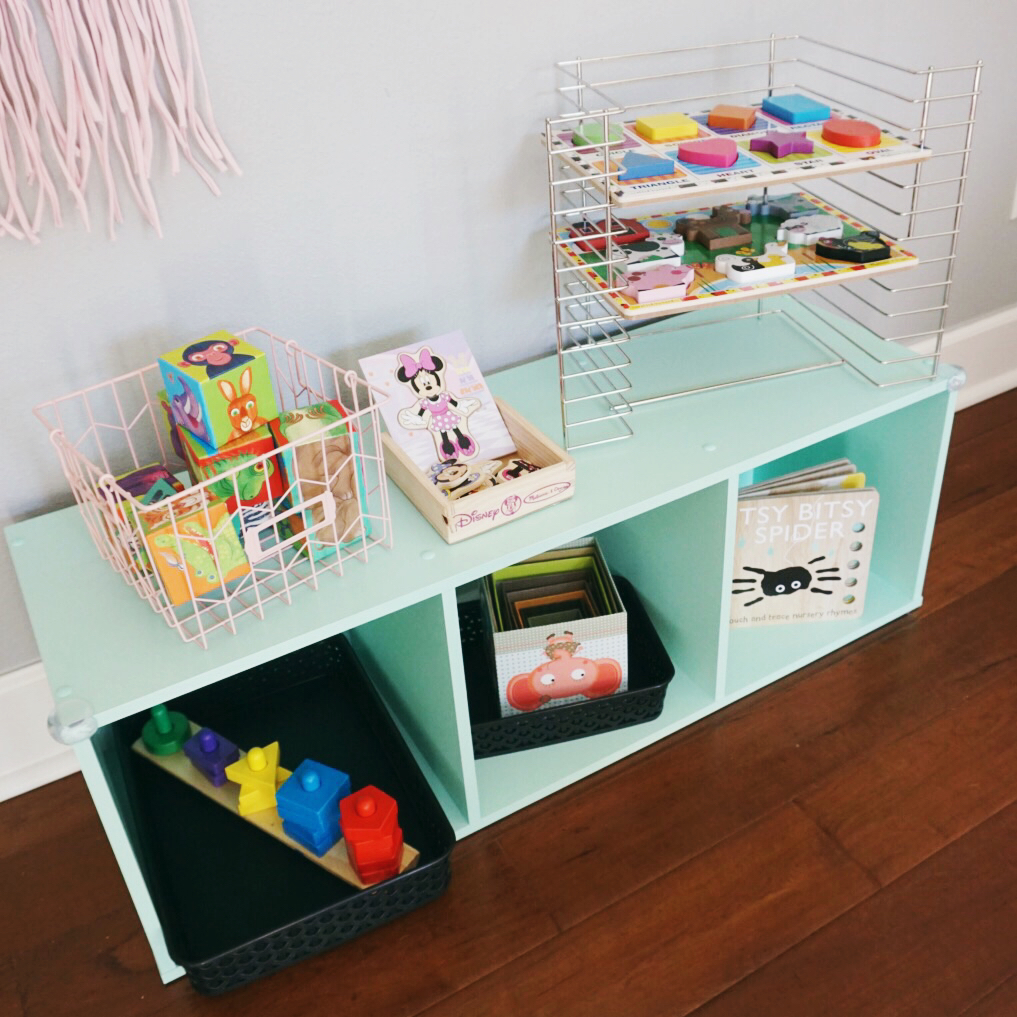 If you are trying to implement more quality play for your child(ren) then I hope this helps you get started! Enjoy!
---
Disclaimer: Compensation was provided by Quidsi for this blog post/ All thoughts, choices are my own.