Making Their Kohl's Toy List And Checking It Twice
|This post is sponsored by Kohl's. I was paid for this post and received the included toys as compensation|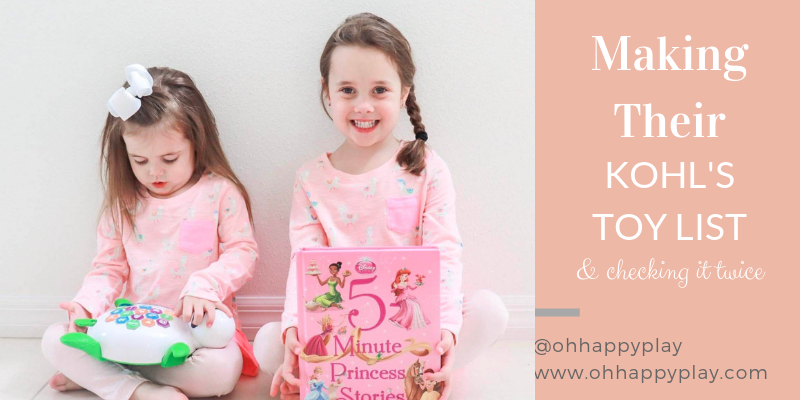 ---
Christmas is less than two months away and my girls are more eager than ever to get their lists together for this holiday season! They have been so busy making their Kohl's toy list and checking it twice, now it's up to Santa to see if they have been naughty or nice!
Shopping around the holidays doesn't have to be stressful especially if you plan early and know where to go to get the best deals! I love shopping at Kohl's because their prices are super competitive (I'm talking lower than Amazon sometimes!) and they also offer incentives like their popular Kohl's cash just for shopping with them! I'm going to share some of my girls' favorites that we found at Kohl's as well as some of the items still on their wish lists!
Melissa & Doug Floor Puzzles: My girls LOVE puzzles and we have so many now because of their passion for them. Their favorites are always the jumbo Melissa & Doug ones like this Melissa & Doug 24-pc. Dinosaur Dawn Floor Puzzle we found at Kohl's online.

Fisher-Price Think & Learn Spell & Speak Sea Turtle: We are an iPad free house, meaning although the girls get to use them when we travel long distances they do not get them in our home! Even in the car we try to avoid them as we don't think they're really necessary for entertainment when their brains are so imaginative on their own! With that said we like to have interactive toys available for them to practice some learning skills on their own and independently. We found this adorable Fisher-Price Think & Learn Spell & Speak Sea Turtle at Kohl's online as well and the girls absolutely LOVE it! We use it at home for quiet time but love having it in the car too for our weekly trips to Sarasota which is a 3hr round trip event. This toy offers spelling learning, letter recognition and rhyming fun and is super easy to navigate for the girls! We just LOVE it! 

Melissa & Doug Stamp & Sort Mailbox Playset: My 4 year old saw this on their website and immediately asked to put it on her wishlist! She started going over all the people she could write letters to and it was really sweet how excited she was about it! I thought it would even be cute to have this little mailbox show up a few weeks before christmas with a letter from santa saying they have been good little girls (of course, that is if the big man sends them one!) but if my imagination soars as an adult just looking at this playset can you imagine how much fun a child would have with it?! I am a huge fan of open-ended/role playing toys for children and this is both!

Disney Princess 5 Minute Princess Stories: If there is one thing we don't limit around our house it is books! We LOVE reading and having books around but they sure do pile up quickly so we are huge fans of books like this Disney Princess 5 Minute Princess Story books like this! This book is filled with beautifully illustrated short stories from our favorite Disney Princesses! My girls absolutely love choosing a story for the night from the table of contents and it is always the highlight of my night getting to read these to my girls.
Whatever you do, don't overlook Kohl's when you're getting your shopping done this season! Kohl's has SO many amazing toys beyond what I mentioned above and the variety as well as the competitive prices make this a great option to get multiple people shopped for this Holiday season and beyond! You can shop brands like Melissa & Doug, Fisher Price, Hot Wheels, Disney Princess and Lego all under one roof and know you're getting the best deals at the most affordable prices all while earning your Kohl's cash! Happy Shopping!
Some more great brands to consider:
---
| My blog may contain links to other websites. I am not responsible for the privacy policies of those other websites. When you click on a link, your information may be collected by those websites so I encourage you to read their privacy policies.|
"Any affiliate links are not associated with Kohl's."
Follow more of our journey: