The Best Preschool Backpacks For Back To School Time
|This post contains affiliate links which means I get credit when you purchase through my site. Thank you for the support!|
---
The seasons move quickly when you have children so August will be here before you know it. This means it will soon be time to start planning for Back To School for your children. If you have any young children heading into preschool next year then you're probably wondering the best backpack for them to carry and this post will help you with just that! The only obstacle you'll have is just choosing ONE!
Choosing The Best Backpack For Your Preschooler
We all realize that preschoolers aren't taking home much in the way of books and homework but what they do take home is lots and lots of crafts (and possibly some important notes from their teachers.) So for this reason, you want to give them something that will hold a fair amount of items but not be so big that it hurts their backs. You'll need something that is the right size and the right fit and below are a few of our favorites!
The Best Preschool Backpacks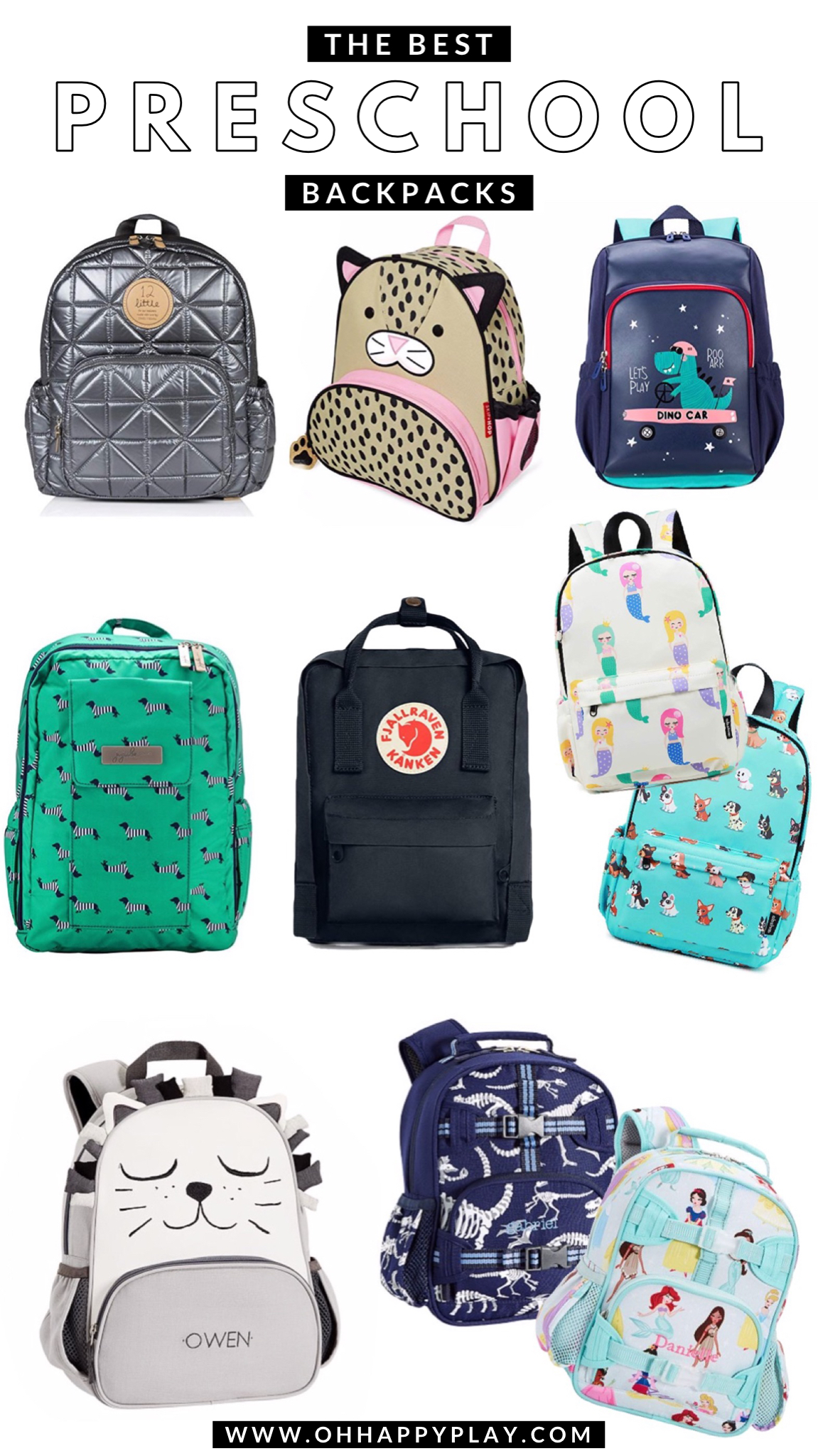 Here are a few of my favorite preschool backpacks for your toddler/preschooler:
TWELVElittle Kids Little Companion Backpack: They have other colors available if you're shopping for your little dude but these top my list for a very good reason! They are the perfect size for preschoolers/toddlers and they offer a great amount of space/organization on the inside!
Skip Hop Toddler Backpack: These are great because they are easy to tell apart and they come with matching accessories like insulated lunch boxes and straw cups.

RuRu monkey Toddler Backpack: Although we don't personally own this one, it is on my wish list for the twins'! The reviews on Amazon seem legit and the size is comparable to the backpacks above! (This bag seems to be in between the size of number 1 and number 2 for size reference)

Ju-Ju-Be MiniBe Backpack: We own this style backpack in a different color and have loved it for my girls! After seeing this design though I knew I had to include it! (Note: when clicking the link please note the title of this bag seems incorrect which I believe is why the one review on it is off. If you look on the Ju-Ju-Be site you will see the "MiniBe" style is suitable for kids!)

Fjallraven – Kanken Mini Classic Backpack for Everyday: I don't personally own this backpack but if you're in any mom facebook group you've probably heard of it! People go crazy for this brand and their quality of product is meant to withstand the test of time. Many have even sized up to the Kanken Classic for their kindergartens so that it lasts through elementary school!

Abshoo Little Kids Backpacks for Boys and Girls Preschool Backpack With Chest Strap: This is another one that I don't own but after researching it a bit it does seem to be a great option for your toddler/preschooler. The designs are what caught my eye!

The Emily & Meritt Lion Critter Backpack: Snatch this adorable one on clearance for $19.99 AND it is customizable!
Mackenzie Style PBK Mini Backpack: Here are the Aqua Disney Princess andBlue Dino Glow-in-the-Dark Backpack – each are available for personalization!
Which was your favorite find above!? Let me know below! Happy back to school shopping! Xo
Enjoy!
Make sure you follow along on social media for more fun design inspirations!