Half of our house may still be in boxes but that didn't stop me from pulling out some of our fall home decor! I started with decorating our front porch steps with a pumpkin patch then added some splashes of Fall with the interior decor. I couldn't wait any longer to get that first feel of the holidays so this is what I did!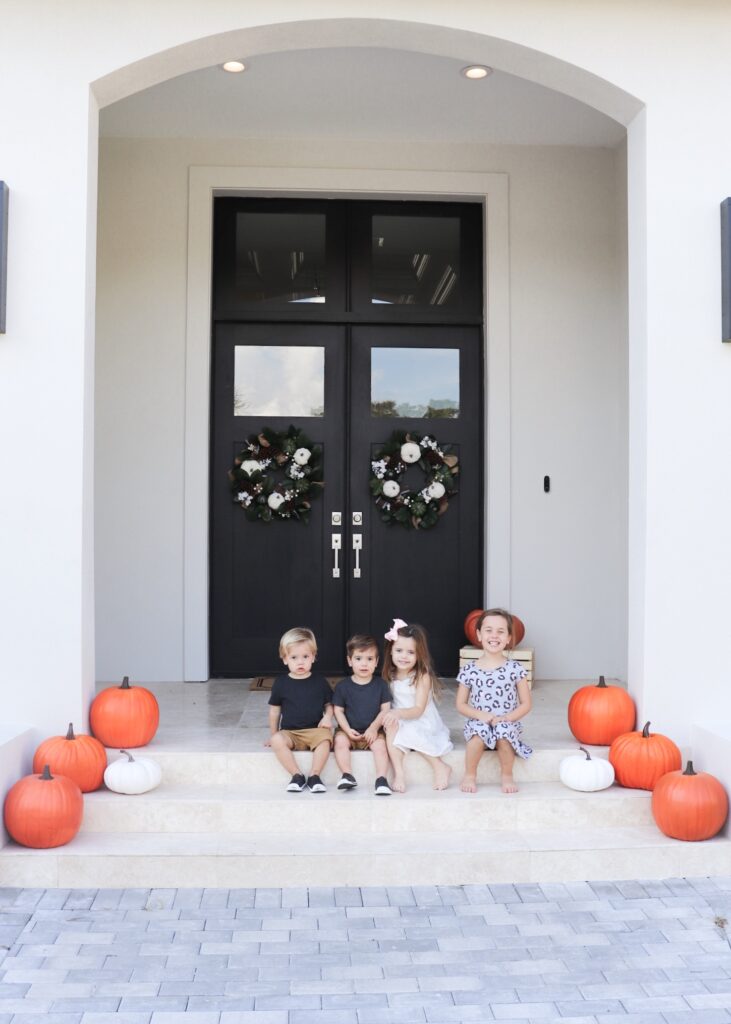 Front Porch Steps Pumpkin Patch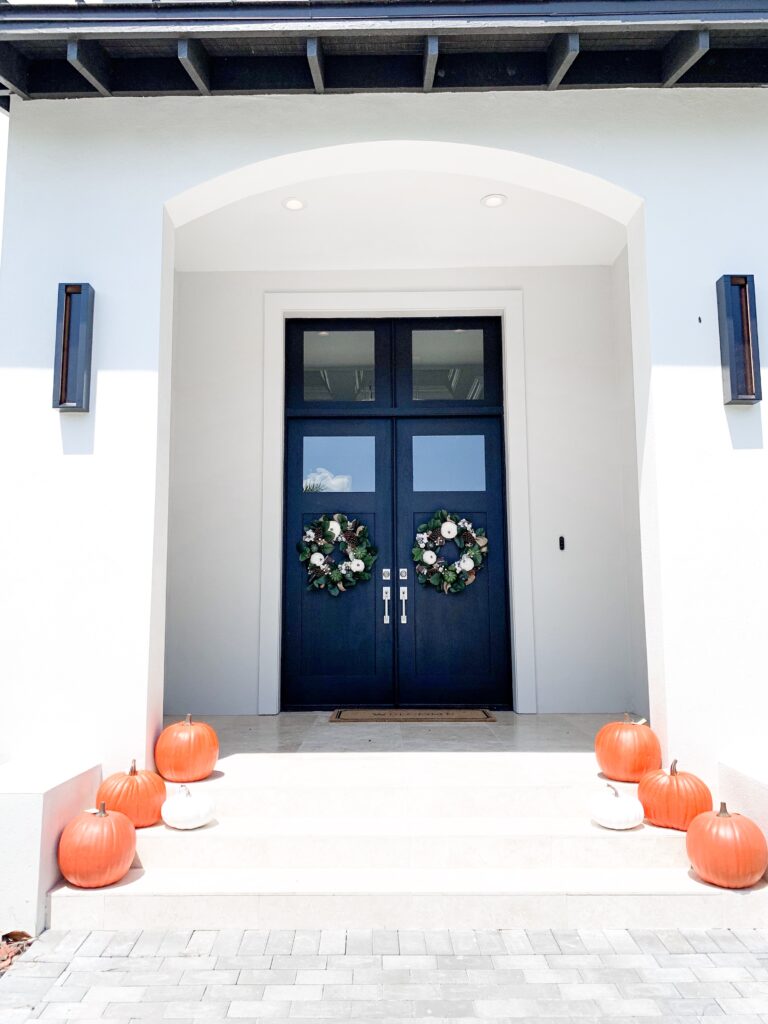 When we started to design this house I was so excited about the front porch. I was very eager to decorate the front porch for the holidays and I couldn't wait another minute to start! As I scrolled through Pinterest I kept seeing pumpkins lining front porch steps creating a pumpkin patch look and I just loved it. Below is my take on it! Although I still want to add more to spruce up the look I really love how it is coming together! All of these pumpkins came from Hobby Lobby and were 40% off too!
Farmhouse Style Front Door Wreath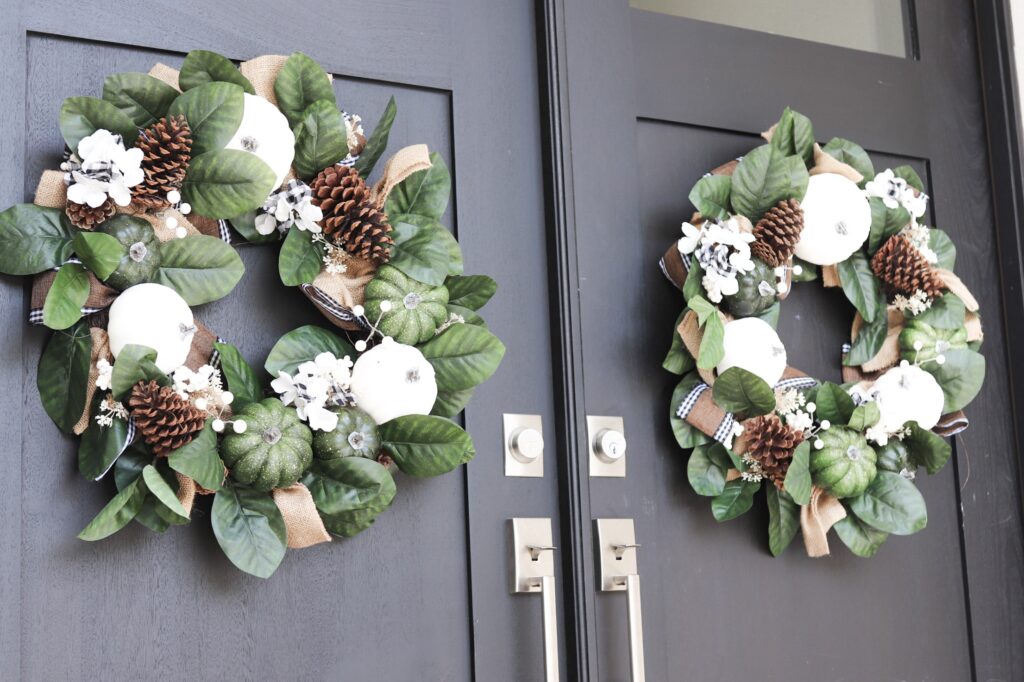 My favorite place to go shop for ANY home decor is HomeGoods. I always find myself strolling through the isles wanting it all! Am I alone in that, ha!? Typically when it comes to Fall home decor I am ALL about the oranges but for some reason this year I REALLY loved these farmhouse style front door wreaths. They turned out so great on our front doors! 
Fall Interior Home Decor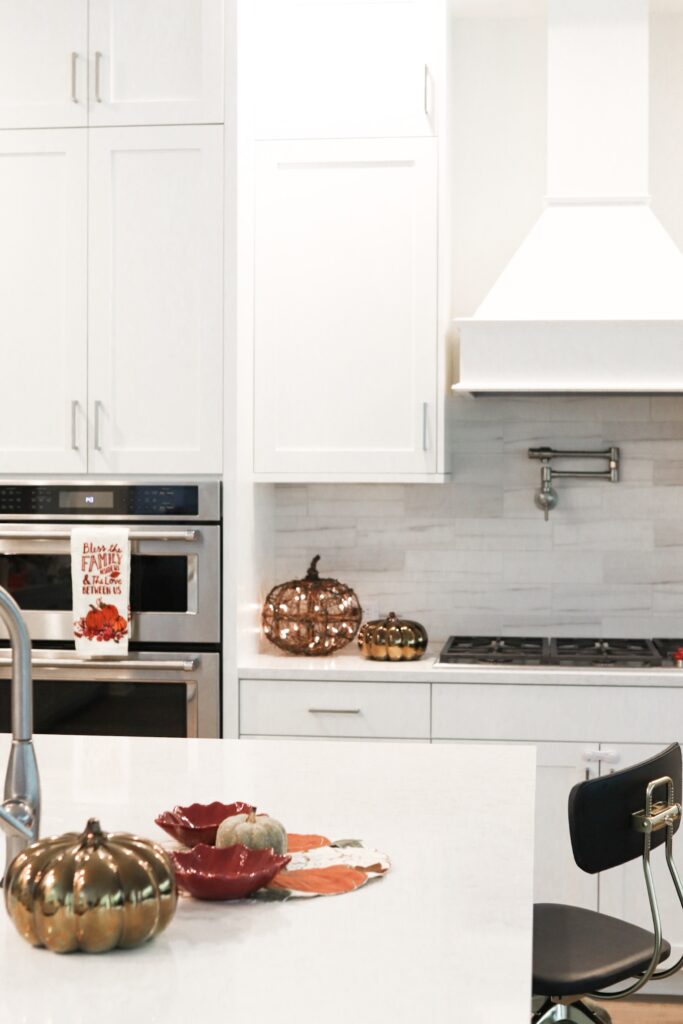 As you come in our home you are met with our main living area. We have a great room style floor plan which will be perfect for entertaining. When you walk in you are greeted with this adorable 'Thankful' throw pillow. I LOVE the warm colors with the gold hand lettered font. I feel like it is super welcoming!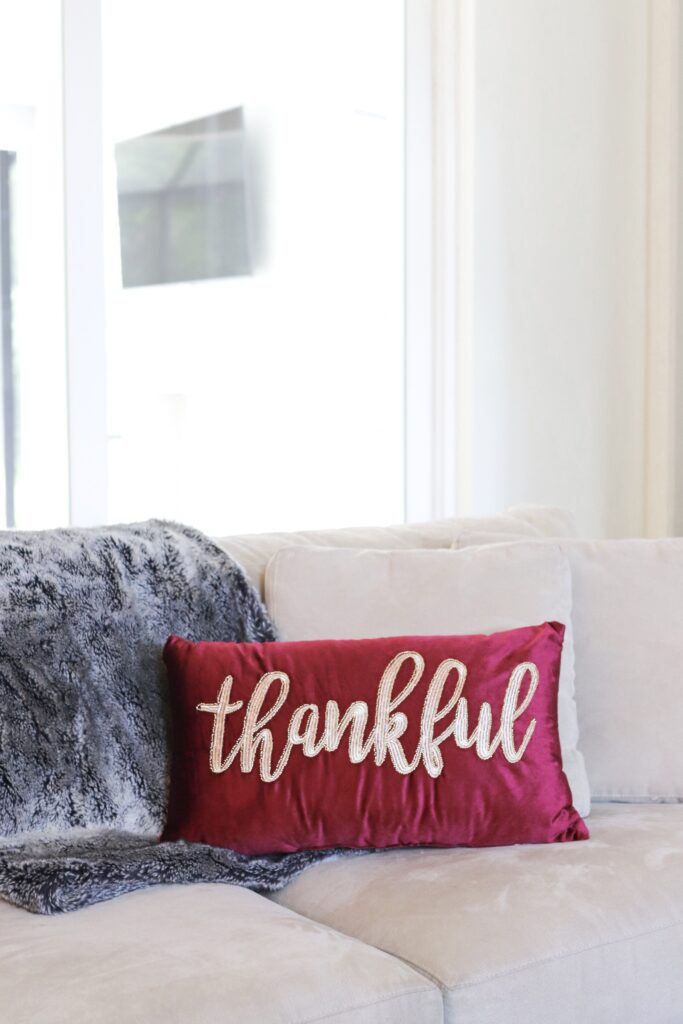 Minimalist Fall Decor In Kitchen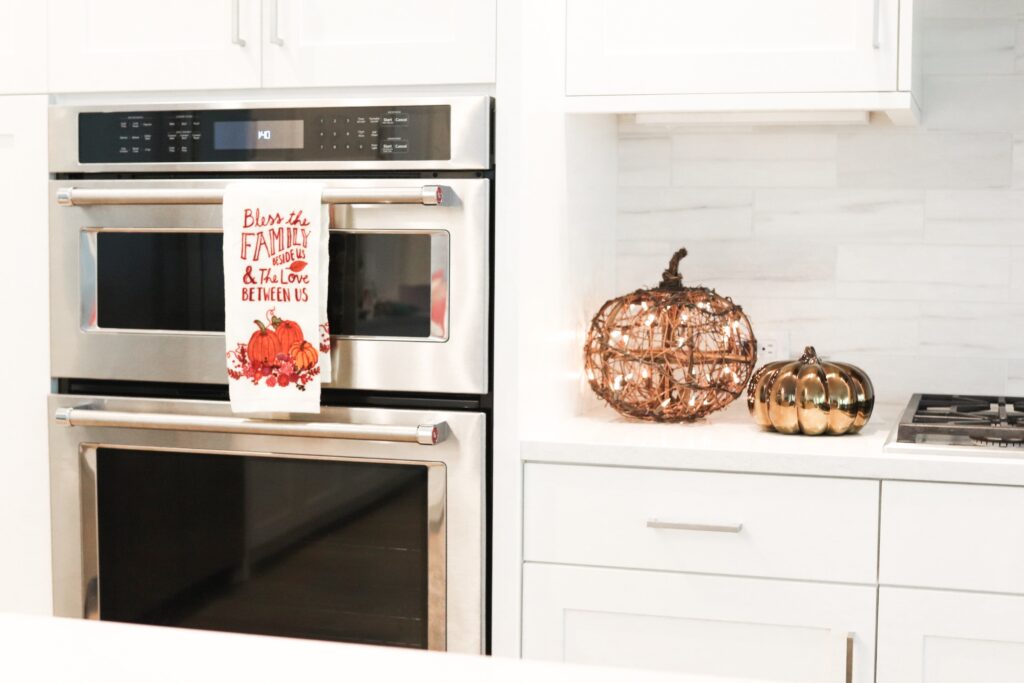 Once you turn into the kitchen I have kept my minimal decor theme by adding just a few pumpkins throughout the kitchen to create the Fall vibe.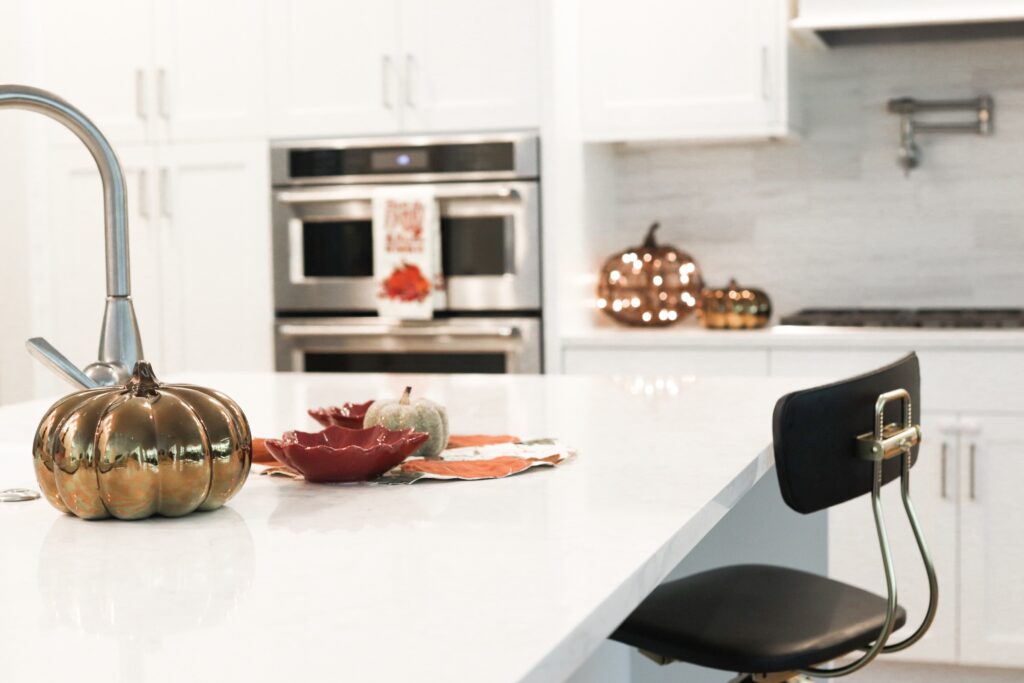 Modern Meets Farmhouse Table Decor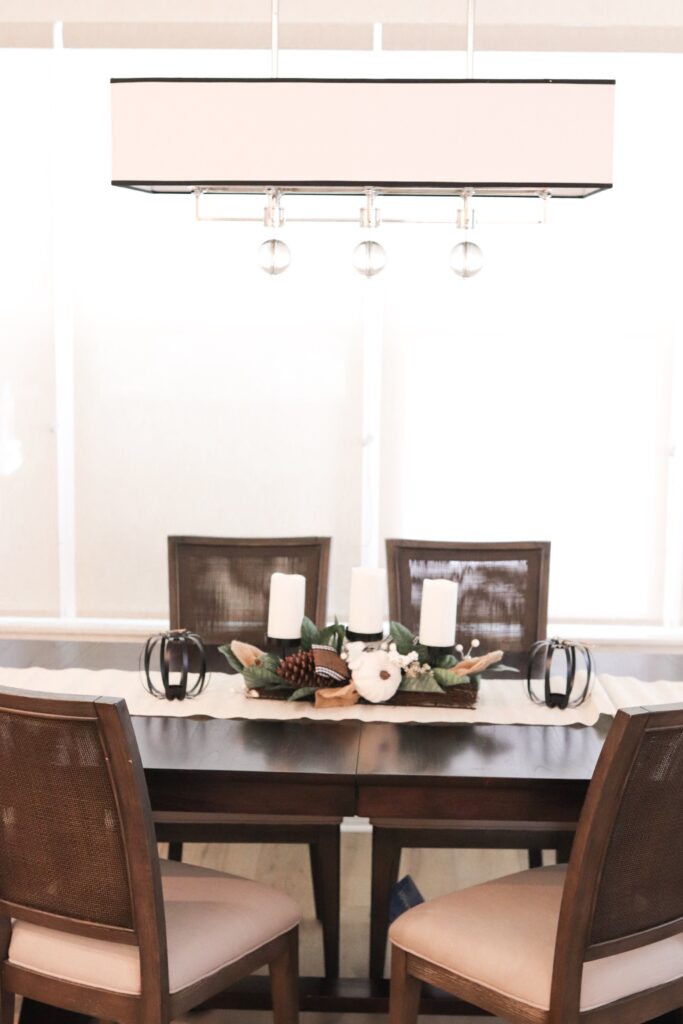 The dining table may be my favorite. I found a centerpiece at HomeGoods that has the same Farmhouse feel as the front door wreath so it flows from the exterior to the interior. While this is called 'Farmhouse' I really just love the monochrome feel. This is great because I can use it for all of September/October AND November to cover the whole Fall season! I am so excited to throw some bats in this centerpiece for Halloween too! 
More details will be shared soon on this chandelier soon but it is the Collins from Hudson Valley Light and I am OBSESSED! I love the clean lines and modern tone. Plus having white anything with kids is hard so a chandelier is the perfect place to have a big white staple piece because their little hands can't reach it! 
Cozy Guest Bathroom Decor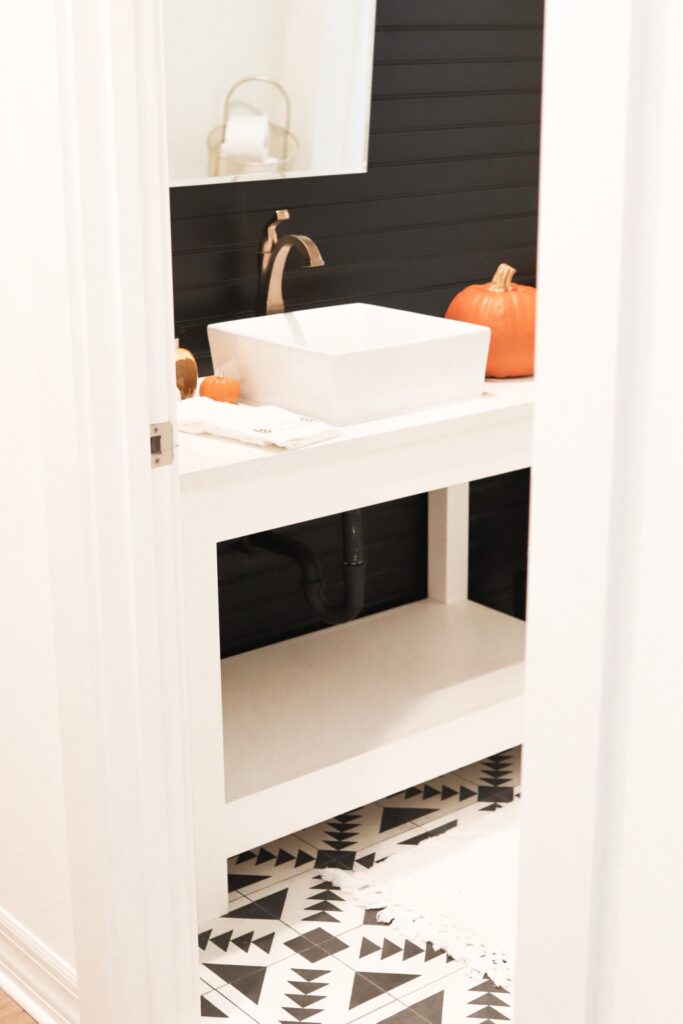 If you have been around long enough you know how obsessed I am with our guest bathroom! The subtle pumpkins look great with the black and gold accents. Everything seen here is available at Home Goods!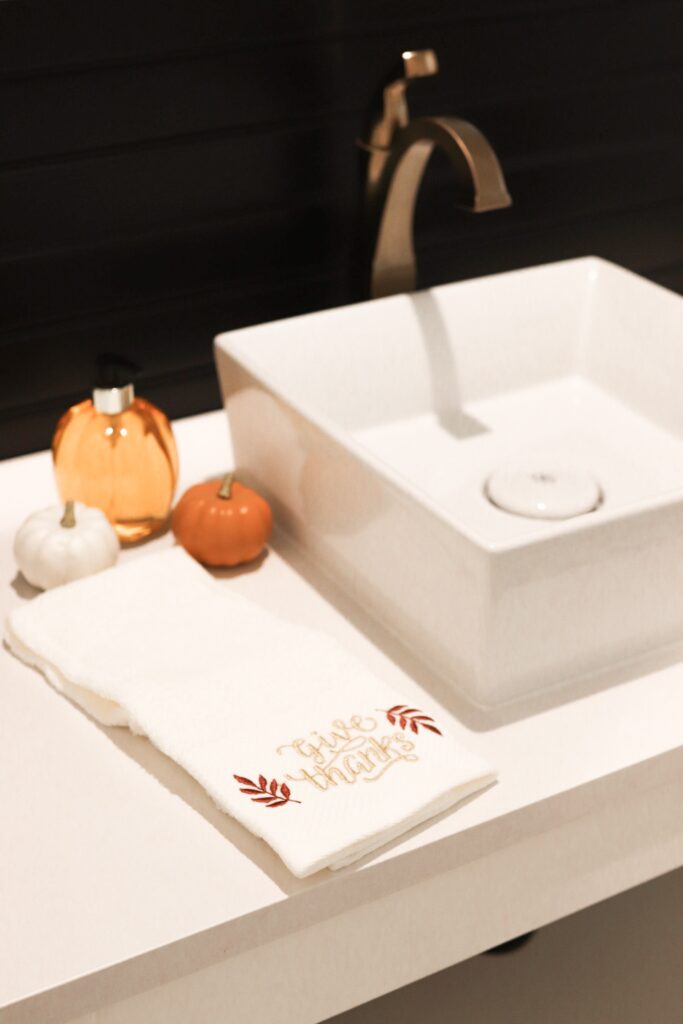 I am so eager to get more of the house done! Next up I will be decorating our kids' Under The Stairs Playhouse!! Stay Tuned for that!
I hope you enjoyed my first Fall Home Decor tour! I teamed up with some of my favorite IG friends to share their spaces as well! Check them out below!
Follow along on social media: