Under The Stairs Playhouse Created From Wasted Space {Part One}
---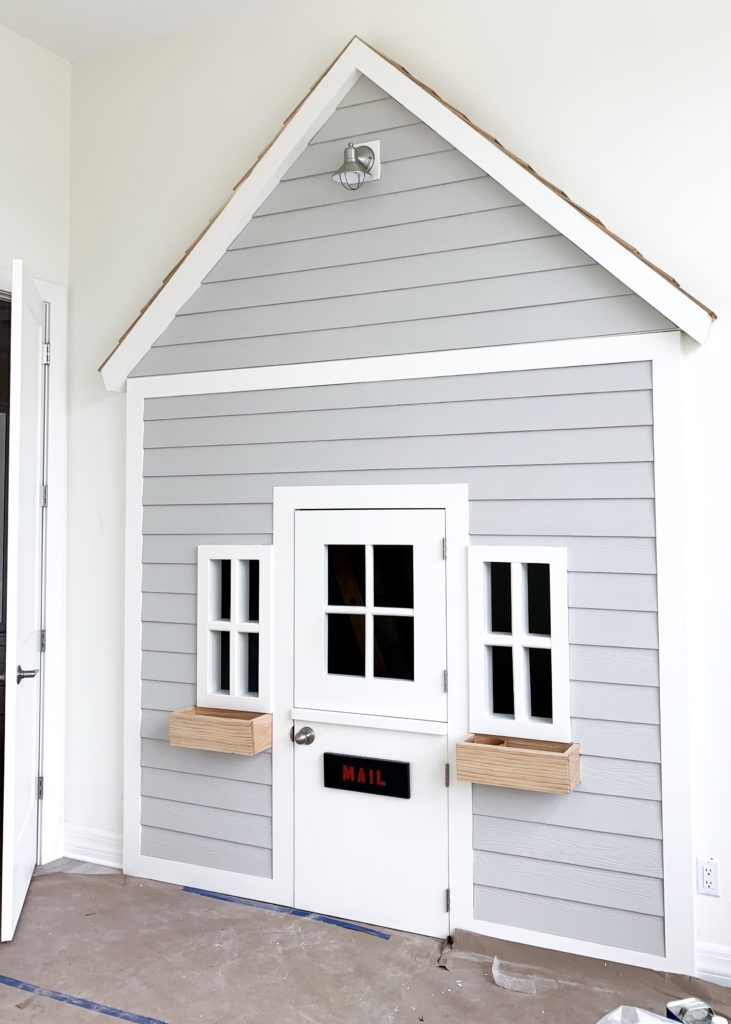 Believe it or not but this is just the beginning of what this once wasted space under the staircase will become AND you're the first to see it! Yup, that's right, my children have yet to see it themselves! Consider this your 'Under The Stairs Playhouse Created From Wasted Space' tour part one! Once we get moved in and I fully decorate this adorable space I will come at you with part two. I hope you enjoy this project as much as I have fully enjoyed dreaming it up.
If you've been around Oh Happy Play for a while you have probably seen my original 'Building First Look' for the house as a whole and then my most recent 'Playroom Design Inspiration' post about my idea for the playroom as a whole. BUT, with that, I haven't specifically talked about my plans for the under the stairs playhouse and how it came about. I also wanted to show you how it is coming along as well! 
Playroom Organization
Although organization and playroom rarely seem to go together I had a plan! I knew I wanted a space that was super functional for our big family but also have some key organization to it as well. I researched playroom organization solutions for children and found plenty of storage solutions for toys but the space itself never seemed right to me.
Trust me, this space will have a lot of that stuff too (that I will detail in part 2!) but since we had the opportunity to build our home I wanted every single space in the house to be as functional as possible. So for this reason,  before we ever sat down I made a list of the rooms that were important to me. I detailed ways to make them functional so I was well prepared at our first meeting with the builder. 
Under the Stairs Playhouse Plan
After doing a lot of research on ways to optimize the wasted space under the stairs I didn't find anything that wow'd me right away. I saw a lot of wine cellars and reading nooks but neither of those suited our family right this very minute. This is a home we plan to stay in for many years and while those other options seem nice, they certainly could be done down the road.
THEN I came across this idea of an under the stairs playhouse and I fell in LOVE with the idea. My kids could have their own new home and I loved the methodology of that in itself.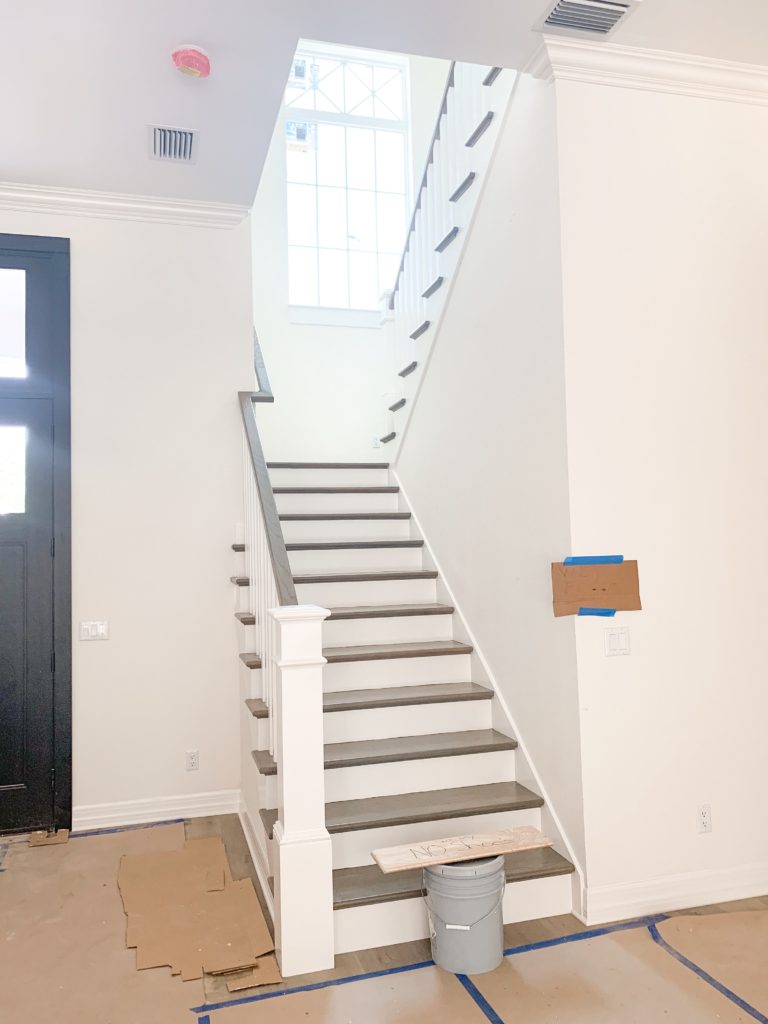 Under The Stairs Playhouse
There are so many reasons I fell in love with this idea but the main idea for me was functionality. My girls have a lot of role playing toys like cribs, play kitchen, baby changing stations, dress-up etc. and those are the things they play with every single day. I thought what better way to contain their "mess" than giving them their own little home in a space that would typically go unused!
So taking that idea of functionality and turning it into a dream space that my girls can fully dive into their imagination was my biggest goal. Fun fact: at the time we designed this space the twins were just a twinkle in my eye so they weren't a part of my original thought process. Now that they are here we added a fun space inside that will be a little boys' dream as well! So I know this space will be fun for all! 
Inside The Under The Stairs Playhouse
The inside of this playhouse is actually pretty big! I made sure that every inch would be usable so if you visualize the split staircase from the outside the whole underneath is what is on the inside. I think I will better be able to show this once it is decorated! Inside we added something specifically with the boys in mind after their arrival: A fort!
This fort has a safety net on one side and a ladder on the other. The girls will love this too but I wanted something specific I knew the boys would totally dig! As you can see too, it is is so sturdy even I can get comfy up there!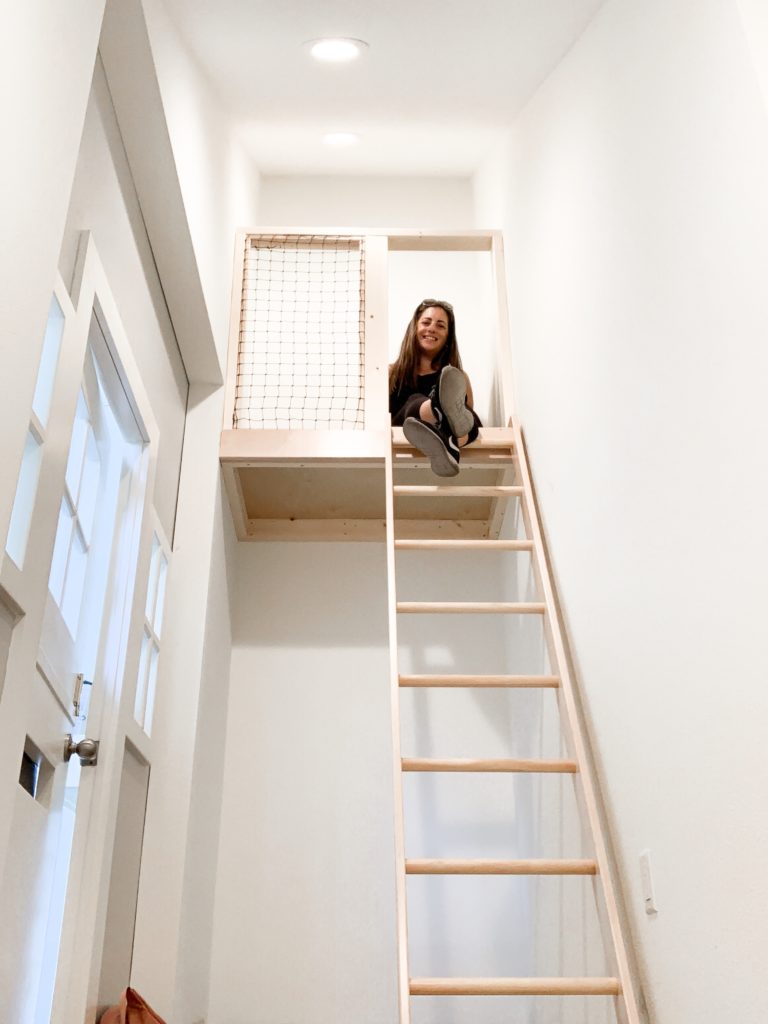 The best part of this whole playhouse is that it is inside! Florida can get hot, muggy or extremely stormie at any minute and having a safe place for my kids to play in any element is all I could have asked for!
[maxbutton id="74″]
Follow along on social media:
Please pin this image below so you reference later if needed!