If you're looking for tips for making car rides easier for toddlers, here is my best tips for stopping toddler car ride blues that are easy!
The Hard Part About Car Rides with Toddlers
Tell me if this sounds familiar: You get in the car and immediately one of your kids needs something. Or one of them is instantly upset about something. You swore five hundred times that you weren't going to allow snacks in the car anymore but after two seconds of screams you're throwing a bag of Annie's cheddar bunnies in the back seat for them to eat. You'll do whatever it takes for a pleasant car ride and it almost never happens, until now! I have recently found the simple trick to STOP the toddler car ride blues and I am so excited to share it with you!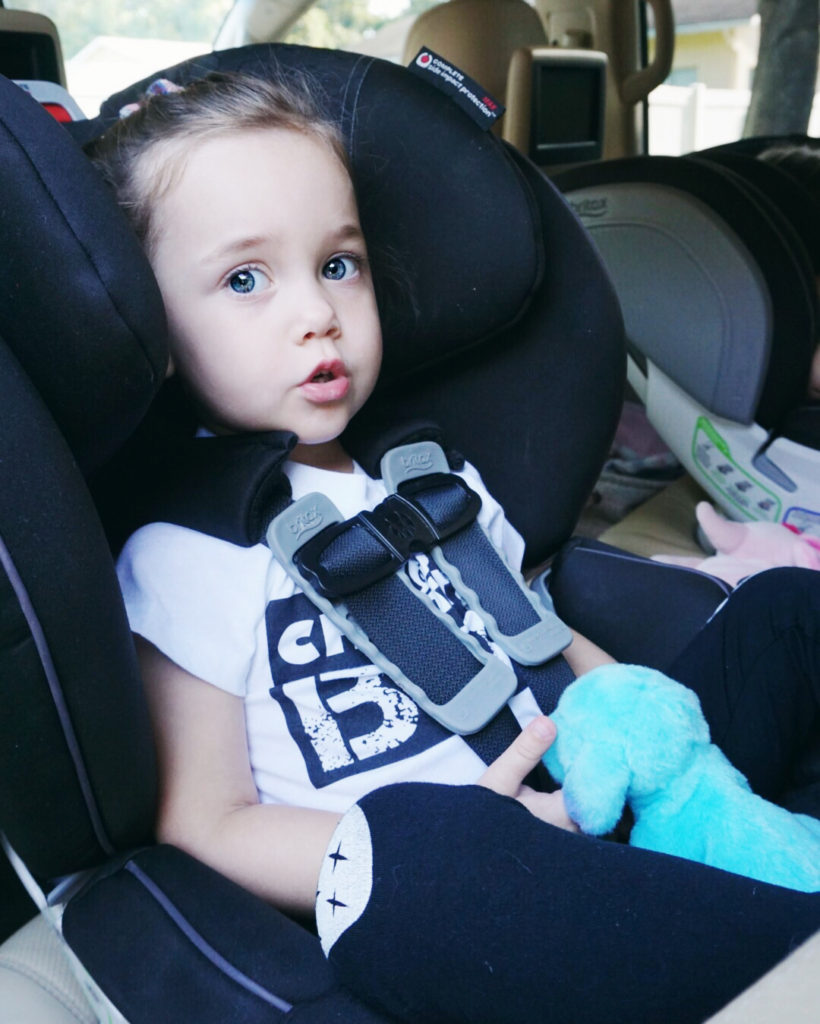 How to Stop Toddler Car Ride Blues
What I am about to suggest may seem almost too simple but it works! Or at the very least it is worth a shot because it has worked tremendously for us. Here it is: A SOUNDTRACK! Yes a soundtrack!
Not just any sound track of course, but one to your child's current favorite character or obsession. I think it's pretty clear that my daughter LOVES PBS's Daniel Tiger. She will do almost anything if she sees Daniel Tiger doing it so I use songs from his show often with her.
In our house we limit TV time to just a short window a day (and not even every day) so I really try to avoid movies or iPad time in the car (unless we are going on a long car ride) because I would rather them focus on what's going on around us and not whether or not they will get to finish that episode upon arrival to the grocery store.
Why a Soundtrack Keeps Kids Happy in the Car
The truth of it all is that the soundtrack will keep your kids happy in the car because it is something that soothes them. Odds are that they feel most comfortable at home when watching their comfort shows (just like us). So it only makes sense that they would feel better in the car when they can hear their comfort show in real time!
Best Advice for Stopping Toddler Car Ride Blues
No matter where your destination is the car ride itself is always dreaded. It didn't matter if I was going down the street or 30 minutes away but 2 minutes in to the drive one of the girls were crying about something. Well not anymore, seriously! And not only does playing the sound track work but I also use it to help us get out the door.
If the girls follow the correct steps (go potty, shoes on etc.) then their reward is the soundtrack. It is definitely motivating to my 2.5 year old but both girls thoroughly enjoy the tunes. The soundtrack of choice is totally up to you. I have found that switching it up is also beneficial to keep the excitement. So maybe make a couple different play lists in some sort of theme. Most people assume unless it's a full feature movie it doesn't have a sound track but in most cases that's wrong. TV shows have them too!
Toddler Car Ride Soundtrack Listening Hack
Our current favorite is the "PBS KIDS Presents: Daniel Tiger's Neighborhood – Life's Little Lessons Tunes." It has 22 of the most adorable songs that really teach valuable lessons to little ones. It's a win-win in my book!
If you're suffering from the toddler car ride blues then definitely give this a shot! It may just work as well for you as it has for us! Just take a listen to what I hear now during our car rides (instead of the bloodcurdling cries!):
And this:
Follow along for more:
For more tips for toddlers, check out these posts:
Positive Parenting Tips For Toddler Tantrums
Disney Cruise With Toddlers – Must Have List + Tips And Tricks
Montessori Toddler Bedroom Inspiration And Ideas