Have you been looking for an outdoor play solution for your kids that is also covered? Check out my easy to recreate covered outdoor play area for kids that is the perfect solution for both super hot and super cold climates!
| This post contains affiliate links|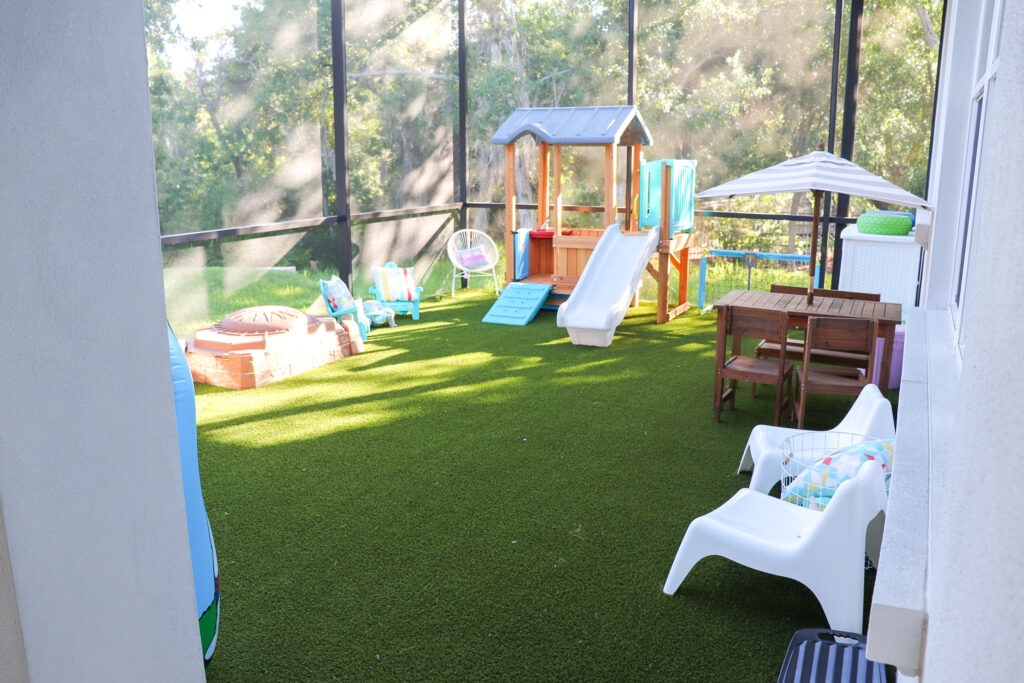 Outdoor based play is super important for young children so what better than a covered outdoor play area for kids? Being outside grounds them with their environment and they can learn many things just by being in the fresh air! It was a high priority for me when finding somewhere to build our home that we had plenty of outside space for our children. Once we found that I was eager to design the outside just as much as I was eager to design the inside. I knew I wanted a covered outdoor play area for our kids and I am excited to share that with you all now! 
Modern Kid Play Spaces
We finished building our home almost one year ago and it was such a fun process! We got to totally design each space for our family and we put a lot of thought into it. A few fun kid play spaces I have shared so far have been:
Covered Outdoor Play Area Ideas For Kids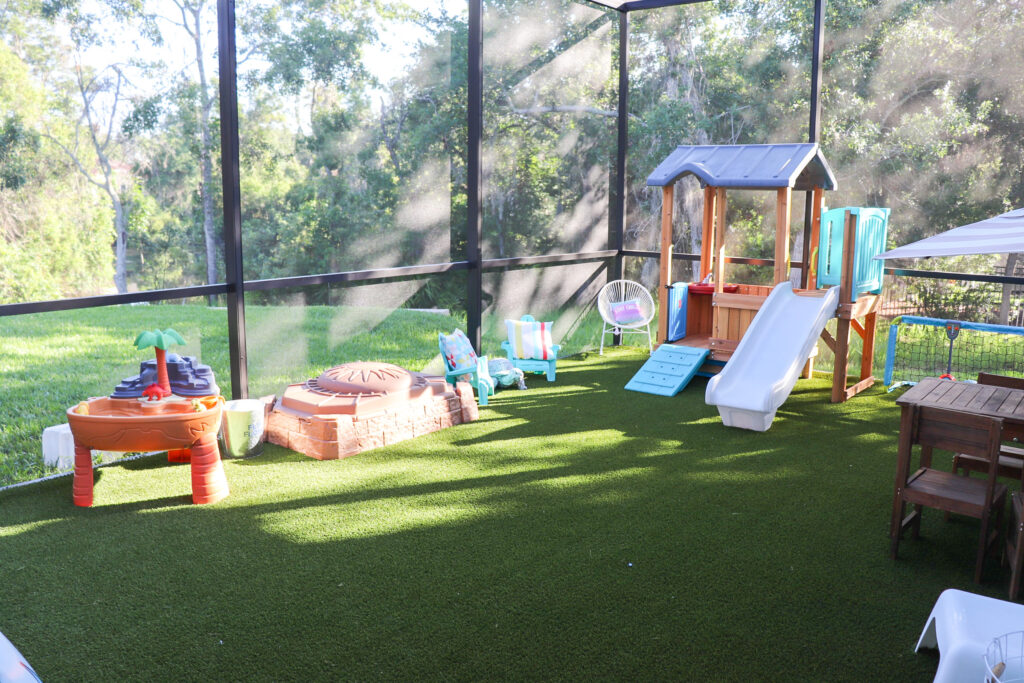 We love being outdoors and living in sunny Florida we get to do just that, often! It was my goal to create an outside area that our kids could freely access on their own and play safely. It was a last minute decision to extend the screen enclosure to this space and I am so glad we did it! 
I first spoke about the idea for this covered outdoor kid zone on my blog (read here) and I am excited to share the final product here! 
Our Covered Outdoor Play Area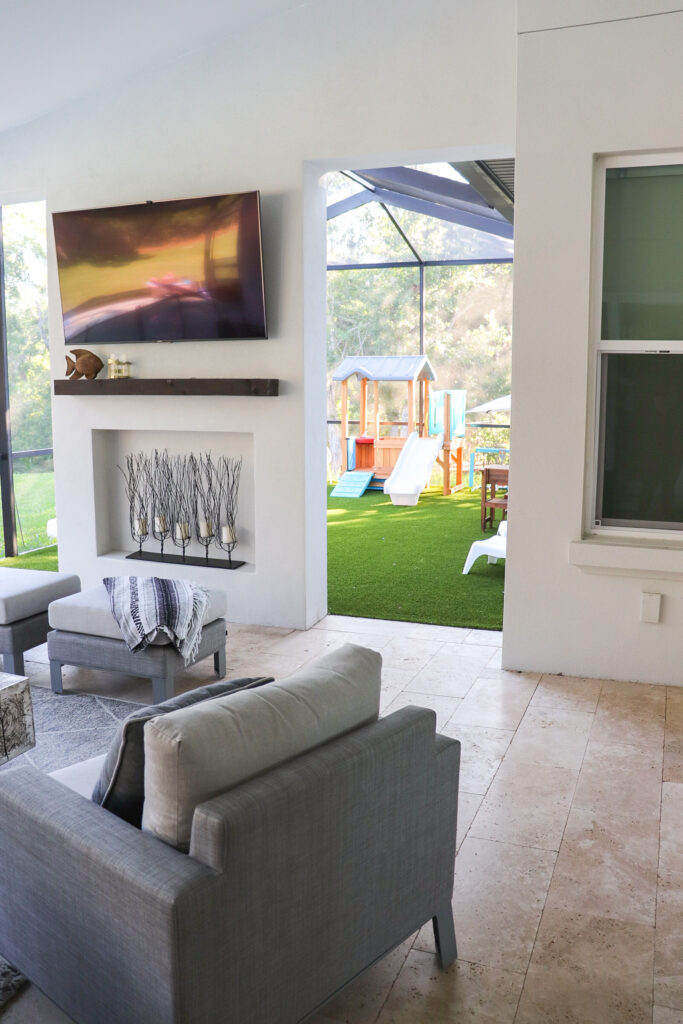 Our covered outdoor play area is directly off of our lanai area and is separated by our outdoor media wall. Behind the media wall we had artificial grass laid in this space as well as the screen enclosure extended. The idea for the screen enclosure was multifold. The idea is to have a safe place the kids can go independently to play without having to ask permission but it also protects the space from the outside elements which helps the items out here last longer! It has turned out to be our children's favorite place to play! They lay in the sun and read or eat snacks every day (weather permitting!) It really has been one of my best ideas for this house building project!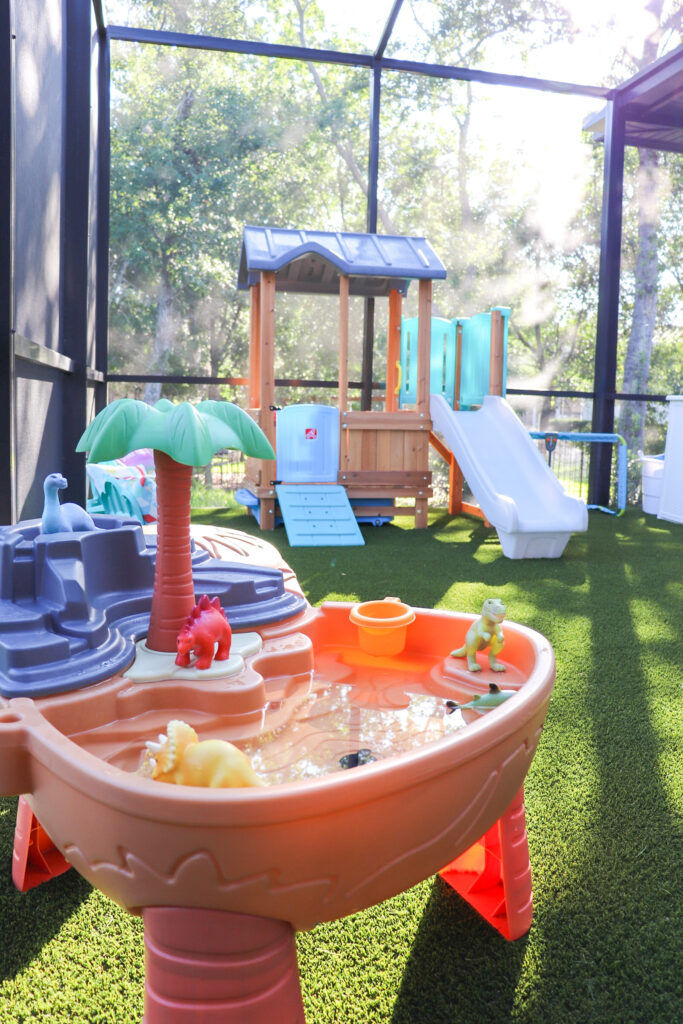 Then came time to decorate and these are the items we chose for this space: 
This outdoor play area is an extension of our total screened in lanai/pool as seen below!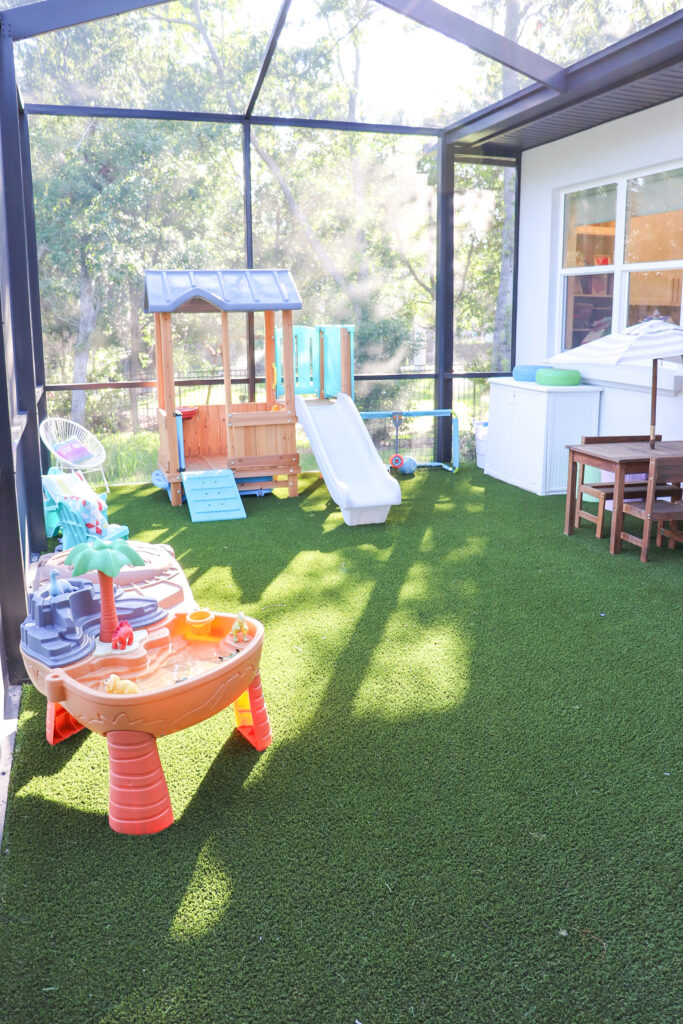 I hope you enjoyed seeing this space come to life! Enjoy!
Make sure you follow along on social media for more!