Guide to Creating a Little Girl Montessori Style Bedroom
Head over to our Pinterest & Instagram for more information on each item pictured! (@OhHappyPlay)
Updated room found HERE
As soon as I found out I was pregnant again, after I shared the excitement with my husband of course, I immediately started thinking about decorating the new nursery. Any chance to decorate gets me very excited! I was kind of dreading the idea of buying another crib knowing I wanted to switch Joie (Johanna) to a twin bed when the time came to transfer her into a new room. It just felt wasteful to buy another crib knowing our long term goal wasn't going to match up. Plus, we fully plan to have the new baby in our room for the first few months as it is. I started looking into recommended ages to transfer babies to toddler beds but most sites agreed that age 3 was best. Well, thats not going to work. Joie would still be under 2 by the time the baby would need her crib. During my research I stumbled across the idea of a 'Montessori Floor Bed.' It fascinated me right away! I've always loved Dr. Maria Montessori's theory on child-based education/living as I was raised with those methods myself. I immediately started researching this idea of a floor bed and quickly fell in love with the WHOLE idea. So there was my solution! The new baby, currently named Paper Towel because my husband won't give me any proper suggestions, was going to get the room already set up as a nursery and Joie would get a little girl montessori style bedroom! It only makes sense that the second baby is already getting hand me downs, poor girl! SO with that here is her Montessori Bedroom And Floor Bed!
Little Girl Montessori Style Bedroom And Floor Bed:
For those of you not familiar with the Montessori Method, it basically stresses "independence, freedom for the child (within limits), and respect for the child's development" (As stated by Emily DeJeu from BabySleepSite.com). So in a 'Montessori Style Bedroom' everything is in the child's reach encouraging independence and freedom of movement. The idea of the floor bed is just for that reason, they can maneuver in and out freely and safely from a young age. A big component to this style room is to make sure everything is baby-proofed. For this reason, most Montessori nurseries/bedrooms are simplistic. So as you will see there are not many toys etc in Joie's room but that didn't stop me from decorating! It's filled with quiet play areas designed to stress imagination & creativity. She already has such a love of books so this room fits well with her personality already. Everything is well within her reach and at her level. I'm no expert on this subject, the only knowledge I have is from the little bit of research I did on it but all in all I feel as though this room will exceed our goals of a child-proof/Montessori bedroom for Johanna.
Below are pictures to show the details in the room as well as info on how you can re-create this look! I hope you enjoy!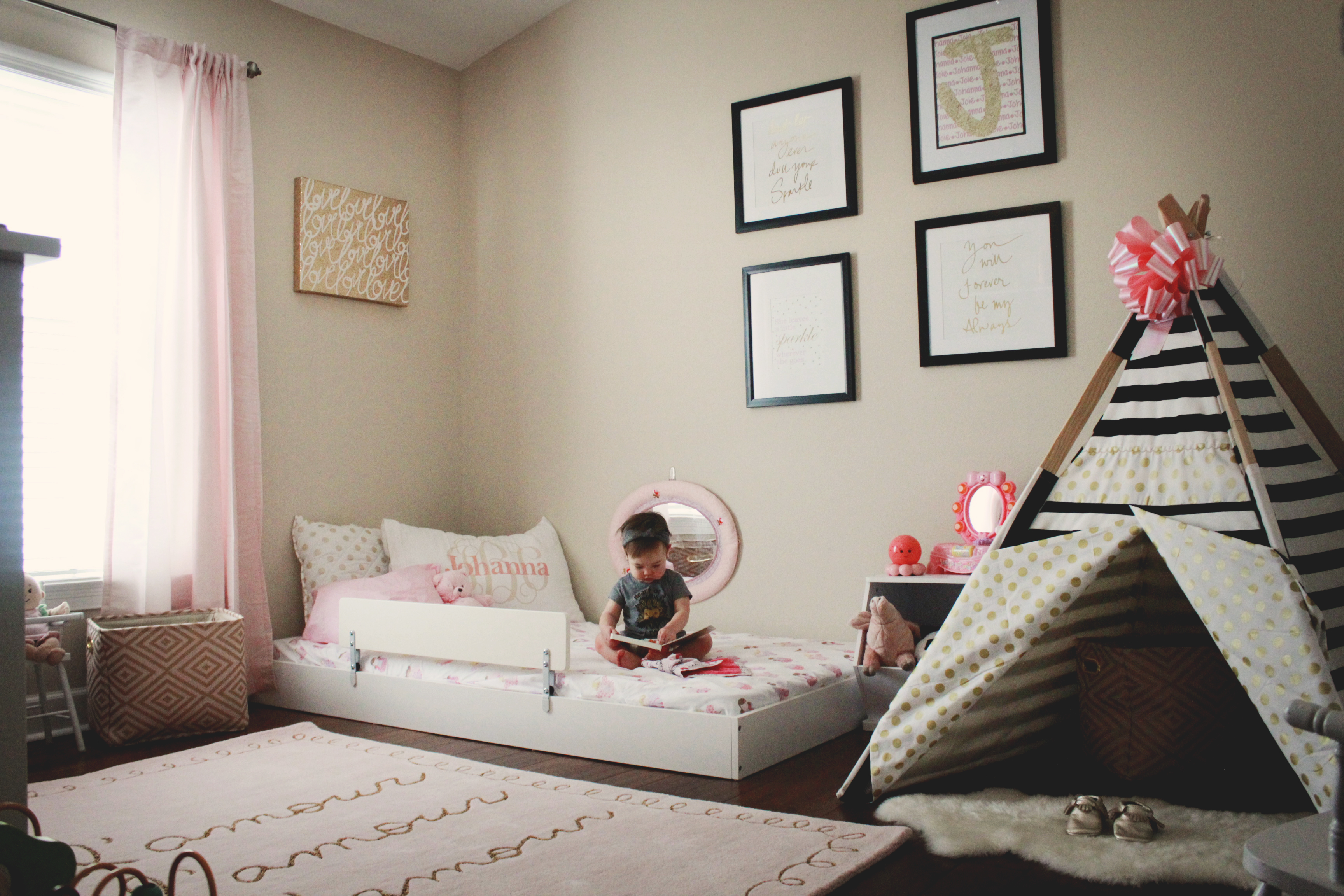 Why Choose A Montessori Floor Bed
Lets start with the 'Floor Bed' itself. Most Montessori Bedrooms you will find just a mattress on the floor (which works great!) but I am blessed with a slightly germaphobic husband who immediately informed me that without raising the mattress in some way it could fester mould underneath it. So our solution: We bought the *Kendall Trundle from Pottery Barn Kids* and their trundle mattress. The modifications we made were simple ones. We didn't add the wheels that were included because we weren't using it as an actual trundle to another bed, AND we didn't need her rolling her bed all around the room, which she totally would have done. We added some pads to the bottom to help raise the bed a tiny bit.  The *side rail* is from *Ikea* and is called the *VIKARE guard rail.* The side rail kind of defeats the reasoning behind the floor bed but it made me more comfortable with the idea because she is a vicious sleeper and I just wanted to try and prevent her rolling out as best as we could.
The mirror by the bed is from *Ikea.*
-The rug is from *Land of Nod*
-The curtains are from *Target*
-All the canvas' hung on the wall are from TJ Maxx/Homegoods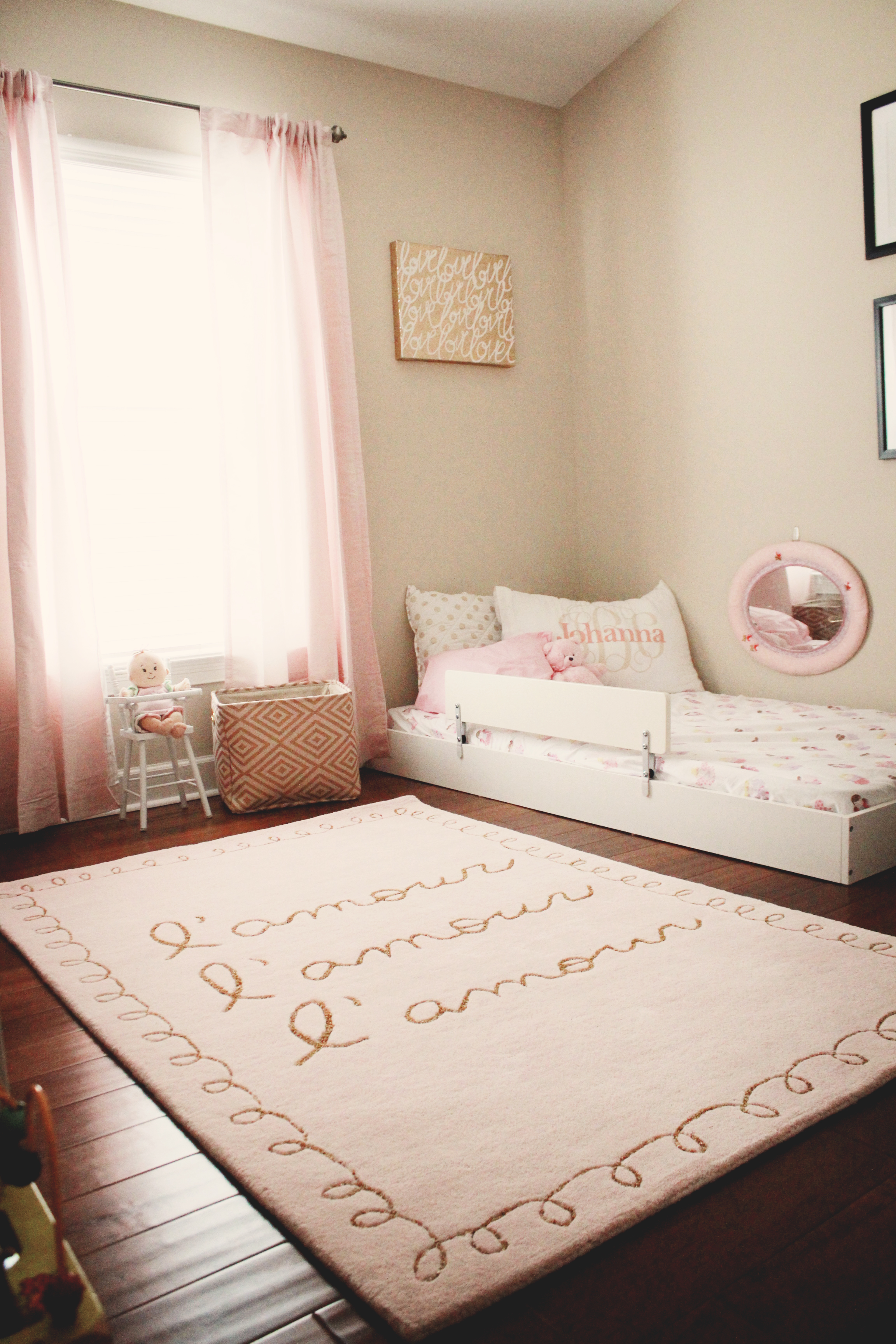 -The dresser is from *Ikea* but I switched out the knobs for a more vintage look!
-The bookshelf is by *GuideCraft* and purchased from Diapers.com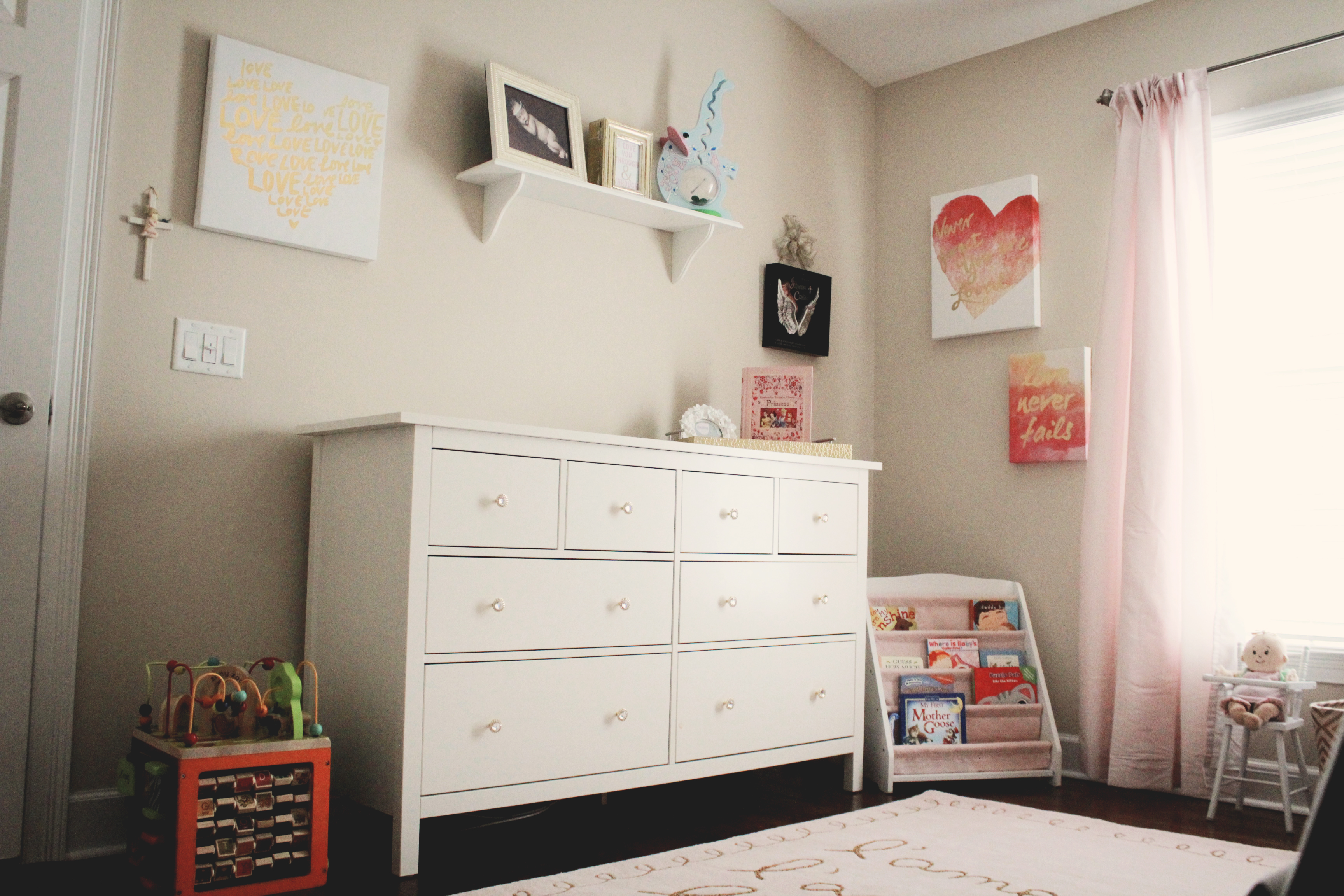 -The TeePee is from *Tnees Tpees or @tnees_tpees on IG.* Talk about a well made product! This is my all time favorite part of Joie's new room! She loves it and I love that she does. Honestly I based the entire room's color scheme on this teepee and I think its the perfect center piece for her room.
-The wooden rocking chair was a gift from my grandmother, Joie's great-grandmother.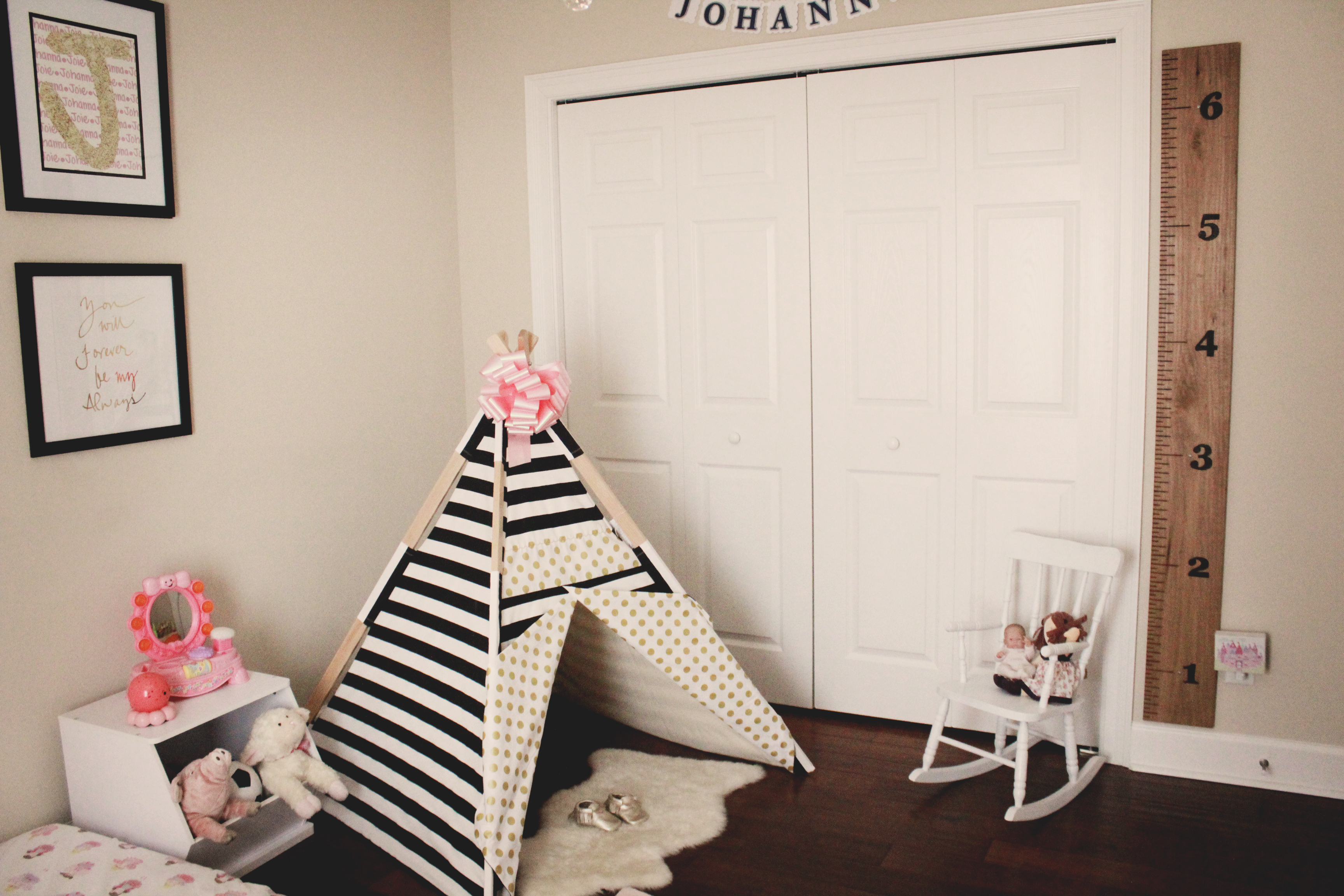 The cluster of pictures on the wall are from different places:
-I actually just made the "J" picture using Adobe Illustrator and had it printed through Vistaprint
-The "She Leaves a Little Bit of Sparkle" is a print from an awesome shop called *Life With Peanut or @lifewithpeanut on IG.*
– The other two are from TJ Maxx/HomeGoods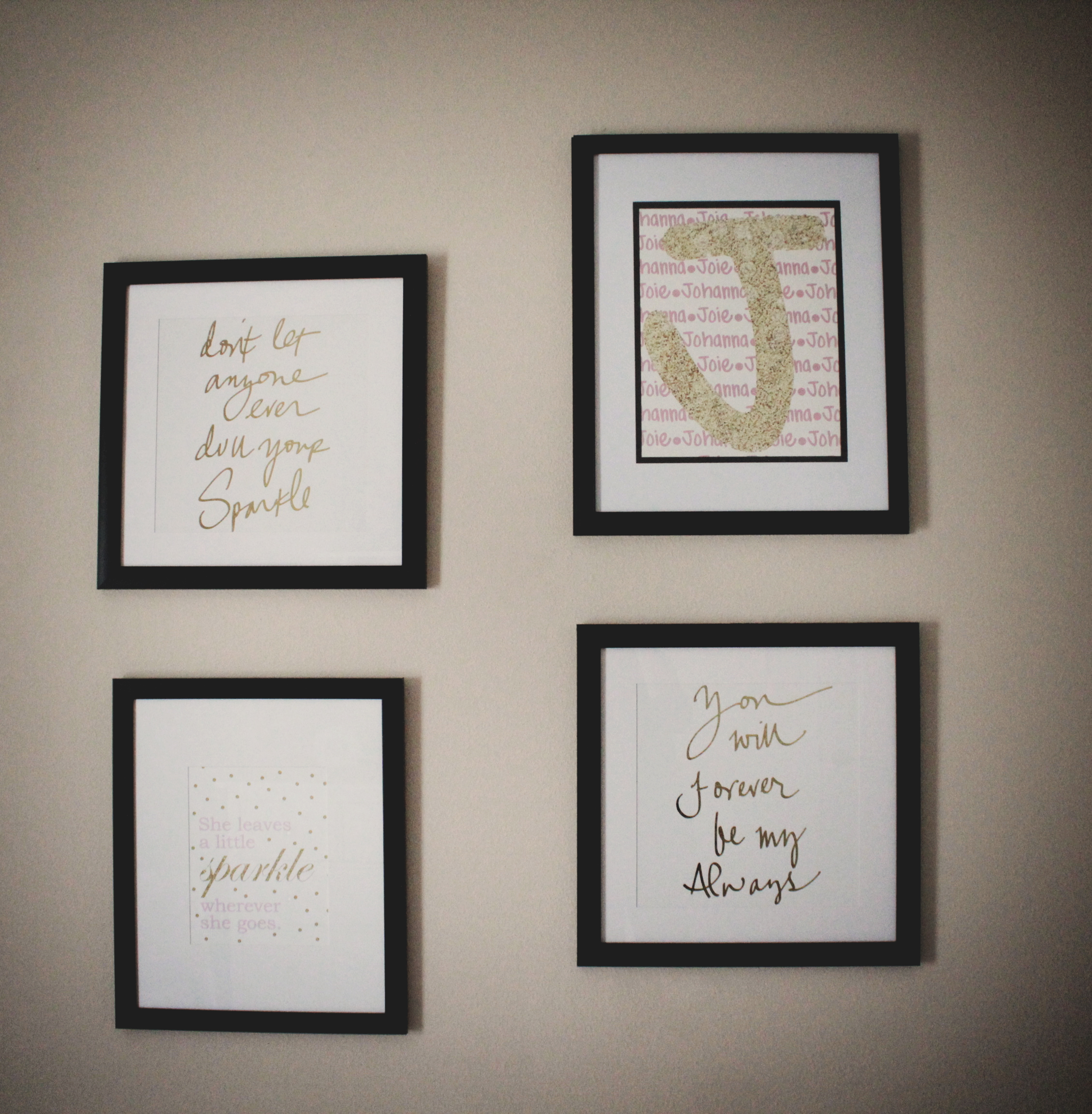 And that sums up Johanna's little girl montessori style bedroom! If you have any further questions please don't hesitate to ask! Thank you for reading!
Toddler Floor Bed Resources:
MORE about floor beds found in my following articles: