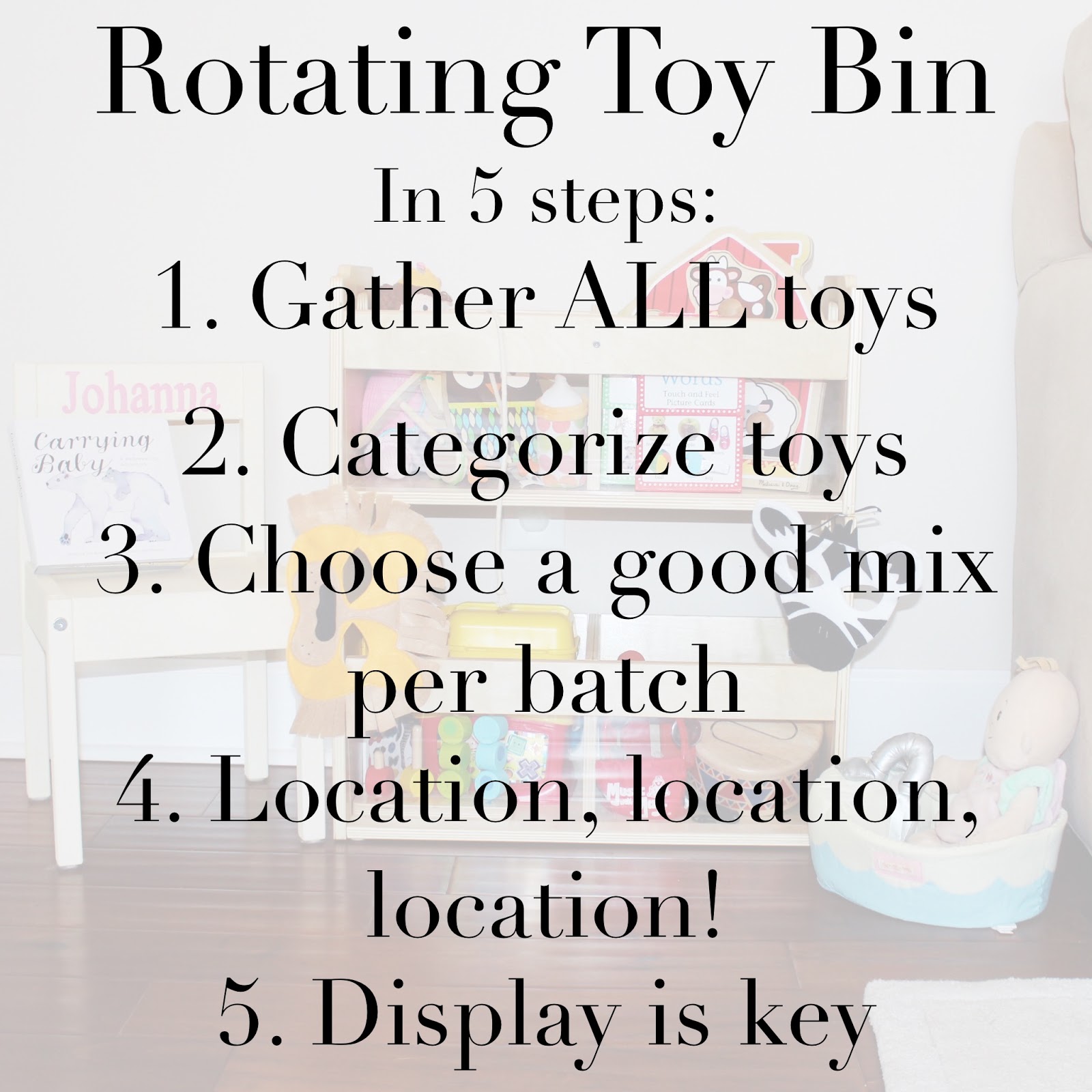 Trying to declutter your toddlers toys and wondering how to create a rotating toy bin for toddlers? Here are some rotating toy bin tips!
Before Creating a Rotating Toy Bin for Toddlers
If your house is anything like mine, sometimes it looks like you stepped on a land mine of toys which are now spread over your entire floor. That beautiful rug I spent so long searching for as we built our home was now covered in legos, books, flash cards and farm animals. The most frustrating part is that these toys weren't even being played with, instead they are just thrown from the basket to floor, then half the time ignored. Theres even more toys in the playroom, half of which are missing pieces and/or never touched by my daughter unless I pull them out specifically.
Well! This is where the whole idea of a rotating toy bin came to mind, I'm not by any means saying I invented this idea but I definitely think its a great one! Rotating toys every 1-2 weeks allow for quality play over mass quantity of unused toys.
How to Create a Rotating Toy Bin for Toddlers
Here are the 5 easy steps to starting a successful toy rotation plan:
Gather all of the toys
Categorize the toys
Choose your toy mixes
Set the location
Figure out the display
1. Gather ALL toys:
Yes ALL TOYS. Find a space where you can dump every toy out on to the floor and see what you're working with. I highly suggest you do this without the kiddos around, I learned that the hard way! If any toys are missing pieces, broken or just not useable- donate them/dump them depending on the condition they are in.
2. Categorize toys:
I'm not a fan of talking toys or toys that make obnoxious sounds at the press of a button but rather toys that allow for creative play. Meaning, the child can decide what he/she wants to do with the toys. For example, wooden blocks, stack them, build a house etc. But I do think the toys with sound are appealing to the kids too so don't get rid of them by any means. Just categorize them.
3. Choose a good mix per batch:
Clear plastic bins are great for this project. Once you have all the toys categorized, take a few from category and start placing them in the clear bins. Again, quality over quantity. A good mix of different types of toys will allow for longer more creative play than just a pile of toys meant to do one thing (like a stuffed animal that you press a button to hear him say the same phrase over and over). This works for our sanity too! I'm always on the search for that 😉 But all in all, I just like to make sure I have a good mix of different types of toys readily available.
4. Location, Location, Location!
Whether a bedroom, playroom, or living room, make sure the toys meant for that weeks play are in a place where the child spends most their time playing. We have a playroom but most our mornings/or afternoons of at home play are spent in our living room. For this reason we have a toy area in the living room for our rotation bins. This way your child isn't dragging toys all around the house, leading to that land mine I mentioned earlier.
5. Display is KEY:
I always refer back to the Montessori method because in a lot of ways I do try to implement their strategies into our daughters life, but also with that said, I'm a modern day mama who also likes to put my own spin on things. In a montessori style room, all toys are low and easily in reach for the child, not buried at the bottom of a toy bin never to be seen again. This specific Montessori way of thinking makes total sense to me! We had that exact problem going on. However we didn't exactly have space in our living for a whole toy specific bookshelf. We did in the playroom but as I said before I wanted a bin of toys for her to explore on her own, while still in eye sight for me, which meant it had to go in our living room. So I searched for the perfect solution and I found it! I found this amazing clear/ see through toy bin from Guidecraft called the Stacking Storage Caddy ($69 on amazon.com). Its clear, see through AND stackable. A perfect place to display our daughters toys for the week and not a total eye sore in our living room either! Wether you choose to keep the toys in the clear bins you used to sort them, or you lay them out over the floor for easy exploration, a toy shelf like Maria Montessori would suggest or a stackable bin like I have done, all that matters is the toys are well within reach and easily accessible so that your child can truly enjoy each toy for the time that batch is displayed/available to them!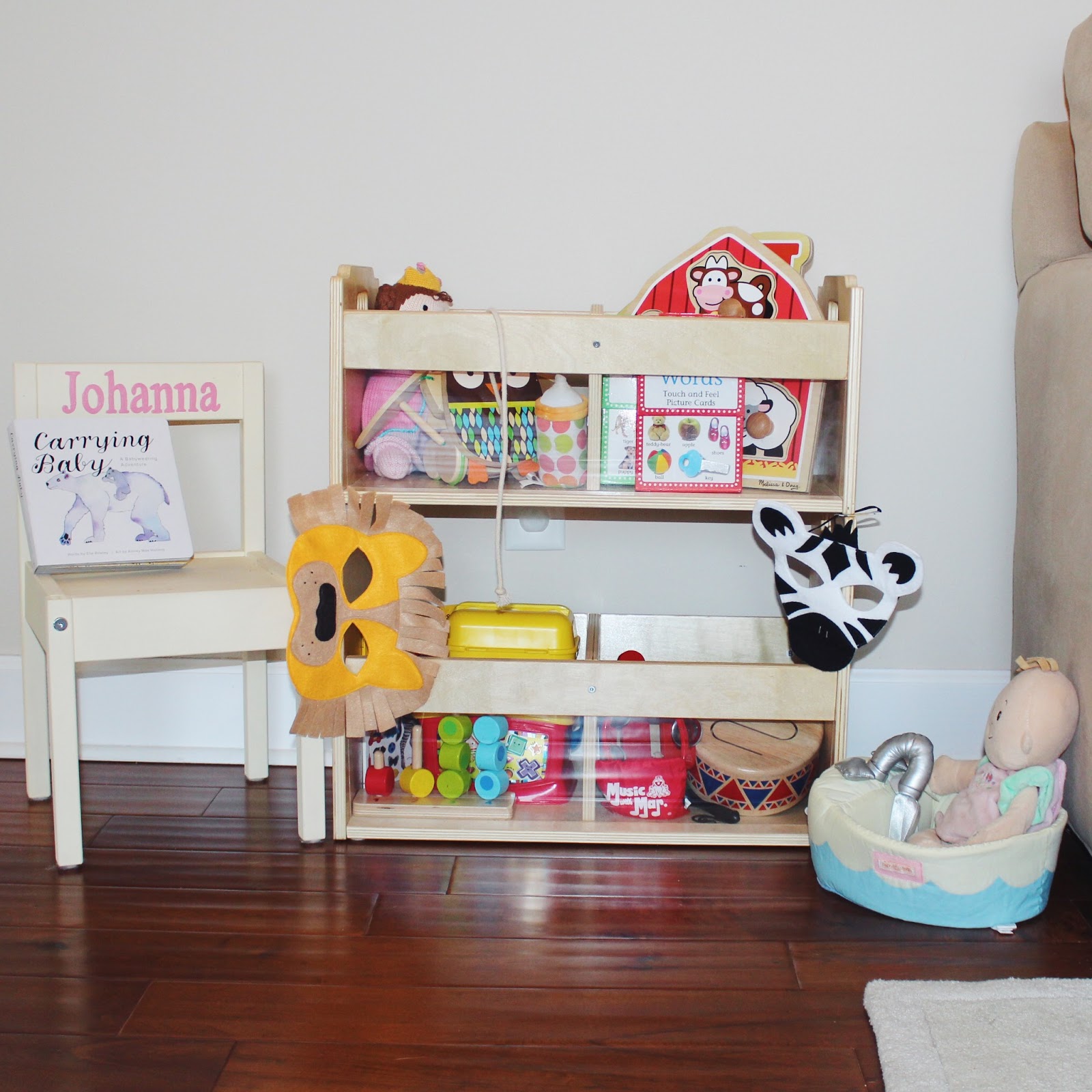 Good luck! Hope this brings some enjoyment your way! Xo Noelle
For more toddler tips, check out these posts:
Positive Parenting Tips For Toddler Tantrums
Sleep Chart + Routine For Toddlers