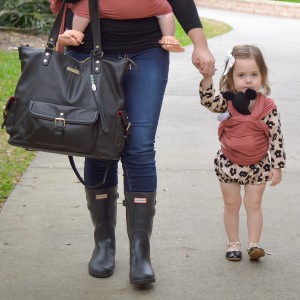 Remember those days when you threw your keys in your tiny little designer handbag, that was still as clean as the day you bought it, as you ran out the door minutes before you had to be at the next location? Yeah, me either. Those days aren't that far behind me in actuality but now as I sit here with two little girls 2 and under, it seems like centuries. Getting out of the house is much more of a chore these days and as a mom I look for ways to make my life easier and processes a little smoother. So when it came to my life line outside of the home (aka my diaper bag) I knew I needed one that could carry everything I could possibly need and be functional for me as well. I am a bit of an organization freak and my Lily Jade diaper bag catered to just that! I am on my second bag of theirs and I don't see me changing that any time soon. I may of had to give up my tiny designer bag but I didn't have to give up the well-made designer-feel of a bag. The genuine leather and attention to detail of my Lily Jade bags are so impressive. Not one aspect of this bag was overlooked. Functionality, looks and durability are what makes this bag a must have for any mama who doesn't want to skimp on quality when it comes to a diaper bag.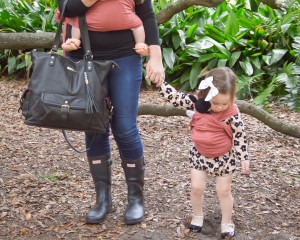 What I love most about Lily Jade bags are the removable "baby bag" inserts. This insert easily comes in and out of the bag and makes packing it much more organized! No more black hole of a diaper bag. As I mentioned before, I have two Lily Jade bags, The Elizabeth in Camel and the Meggan in black. The baby bag is interchangeable between the two so whichever bag I want to use that day I can just switch the insert into that bag. Such a time saver!!
Want to see what is in mine and how I pack for my two little ones? Read the details below!!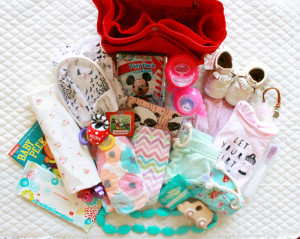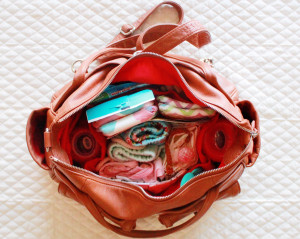 My diaper bag must haves for two kids ages two and under are this:
Diapers & Wipes: My general rule is to pack "a diaper an hour." So if I am planning to be gone for two hours, I will pack two diapers for each girl. We use Honest Co and love them!
Snacks & Sippy cups: Snack holder is by one of my favorites, Swankroo. And our go to sippy cups are Nuby brand ones.
Travel Spoon: Because I am a germaphobe…kind of. Brand is OXO
Neat Cheeks: I always have a pack on hand!
Outfit change: One for each girl & a pair of shoes (Freshly Picked Moccs) for the youngest in case she decides she wants to explore.
Nursing cover: My youngest is still exclusively breastfed so I need to be prepared to feed her wherever we may be.
Lightweight blanket: Multi-functional as I can use it for a play mat or if it becomes unexpectedly chilly.
Paci & Clip….because we don't leave home without it!
Toys: When it comes to which toys I pack, I pack small, multi-functional toys. I try to bring ones that both girls can enjoy. I have found that the small squared board books are great for both girls. They are easy to pack due to their size and perfect for tiny hands. As for my two year old I always have a "Play Pack" on hand. I have a stash of them at home and throw one in my bag before we head to any restaurants or places where she may need to be entertained. It comes with a small coloring pad, crayons & stickers. All of which can be tossed afterwards because at a dollar a pop they are certainly replaceable! Also for her I have found these little cameras at Party City that are about the size of my thumb and the perfect size to throw in a corner pocket of my bag. They are basically mini view finders that have different images when you look through the hole and can click for a series of 5 different images. Again for less than a dollar I keep a bowl full of them in case we lose one. They have different characters you can chose from but if you can see a theme here, my daughter is obsessed with Mickey Mouse! For the littlest I always have one of her wooden toys because she can chew on them or roll it around, again multi functional. This one is from Bannor Toys.  I also have a few small rattles and teething toys all from one of our favorite brands, Nuby USA. She absolutely loves them. This includes a teething necklace that I can wear to keep her entertained as well.
Not pictured in the first two images: Roll up changing pad that fits next to this baby bag insert inside my purse.
Getting out of the house has been much easier knowing I am prepared for whatever our adventure brings. I can thank my well organized Lily Jade bag for that! I hope you enjoyed taking a peak inside my bag. Cheers!
Xo Noelle
First two styled family photos by Kaley D Photography