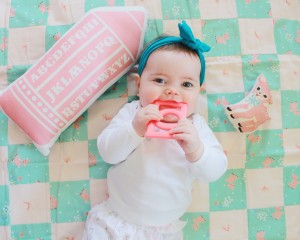 Modern teethers for your modern babe are here! As a modern day mom to a teething 8 month old I know the importance of a great teething toy and one that is ascetically pleasing as well! A teether that keeps my little lady occupied for more than a few minutes AND relieves any pain associated with her teething is a win for me too. Little Standout is all of the above and more! I was introduced to Little Standout through the amazing world of social media and I can't rave enough about their products!
I got a chance to chat a little bit with Staci at Little Standout to find out more about her company! Our interview is below. I hope you enjoy it as much as I did!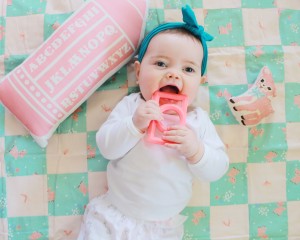 Tell us a little bit about your company and how you got started? 
I started working in the children's product industry in 2009, with the intent to one-day design my own line of toys. Many ideas came and went. I wanted to make something that was safe, natural, and/or organic. I was working for Sprout San Francisco and learned a lot about healthy living and the importance of using products that were safe for baby. Even though products are being sold on the market, it doesn't mean they are the safest for your little ones.
I fell in love with silicone. It's easy to clean, antimicrobial, durable, soft, and really fun to design with. The teethers I was selling and buying for friends and family were usually of nondescript shapes or animals – Lots and lots of animals! Although cute, I wanted to design something that appealed to my generation, something that was not only fun for baby to teeth on, but fun for adults to look at too. So I started with a bunch of designs I thought were relevant to hip parents and began designing and prototyping. The first 4 designs have been a huge hit. They seem to resonate with different types of people, and it's fun to see parents get excited over products they are buying for their kids.
All of our products go through strict safety testing here in the USA. We use a certified laboratory to perform a vast array of safety tests that comply with ASTM and CPSC standards and regulations. Testing includes mechanical, chemical, choking hazard, flammability, labeling, tracking, etc. I'll attach the full gamut of testing for your reference, it's kind of interesting.
What does your designing process look like? Is it all done in house? 
All of the designing and prototyping I did in house. I start with sketches/measurements, turn my 2-D sketches into 3D images, then print them out on my 3D printer as prototypes. I launched a Kickstarter back in May to help fund the permanent molds that would make the final silicone products. Those are made overseas at a BCSI certified facility in China. I work closely with my manufacturer and have had a great relationship with them over the last year.
What inspires you? 
I'm inspired by travel, our endless imaginations, and creating something sustainable for my family.
What is your favorite product in your shop right now?
The Hamsa teether is my favorite. My grandmother was a superstitious woman and had Hamsas hung up throughout her house, so I grew up with them. Once I started traveling, I would see them all over the world in markets, holy places, and adorned on houses, cars, and shops for protection.  I've always loved seeing them displayed and have gifted them to many new babies, so to have them as a safe silicone teether is a new twist on an old tradition.
You can shop their amazing teethers HERE!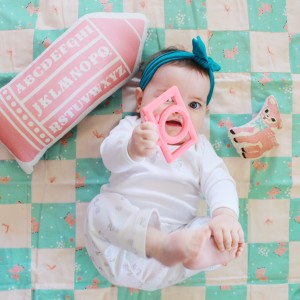 Xo Noelle