If you're looking for playroom organization that promotes more play, this list of playroom organization tips is for you!
---
| This post contains affiliate links. This means by shopping through my links I get a small commission (at no cost to you!) for bringing these ideas to you! I appreciate all your support!|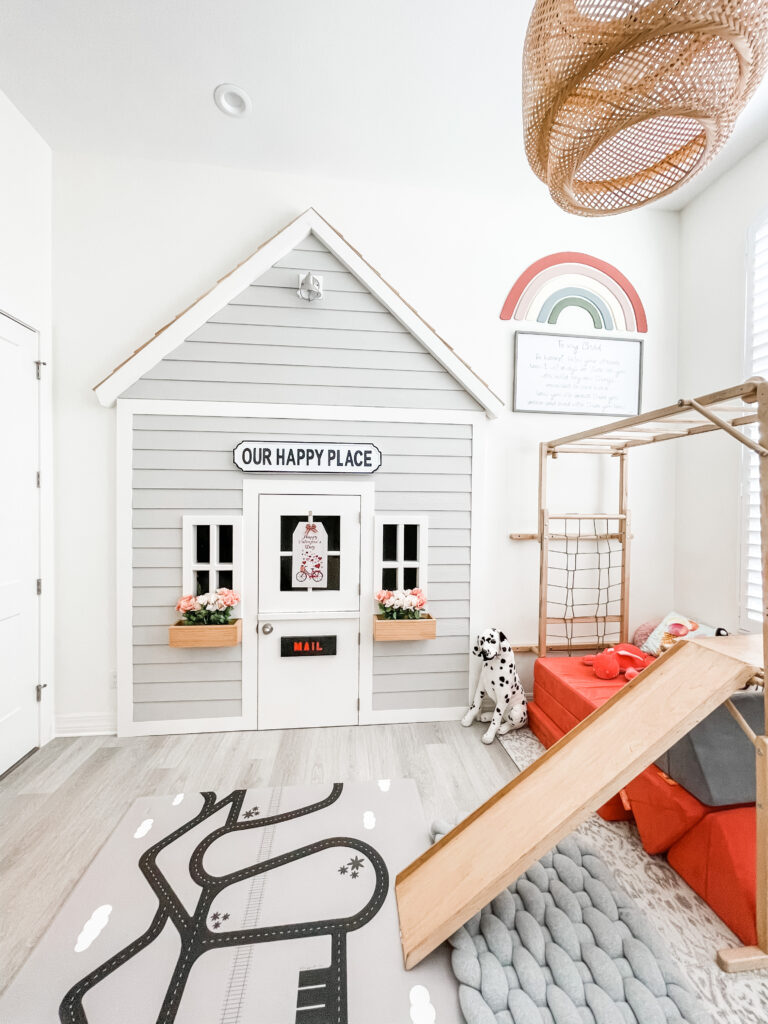 Intro to Playroom Organization
With four young kids in our home I have come to realize that there will always be a mess somewhere. Children learn so much through play and as Albert Einstein famously said, "Play Is The Highest Form of Research." So for that reason we knew we wanted to give our children space to make their "messes" and play! The problem we faced was the clutter that ensued and lack of organization that resulted in lots of unforgotten and unused items. I decided to focus on playroom organization and toy storage ideas that promote more play and less clutter. Below has been the solution I have been waiting for and I hope you enjoy! 
 "Play Is The Highest Form of Research." Albert Einstein 
If you're new here, WELCOME! Playrooms are kind of my thing when it comes to design. You can see our current Modern Playroom Featuring An Under The Stairs Playhouse HERE!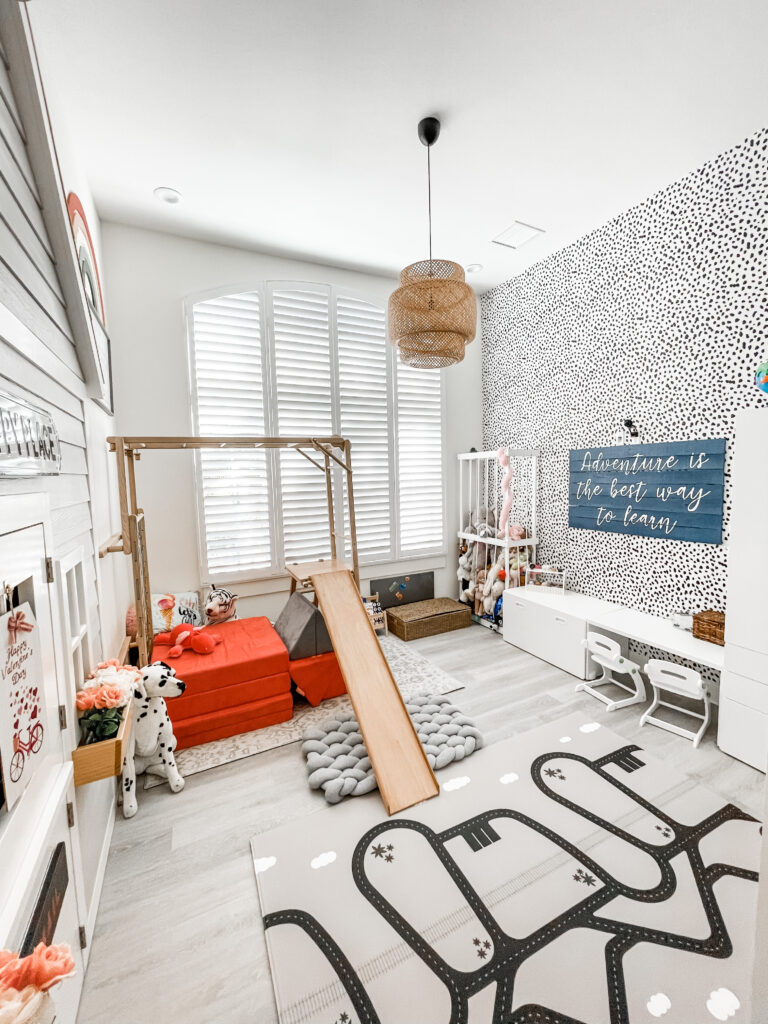 Our Playroom reveal sure has been a hit but even I fell into the trap of organizing their toys in a way that they quickly became forgotten about. They had plenty of toys but only used the same select few and grew bored easily. Taking our love for Montessori I adapted a few ideas with a modern twist and they have worked out well! I am excited to share everything below! 
Playroom Organization Tips
I recently worked with a local organization expert for a total 'Pantry Organization Makeover' (which can be seen HERE) and I adapted a lot of the same ideas when it came time to our playroom organization project and they shared three key playroom organization tips. 
Purge/donate outgrown toys
Group the toys in "zones"
Do NOT hide the toys!
Here is a bit more on the playroom organization tips I learned that have WORKED!
1. Purge / Donate Outgrown Toys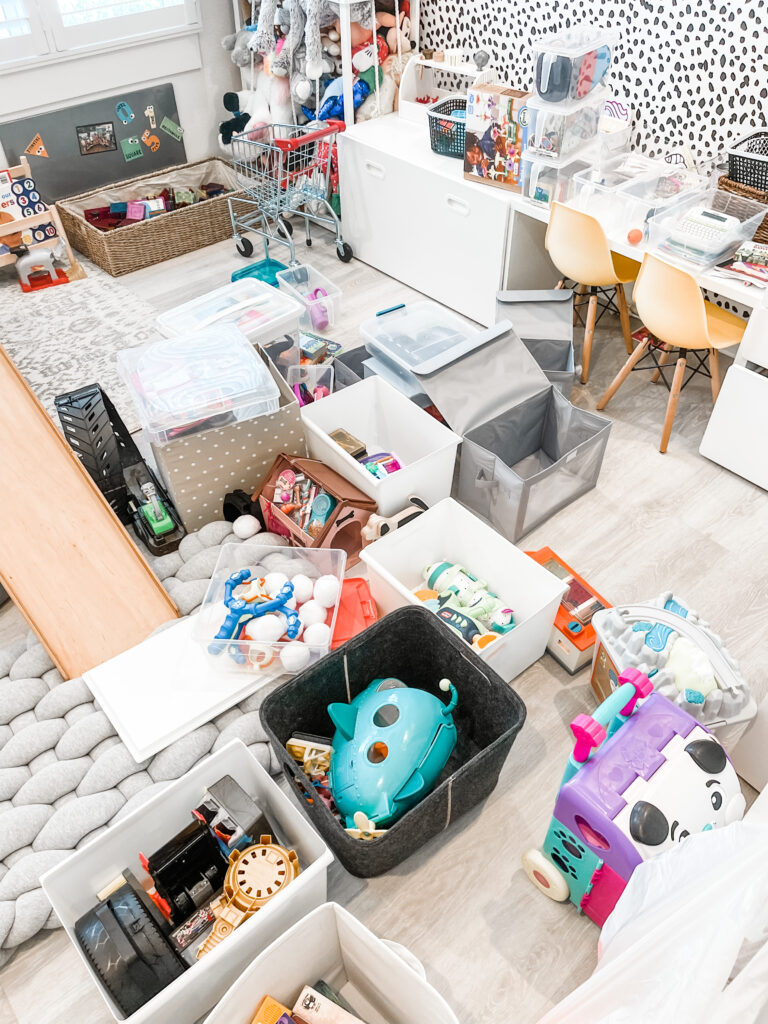 With four kids and a blog we sure gather toys around here but we have a close relationship with a local church and foster organization which we love to pass along our outgrown toys to! If you can clear out even a handful every few months you'll do a world of good. There are always places looking for exactly this. You could also bring to local thrift shops and get cash if you could use that too! 
2. Key Zones/ Groupings
When I talk about key zones here I am not talking about a grocery store system like I do in my pantry post. I try to think about the key zones of play my kids gravitate to (stuffed animals, building area, crafty area, car play, active and baby dolls/house.) After I focus on what the four of my kids gravitate towards most I gather the main toys in those categories and find a home in the playroom for them.
Our Playroom Zones Include: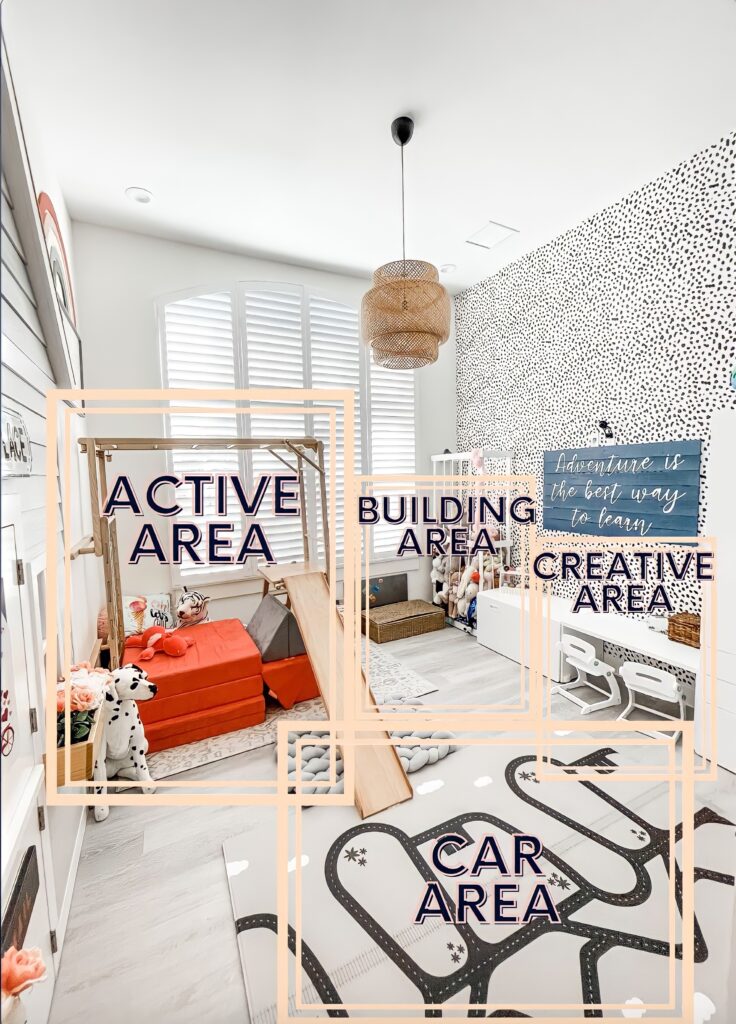 3. Playroom Toy Storage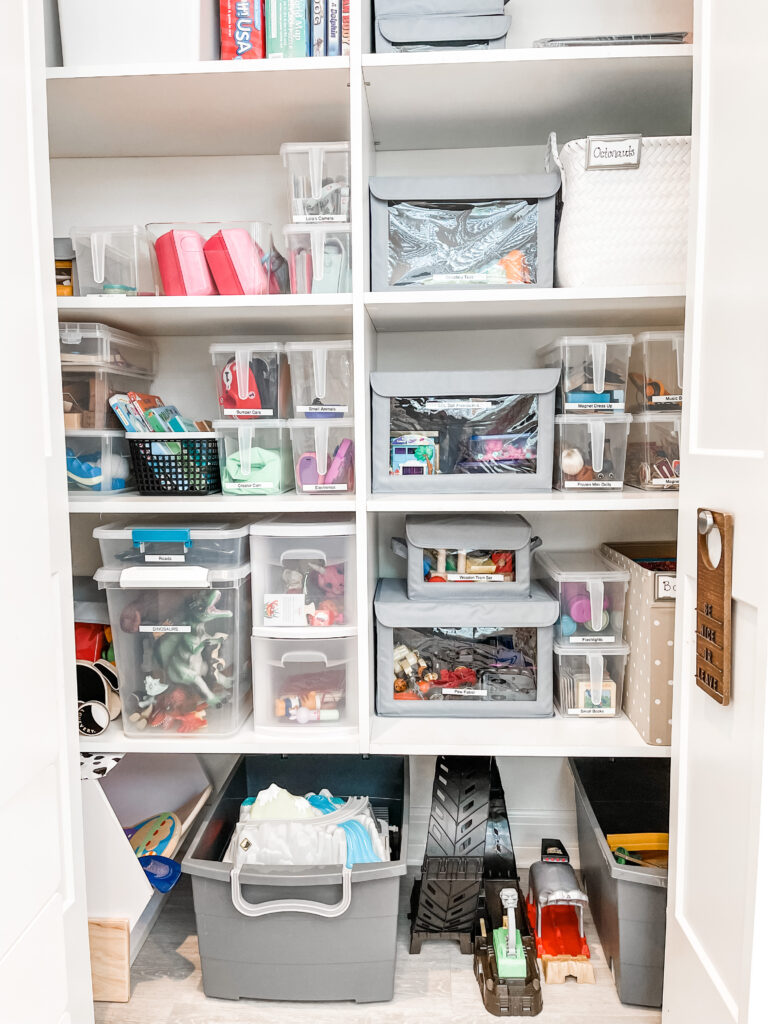 One part of organizing that is true for every part of the home: You DON'T use what you can't see. This couldn't be more true when it comes to children too. Previous attempts to organize the playroom failed because I was more focused on "hiding" the clutter of toys in the closet instead of making sure the kids could see what they actually had to play with. Previously I had white labeled bins which looked nicer but the stuff in the boxes just kind of got lost in the closet. This was a key change to making the room as functional as can be!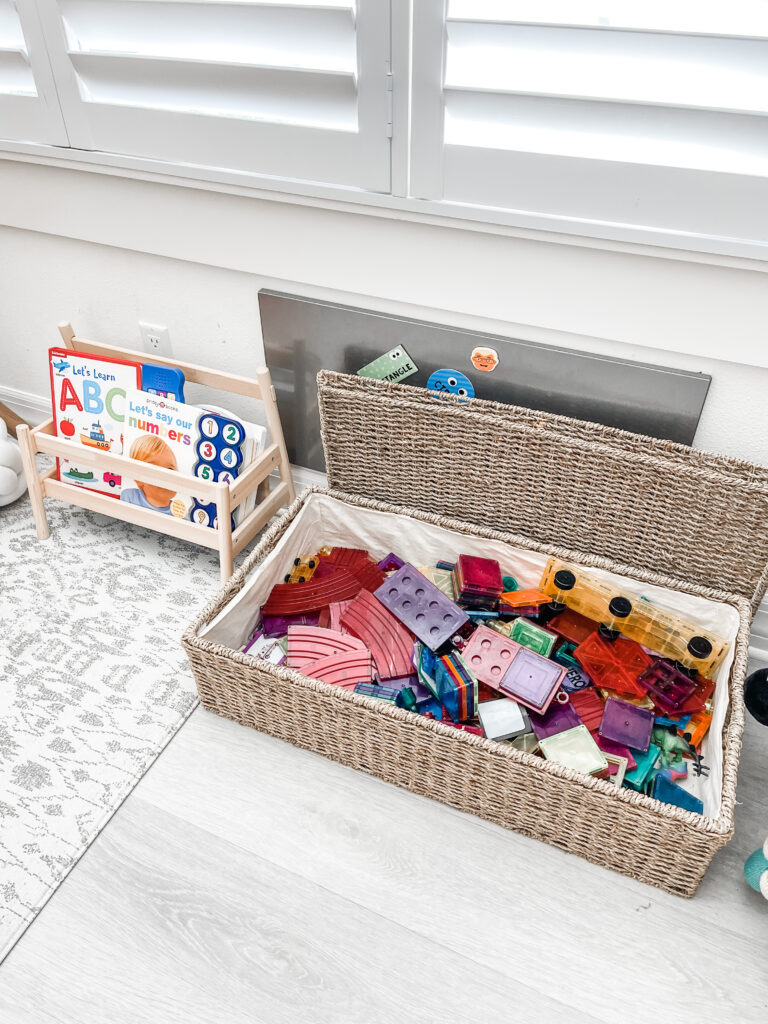 Toy Storage Organization Bins:
Square Storage Organizer With Handle:

I have to note that these are pretty small containers but I felt like by sectioning out the toys that get played with often it makes everything easier to see and keep track of. AND THE HANDLES! The handles are pure genius for little kids. This makes them easy to grab from the closet which has been super helpful too! 

Fabric Storage Bins Clear Front:

I love these because you can see inside each bin easily and also the lid is attached! Two super functional features for organizing toys! 

Wicker Floor Storage:

There are some items I like to leave out all the time because they routinely get played with by our 3 year old twins and one of those things is their magnet tiles! We have this

under the bed wicker storage bin

that can be left on the floor but doesn't look as though it just isn't put away. These

smaller wicker baskets with lids attached

would be a great option if your collection is smaller than ours. We also use this same storage for DUPLO legos for the twins as well! 
I hope this helps you tackle your playroom organization needs with ease! Enjoy!
Make sure you follow along on social media for more!
If you like what you see please consider pinning on Pinterest or sharing with friends!