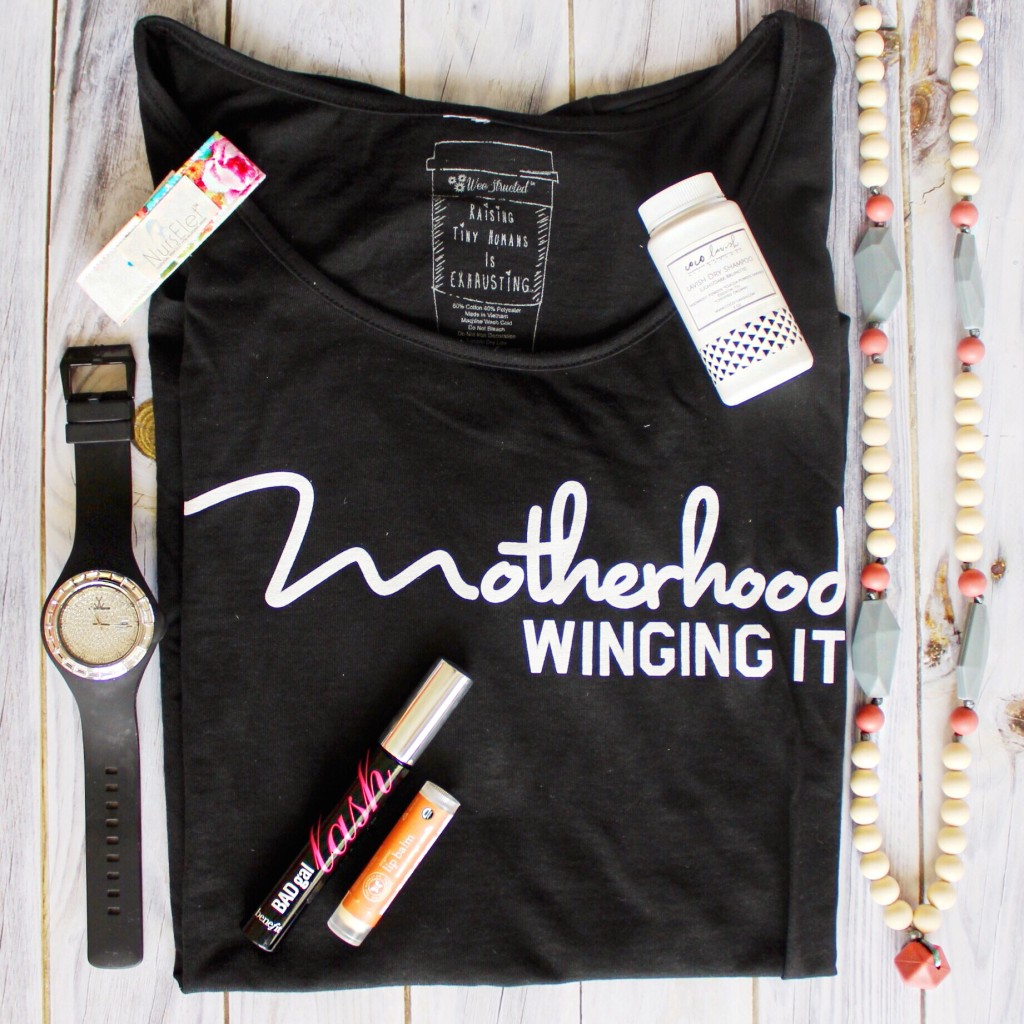 I think as mom it is typical to find what works for you and stick with it. I like to refer to it as my "Doug Funny" look but I'm never sure if anybody actually gets the reference. But let's face it, the mornings are busy and time gets away from us. My kids look like little models every day but me, I'm just winging it.
At the bare minimum I wont leave the house without a clean outfit, mascara and lip balm. If you catch me without those three things then I highly suggest moving right along (it must be a bad day that's not worth talking about, if you get what I mean!)
Another life saver as a mom is dry shampoo. I like to say I go days between washing my hair because it's the healthy thing to do but really I just didn't have time to shower. I always keep my Coco Lavish dry shampoo in my bag for the times where I am creeping past my "I really should have washed my hair today" threshold. It works wonders and I am totally obsessed!
I swear by yoga pants but I feel more human if I throw on some jeans, a fun graphic tee and a few accessories. It's worth the extra few minutes to not look like a total homeless person walking through target. THIS shirt by WeeStructed couldn't ring more true to all the mamas out there and it's definitely a current favorite of mine!
My typical pose is baby on one hip while chasing the two year old with my free hand, so a teething necklace is a fun accessory for the busy moms. My littlest always has something to chew on which helps keep her happy on my hip. Baby Bees and Peonies has some great ones  (like this one pictured here-the Tiponi necklace) in her shop!
Lastly if you're a nursing mom then do yourself a favor and head over to Get Nurselet and grab THIS amazing new product of theirs. A handsfree solution to securing your shirt while breastfeeding. I prefer using a nursing cover in public (my favorite are by the wonderful Bebe au Lait found HERE) and these NursElet bracelets are a life saver because I don't have to mess around under the cover to keep my shirt in place. These two products are the perfect match for a nursing mother on the go!
What are your go to must haves as a busy mom on the run? I'd love to hear! Leave them below.
Xo Noelle