Finding the best holiday books for kids that are fun and educational can be a mess, but here are the best halloween books for kids I've found!
|This post contains affiliate links. This just means when you purchase from my links I get a small credit for it! Thank you for your continued support!|
---
Find the Best Halloween Books for Kids
I am so excited to share with you these 6 fun Halloween books for kids! For every Holiday we load up our bookshelves with fun themed books special for the occasion. We love to rotate our books anyways and the holidays just make it a great time to get festive in our reads too! We have SO many books but I narrowed it down to my favorite 6 fun Halloween books for kids below! Each one is unique and can cover whatever need you may be looking for!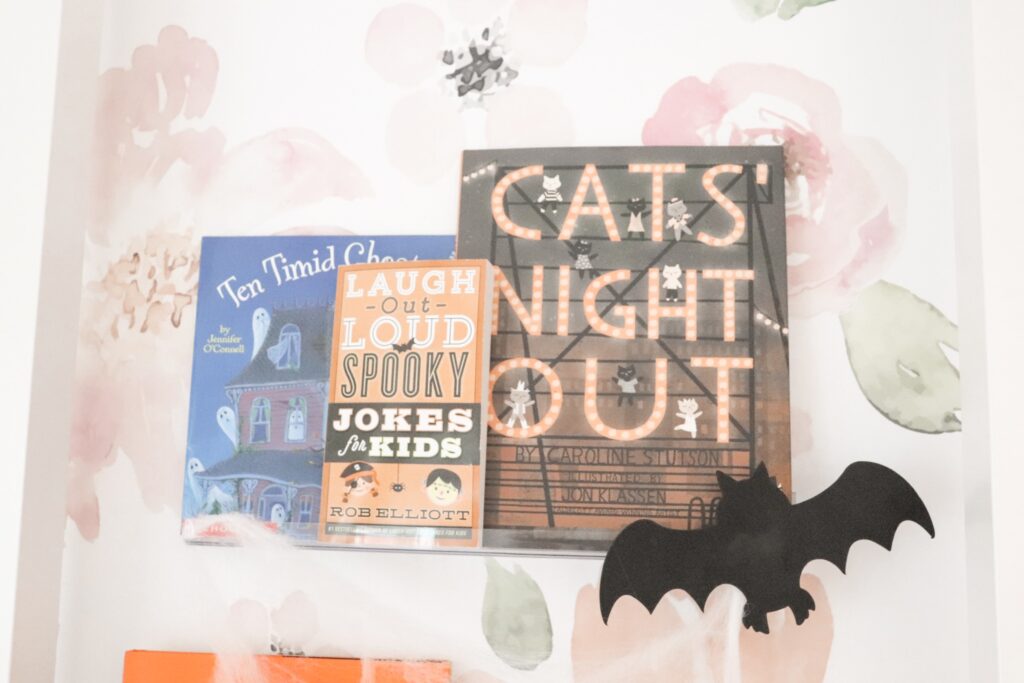 As you may already know by my previous family friendly Halloween decor tour AND my love of baking Halloween monster cookies, we go ALL out for Halloween.
Cute Halloween Books for Kids:
Halloween Bookshelf Worthy Books:
Yes, you know that's a thing now! We are visual creatures now more than ever and books are a great way to "decorate" a kids' room for Halloween. Cats' Night Out has the cutest "in the dark" theme cover which is great for Halloween. But more than just the cover, this book is so great to follow along with. It really engages your little readers and is educational as well! As you continue on each page it emphasizes counting by twos.  Not many books do this! My kindergartner LOVES the challenge that this book offers. 
The Classic Halloween Book For Kids:

There is always room for books that you know what to expect out of right from the purchase. The Spooky Wheels on The Bus is just that! This book is really great for any age kid! It ties in all the super fun elements of Halloween in a tune we ALL grew up with! On top of the great lyrics, the illustrations are adorable too! My twins REALLY love this book because we get to sing a long but even my older girls gather round for it too. It is a family fave! 
Halloween Books for Preschoolers:
Learning for preschoolers should always be made to look more fun! Counting is the lesson in disguise in this next book, Ten Timid Ghosts. This book incorporates counting down from 10 to 1 and has the sweetest rhymes to accompany it. I love a good rhyming book and this one doesn't disappoint. The rhymes are cute and so are the illustrations! This book is an easy read for the adults and it's always a crowd pleasure in our house! This also incorporates counting down from 10 to 1. 
Fun Halloween Books For Beginning Readers
:
Lulu Goes to Witch School (I Can Read Level 2)  – My kindergartner is officially reading and we love to incorporate one book a night in that SHE can read to us (with help of course). And this book is perfect for our Halloween book rotation because she can feel involved in story time. 
The Narrator Book:
The Scariest Book Ever: My girls specifically are huge fans of books where the narrator is the main character (think Mo Willems – who is their all time fav author!) This may be why out of all of our Halloween books, they REALLY enjoy this one. 
Fun Halloween Joke Book For Kids
Each family has their joke lover and we have a few! This book was a gift from my SIL to my girls and they LOVE it! I had to add it to this list! Laugh-Out-Loud Spooky Jokes for Kids is filled with the cutest Halloween inspired jokes for kids! 

Here are a few others I have been eyeing but yet to purchase: 
I hope you enjoyed these book choices! Enjoy!
Make sure you follow along on social media for more!