Summers get hot, but summers in Florida get REALLY hot. It's about this time, late April, that I start to gather clothes for our summer vacations, stay-cations and activities in between. Every once in a while I come across a shop that I just want to buy one of everything and that happened recently when I was introduced to Avocado Babes! I am in love with their goodies and my girls are officially summer ready with Avocado Babes everything!
From crop tops to unisex tanks, flower crowns and all around goodness they have got it all! The two tops we received blew me away!
Shown here is Joie rocking the Banana Leaves Tie Open Back Crop Top for Girls which you can purchase HERE. We are doing a Copacabana themed first birthday for my other daughter and this is going to be her party attire because it fits so perfectly!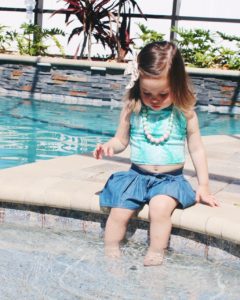 And here is my personal favorite, the Pineapple Rain Tie Top Flow top which you can purchase HERE. This one is comfortable and extremely lightweight for those hot summer days. I also love that its easy to take on and off because we are outside a lot especially over the summer and that easy on/off comes in handy with a hyper two year old!
As mentioned before they have the cutest flower crowns which you can find HERE.
Head over and shop NOW! Xo Noelle