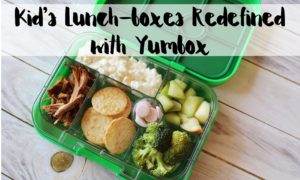 Going to school, to play dates, to the park or anywhere outside the radius of our home requires me to pack food. My girls are little but they eat A LOT! I get very tired of grabbing the same stuff as I run out the door with girls and I think they do too. Everyday I grab the easy stuff, the pre-packaged, already made stuff. That's great every now and then but I wanted to provide a better variety for the girls and that is when I decided to give Yumbox a go! I was amazed, to say the least, when I first received mine and I truly think kid's lunch-boxes have officially been redefined with Yumbox!
Not only are these designed for children of all ages but they are functional for all as well! It is lightweight and compact to easily fit inside backpacks, standard size thermal lunch totes and more. The easy to open latch makes it accessible to all but still keeps the contents safe and in place. This is the one lunchbox you can pack yogurt next to crackers and the food wont leak or touch each other! I almost didn't believe that these could really be that leak proof, so I had to test it out right away on a recent picnic to the park with my girls. I packed a yogurt next to a sandwich for my daughter and after transportation is was all still neatly in place!
In a country where there is an overwhelming amount of obese children it is nice to know that Yumbox makes balance and portion control for mealtime on the go EASY. Whoever is packing the lunches or snacks can follow the easy to read illustrated trays and it allows them to be guided through the entire packing process. That is something every parent can truly get behind!
Here are the illustrations in the 6-compartment Yumbox and the Yumbox MiniSnack tray: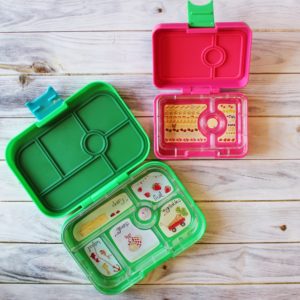 As you can see these illustrated trays make eating lunch fun and educational for your kids. They can visually learn as they eat what the components to a healthy meal are. What I am looking forward to is the time when my daughter can help me pack, using the guided illustrations, then see them again as she eats her meal. Talk about empowering the minds of young people to really know what they are putting in their bodies and the true importance of portion control.
I don't claim to do everything "earth friendly" but when something is as "green" as these Yumboxes are it does make me happy! With these lunch-boxes there are no need to buy plastic bags, saran wrap and snack packs to pack a meal for your child (only for it all to be smashed anyway once they get to school) because these Yumboxes are 100% reusable, BPA-free and phthalates-free. Reuse, reduce and save!
Here is how we pack our Yumboxes and you can head over to their website now to find out more ways to pack AND to purchase your Yumbox for your children! Enjoy!!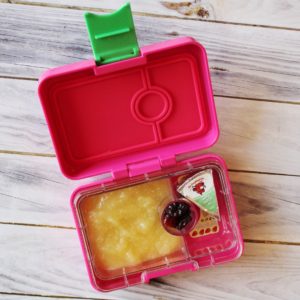 Xo Noelle