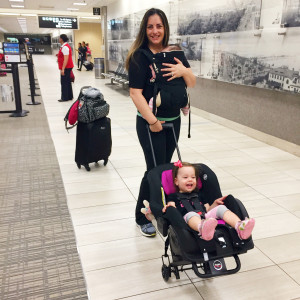 Traveling is an anxiety trigger for many people. Packing, getting to the airport on time, airlines, rental cars and all the fun that goes into planning such events. Then you add the tiny humans to the mix and you can be sure to triple the stress levels from start to finish! After traveling a hand full of times (land and air) with two little ones, I have mastered the art of traveling with my girls. Here are a few tips for traveling with little ones that I have compiled to hopefully help you with your upcoming travels!
Prep and Pack! Having the right stuff is the biggest battle because unlike the unknowns of the "getting there" part, this is something you CAN prepare for. Here are a few tips to help you be prepared!
Pack the essentials: Clothing, shoes, diapers and any other important items that your little one will need to feel comfortable in their new, temporary, environment. For us, each girl has their own "blanky" and favorite stuffed animal that I make sure to bring so when it comes time for bed they will have a sense of comfort regardless of the chaos that traveling inevitably brings.
Make a list! You can have it on hand for the week leading up to your trip and add things as they come to your head. This is by no means the best but here is one I made and use often:
Get packing organizers. I pack one luggage for both girls. Being an organization freak, I found that using packing cubes really help to keep things in order. I use these awesome little cubes to organize each child's belongings in their own area. I put one in each of the girl's rooms as I am packing, then combine them all in the one luggage before we leave. Once we arrive, the cubes are great because I can pull them out and set up each girls stuff in their own area. No more digging through the luggage for a size 12 month pants and instead grabbing all the 2T stuff creating a mess of baby clothes that have now been mixed, unmatched and unfolded (you know you've been there!) Find the exact ones I used HERE.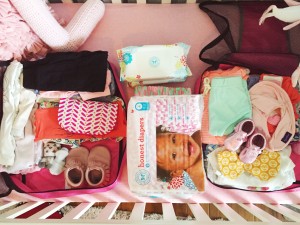 Packing is only part of the equation. Executing the actual traveling part is just as important and probably harder because it is difficult to really prepare for the unknown. These next few tips/must haves will help make traveling with the little ones way easier and you'll be able to handle whatever is thrown your way! Chances are you're going to need a stroller, carseats and sleep arrangements suitable for babies upon your arrival. This is of course is if you are unable to have all this available to you by friends or family at your destination. First up, the dreadful airport! Do you use a stroller or check the stroller and wear the kids? Do you gate check the carseats? Buy a seat for the little ones or have them ride on your lap? SO many questions! I had a chance to head out to Los Angeles for a Honoring the Emmys event last fall and I wasn't going to pass that one up. The only catch, I had to bring my 5 month old and 20 month old without my husband. So naturally I enlisted the help of my mom but even still, the planning was all on me. Here is what I used then (and still use now) and I can honestly say the trip was a huge success, that includes the airport and 4 hour plane ride there and back! We have since traveled using the same method and it has been (dare I say it) a breeze!
All I pack is a bag for me, a bag for the girls, one for the husband, a double stroller and two carseats. We usually use the pack and plays available at the hotel which is a huge help. We don't always do that because I love our Guava pack and play. It usually fits nicely in small areas (like walk in closets) which is nice when you have to share a room with two kids! So it depends on the trip and who is there to help carry baggage! But, yes, you heard that right, one kid usually ends up in the closet but I promise, my daughter loves it!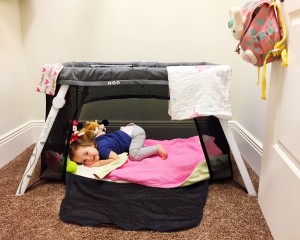 Double umbrella stroller. A MUST have if you want to enjoy anything once you arrive to your destination. I highly suggest getting one that is super functional. In my eyes that means, lightweight but sturdy with plenty of functionality. Both seats reclining is a must because chances are you'll be off any schedule that you typically keep while home so adventures may run through nap time. It certainly doesn't hurt to be prepared for a nap on the run. You'll thank me later. We love our UPPAbaby G-LINK umbrella stroller and it's great for ALL of the above. Folds up, lightweight and functional. The seats recline at multiple positions for on the go napping and comfort and there is a nice extendable canopy perfect to great some nice shade for your little ones. There is no need to bring your bulky jogging stroller along when this one works great and has all the same features. Space for storage in the back, a parent cup holder and easy swivel wheels are a few of my favorite components of this stroller.
Carseats: We bought these inexpensive (yet highly rated) and super lightweight, Evenflo Tribute convertible carseats for the girls. We check one in a securely padded carrying bag with wheels and we use one on the airplane for our oldest. Buying her a seat is important because I treat the flight as a car ride. Speaking of car rides, my friend was telling me the other day about a great deal she got on her car insurance from Money Expert. They provided the best value quote around! But I digress. We buckled her in and keep her occupied as if we were on a long car ride. It's even better because we are able to get her up to stretch a few times in between. But for the main part my arms were free to care for the baby. Find the carseat HERE and bag HERE. A final note on this, if you're out and about in the car with your kids then you should get some legal representation, its really important that if you are unlucky enough to be involved in a car accident then you're going to need some legal assistance my friend was doing some research for lawyers such as Personal Injury Lawyers in Newark. She ended up finding the lawyer she needed.
Pulling cart: Instead of lugging a carseat around the terminal AND a stroller we use this pulling cart. It is great to attach the carseat that we were already planning to use the on the airplane to pull my oldest around while navigating the airport. I can't tell you how many times people stopped me to ask where I got it and I can honestly say it helped tremendously. Also, It easily folds up and fits in the overhead compartment once on the airplane. You could also gate check the carseat and cart once you arrive to your gate if you choose to have your little one ride on your lap. We used THIS ONE and loved it.
Second kid? I wear her. Since I know I would also need to do some lifting and moving I used our Ergo 360 carrier because I felt like she would be more securely tucked in and ready for the "marathon." Because that is the only way I can describe making it through the airport with two little ones in tow.
As for your carry on, you definitely want something that can be big enough to hold everything you need but also small enough that it can fit under your seat so you're not trying to reach up in the overhead bins every time your kid wants a snack. My daughter doesn't watch much TV but in instances like this I always make the exception. I love these little headphones I found, by Little Gadgets, which fold up easily, fit my daughter's little head and seem to be a very comfy fit for her. Find them HERE.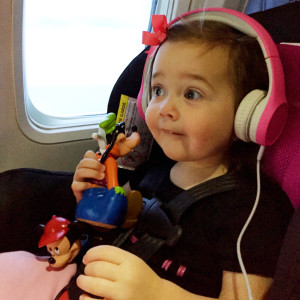 Even though the iPad is usually a great distraction, it wont keep her busy the whole time so I make sure to pack some extras. Coloring book/crayons, stickers (lots of stickers) and finally a ziplock bag filled with small books which surprisingly took the cake. She likes putting them in and out of the bag and I also could read them to her after that wore off. They have all kinds but THESE are the ones I bought. I love multi-functional toys so now I try to pack things that both girls can enjoy. These Mickey mouse characters (found HERE) are so great because they're bath toys but my daughter loves just playing with them in general and my youngest loves chewing on them so it is a win for both! I like to give them a new toy so it keeps their interest longer but that certainly is up to you! Besides toys just make sure you have anything you may need during the flight. Snacks, diapers, drinks etc. Keep it simple and try not to stress!
Hopefully this makes your travels that much easier! Bon voyage!