Wondering how to create a sleep schedule for your toddler that works? Here is my The Baby Sleep Site review & why you should read the e book!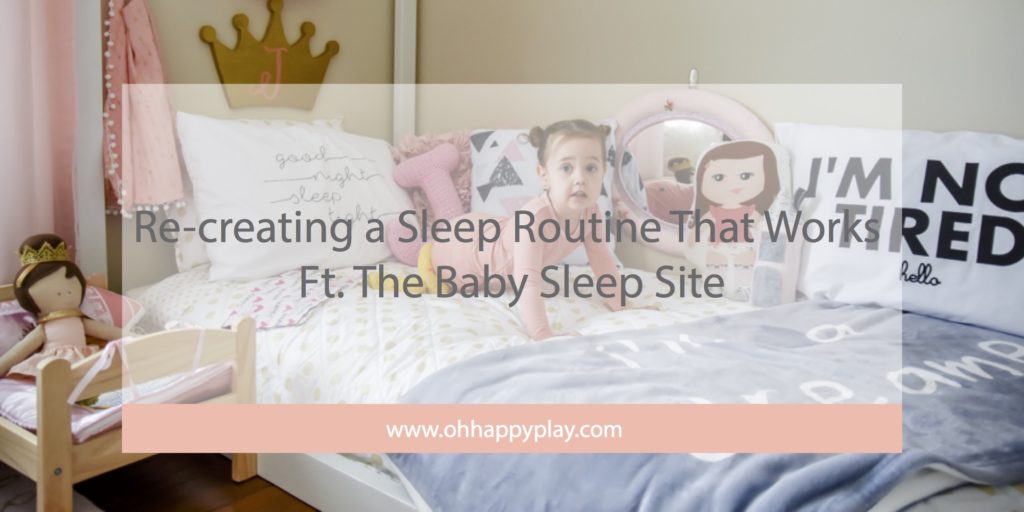 Our Struggle with Creating a Bedtime Routine for Our Toddler
Ever since my girls were a few months old they have been on some sort of routine. When they were babies it more so consisted of scheduling specific times for specific things (nursing, snacking, napping etc.) throughout the day and when it came to nap or bedtime the routine was simple. As my oldest daughter (2.5) has gotten older it has gotten harder and harder to get her to sleep. An easy process turned into an hour (or two) long battle. That was before I became a member of The Baby Sleep Site and utilized their resources to re-create a sleep routine that works for my daughter now and our success brings me to sharing this The Baby Sleep Site review!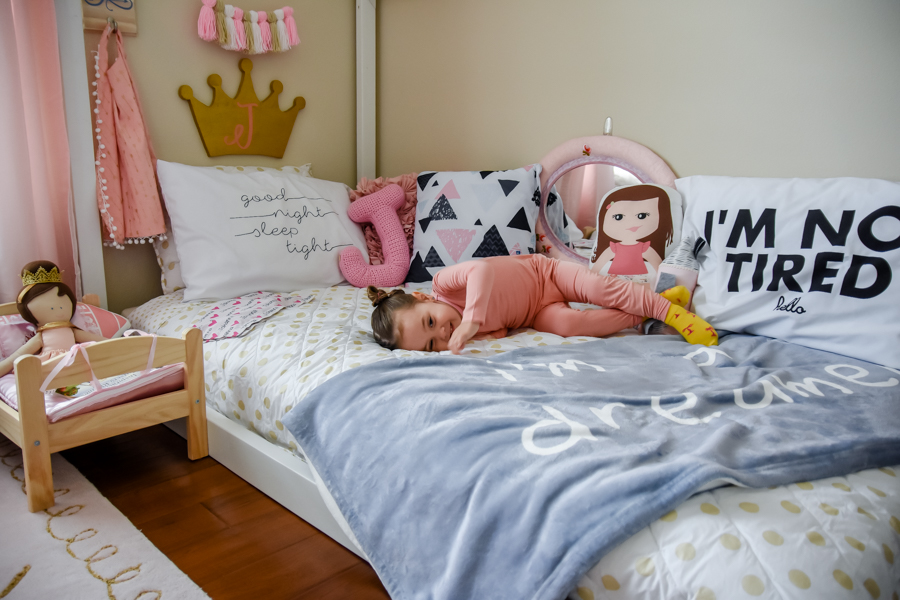 In Comes The Baby Sleep Site
At around age two and a half my daughter, out of nowhere, started having trouble falling asleep. She had always gone to bed super easily and this was just so unlike her. It happened around the time that she became potty trained AND started school. There was a lot going on. But after reading through the free e-book available to members at The Baby Sleep Site entitled, "The Tired Parent's 5 Step System to Better Sleep' I knew exactly how to tackle the problem. I want to mention (because I am so in love with this e-book) that it covers EVERY sleep related problem you may have from infant to toddler and is SUCH a great resource to new moms. I wish I had this sooner because reading through it I went through just above every topic mentioned! I have used some of these techniques with my younger daughter as well and I have never seen such a well put together "on stop" guide than this. I highly recommend it! But what I learned about bedtime routines for toddlers was that my daughter simply needed a new and improved bedtime routine that worked for her NOW. The goal of revamping her routine was to cater to her current needs and desires as well as help give her a "predictable sequences of events" that will eventually lead her to bedtime with NO surprises.
Before we implanted this new routine we experienced every bedtime excuse out there. As soon as we laid her down the list of "needs" were endless. " I need to go potty" was shouted about million times and "I need one more story please!" It seemed like she was the master at stalling and my husband and I would do anything to try and get her to sleep. Without intention bedtime was becoming stressful and just one huge power struggle because as mentioned in this e-book, "we cannot make our children sleep…we can lead our children to their bed, but we cannot make them sleep!" This rang so true with me and I knew we needed a change immediately.
The Baby Sleep Site Review
I really dove head first into this book and I am really thankful I did. My daughter now goes swiftly through her routine and when it is off to bed she falls right asleep! Here are the tools we took from this resource to cure our bedtime blues:
I took note of the recommended/average amount of sleep in 24hrs that babies and children need as applicable to my daughter and tweaked her day schedule to match that. They state for, "18 months to 3 years: 10-12 hours at night, 1 nap that is one to three hours long." She was right on track with this but with her new morning at school schedule we definitely needed to tweak her daily routine a tad. This book provides 10 sample schedules to choose from which helped me out tremendously. The one that worked for us was the "One-Nap Sample Schedule 2" for a toddler who sleeps 11.5 hours at night. (You can receive this schedule, and the others, by purchasing this e-book or signing up as a member- all options available here).
After the routine during the day was established we started working on the bedtime routine (because this is all one big cycle that goes together). We were re-assured that an early bedtime is still ideal but also given her age and new daily schedule we tweaked that a bit. She went from a 7pm bedtime to a 7:30pm bedtime to give us adequate time to focus on a bedtime routine that would work.
So now on to the routine itself. Through this book we learned that no matter the steps in the routine it is the consistency of the routine that matters. I took their theory and created a bedtime flow chart for my daughter. This accomplishes two things that this e-book suggested: consistency & firm limits. By focusing on trying to accomplish these two things this "flow chart" idea was born. I have to say that due to the nature of copyright I had to blurr out the exact pictures we used because although we are using it for our own personal use I don't want to cross any line while sharing this idea with you all. I will say I am currently working on a chart with my own images that I can have available to you all soon! But as for the chart itself, I used pictures of my daughter's favorite character doing the following (and in order): Bath time, Picking out pajamas, brushing teeth, using the potty and lastly, Stories/snuggles and off to bed! By using this chart it puts HER in charge of her bedtime routine all while clearly stating our firm limits for the process. We do each step together then mark off when it's completed. This has helped her to know exactly what is coming next because not only is the routine there but she can VISUALLY see the steps as well. In the beginning we stressed the importance of following her bedtime chart and now it has turned in to such a fun part of the evening. Please stay tuned for a copy I will be able to share with you!
I can say without a doubt we would still be suffering the bedtime blues if we had not received access to The Baby Sleep Site's Members Area. The resources available there are almost endless. Here are A few things to note about the Members Area (once you sign up):
-You will have access to all of their e-books for FREE
-Members receive 20% off all personalized sleep consultation services
-There is a weekly online members chat with one of our sleep consultants where Members can ask questions.
It doesn't get more personal than that!
I hope my The Baby Sleep Site review has given you some ideas for getting your toddler's sleep schedule in place and sold you on their e-book! Please head over now to check out these amazing resources! A good nights sleep is well within reach given the proper resources! Enjoy!
For more toddler tips, check out these posts:
Positive Parenting Tips For Toddler Tantrums
Surfer Themed Bedroom Idea With DIY Floor Bed For Toddler Boys
Best Water Tables For Toddlers 2022
Follow along for more:
| This blog post was sponsored by The Baby Sleep Site. All insights and thoughts are 100% my own |