3 Must Have Pieces of Furniture For A Montessori Playroom Using Furniture.com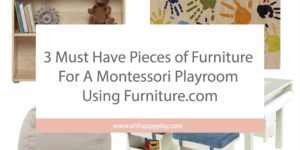 ---
A playroom is the one spot in the house that can get overwhelming real quick. It is where the toys accumulate and the kids gravitate to. Creating a Montessori space for your children helps to decrease the clutter and force you to organize in such a way that benefits everyone. Here are my 3 must haves for a Montessori playroom using Furiniture.com.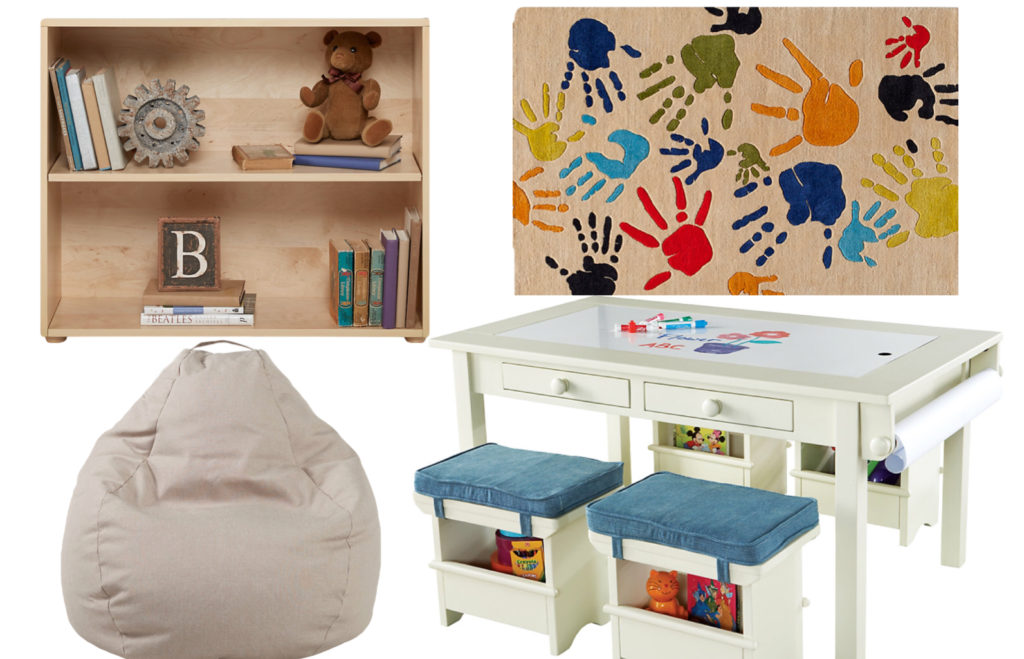 What is a Montessori Playroom?
Essentially, in short, a Montessori playroom is space where everything is well within your child's reach and at their level. It is a space that invites creative play with open-ended resources. Clutter should be minimal and whatever is available to the child should be out and visible for them to see and explore. To accomplish this try packing up as many toys into corresponding containers and storing them away, then rotating them in and out so not everything is available all at once. This helps with clutter as well as accomplishes the true aspects of this room. For more information on a Montessori bedroom you can check out THIS post.
When it comes to finding some of the best and most functional pieces for kids (and adults) I love checking out furniture.com first. You can browse thousands of pieces ALL in ONE place. This is something every busy mom can appreciate!
Must Have #1
Open bookcases to display your child's toys. I prefer shorter ones so that each level of the bookcase is reachable to your child. This Castello Birch Jr. Bookcase found HERE perfectly accomplishes both! I love the natural wood look but it is also available in white HERE. The open-ended toys in rotation can be placed on one or two of these leaving them in sight and in reach for your child.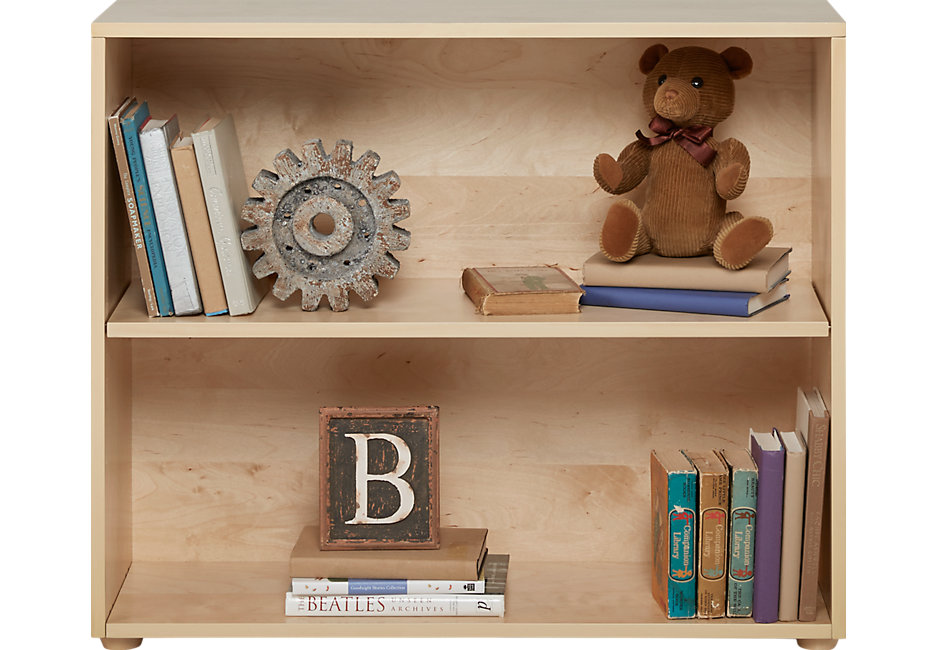 Must Have #2
A space for your child to create is imperative. A play table is a great piece of furniture to have in any playroom. This Creativity Table Set found HERE is really more than just a play table. As they describe it, it is "the perfect headquarters for drawing, coloring or crafts." The middle is a dry erase board, which can be used for so much more than just drawing. I imagine letter/number recognition; shape drawing practice and tons of other early learning activities that could be done using that white board. As if that wasn't cool enough it comes with a roll of paper neatly tucked to the side and ready for whatever masterpiece your little one has in mind. I love the open storage under the seats as well because this allows everything to be in sight for your child to see. All in all it is the perfect piece for a Montessori playroom.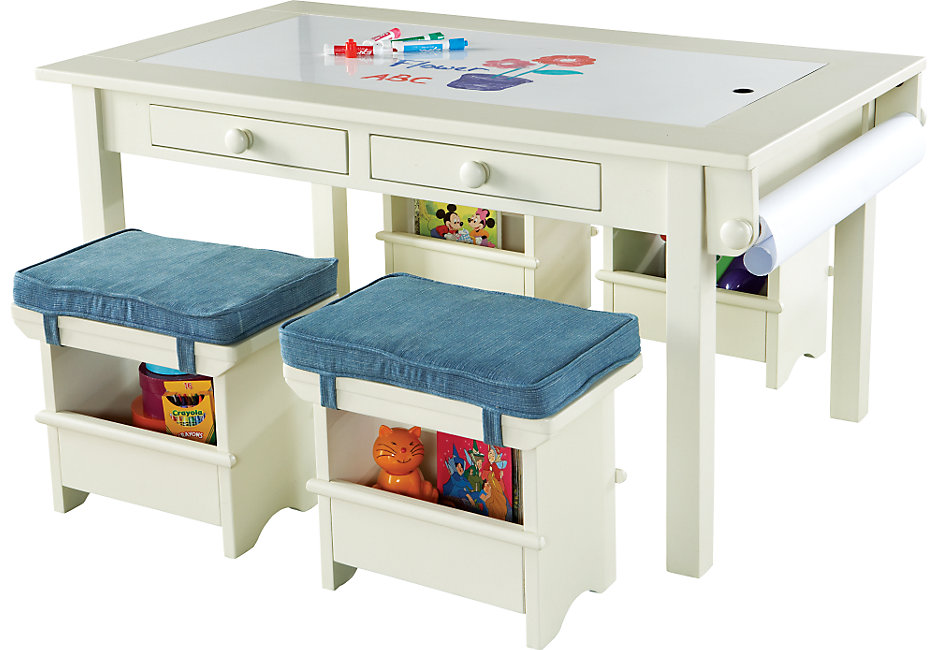 Must Have #3
Comfortable seating for relaxing, reading or even daydreaming! Children should have a space they can go and relax when they're feeling tense or out of control. I think these Big Joe Teardrop Bean Bag Chairs, found HERE, are just simply perfect for this! Throw a couple of these in your space and you are sure to spruce the place up and have a space your children will LOVE.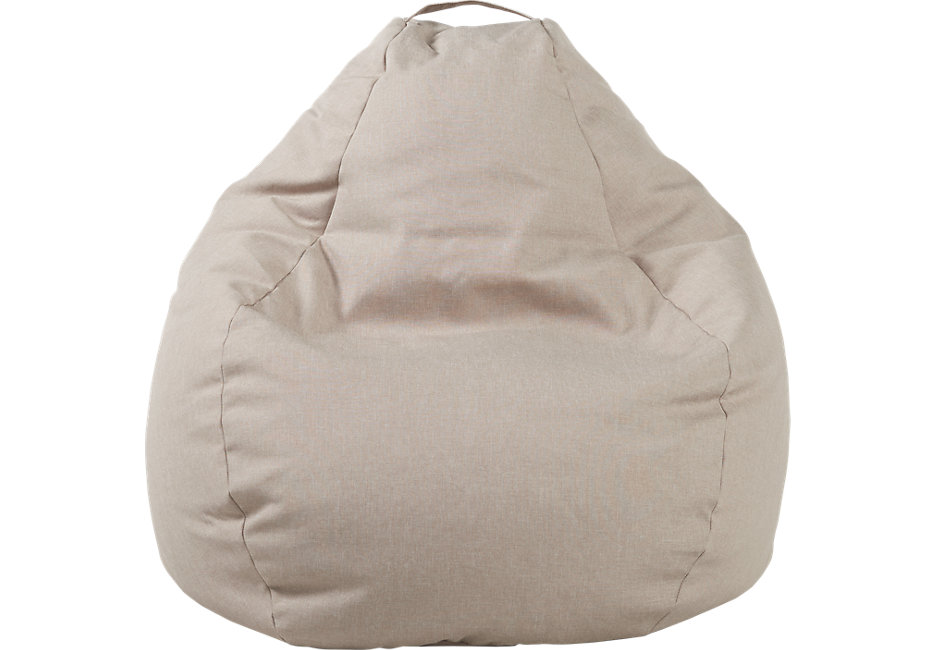 To finish up your room head over to their rug section and grab a rug to complete your space! So many good ones to choose from, like this adorable Handprint Ivory rug found here!
---
I could go on and on with some amazing pieces found at furniture.com but these three are my favorites for a Montessori Playroom! You can check out ALL of their playroom furniture HERE. I would love to know your thoughts! Enjoy!