Save On Home Essentials With Groupon Goods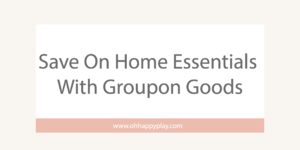 This is a sponsored post. All opinions are mine.
---
If you're at all like me, the holidays kind of snuck up on us this year. Living in Florida with no season changes it always tends to happen to me regardless but more so this year for sure! Well folks, next week is Thanksgiving and then comes Hanukah, Christmas, and/or whatever your family celebrates this time of year. Chances are you're going to be either traveling or having guests in your home in the next few months so now is the time to stock up on some home goods for your guests and I am going to help you do just that without spending much at all! This is how I save on home essentials with Groupon Goods.
My go-to for huge savings has always been Groupon. They always seem to have the best deals going on with exactly what you're looking for. From now between the  New Year we have family coming to stay, vacations to travel to and just plain chaos so when I sat down and figured out what we needed I knew I could trust Groupon Goods to have what I needed at super low costs.
HERE you will find a wide selection of Groupon Goods but a few of my favorite current deals you can grab now are these:
Have guests coming to stay at your place? Well most wont outwardly be picky but chances are people enjoy having at least two pillows to sleep with and although they probably wouldn't complain they may not count that stiff couch pillow as an ideal option. Right now you can get these Soft Exquisite Hotel Signature Pillows (2 pack) for $19.99! This ends 11/20 and is valued at $140, which ends up being a 86% savings to you! At this price you can load up on these for your guest and they are sure to have a comfy stay! Find them HERE.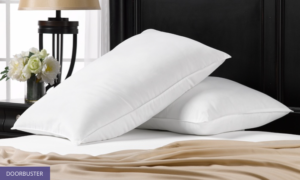 Traveling? I never leave home without some kind of travel pillow. Now, with two little girls under 3, I'm not sleeping much in transit but these pillows get so much use still! From an Ipad rest for the girls, to a pillow for them or even to use on myself given the chance they fall asleep. They are so multi-functional and a must have for traveling. You can get this Memory Foam Head and Neck Support Transit Pillow right now for ONLY $13.49 on Groupon Goods. That's a 46% savings for something that you are sure to get much use out of! Find this deal HERE.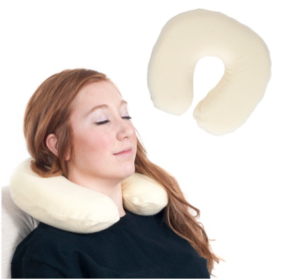 I wish you all safe travels and superior family fun this holiday season. Love on your family and be thankful for this time together! Enjoy!