Amazon Non-Candy Valentines Classroom Exchange For Kids
|This post contains affiliate links which means when you purchase an item I recommend I get a small percentage of the sales. Thank you for all your support!|
---
There are two types of moms when it comes to Valentines for the classroom: The DIY'er and the Amazon prime mom. I'll admit that sometimes I DO love a good DIY and last year I had the time to pull together something unique for my girls to exchange with their friends at school. However, THIS year, I am on Amazon prime speed. I wanted easy, quick shipping and non-candy for their valentines classroom exchange, so of course I turned to Amazon. I can't wait to share my Amazon finds with you! 
I shared last weeks some of my Amazon Valentine's Books for kids as well, which you can read here! Grab them now and start the month of LOVE off with some great reading!
Amazon Non-Candy Valentines Classroom Exchange For Kids
What I love about these finds are that everything you need comes right in the box. You can simply have your little one add their name and you're ready! It doesn't get any easier than that! I know my girls love little trinkets so I think the idea of the below is to simply bring a smile to their faces while lasting longer than candy would. 
Here they are!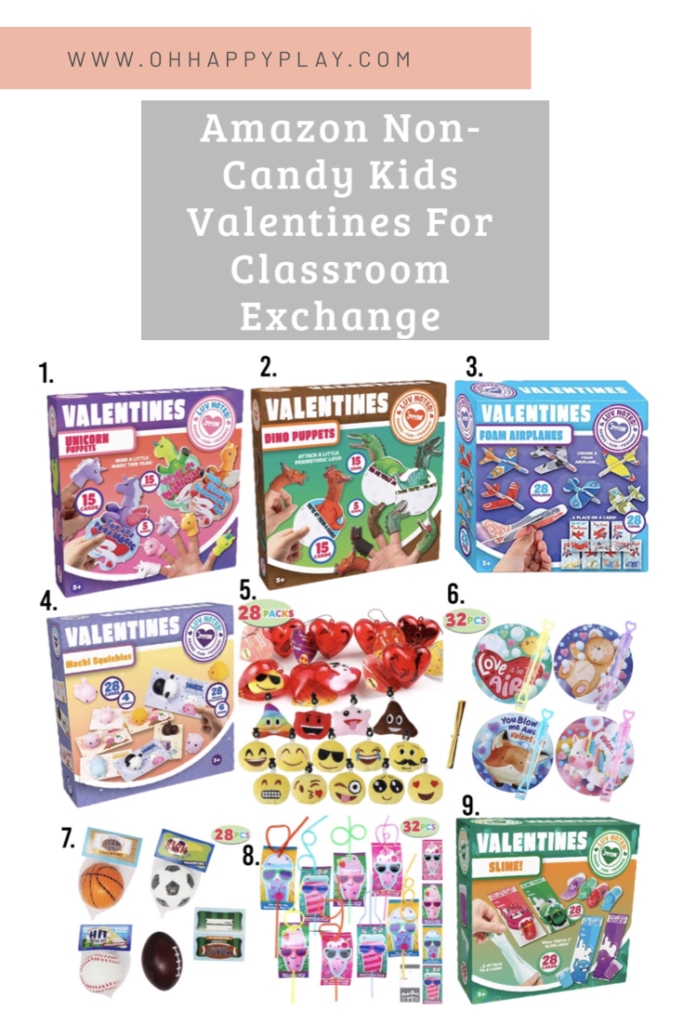 1. Unicorn Finger Puppet Set:

Less than $13 for 15 sets of these adorable little cards with detachable unicorn finger puppets. Each one with a sweet message and a spot to personalize for each classmate! 
3. Foam Airplanes Set:

This is the one my 6 year old daughter chose to buy for her classroom valentines day exchange! It is a pack of 28 foam airplanes with accompanying valentines day cards that have the sweetest messages. What kid doesn't love a foam airplane to play with right!? 
4. Mochi Squishy Squeeze Minis:

This was my 4 year old daughter's choice and I must say they are pretty cute! These come with the little squishies, the cards and even the tape to attach them to each card after personalizing! 
5. Emoji Keychain Surprise Heart:

Surprise packs are all the rage these days (I think we can thank Youtube for that) and so are emojis so this combines the two. A sweet little plastic heart with an attached card to personalize on the outside and a fun surprise emoji keychain on the inside! 
6. Bubble Set:

Bubbles are a universal fav so these are for everyone as well! The "You blow me away" cards are just as sweet too! NO DIY needed! 
7. Mini Sports Balls:

If you have a little sport lover in your life than this is perfect! These little sport variety stress balls are so sweet and would be a hit for all! Valentines card is attached as well! 
9. SLIME Valentine's Day Card:

Ok, you know Slime is all the rage and who wouldn't be excited to get this in a classroom exchange? This will for sure be hit, maybe not with the parents but DEFINITELY the kids, ha!
I hope you find something perfect for your little valentine to exchange at their school this year! Enjoy! 
Make sure you follow along on social media for more!