Modern Playroom Design Reveal
| Youtube Video Tour Linked Below |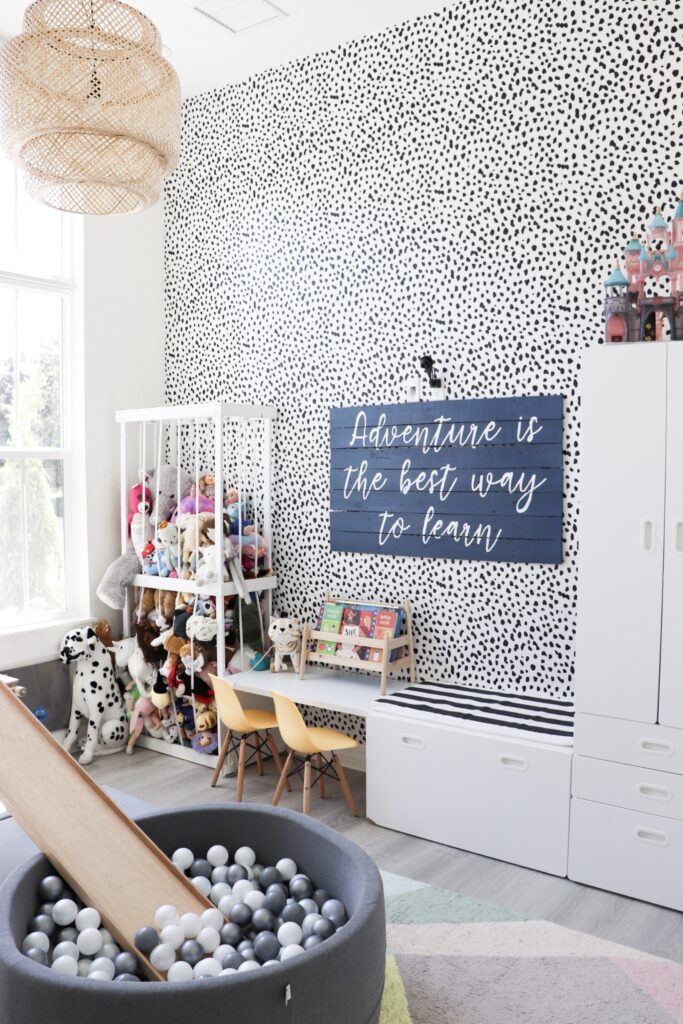 Our New Home
This playroom has been TWO years in the making. The whole concept of our ultimate modern playroom design for open-ended play is essentially the bones of this entire home building process. I had the vision in my mind and I was ready to make it come to life in our home.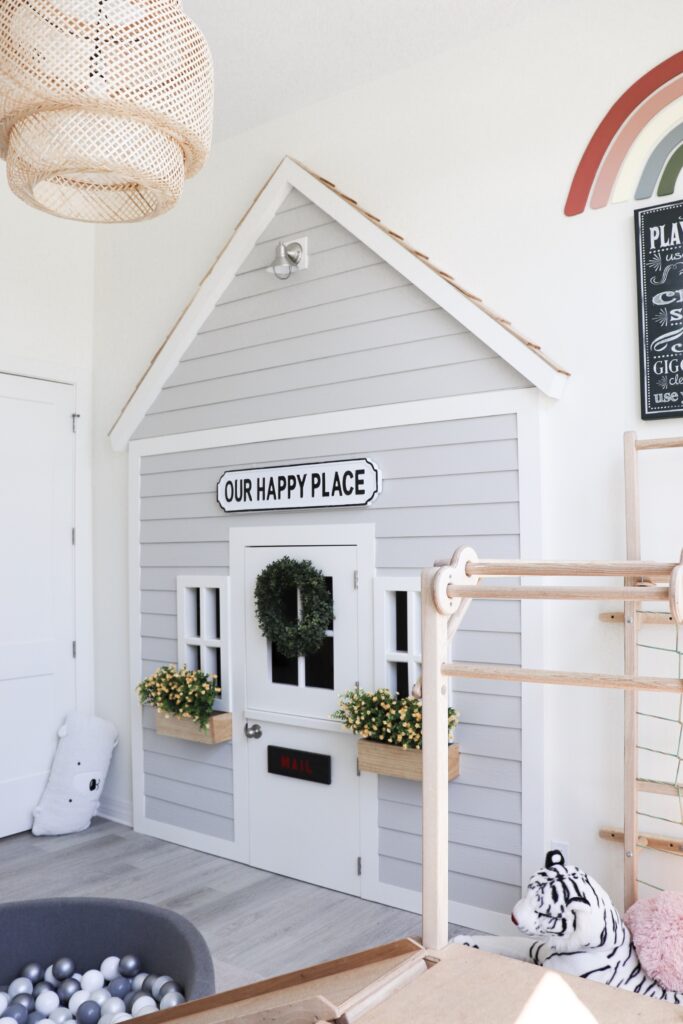 There were a few key things I wanted out of this playroom: design, functionality/organization and movement. I will go through how we accomplished each of these below! 
Modern Playroom Design Inspiration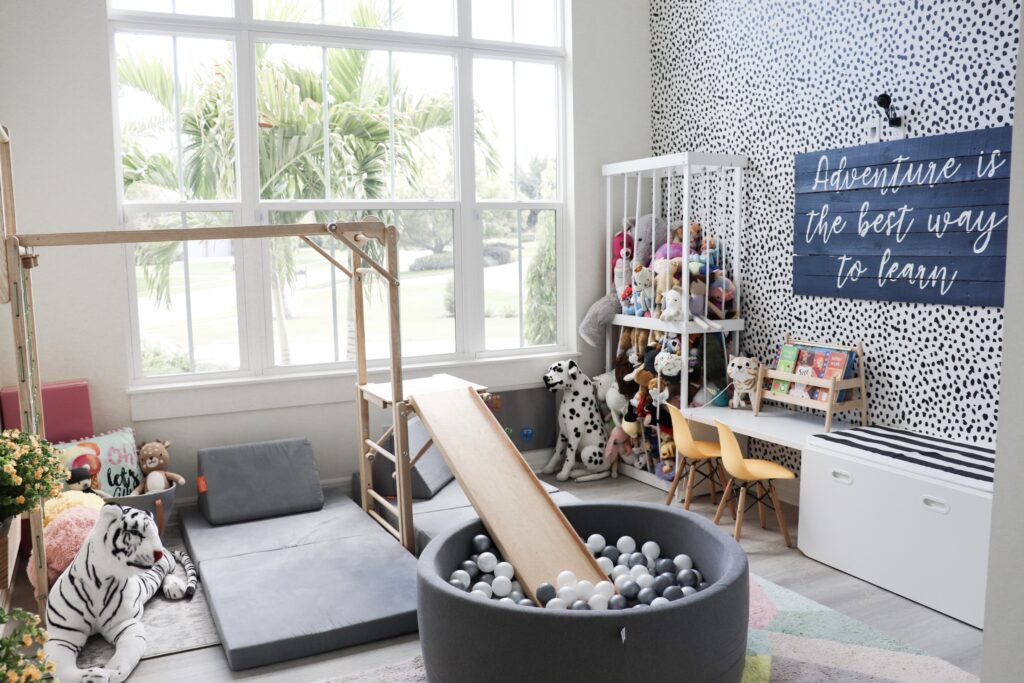 I spoke a lot about our modern playroom design inspiration here so if you've been around awhile you have likely seen my vision! I wanted this space to be an extension of our complete home design and not just a room we want to keep the doors shut to (although sometimes I do just shut that door and that's great too, ha!) I focused on keeping the colors neutral and adding pops of color throughout. The goal was that if the doors are wide open to this room you can stand in our living room while peering into the playroom and the spaces would flow together. The playroom being off the main area of our home was important to me so that even while the kids play in their space, they can still be part of the daily happenings outside of it. The whole main area of our home is designed so that we can all have our own spaces but they never feel too far a part from our common space. BUT ALSO it was important in regards to location because I wanted to use that precious under the stairs space for good! 
Under The Stairs Playhouse
I have spoke SO much about this space over the last couple of years. I first spoke about it in our playroom design post (found here!) and then again in our under the stairs playhouse reveal post (found here!) 
UPDATED: You can see the entire under the stairs playhouse decorated by clicking HERE> 
I think the kid's reaction in our Playroom Reveal video below tells the rest of the story! They absolutely are smitten with it!
---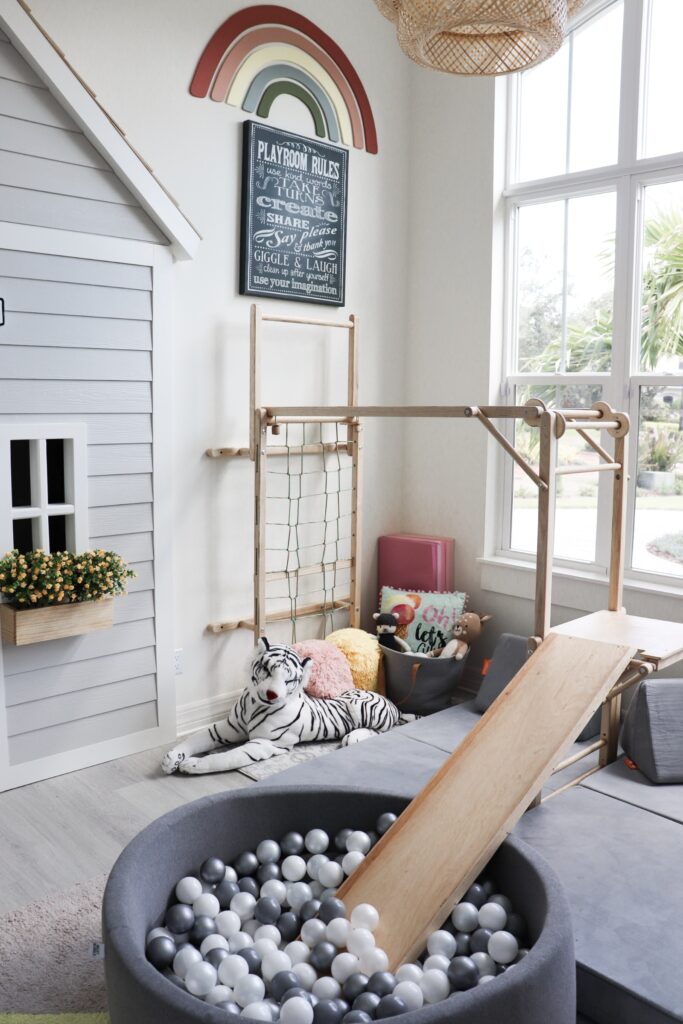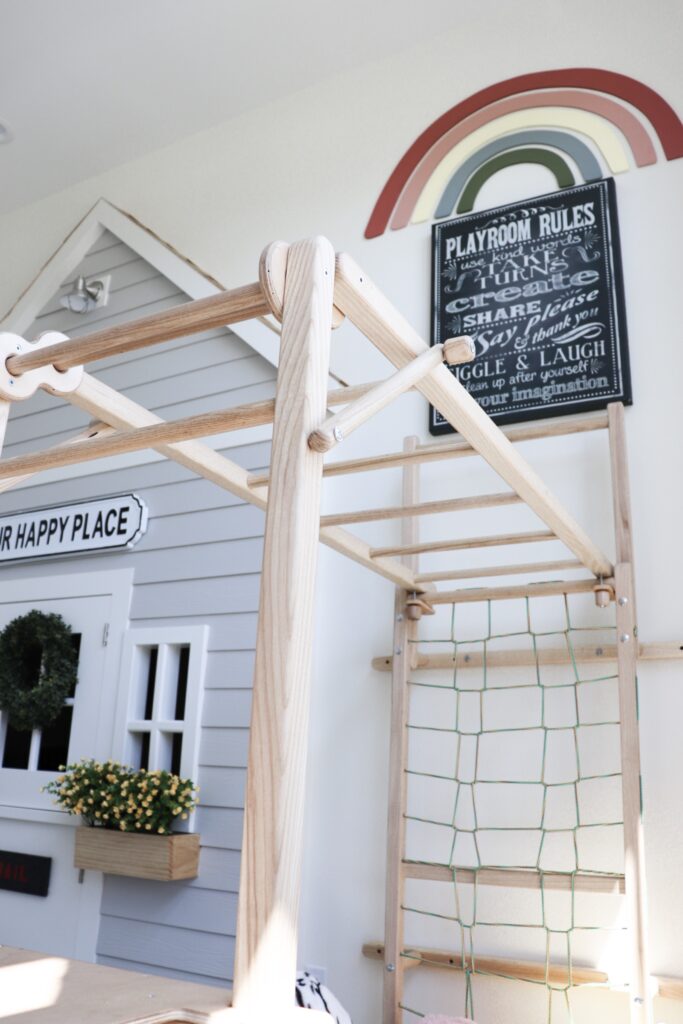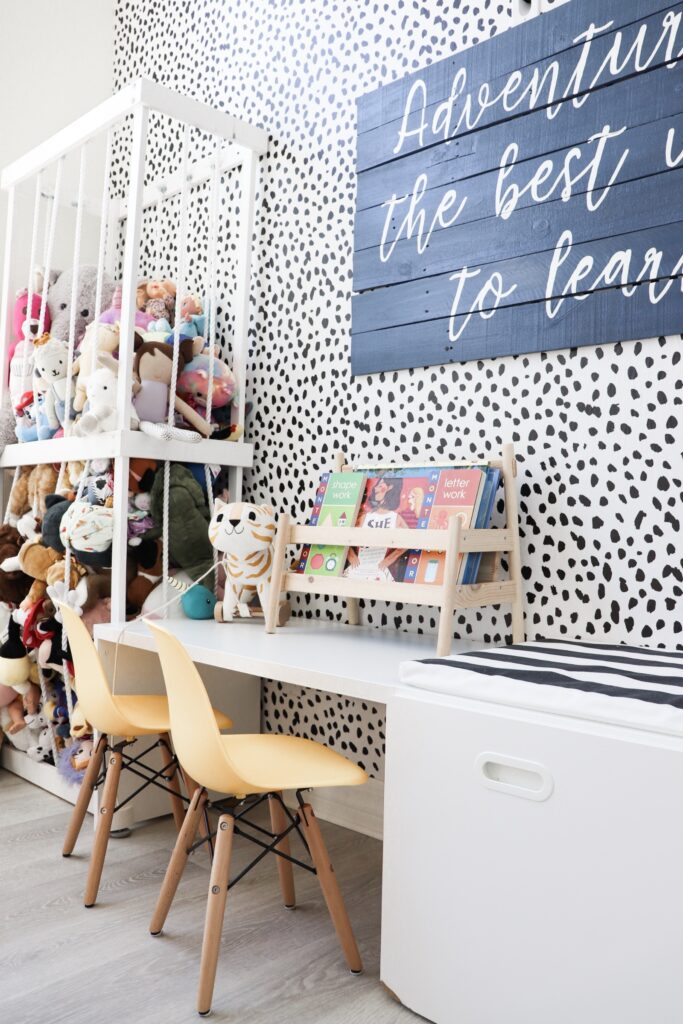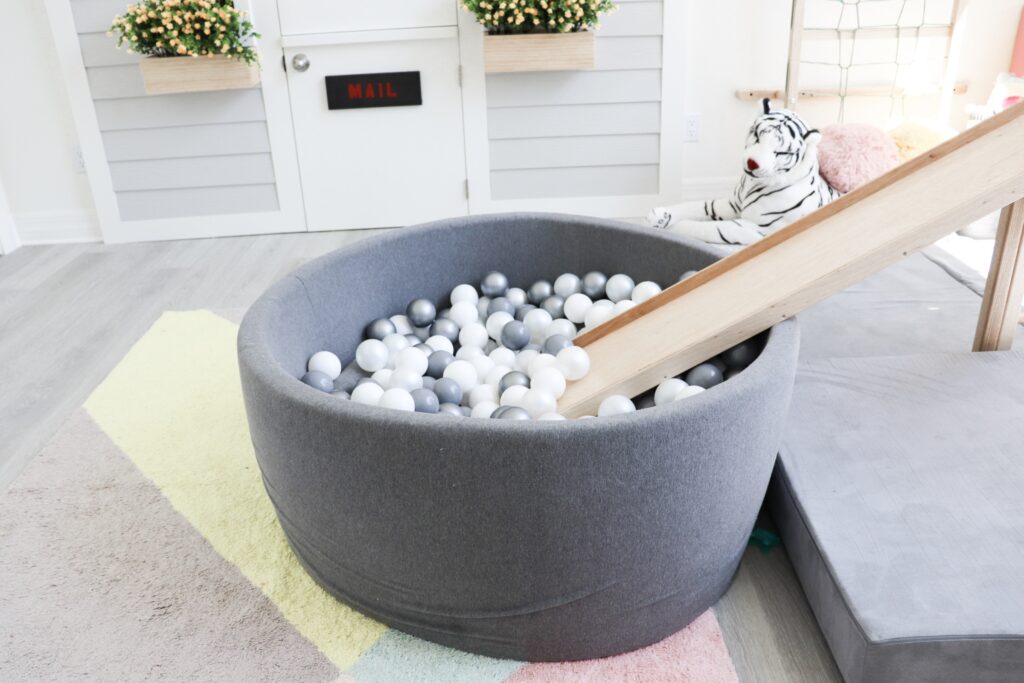 Playroom Design Details:
Dalmatian Wallpaper: Rocky Mountain Decal – A quick note on this: we have semi textured walls and although it was NOT recommended to put it on this type of wall we have had great luck with it sticking and staying in place! I can report back on this in the future. I LOVE this brand and their removable wallpaper is TOP NOTCH!
Playset: EZ PLAY (code OHP10) We have had this for a few months it is incredible how often this gets used! We used to have the Panda Playground as well and that was loved equally as much! You can see more on that playset HERE! 
Nugget Comfort in Koala – this is our 2nd Nugget (our first you can see HERE in our old house) and we LOVE them! We have used them for forts, loungers, pads for the Playset above AND as guest beds for sleepovers!) We truly love them!
Jumbo  Stuffed Animals: Melissa & Doug Tiger and  Melissa & Doug Dog
Desk & Cabinet Combo: IKEA STUVA 
Book Holder: IKEA 
Adventure Sign: Thee Early Bird made locally 
Yellow Chairs: Eiffel Childrens Room Chairs 
Rugs: Lorena Canal & Ruggish
Mini couch inside playhouse: Cubino Loveseat by MonteDesign 
Play kitchen: Kidkraft Ultimate Corner Kitchen in White
Dress Up Station: Guidecraft Dress-up Carousel  
Functional Playroom With Organization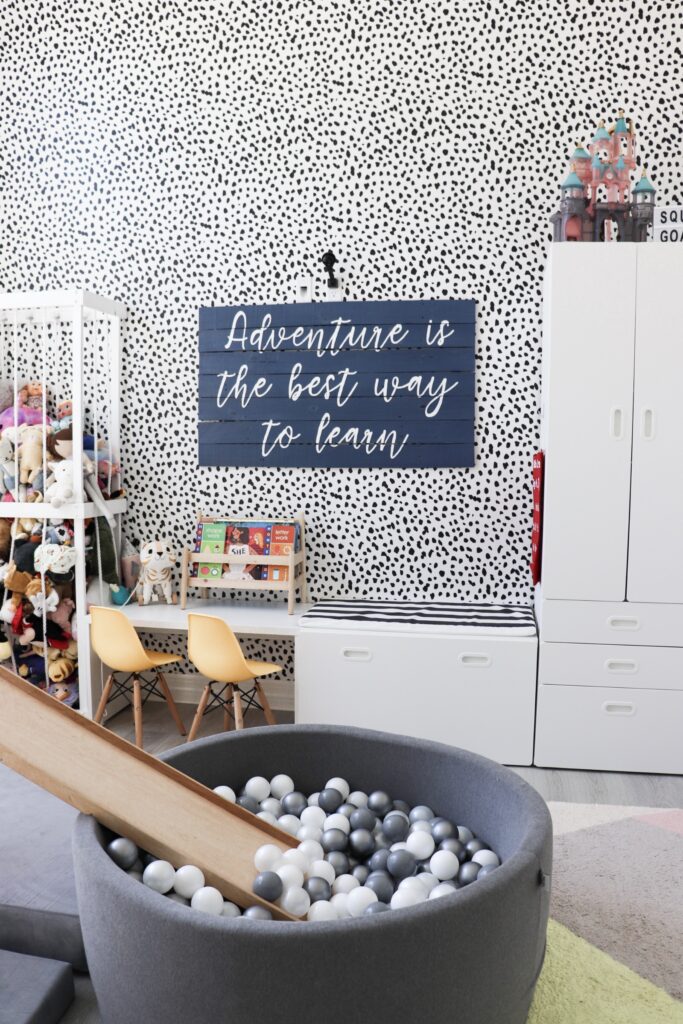 That brings me to the functionality part! Playrooms can go from organized to cluttered in a matter of minutes. That is why it is so important that everything has a spot so it isn't overwhelming to clean after playtime is over. For me I really try to make sure everything we have has a place and a function. 
A few tips on playroom storage and how to make what you have functional in design: 
I try not to buy too many playsets specific to one character (i.e A Peppa Pig dollhouse). Rather I keep all our figurines together in one bin. Then when that bin gets filled we stop. This means we either donate some to add more or we don't get more. These figurines can all be played with in one neutral type doll house or on their own. But for storage purposes they stay together. 

Label everything! You can use picture labels if needed but when your child is little you will likely help in clean up time so you are able to direct where everything goes. They will eventually figure it out too! But everything in our playroom has a specific place to go. Make a list of the top things your kids play with, then find bins to organize them based on your quantity. For us we have A LOT of stuffed animals, but they are something that do gets played with daily so we have accommodated for our collection by building this "ZOO". By building UP we are able to store all of our stuffed animals in the most functional way while keeping the design of the space clutter free. Again, we will never have more stuffed animals than our Zoo can hold and my kids know this! They know if they want another one on their wishlist then it's time to slim out our current selection. 

When it comes to furniture in the playroom always choose something that is specific to your needs! I knew I wanted the main area of the playroom to be open but I also wanted a table of some sort for play. These Ikea shelves really were exactly what I imagined for this space to be. Some of the bigger awkward toys can find a home in the pull out bin area but the top of the bin and the connected desk still offer plenty of play space for the kids! 
A Playroom Built For Movement & Open-Ended Play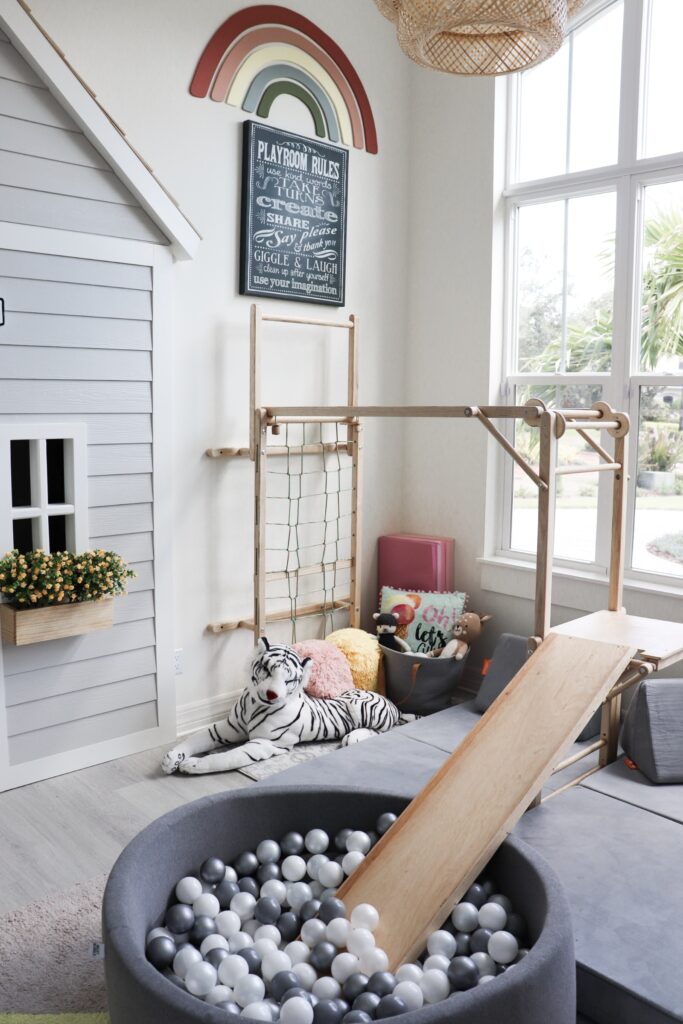 When I started planning this room in my head I knew I wanted it to be a space that the kids can move around! A space that entices them to do just that. Yes, they have their toys that they love to sit with but I didn't want that to be it. From the playhouse with the fort inside to the EzPlay activity center this space accomplished just that! It can be cozy and relaxing but it can also be a place where they can get their energy out without ever leaving the house! 
---
All of these aspects together were a huge part in putting this space together for my kids! It sure is a favorite place for everyone! But after all that play,  I still kick them outside to play too!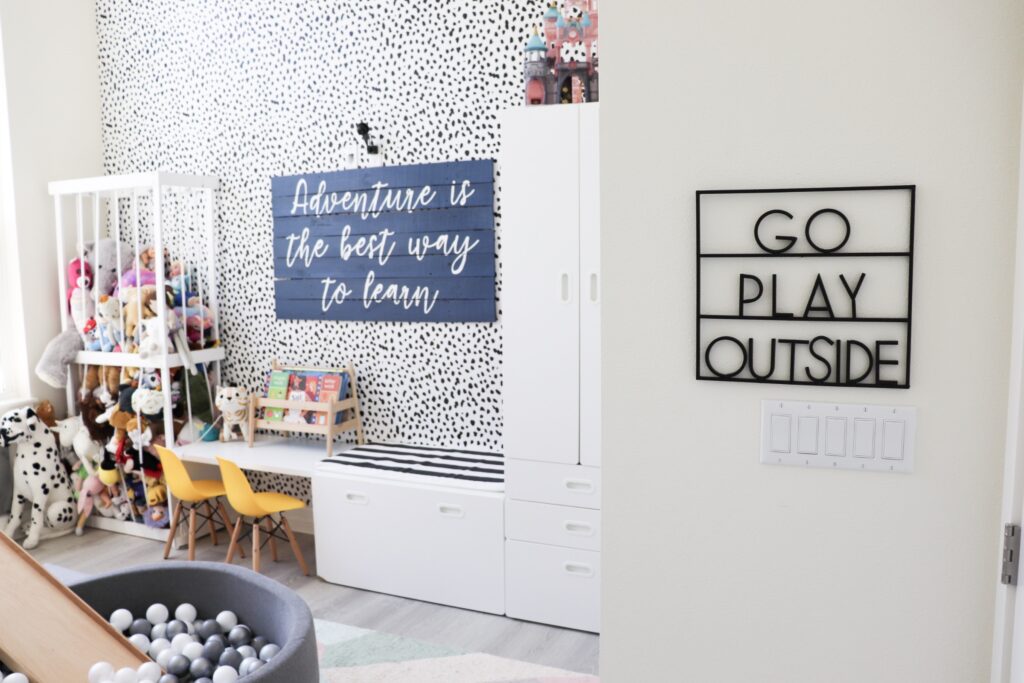 You can view our Outside Play Area HERE!
Make sure you follow along on social media for more!
---