FREE Noun Sight Word Worksheet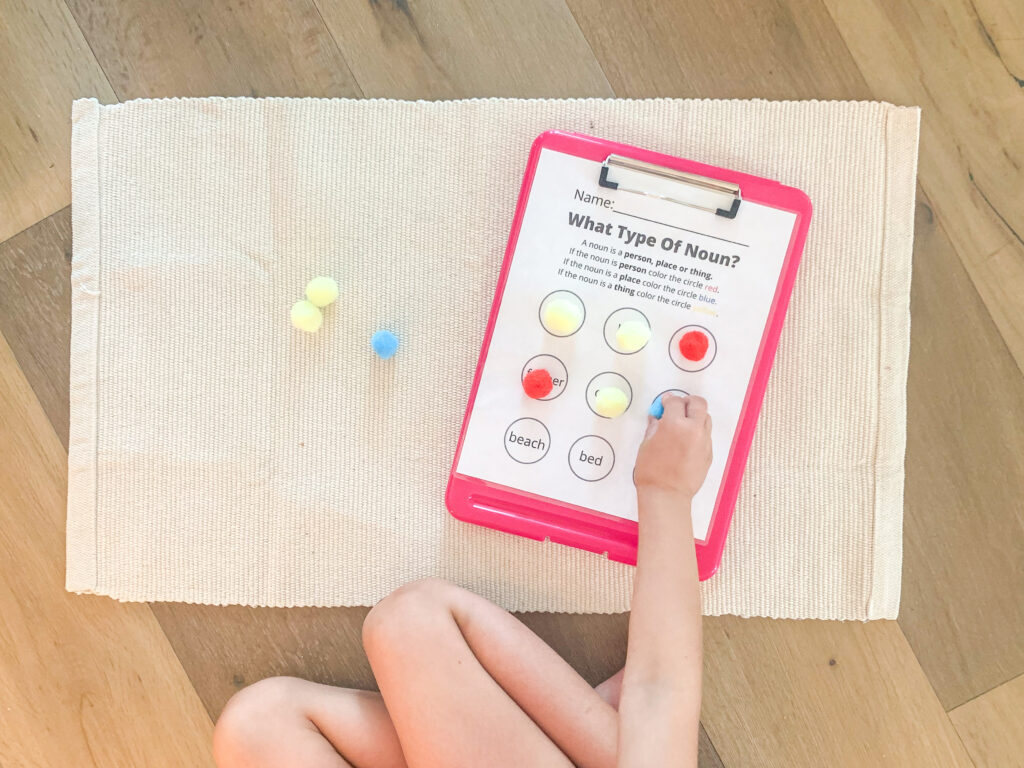 Learning nouns can be fun for early readers if you give them the right tools! A worksheet should be both interactive and easy to follow for young children in order to keep their interest. Below is my FREE noun sight word worksheet perfect for early readers as well as children just learning all about nouns.
Noun Definition For Kids
A person, place, thing, idea or animal.
// Once you teach your child about nouns you can move on to teaching them about common vs. proper nouns!
Sight Word Worksheet
This worksheet is specifically designed with easy to read words. The idea is to teach about nouns to younger learners and making the worksheet easy to follow independently.
FREE Noun Worksheet
DOWNLOAD HERE – Sight Word Noun Dots
This free worksheet can be printed out and used with the corresponding crayon colors outlined on the sheet or it can be laminated so it can be reused. I laminated mine and used colorful pom-poms to work through the worksheet for my daughter.
Montessori Noun Lesson
Montessori learning is all about being child centered. You generally don't see worksheets in early learning so I turned this worksheet  into a more fun and interactive game by laminating and using the pom-poms mentioned above.
However you choose to use this worksheet I hope it brings a fun and enjoyable lesson to your young learner!
---
See another FUN at home Sight Word activity HERE!
Do you have a Frozen Fan who loves to learn? Check out my Free Frozen Printable Worksheet which covers some fun topics such as graphing, language, math and more!
---
Make sure you follow along on social media for more!