Elementary Aged School Year Tradition
---
Looking for new school year traditions? Here is a cute elementary aged school year tradition to do with your young kids in elementary!
Heading Into Elementary School
It's hard to believe that summer is over and it is time to prepare for the new school year! New beginnings are always a renewing time. We love to use times like these to reset or regroup as a family. The transition back to school is often quick and overlooked but as with most things I try to be intentional with this delicate time. Traditions are important in our family because I look at them as a way to build shared family memories that will leave long lasting happy memories of being together. One of those times is our new school year traditions and I am obsessed with the elementary aged school year tradition I am sharing here today. The goal is to focus on starting the school year off right! Keep reading for more!
Why Have a Elementary Aged School Year Tradition?
Traditions are SO important to our family. If you have followed along long enough you know that I enjoy throwing parties. While sometimes they may come across as "over the top" that is not what is important. While I enjoy decorating and entertaining it is the tradition that I hope the children remember most.
Family traditions are what bonds children with each other and with their parents too. They provide a bonding experience for family while also instilling family values. For example, parties represent making each individual feel special and shows that being together with family and friends can be a fulfilling experience. So on the outside what you may see as just another party it is the value and feeling behind it that is important. Traditions don't have to be extreme either! They can be as simple as "Saturday Morning Pancakes" or "Sunday Morning Yoga" (both of which are special to our family.) Family traditions are so unique to your own family but having them is one way you can create a bond between family members and nurture a strong sense of belonging and this elementary aged school year tradition fits right in!
New School Year Traditions for Elementary Aged Kids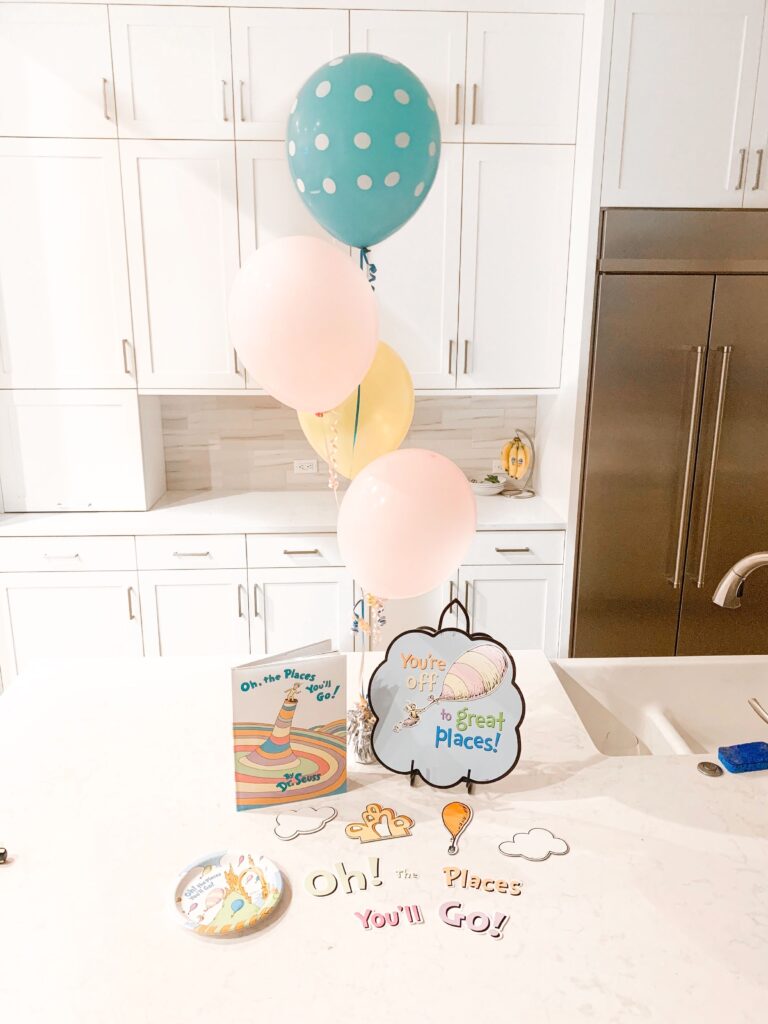 When it comes to the end of summer and the upcoming new school year we have our own set of traditions the children can look forward to. One big tradition that only happens at the start of a BIG transition (Kindergarten, Middle School & High School) is our "You're Off To Great Places" themed breakfast. While we have only had two so far to celebrate the milestone of full day school for Kindergarten we do plan to recreate this for each child and each transition mentioned above. Here is a look at our school tradition for kids.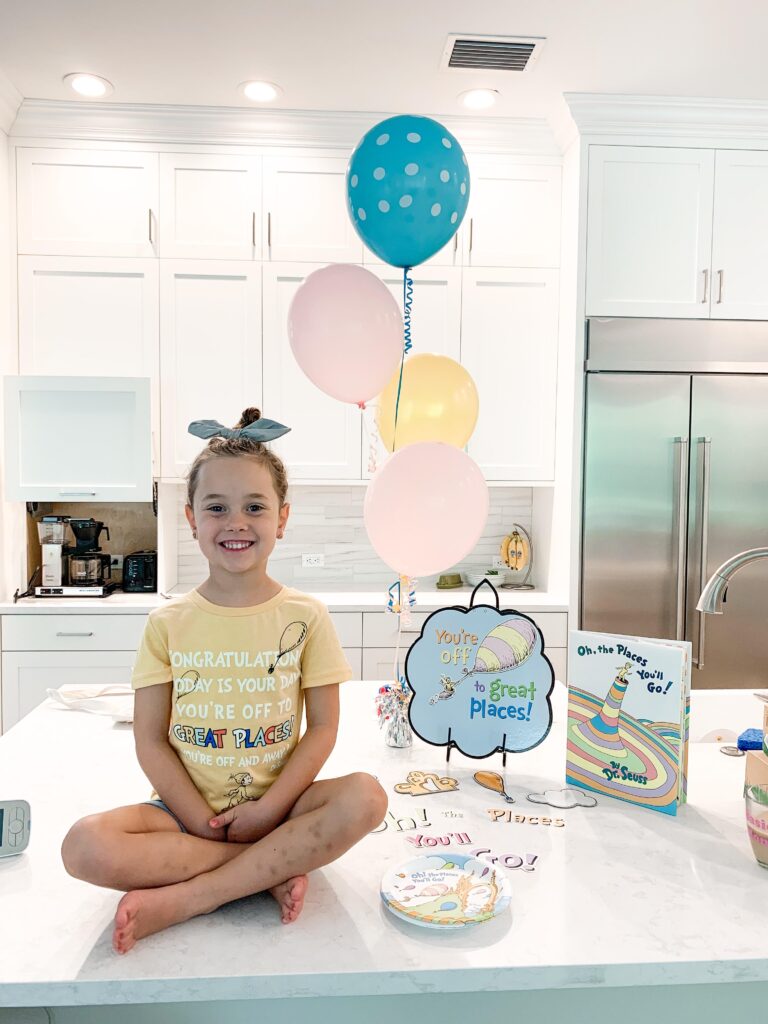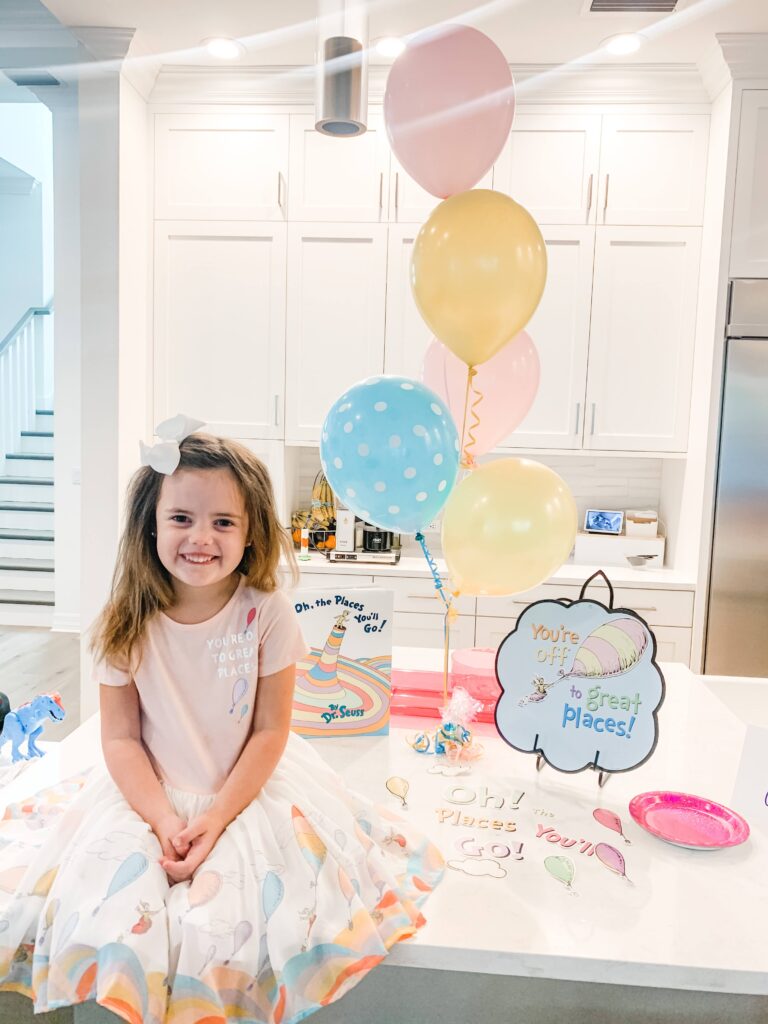 A new school year tradition we do every year is our 'Back To School Dinner' the night before their first day of school complete with my favorite single sentence phrase. I originally spoke about this in my post "Teach Your Toddler To Set Goals With This Phrase" As the girls' have grown this tradition has grown too. Setting goals with our children are still just as important. For this reason I wanted to share an updated resource so you can set goals with your elementary aged (and older) children too! My original, drawing the goal only, toddler version is available for FREE HERE.
The tradition I first spoke about still applies. We sit down for our family dinner, which is usually a meal picked out by the children and I ask: 
"What do you hope to get better at this year in school?"
About the Elementary Aged School Year Tradition Printable Worksheet
It is a great conversation starter for meal time and a great way to help gauge what is important in mastering for your child that year. After dinner comes the fun part! Write down and draw your goal out using this FREE Goal Setting For Kids printable. You can do this as a family and by writing it out it gives your child something to look back on. Once completed find a spot in your home to hang your child's goal so they can see it each day!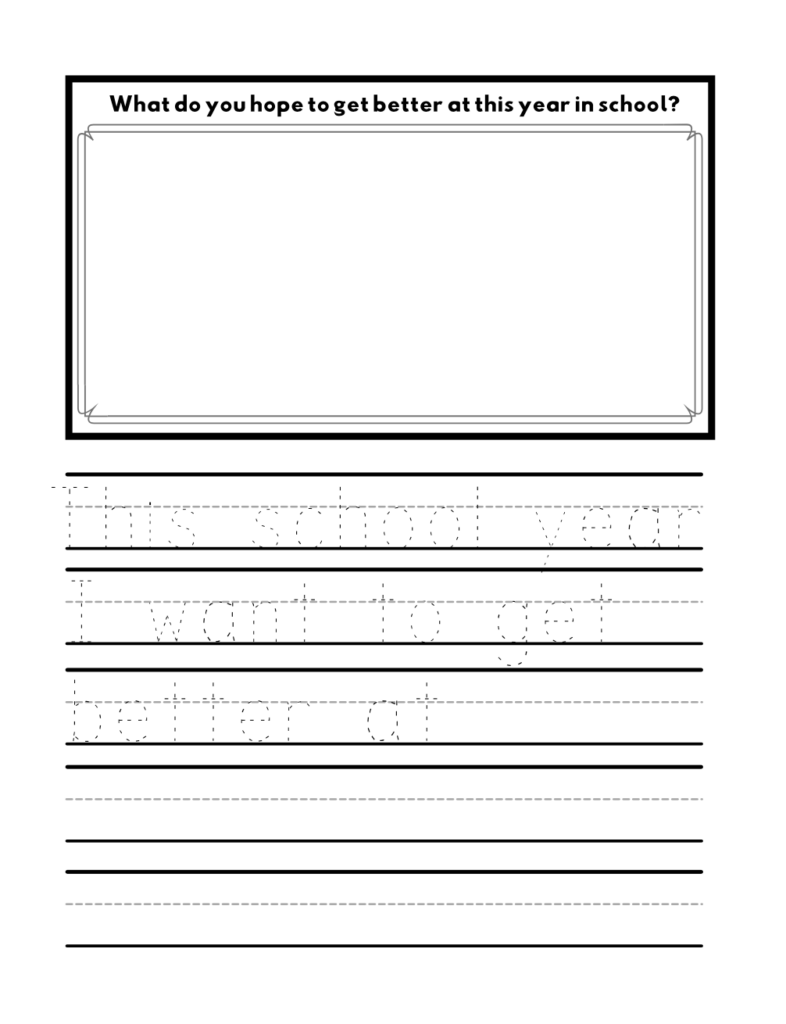 I hope this inspires you to give the gift of goal setting to your child and create some special shared family time together too! Enjoy!
For more school year ideas for kids, check out these posts:
Elementary Aged Home Schooling Must Haves For Kindergarten & First Grade
Functional Homeschool Desk Ideas For Elementary School
Number Bonds Game / Printable Worksheet For Teachers And Homeschool
Make sure you follow along on social media for more!