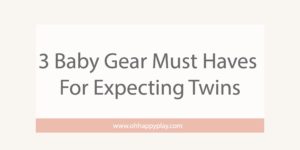 | This post was sponsored by The Baby Cubby. All insights and thoughts are 100% my own |
---
If you're a new, soon to be twin parent like me, these three must haves for twin parents are what I have found to be the most highly recommended we buy and add to our registries!
Helpful Baby Gear for Twins
I'm not claiming to know too much about having twins except if you are having them I can almost assure that you've had a rough first trimester. That seems to be true across the board! But I decided to poll my favorite veteran twin mommies and come up with this twin must have round up for me (and you)! When it comes to unknown territory I always turn to my mom friends who have been through it and The Baby Cubby who has it all! Here are the items I have rounded up and been determined as 3 baby gear must haves for expecting twins!
I have to start by saying that I know how lonely motherhood can seem sometimes and I also know how important it is to connect to likeminded moms in the same stage of life as you. This isn't always easy for some but there are ways to do it! Search your local moms groups using an app called "Meet-Up" and connect in person! If you're a busy mom or just want extra support I have found a lot of that in the form of internet mom groups as well. You can search for local ones, ones by your expected due date, ones for multiples etc. I highly recommend these because it's low commitment but you could end up finding just the support you need (just as I have!) Feel free to comment or message me if you have any questions on how to go about doing this! When I found out we were having twins I panicked! But after finding moms of multiples who have been there I feel like I am SO capable of this next chapter!
As I mentioned above I love using The Baby Cubby when I am expecting because they have everything! They also keep up with current trends and offer only the best brands so I know it is the one place I can get it all, or I can send family members looking to spoil the babies and I know I'll love anything there! So it's only fitting that these 3 baby gear must haves for twin parents were found there too!
Must Haves for Twin Parents
Double Stroller/ Baby Jogger Complete City Select LUX Bundle: A double stroller for twins is an obvious must have but the choices aren't always so obvious! I looked on so many different baby stroller guides and one of the only ones I found that included strollers with twin options was on https://bestbabyaccessories.com/! I didn't think it would be so hard to find the right twin stroller. I have literally had more strollers than I should probably admit but this one is my ultimate FAVORITE! My first two girls were only 16 months apart so this item I can actually attest to it's importance! The multiple configurations, the travel system capabilities and the sleek design alone make this the best stroller for toting around two little ones. I love it for all those reasons but what makes it most appealing to me is the maneuverability of it. It pushes and turns with such ease, I think due in part to its sturdy design and base. If you're on the fence about a stroller- this is the one! This bundle is great because it's got everything you need and more! The functionality is amazing!
Car Seats/ Nuna Pipa Car Seat with Base Set: Two babies require two carseats, duh! But the carseat is an important factor for the parent too. When it comes to twins it's definitely double the love but it's also double the weight! So you want something super lightweight that won't break your back. The Nuna Pipa is just that at a whopping 7.9lbs per seat (lightest in its class)! Also, as I am already noticing, twins generate a lot of attention so when they're really young you want to keep them safe and away from the germs of inquiring strangers. The Nuna Pipa offers a feature called the "dream drape" which offers maximum coverage when out and about. You can also buy special car-seat adapters so you can use it with the City Select stroller listed above! These seats are definitely the ones we will use for our babes!
Two High Chairs/Skip Hop TUO Convertible High Chair: Now one thing I have heard is you don't really need two of everything but the things you DO need two of you should be particular about! One of which is high chairs. I was browsing The Baby Cubby and came across these! They are super modern in design and they also look very sleek. High chairs take up SO much room so to find one that looks great and is on the smaller side is a definite plus when you need two. They also look super easy to clean which is a must have for me!
For those of you who aren't familiar with The Baby Cubby here are a few reasons why I love shopping with them and what makes them different than the other baby boutiques you may have come across:
– They always price match, even amazon, so

you

know

you

're getting a great deal

–

They

carry only the highest quality and safest gear so that

you

can shop confidently (they spend hundreds of hours researching so

you

don't

have

to)

– Free Shipping everyday at

BabyCubby.com

over $49

You can find out more about Baby Cubby by visiting their

'About Us' page HERE

. Such a great company on a great mission!
I hope this post with three must haves for twin parents helped you!! It definitely helped me gathering the items I know will be most important for life with twins! Enjoy!!!
For more on twins, check out the posts below!
---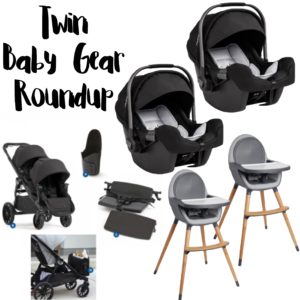 ---