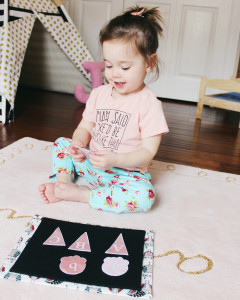 Babies and toddlers learn by playing and exploring. It is how their brains are designed to work and as a mother I want to provide toys that will encourage just that. As I have stressed numerous times, I am a HUGE fan of "open-ended" toys for my girls. Open-ended toys encourage pretend play and imagination which complements the growth of a baby/toddler's brain. A toy is open-ended if it can be used in multiple ways. Felt boards are great examples of open-ended play because they have multiple uses. In one sitting my daughter went from learning her capital/lowercase letters, to matching her abc's, to 'Old McDonald had a farm.' She sat and played independently and contently for 10 minutes (which is like hours in toddler time) while I got her baby sister down for a nap. This is the kind of activity/toy I can really get behind.
We recently had a chance to work with the wonderful etsy shop, While They Slept, who specializes in felt boards and story pieces. Their product is amazing! The graphics of the animals and the colors were so intriguing to my daughter. Since we have received the product we have integrated it into our daily routine. The versatility is great too. We can learn animal association with my 9.5 month old and in true Montessori fashion, my 2 year old can help by aiding her in the names of each animal and their corresponding sounds. These felt boards and story pieces are more than just a toy, they are great learning tools which I plan to use with both girls in years to come. As the girls get older we can add on to our collection and buy more felt stories/pieces that can grow with their development.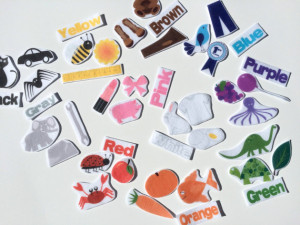 Head over to their shop and take a look at all the options available for felt boards and story pieces. You'll have so much fun mixing and matching the pieces. You'll have even more fun when you receive the product and see the endless playtime your children have with them. Wether you have them at home for learning purposes, or you keep the boards/pieces in the car to help occupy the kids on long drives, the open-ended play with these are just that, endless!
While They Slept is offering 20% off your entire purchase JUST for being an Oh Happy Play reader! Use code HAPPYPLAYFANS at checkout now!
You can find all of their information right here:
Instagram: @WhileTheySlept
Facebook
Pinterest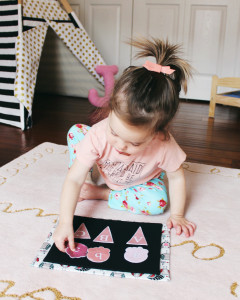 Xo Noelle