If you're looking for an easy to put together but themed gender neutral nursery idea for little boys, this gender neutral beach themed nursery will offer you some great inspiration.
---
\
Behind the Gender Neutral Beach Themed Nursery
I am so excited to finally share our twin boy's SECOND nursery reveal with you all! I knew the moment I heard we were having twin boys that they would be bunking together for a while for a few reasons. One because we had just signed on the dotted line to finalize our layout design for our custom home we were building to have three kid rooms upstairs (not four!) AND two, because my hope is that the boys will forever be best buddies! So here is their gender neutral beach themed nursery twin boy nursery reveal! 
First you may ask why I am considering this is their second reveal. The reason for that is simply because when they were born we were actually freshly out of our old house and living in a rental while our new home was being built. You can see their FIRST Monochrome Little Man Cave nursery reveal HERE. While this wasn't our home, it was the home we took the boys home to so it will ALWAYS have a special place in my heart.  
Now on to their NEW gender neutral beach themed nursery!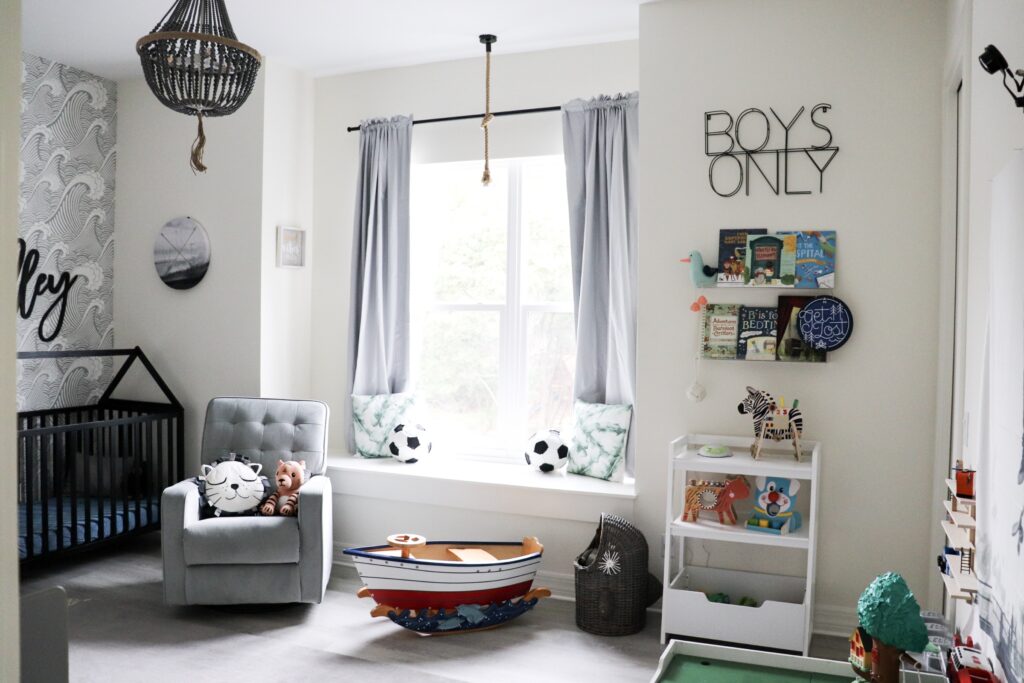 The boys are about to be two years old and by this age both of our girls were in Montessori Floor Beds. However, when you have twins some things just have to be adjusted and switching out of a crib at 15 months like we did the girls was just NOT happening. While I still believe in the method I also believe the boys together would be a bit overwhelming and they are such great sleepers that I am not ready to test that just yet! 
Twin Boy Nursery Reveal Video
You can view the entire gender neutral beach themed nursery room reveal in this fun video below! Please hit like and subscribe if you enjoy what you see! 
Gender Neutral Beach Themed Nursery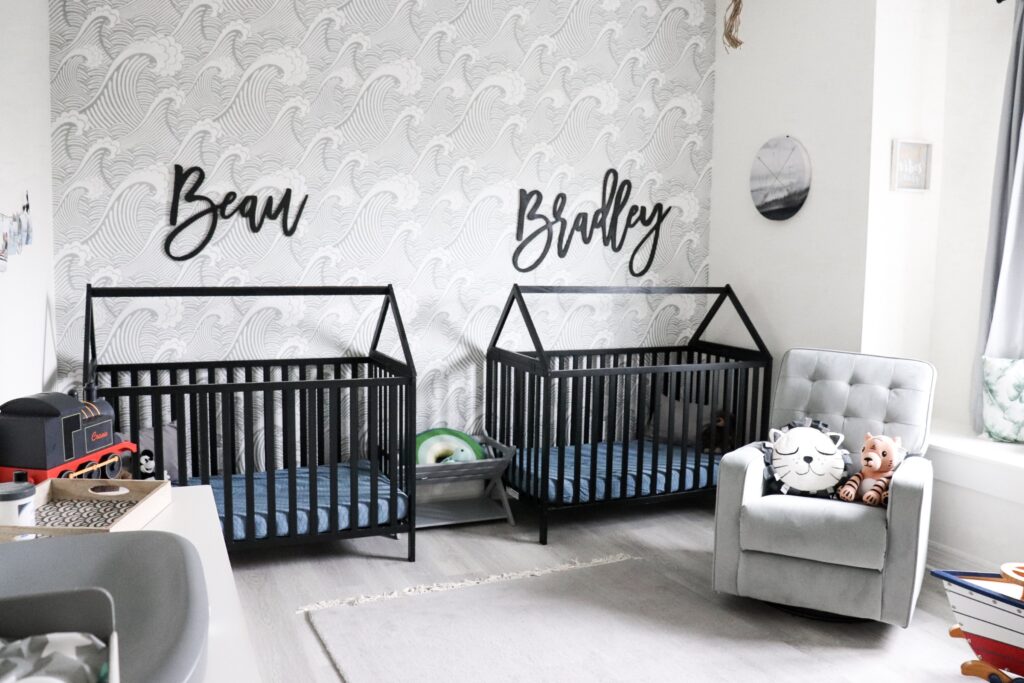 These boys are going to be full blown, Florida raised boys. This means beach trips, daily swimming sessions and being outside year round. I knew I wanted to give them a room that they can grow with and will still love when they're older. The beach is going to be a huge part of their life by default so it was an easy choice! I still incorporated the idea of their Little Man Cave like in their previous room but now it has taken on a new meaning. Now it is their beachside bedroom!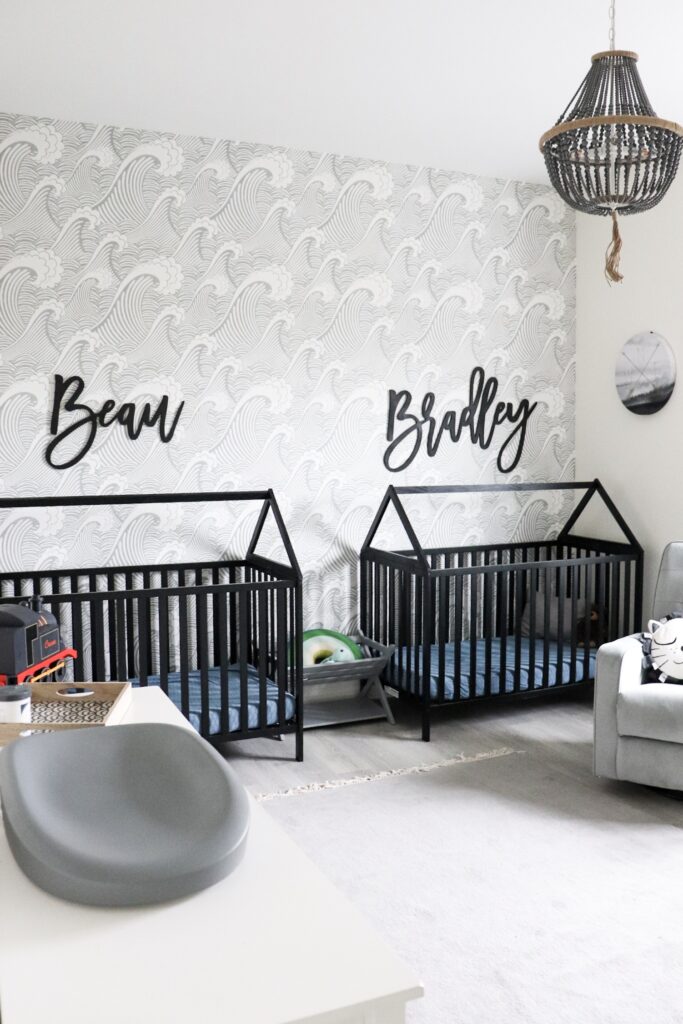 Once I had my theme in place I went to work on the design! I wanted to truly encompass the theme in every aspect of the room and I think I did just that! See below for more on each detail of the space! 
Gender Neutral Beach Themed Nursery Design
DIY House Framed Cribs
|FREE D.I.Y Plans for this are available by adding your email below!|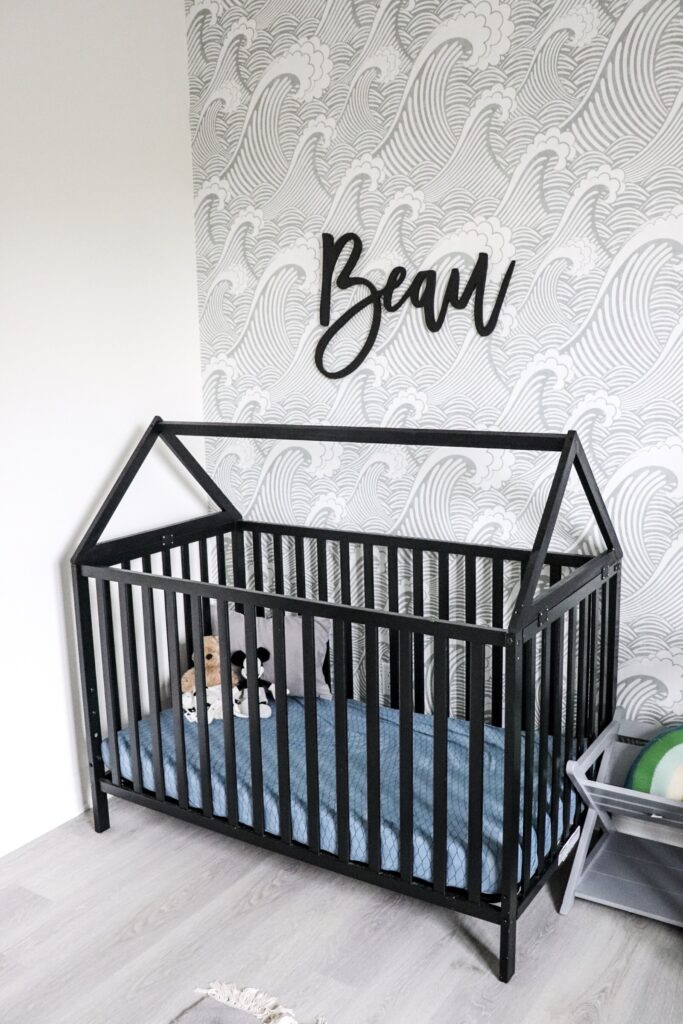 For their house framed cribs I ordered standard cribs off of Amazon and then had my trusty handyman, Bob, add the rest of the house frame to the actual cribs themselves. We have had these cribs for a few months now and they have held up wonderfully! 
Ocean Wave Wallpaper for Gender Neutral Beach Nursery
The wallpaper was crucial to the theme! No beach themed nursery is complete without waves! I searched a ton but I loved the muted color and vibrant design on this one specifically! 
Nursery Glider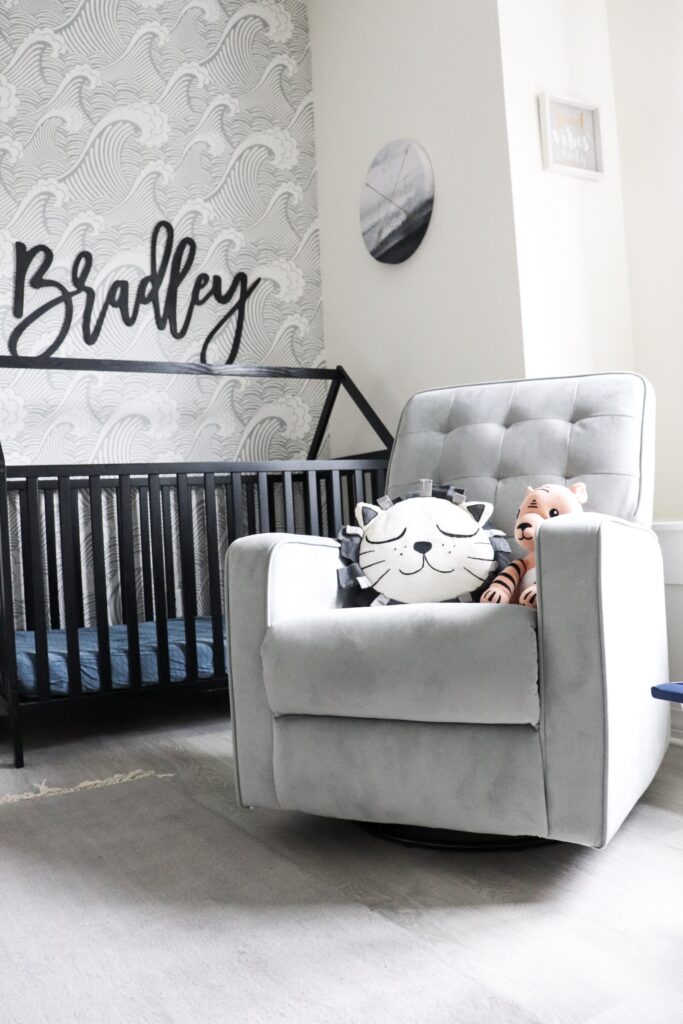 We chose this Gavin Nursery Swivel Glider from Delta Children and it is so perfect! It matches the grey in the wallpaper and has a super soft fabric to touch. This glider is where we sit every night for story time and our good night song. I am so happy with the quality and comfort! The design is perfect as well!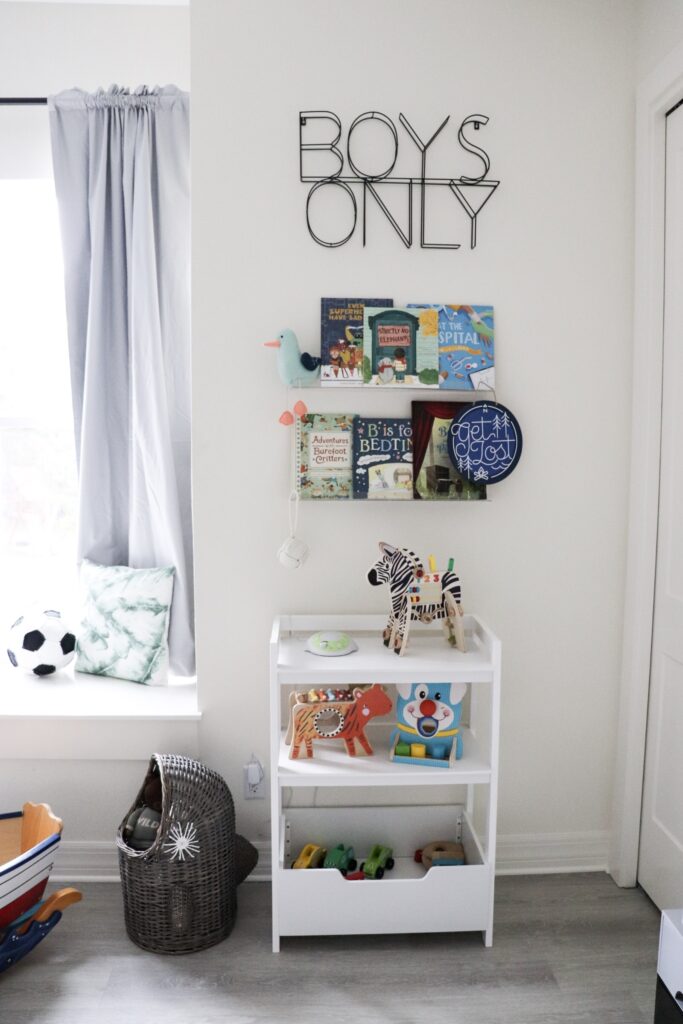 More Twin Boys' Modern Nursery Design: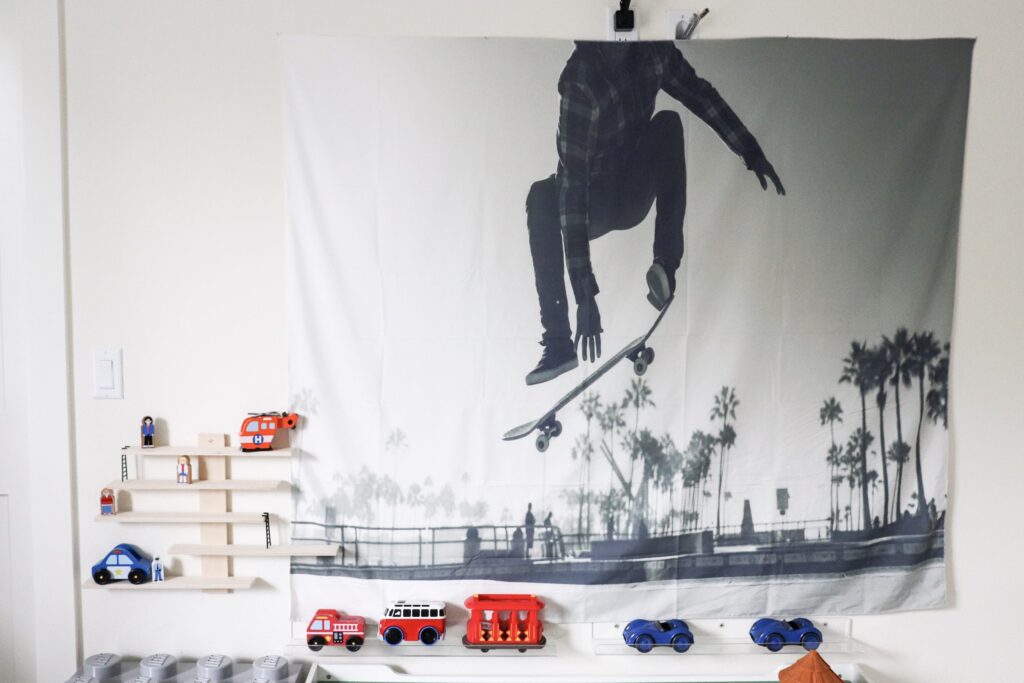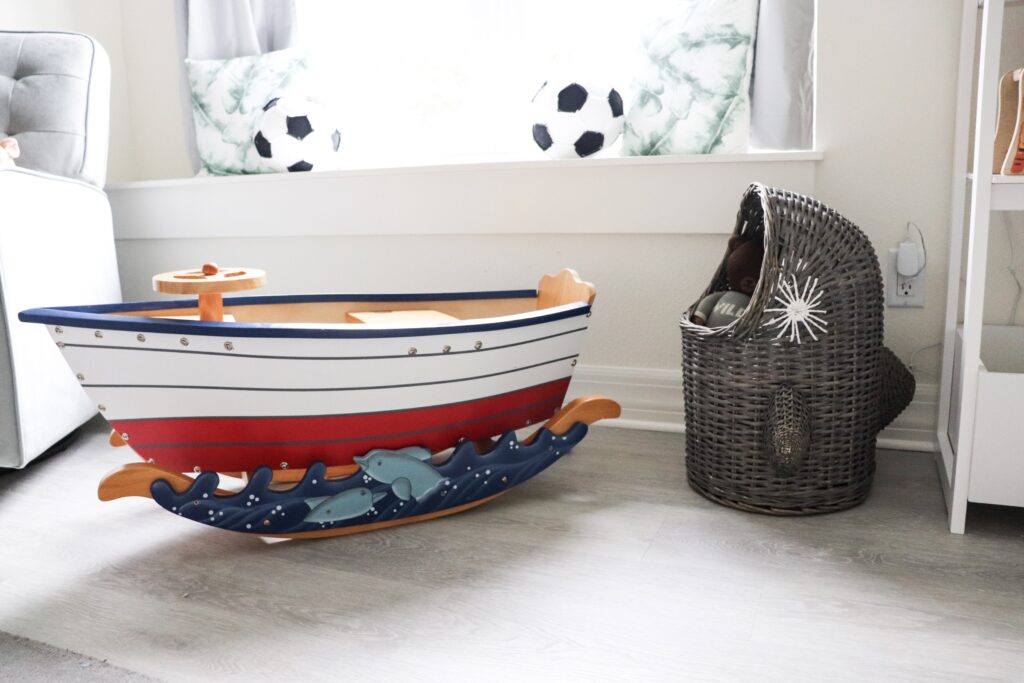 I hope you enjoyed this space! Please let me know if you have any other questions on sources of the above items! Enjoy! Xo 
If you can't leave a comment please reach me on Instagram @OhHappyPlay
(I am having some issues with this!) Thank you! 
Other notes: Bikes at the end of the video are Woom 2 bikes and the scooters are MicroKickboard Mini 3 in 1 scooters! 
Make sure you follow along on social media for more!