The JuJu Be Be Classy bag is the perfect diaper bag for two toddlers and is large enough for a full day of activities when you're on the go!
Packing a Diaper Bag for Two Toddlers
Packing to leave the house with two girls, 2 and under, I have to be organized. I need the essentials, the what-ifs and the must haves and I need them all accessible. When I find a good diaper bag I tend to want to shout it from the roof tops so that's what I am doing here! Here is my brand new JuJu Be: Be Classy packed for two.
About the JuJu Be Be Classy Diaper Bag
Lets start with the bag itself! This JuJu Be- Be Classy bag is beautiful as can be but also super functional! The sleek design is almost deceiving because it really can hold so much! The bag itself is made of the totally functional Teflon material, which makes clean up a breeze (and with two kids you can bet we have a lot of clean ups). I wouldn't dream of having a white bag in any other material with my two girls in tow. The inside features amazing crumb drains to help with clean up as well. No more week old breakfast bar crumbs lining the bottom of your bag! This bag comes with a memory foam changing pad perfect for diaper changes on the run. The inside is made for easy organization for all the kid's needs and the outside is made for my things with the front mommy pocket and quick reach cell phone pocket. This bag really holds it all and no detail was over looked!
Now lets see what's IN my bag!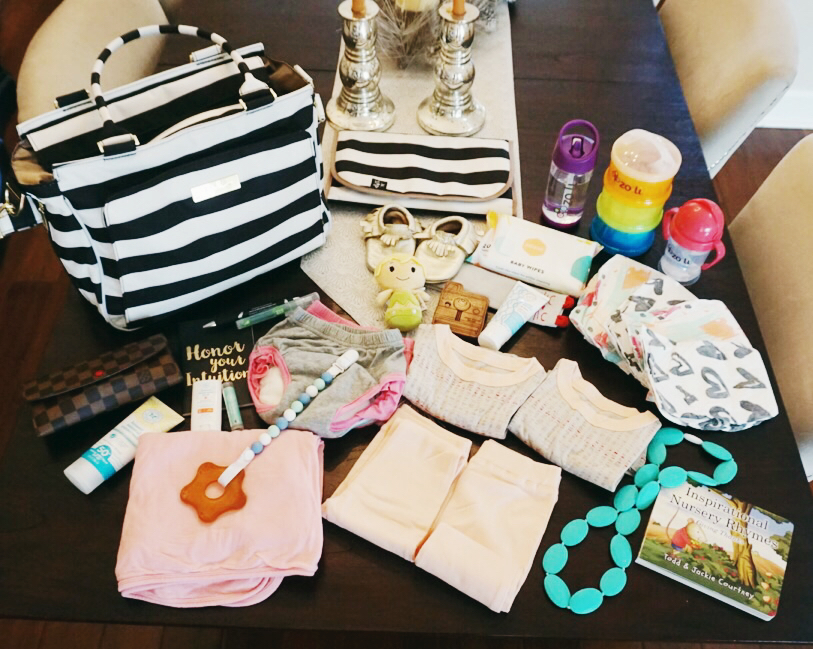 What I Pack in my JuJu Be Be Classy Diaper Bag
Diaper Bag Essentials:
Diapers for my 13 month old. We have recently become HUGE fans of the brand new all natural brand, Parasol and we now use their adorable organic disposable underwear and wipes for our littlest. Their designs are modern and bright but the softness is incomparable! You can get $20 off your first time subscription box just by clicking HERE or using my code OHHAPPYPLAY
Underwear for the potty trained two years old. We absolutely LOVE Coco & Kiwi for being out and about especially. Although she is totally potty trained we are always running a risk being out and distracted and that is why I still like to put training pants on her during these times. She hasn't had an accident in weeks but it's nice to know if she did we likely wouldn't need a total outfit change due to the high absorbency of this adorable underwear.
I'm adding snacks in the essentials category because we can't leave home without snacks. That would be a catastrophe. We pack all our snacks in this adorable 3-tier snack holder from Zoli because it's perfect for packing purposed and the use with multiple kids. We also use their sippy and water bottle because the girls love them and they are easy to use.
Rash relief from Baby Pibu: With both girls having eczema and living in a dry climate, as it is this is one item I always keep on me! We also use their hydrating ointment and it really helps relieves the girls inflamed dry skin. This can also be used on minor skin scrapes and cuts so it's multifunctional!
Change of clothes! We are obsessed with Finn + Emma so we keep those close by often!
Sunscreen: Again, my girls are Florida girls and we re-apply often. We love The Honest Company face stick and body sunscreen.
Other Diaper Bag Essentials:
For Those Interested; What I Am Wearing:
Joie is wearing: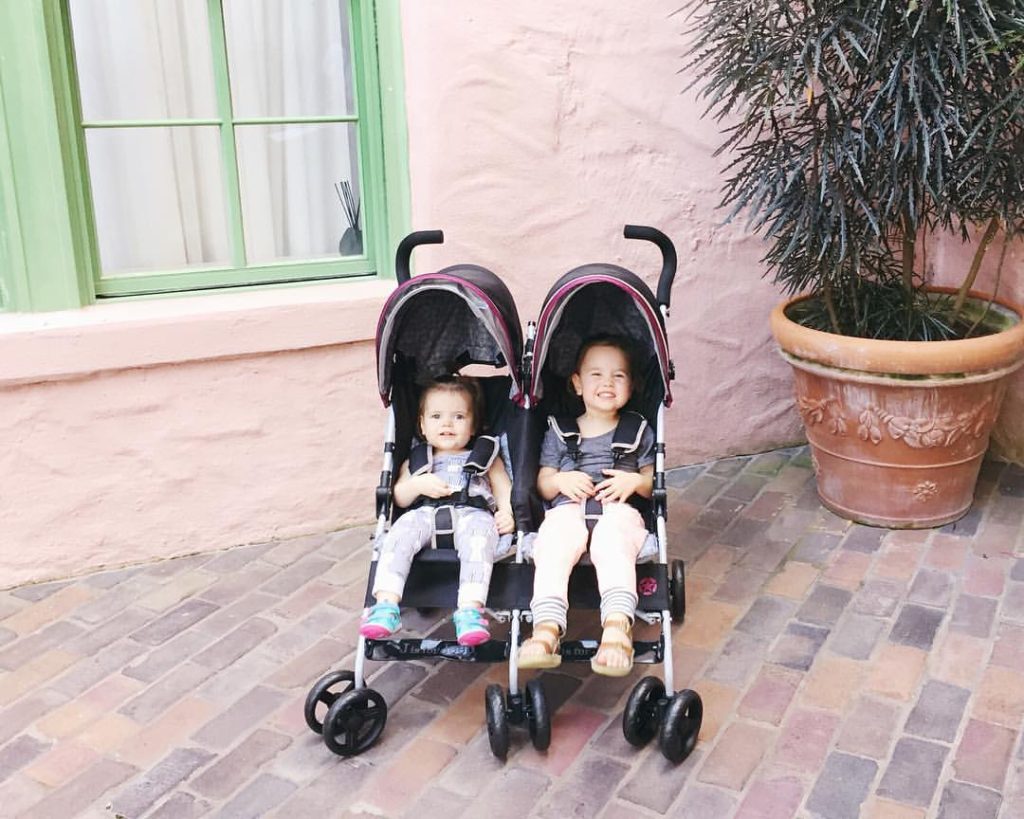 And if you're packing for two then you probably need a super easy double stroller to work with! We LOVE our J is for Jeep Brand- Scout Double Stroller from Delta Children. This is technically an umbrella stroller but with the features of all the fancy regular sized double strollers out there! It's super lightweight and easy to handle but what I love is the storage in the back! Perfect for toys and whatever extras you want to bring. With a JuJu Be backpack style bag and this stroller you are certainly set for adventure! Let me know what you think below!!
If you liked this post, I think you'd like these ones too:
Positive Parenting Tips For Toddler Tantrums
Best Water Tables For Toddlers 2022
Follow along for more: