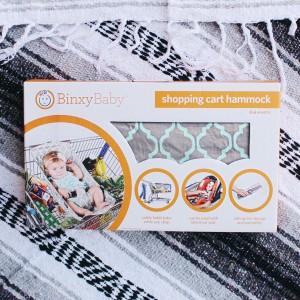 The Ultimate Baby Accessory: Binxy Baby's Shopping Cart Hammock
Why You Need a Shopping Cart Hammock
Whether you're a new mom or a seasoned mom you know that going to the grocery store or any big box store with a baby is a difficult task for the first 6 months of your baby's life. Chances are you are toting them around in their infant carseat and after you start picking up a few items your cart fills quickly to capacity. Your baby starts to get covered in deli meats and boxed cereal and before long you just leave because playing tetras in your cart just isn't working. Well let me introduce you to the ultimate baby accessory: Binxy Baby's shopping cart hammock designed to solve just this problem (and many more)!
About the Hammock
Not only does this product help the practicality of shopping with a baby but it is the safe choice as well. I cringe every time I see an infant carseat on top of a shopping cart because it is the most unsafe situation you can put your baby in. This makes the carts extremely top heavy and more likely to topple over leaving your child seriously injured. The Binxy Baby Shopping Cart Hammock attaches safely to the shopping cart and allows you to either put baby directly in the hammock or secure your child's infant car seat directly on the hammock itself.
Shopping with both girls during those early months with Lola was much easier due to this hammock and it is for sure my go to baby shower gift from now on! This is one product that is sure to be the most used baby accessory you or your mom-to-be friends will ever receive and they will be singing your praises for introducing it to them.
How to Use a Shopping Cart Hammock
Here are the two ways to use this awesome product:
Infant aged 0-6 months directly in the hammock:
Infant strapped in infant carseat and strapped on to the  hammock (up to 50 lbs):
And here is how this busy mom of two rocked her Binxy Baby Shopping Cart Hammock on my MANY trips to the one and only, Target: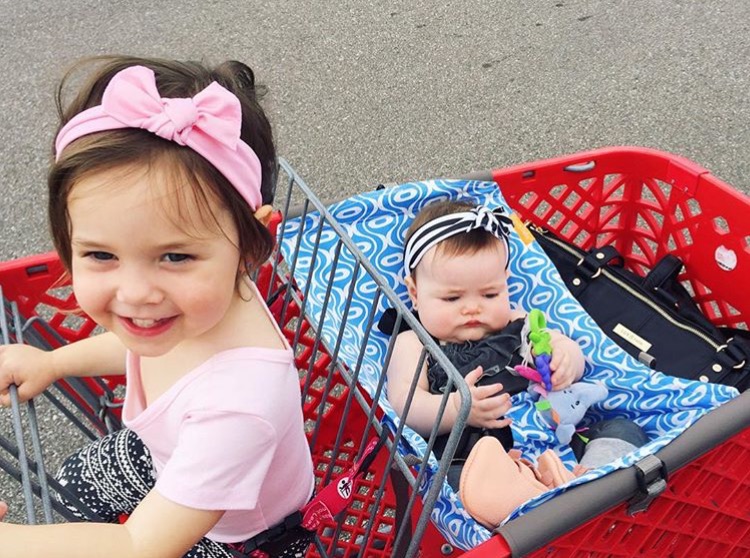 AND best of all, it is small, easily foldable and the perfect fit to pop in your diaper bag on your way in/out of the store.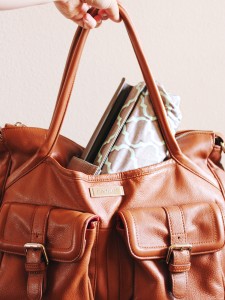 Shop this awesome product HERE. This is one baby item you will want buy for yourself, as well as PIN for later when your friends start having babies too!
Xo Noelle
For more like this post, check these ones out:
Top Five Best Earth Mama Organics Baby Products