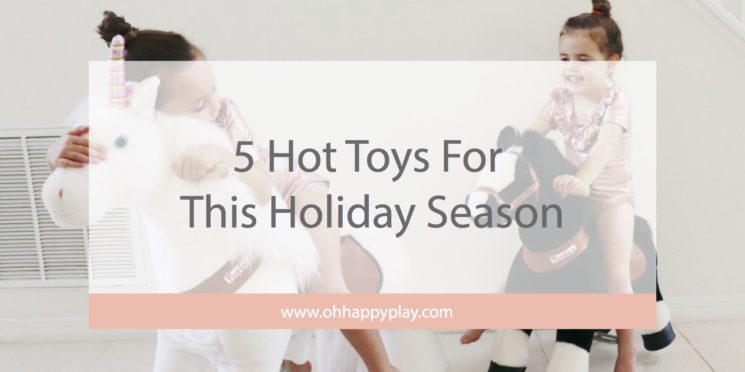 5 Hot Toys For This Holiday Season
|This post contains affiliate links|
---
Yes, you read that correctly, it's almost that time! And while it may seem early to some all it takes is that one flash back to last season when you were searching every store possible for that one hatchimal that your child just HAD to have and you will see the beauty in shopping early this season! I'm sharing 5 HOT toys that have caught my eye early this season so you can snatch them for your little ones now instead of waiting in long lines in a few short months!
1. Cry Babies: The commercials for these are all over the disney channel but the product itself is already starting to sell out. You can see price gouges already beginning on these so snatch one up early and hide it away for your little baby doll lovers this season! Retail is $29.99 and I found some that are in stock now at that price on Amazon below (link may change between when this post was created and when you find it if the product sells out but know the retail price is $29.99 before shopping) –
2. PonyCycle®: (GIVEAWAY AT THE BOTTOM- scroll all the way down!)
This gift is sure to make ANY child light up christmas morning and if you're on the hunt for that one big WOW gift, this is it! This is a riding toy with various sizes for children from 3yo to 9yo and moves in a gallopng motion just like a real horse! They have other animal options too but we have the Unicorn PonyCycle® and the Horse PonyCycle® and absolutely LOVE them! You can view ALL their options HERE. I can't say enough good things about the quality of these and the joy they bring my girls when they're in the midst of imaginary play land! You can take these outside or inside for hours of fun!
3. L.O.L. Surprise!! Innovation Doll-Series 4 Wave 1 Underwraps –
These are all new in the series and are selling out already. Unwrap 15 new suprises with clues for each one! Right now Amazon has them available so snatch some up now while they're available or keep them on your wishlist to check when they become available again! (These should be between $13-15 dollars retail)
4. Pomsies Blossom Plush Interactive Toys- These adorable little dolls will tell you when they are tired, cold or hungry with their eyes that light up or sweet puring sounds. Perfect little friend for your little ones.
5. WowWee Fingerlings Hugs – these are already selling out too like their little partners from last year and these plushes will be sure to be on your littles wishlist again!

I will be getting more holiday posts together soon in hopes to keep you in the know early for this holiday season! Stay tuned for those as well. In the meantime share this with your friends and check out my classic gift guide from last season here! Enjoy!
---
**PonyCycle® Giveaway!**