Wondering what to pack in your hospital bag for mom and baby? Check out this list of hospital bag essentials for mom and baby!
What to Pack in Your Hospital Bag
Long before I was a mother I was an over-thinker. I over think EVERYTHING. So when it came time to pack my hospital bag for the delivery of my first daughter (you guessed it) I over thought it entirely! What I soon realized was that I didn't use half of the stuff that I packed and in fact opted for the simpler solution during our hospital stay. When my second was due I knew I wasn't going to waste my time over packing and I chose (for the first time ever) to pack only the basics. With my sister due in a few weeks I thought it was the perfect time to share my must have items in a SIMPLE hospital bag essentials for mom and baby.
Hospital Bag Must Haves for Baby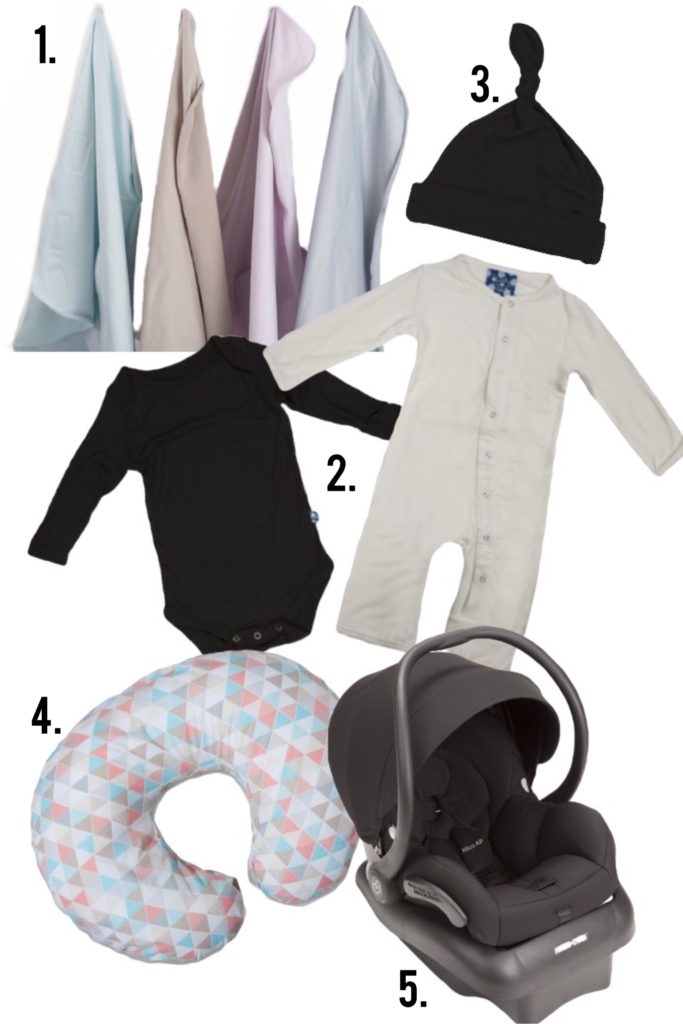 Hospital Bag Must Haves for Mom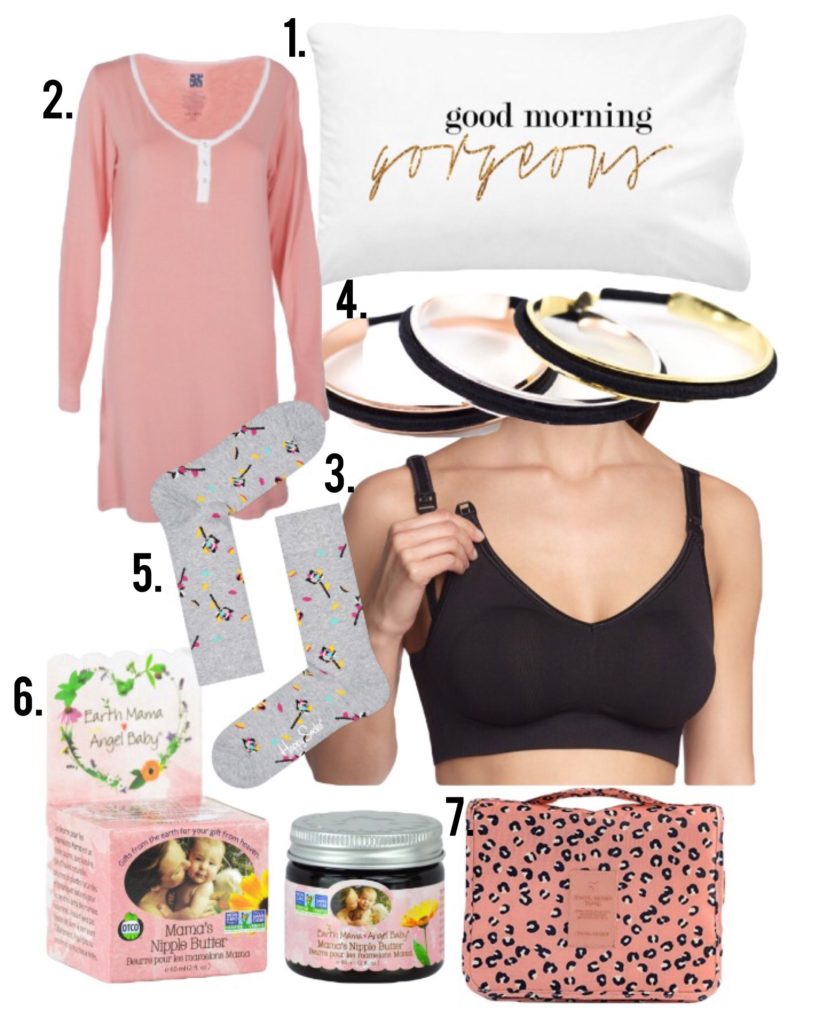 Pillow: I was NOT picky about labor. I did not have music planned out or a special gown for giving birth in. None of that. I didn't care what I was wearing or the lack of makeup on my face but the one thing I am glad I had was my own pillow. My own, comfy, trusty pillow (the one that probably got me into this "mess" to begin with…I kid, I kid). The familiar smells and the comfy place to rest my head just had me so at ease through the whole process. It's honestly the only thing I HAD to have for labor. I personally love these pillowcases from OSusannah's!
Post-Birth Outfit: After you have the baby (generally speaking) you get brought to your room that you'll be in until you head home. It's at that time you're able to take a shower and re-group from labor. After that shower the last thing I want to put back on is that hospital gown so I brought a comfy button up pajama set and wore that for the day. It was comfy, easy access for nursing and loose fitting for all your new under baggage (you know the fun aftermath of labor that leaves you in that classy mom diaper…I know, I know, I won't go there but you get it!) I also love the idea of this night gown by Kickee Pants (listed in number 2). Size wise think of what you fit in at about 6 months pregnant and that should be the size you pack.
Nursing Bra: Speaking of nursing make sure to pack a couple nursing bras. I love the no-underwire Bravodo nursing bras. They are comfy and really hold up well. You'll be doing LOTS of nursing in your first few days and weeks so this will become a staple.
One thing I loved having was my Bela Bracelets– hair tie bracelet. It is no joke when you hear that moms always have their hair thrown back and it's true. This starts right away. I loved having an extra hair tie with me and it didn't have to look frumpy or cut off circulation in my wrist during the process. These bracelets are super comfy and SUPER functional. Hospital or not, I don't leave home with one of them these days.
Socks: It's cold in there so bring some socks! Plus you don't want to be walking around the hospital floors without some. You can't go wrong with Happy Socks!
Nipple Butter: I LOVE Earth Mama Nipple butter and after much testing of other brands, this one quickly became my go-to. You don't need to prep your boobs before breastfeeding but once you start it's definitely a good idea to have this on hand. I swear by it!
Toiletries: I didn't go crazy with these. I packed the essentials (tooth brush, tooth paste, brush and some makeup) and went from there. I didn't fuss about packing my own shampoo, conditioner, body wash etc. I used what they had there to hold me over until we all made it home. One less thing to worry about! I just got this toiletry bag from ITraveller and love it!
Going Home Outfit: Chances are you'll be taking pictures so a fresh outfit is nice. I never picked anything fancy. Just a comfy pair of yoga pants and tee did it for me.
I hope this simple list helped you weed out the unnecessary things and focus on the basics of your hospital bag essentials for mom and baby! Make sure to share this with a mom-to-be who may find this useful!
Find me on Instagram + Facebook for more
For more baby must reads, check out these posts:
SNOO Review – The Smartest Bassinet You'll Find For Twins
A Day In The Life With Our Twins + Twin Sleep Schedule