I am a huge fan of montessori floor beds and now that it is time to swap our twin boys to their toddler beds, we just had to make some DIY toddler floor beds of our own! I worked closely with Ramos Rustics to create this jeep car floor bed for our twin boys and let me tell you, they are some cute floor beds!
---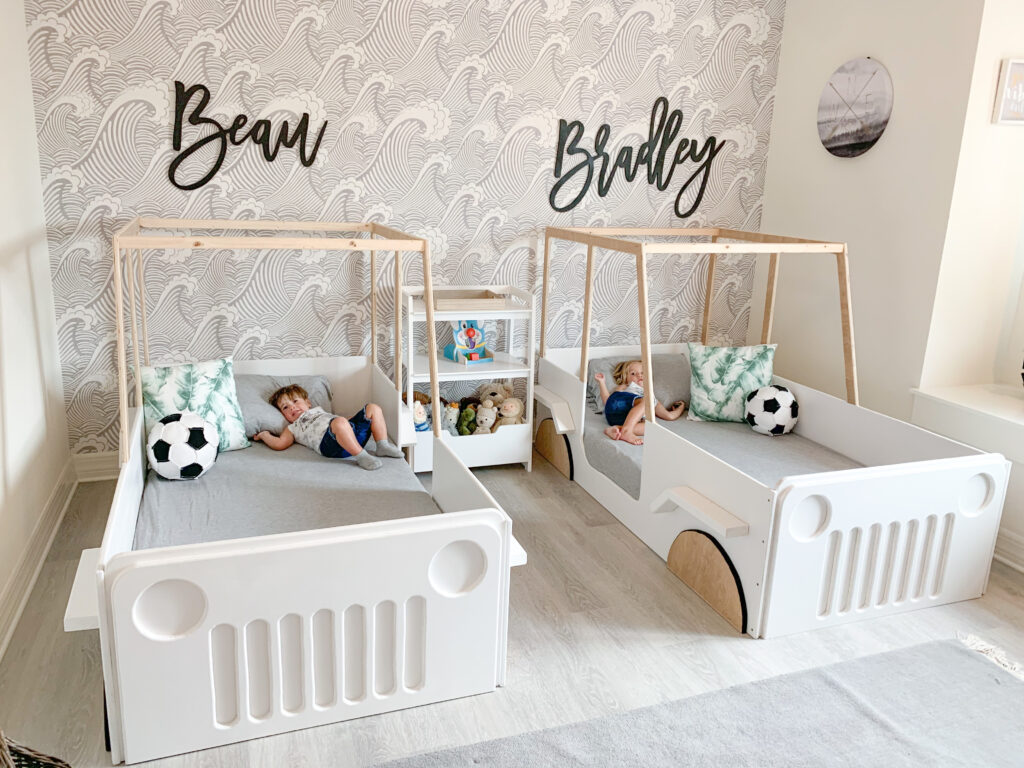 Making the Crib to Floor Bed Swap
It is hard to believe that the time has come to transfer my twin boys out of their cribs. It feels like they were just born yesterday! But atlas, they are 2.5 years old and more than ready for some freedom. I searched long and hard for a modern wood jeep car floor bed for them but came up short with every search. In true Noelle fashion I decided to create it myself (with the help of an amazing local woodworker!) The best part is I am sharing the DIY with you! 
How To Know When It Is Time To Transition To Toddler Bed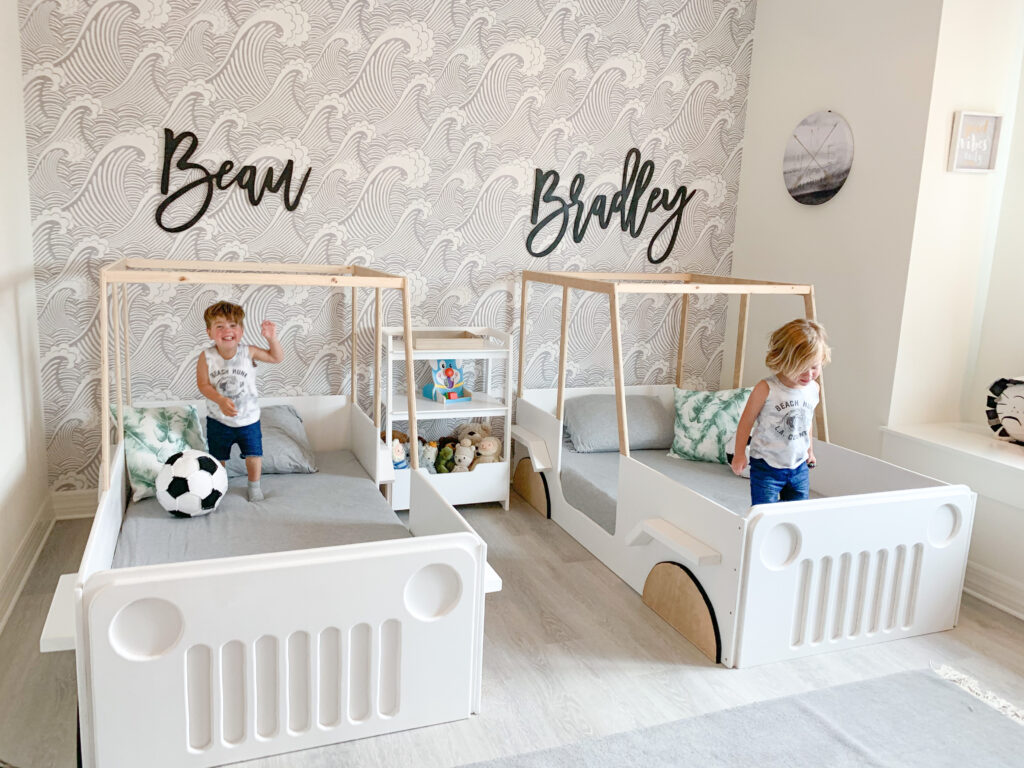 Here are a few signs to know it's time to transfer your toddler from crib to toddler bed and also a few simple nudges as well: 
Your child climbs out of the crib: This is one I never experienced but I have to put it first simply for safety! If a child is crawling out it is time to switch for safety reasons. 
You Want A Montessori Inspired Bedroom: This is usually my main reason for switching out of a crib to a floor bed. You can learn ALL about Montessori Floor Beds in a few previous posts of mine, as I am very passionate about the topic:
Waking up and playing quietly: This was a huge sign for our twins! They would wake up and play with each other through the cribs quietly. They would only fuss when they dropped something and couldn't get it back. This was a huge sign that they could handle some independence! 
Sleeping Routinely: If your toddler is on a sleep schedule that they do really well with, they are likely to transition easier after the age of 2. Make sure you create a baby proof environment and the switch will come naturally! 
D.I.Y Modern Wood Jeep Car Floor Bed For Kids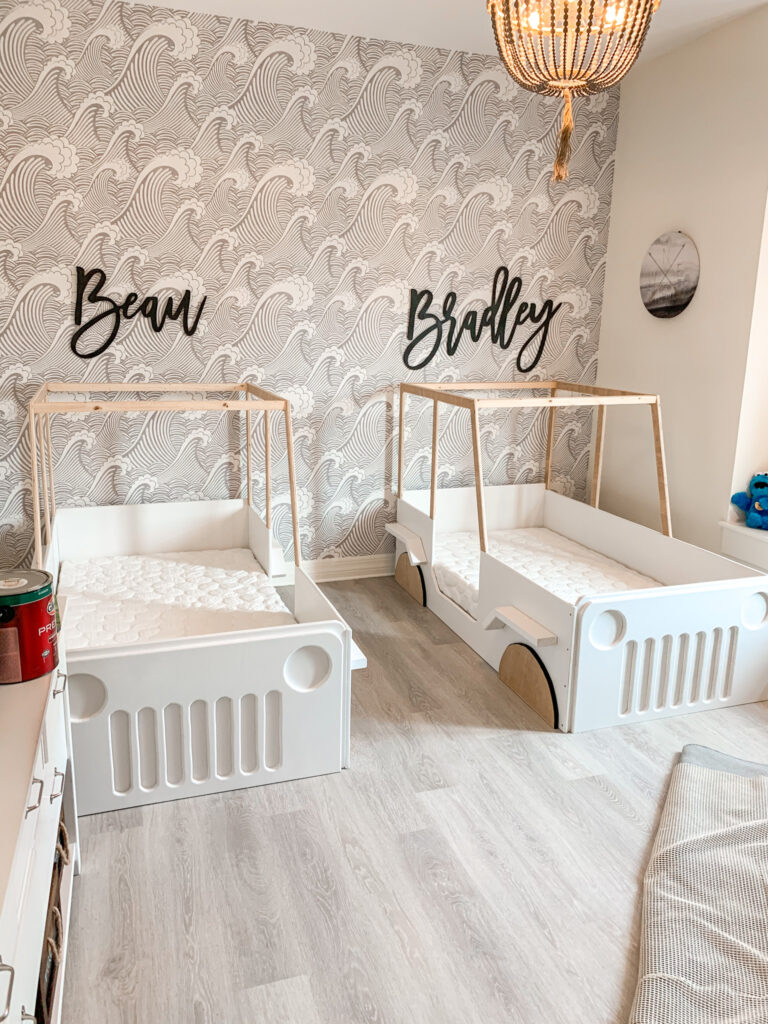 My twin boys are so obsessed with cars so when it came time to switch them from their cribs I knew I wanted to find them a car bed. All the car beds I found were just not the look I was going for. I wanted something clean and sleek for their room. After searching for a modern wood car bed and coming up short I decided to design one myself! I knew I wanted something that would go with their current 'Beach Themed Nursery' but that also resembled the same design as my first creation, my DIY House Frame Floor bed .
With that in mind, I drew my idea down and shared it with a local woodworker, Ramos Rustics, who helped bring my idea to life! He was so amazing to work with and took all my drawings and made them into the exact picture I had in my head! That is a skill not many have. I would encourage any local people to the Tampa Area to give him a shout if you'd like this bed without the DIY part! Or really any idea you have in your head! 
DIY Jeep Car Floor Bed for Toddlers Instructions
For all those DIY'ers out there these plans are for you! Complete instructions on how to make this jeep car floor bed for your little car lovers are below:
| Payment for these plans are new to my site and they are designed to protect our copyright for personal use only due to the outcome of my last House Bed plans which have been repurposed many times over. I hope you all can understand! |
What makes these jeep car floor beds unique?
Not only are they modern (and totally customizable when it comes to color) but they are also still floor beds. Floor beds for toddlers is a really great way to transition as it gives them an inviting space to develop proper sleep habits from an early age. They can move freely from their bed and listen to their body for sleep ques which benefits their long term relationship with sleep!
I hope this helps you gain more knowledge on the benefits of floor beds as well as an idea for a modern wood Jeep car bed for your little ones! Tag me on Instagram & Facebook with your versions! Enjoy! 
Make sure you follow along on social media for more!