Start Your Party Off Right With The Perfect Invite // FREE Baby Shower Invitations Included!
[This is a sponsored post. All opinions are my own]
---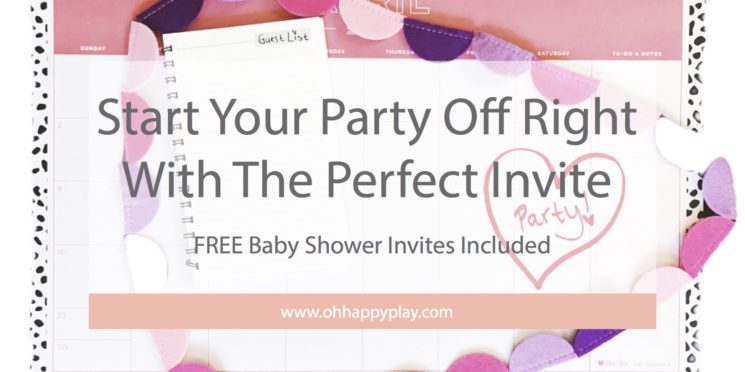 Before every good party there is an invitation to announce it. The invitation to a party is an art in itself. This is the first look at your event that your guests will see. It's just as important as any other first impression analogy. You want your guests to be as excited to attend the party, as you are to throw it! Well let me give you a few tips on how to start your party off right with the perfect invite!
Step 1: The Perfect Template
If I can recommend one sure way to make sure your invite stands out, I suggest using a company that specializes in them instead of attempting to go at it "alone". PaperlessPost.com is my go-to online/printed stationary service and it's for great reason. Their designs are eye popping and fresh. They team up with other very well known designers like themself (i.e my FAVS, Riffle Paper Co.) to ensure their designs are on trend and exactly what you, as the customer, have set out looking for.
Right now they are currently offering some FREE Baby Shower invitations that are completely swoon worthy but you can also check out their other templates/designs by clicking the event you're looking for on their main page!

I have just started planning my daughter's second birthday and have chosen this High Tea – Pink design to work with for her "Tea For TWO" party in April (and I can't wait to get it started!)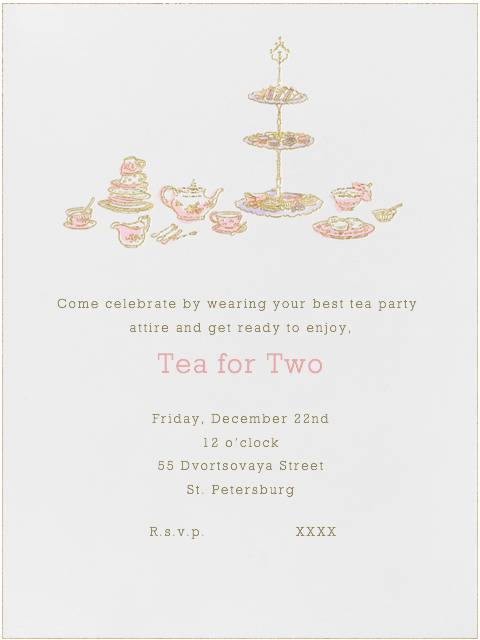 Step 2: Choose Paper or Online
It's 2017 and when it comes to invites, there is no right or wrong in this day and age. Many people love the traditional paper invites as they feel more formal (and for some events they are truly preferred) but it is ultimately your preference. With two young kids I stick to online invites for birthday parties because it's just a time saver for me! Now if I were planning a more formal of an event, such as a wedding or even a baby shower, paper would be a no brainer.
Step 3: Convey Your Theme
Bottom line, you want to get people excited and involved in the party so make sure your invites convey the theme of your party. If you know me you KNOW I love a good themed party. Just take a look at some of my previous parties:
Each of those parties started with an invite. Whether it was to invite their friend's on a trolley around "Joie Tiger's Neighborhood" (letting them know we would have an actual trolley here for guests to take rides on) or letting them know to bring some socks for a "hop around the clubhouse." The main event was always readily available on the invites and got them excited to attend! Because why throw a party if no one is excited or plans to attend!
Step 4: Don't Forget The Basics
 When I say basics I mean: address/location, rsvp info, time/date of the event. Yes it seems like all simple stuff but the reason I add this is because I have been there. After receiving my daughter's first birthday invitations I realized I never included the time of the event, THE TIME! Ugh!! I looked over her invites a million times and still my mom brain was in full force. So there I sat handwriting the time on the back completely ruining the feel of my invite AND hoping people turned it over to even see the new addition. I thought about starting over but it wasn't an option. So here I am, warning you all to make sure you DON'T forget the BASICS! Make sure ALL pertinent information to the event is included in your invitations so the day of the event there is zero confusion for guests. If your party is at a location with a gate, include the gate code, if your party is at a complex's clubhouse; include some simple steps to navigate once inside the neighborhood. It may seem basic to you but could cause confusion to others if not available.
I like to look at the party invitation as the ultimate road map to your event and the party is the destination! And since Siri can't help you with this one, that's what I hope to have accomplished here in this post! Enjoy!
---
//GIVEAWAY TIME: Want to win 1,000 coins ($90 value) that can be used on paperlesspost.com for awesome electronic invites, thank yous, and more?! //
Here is how to enter: Comment below letting me know what your next big event is and if you have a theme picked out for it!
Good luck! **This giveaway ends on Thursday, February 16th at 11:59 PM EST. Winner will be announced Friday! The winner will be randomly selected from the pool of entries and announced by 2/16/17 8pm EST!! Winner has 48-hours to claim their prize. By entering, you are confirming that you are at least 18 years of age.**
"This giveaway is a partnership with Nakturnal"