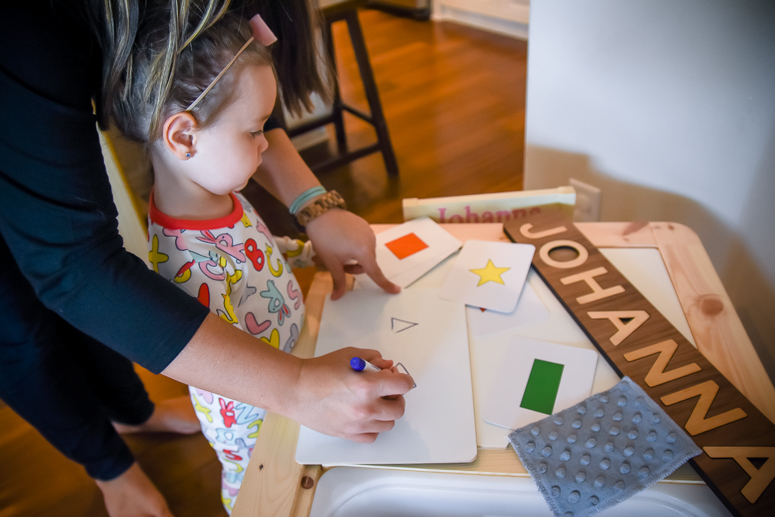 About Montessori Home Activities
The Montessori way of teaching is foreign to some and loved by others. This way of teaching is totally child-centered in an effort to help young ones, help themselves. It is a method that I love to center my own household around and why I was so eager to get my oldest daughter enrolled in our local Montessori School at almost 3 years old. According to Dr. Maria Montessori all children, "experience sensitive periods, or windows of opportunity, as they grow. As their students develop, Montessori teachers match appropriate lessons and materials to these sensitive periods when learning is most naturally absorbed and internalized." One of the main focuses is make learning natural and to cater to a child's natural eagerness to learn. So with that said, this post is catered to those younger children aged 2-6. Whether your toddler is in Montessori school or not here are 3 Montessori at home activities for toddlers that will totally cater to their already pre-dispositioned eagerness to learn.
Montessori Home Activities for Toddlers
Name Recognition
One of the first things they start doing on day one in a pre-primary classroom (ages 2-3) is start to learn name recognition. Name recognition is the first step to reading and literacy. Children are fascinated with their own names so what better way to start teaching them about letters than with their own name. It is said that it is best to start teaching children to spell their names in uppercase then before entering Kindergarten start to teach the significance of upper and lower case letters. I found the PERFECT tool to make learning their name at home fun and effortless. These name puzzles by Smiling Tree Toys are the perfect tools to do this. The great thing about them is all kids love puzzles so when they first start out using this customized name puzzle it won't even feel remotely like learning to them. As they grow you can start verbalizing the letters and asking them to find a certain letter for a certain spot. Even with both girls I use this. I lay all the pieces of both name puzzles out on the floor and I ask my 2.5-year-old daughter to find all of the A's (for both puzzles). At 2.5 she can spell her long 7-letter name and tell you what each letter in her name is by pointing to it (whether in order or out of order). This wooden name puzzle is one of my favorite educational "toys" I have right now and I don't have enough awesome things to say about this brand. The quality is remarkable and these puzzles are something we will treasure forever! You can order your customized name puzzles HERE!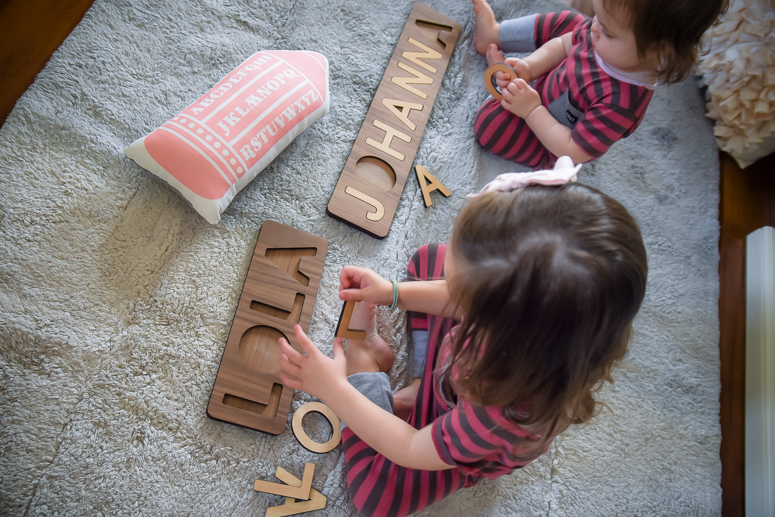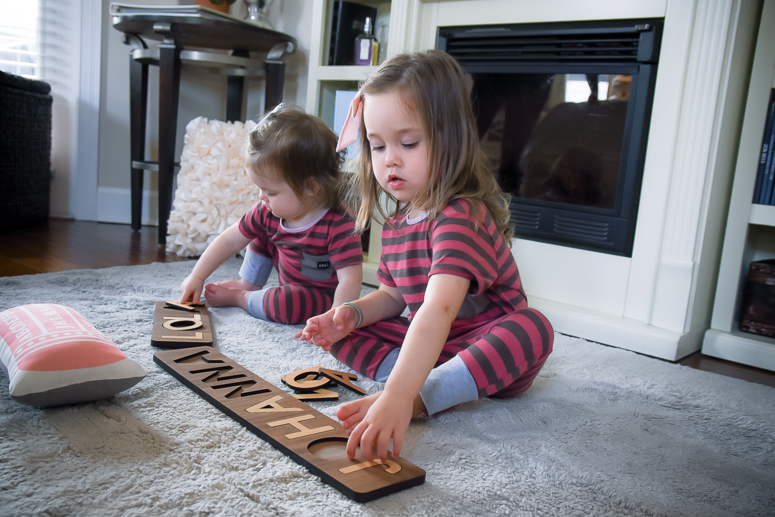 Shape Recognition
Another great at-home activity you can do is shape recognition. We recently received a "Kindergarten Toolkit" and fell in love with it immediately! At 2.5 years old my daughter immediately gravitated to the shape flashcards. She loves going through all of the shapes then drawing them on the whiteboard for even more practice and recognition. We use these same cards to go over colors too. The color recognition is something we can even include my 17 month old in on and she loves it just as much. One staple of Montessori classrooms is the multi-age settings. So primary (or commonly known as pre-k) consists of students ages 3-6 years old. The significance of this is so that the younger children can learn from the older children and the older children can reinforce their knowledge by teaching it to the younger students. This has proven so true already while observing my 2.5 year old and 17 month old going through their colors with these flashcards! It is just amazing to see! You can purchase your complete Kindergarten Toolkit (including a bunch of other items such as letters, numbers, sight words and more) HERE.  "The Kindergarten Toolkit helps build a basic foundation of reading, writing and math skills as your child prepares to enter Kindergarten."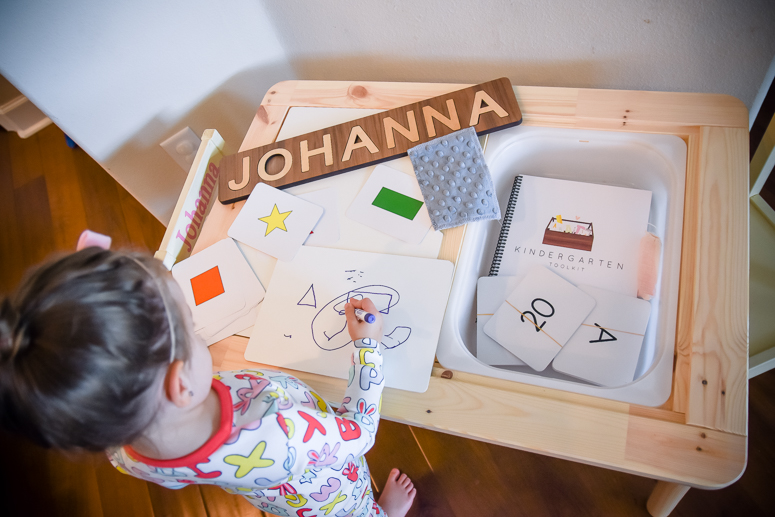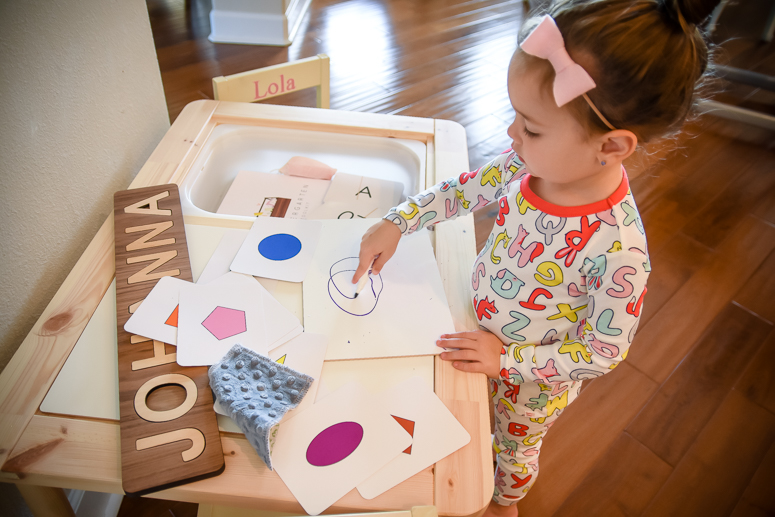 Counting Objects
And lastly counting objects! In order to make this inviting and fun we use this adorable Busy Barn play mat from Handmade Happiness by Ruth. The animals are the objects and the play mat is the unintimidating way of getting this idea of counting across to your toddler. Here is the simple way you can teach your toddler to count objects by using this play mat:
Lay the mat down in front of your child with nothing on it. Have ALL of the animals in a cup next to the mat.
Start with laying one animal on the mat (then go up from there) and ask: "How many animals do you see on the farm?"
Demonstrating with your index finger, count the animals on the farm.
After each time take ALL of the animals off of the mat and start over completely fresh each time.
Repeat these steps going up in the number of animals. Eventually you can mix it up and go from "1 animal" on the farm to "4 animals" on the farm to truly test out their new counting skills.
I hope you enjoyed these 3 montessori home activities to feed your child's natural desire to learn right at home and using some of the Montessori method basics that I love! Enjoy!
For more on montessori parenting, check out these posts:
Montessori Toddler Bedroom Inspiration
How To Create A Colorful Montessori Inspired Play Space
3 Must Have Pieces Of Furniture For A Montessori Playroom Using Furniture.Com
Follow along for more: