4 Beach Hacks For Parents With Toddlers
Don't miss these beach hacks for parents if you want to make your next beach trip with your young kids easier and stress free!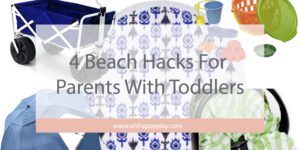 ---
Whether you're heading on vacation somewhere tropical with kids (and lets face it, you northerners are probably booking a trip after that snow storm) or you live near the water like we do, planning for a day at the beach can be stressful. Although, booking trips like San Diego whale watching in advance can be very helpful. You want to enjoy yourself but you want to be prepared too. You almost have to be prepared in order to enjoy yourself. Well after MANY a trips to the beach I am excited to share these 4 beach hacks for parents with toddlers!
Be prepared to come home with sandy kids. If you can prepare yourself for that you're ready for anything (ha-ha). I strip my kids naked at the showers and clean them up but there is still sand EVERYWHERE and I use to stress about the cleanup until I came across "Save Your Seat" disposable car seat & strap covers and I have been hooked ever since!
"Save Your Seat offers disposable car seat covers that can be used with infant, toddler and booster car seats, as well as high chairs, bouncy seats, strollers, changing pads and more."
To be honest I have started using these more than for beach trips because it makes the inevitable snack clean up easier every day as well. Because I can tell myself 500x I'm not allowing snacks in the car but as soon as they start getting out of hand I'm throwing them goldfish as fast as possible! I know I'm not alone, right? Well back to beach, no more worrying about a sandy car seat because when we get home you can simply dispose of them (or shake them out and reuse). Having both girls with me I am always trying to hustle them in the car in parking lots and it's just so relieving to know that this is one less thing that I have to worry about!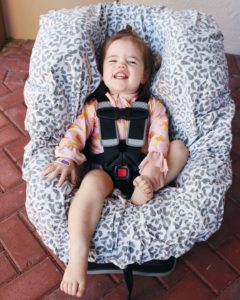 Buy a pull cart! Just do it and don't look back. Strollers are out of the question and kids + the beach = LOTS OF STUFF. Even when I pack the bare minimum it's still more stuff than I care to carry (or can even realistically handle with grace). We have this Mac Sports Heavy Duty Collapsible Folding All Terrain Utility Beach Wagon and it's perfect. I put my bags in the back and the girls up front and just wheel them on down! My 3yo likes to walk now which makes it even better but I can't tell you how nice this thing is to have! I pack my Ju Ju Be diaper bag + my beach bag (new FAV one by Little Adi + Co) + small cooler + our beach toys (which leads me to the next hack!)
If I can offer one piece of advice, don't go over board with beach toys. Cleaning and packing them after the day is done can be a nightmare but it doesn't have to be with this next hack. I found a beach bucket randomly at a TJ max a few months ago and I thought it was the most genius thing ever. To the point where I forced them to let me buy it even though all the toys inside were missing. Essentially it's a carry bucket with holes and a sand sorter as a lid. Inside are some essential beach toys (or whatever you choose to put inside) but what makes it genius is after your day at the beach you load up the bucket with all those sandy toys, put the lid on the bucket and run it through the ocean a few times (or a shower) and seamlessly rinse all the toys off in one swoop. Then just load the bucket into the carry cart or your car and you're ready to go! This is one thing that has made our beach days just that much easier! We normally just take these pickleball paddles from amazon for ourselves and the kids to have a play with, which also develops their hand eye co-ordination! I LOVE this one from Target- Shop it HERE: I also found this one that is similar on Amazon and you can shop it HERE.
Shade! My girls are at the age now (3yo & almost 2yo) where they don't really need the shade if we're only there a few hours but any longer than that I always have my Sport-Brella X-Large Umbrella on me. And I'm always having someone around me ask where they can get one because it is SO EASY to open and set up. I take my girls to the beach for playgroups often and when I do this it's just me and the girls and this thing literally takes 2 minutes to set up. It's amazing! It folds up super tiny and comes with a carrying case/strap. You can shop this HERE. I throw a Swim Zip round towel underneath it and it creates the perfect spot to take a break from the sun…or even a NAP!
I hope these 4 beach hacks will help make your day at the beach that much more relaxing! Enjoy!
For more posts like this one, check out these posts:
How To Raise Capable Kids: Positive Parenting
Positive Parenting Tips For Toddler Tantrums