|This is a sponsored post however all opinions and selections are my own|

---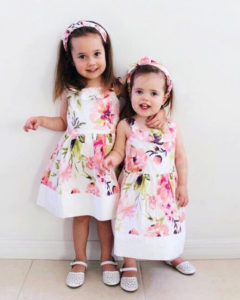 Monday was the first day of Spring and although the seasons don't always change living on the coast, and all you northerners are still recovering from those snow storms, it's still something worth celebrating! Spring time to me is a time to focus on family and togetherness. After a crazy holiday season, Spring is the time when it all calms down. It's also the last few months before summer starts and schedules get hectic again. So lets spring into togetherness with 3 ways to be more present as a parent.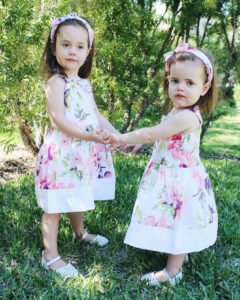 This idea came to me after joining forces with Gymboree to celebrate their Spring time #onebighappy campaign! Whenever we have a holiday or special occasion coming up I always turn to Gymboree to find the cutest and best quality stuff for my girls (without totally breaking the bank). My girls LOVE to dress up and my oldest will always ask me, "where do I get to wear this dress to mommy?" and it occurred to me that anytime we were together, and she had a nice dress to wear, was a "special event" in her eyes. Now that she is old enough to have her own style I pulled up Gymboree's new spring dressy collection (found HERE) and let her pick out her outfits. She inevitably picked out her sisters too because, well, I am going to forever dress them the same as long as they let me (ha-ha)! After she was set on this adorable Floral Eyelet Dress and corresponding accessories (Floral Eyelet Headband and scalloped sandals) I asked her where she would like to wear this outfit. I was hoping she'd remember we were searching for Easter dresses originally but instead she asked to go play with play dough at the park. After focusing on being more present in recent days with my children, how could I say NO to that?! So that is just what we did! The girls enjoyed dressing up and just getting out of the house and I enjoyed the simple lesson they taught me. Being present isn't only for the children's sake, it's for the parents sake too. Oh, and everything is better in a cute dress 🙂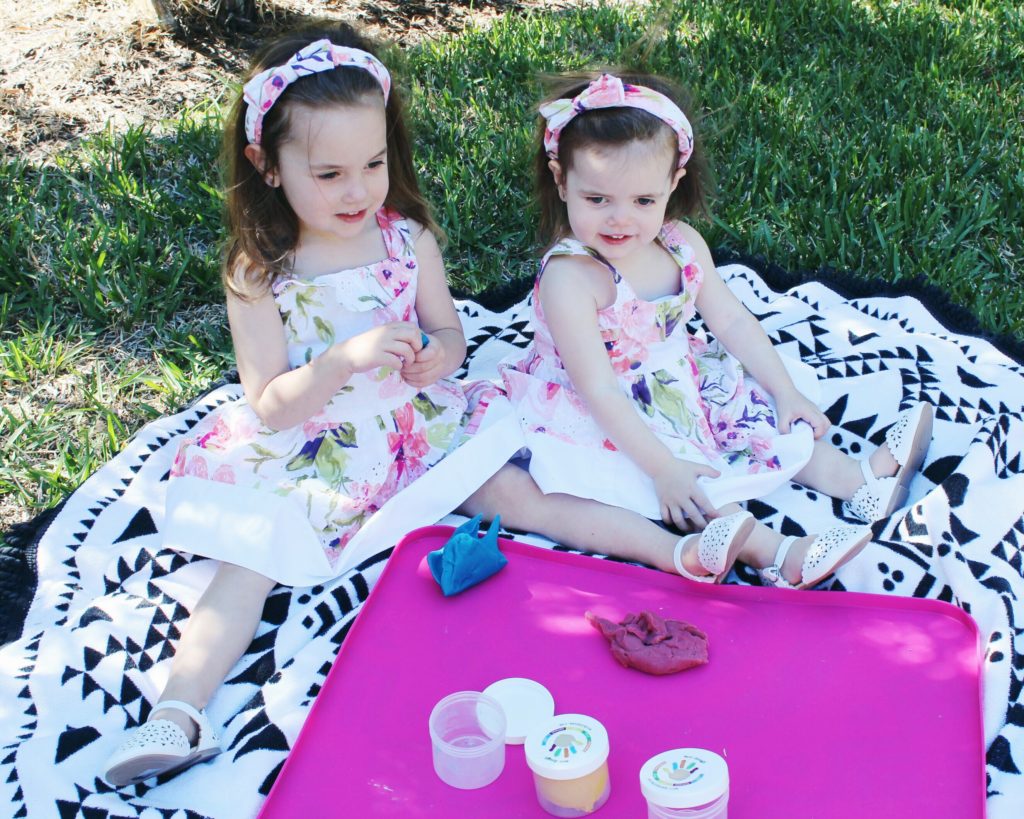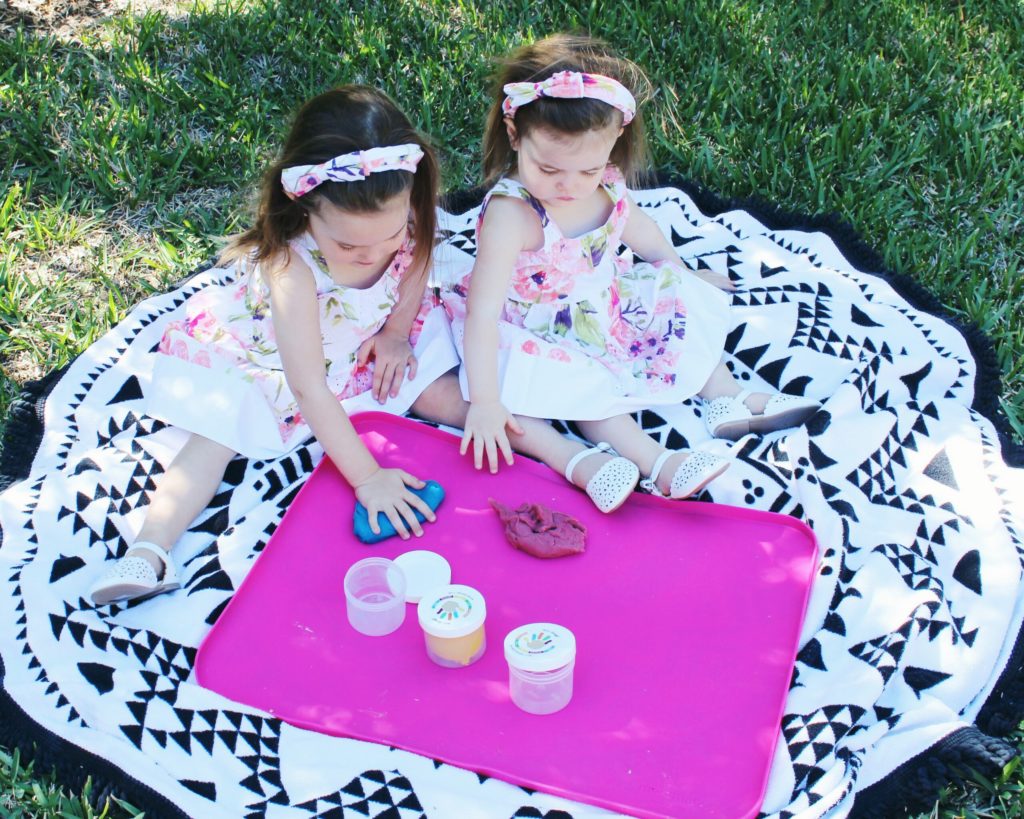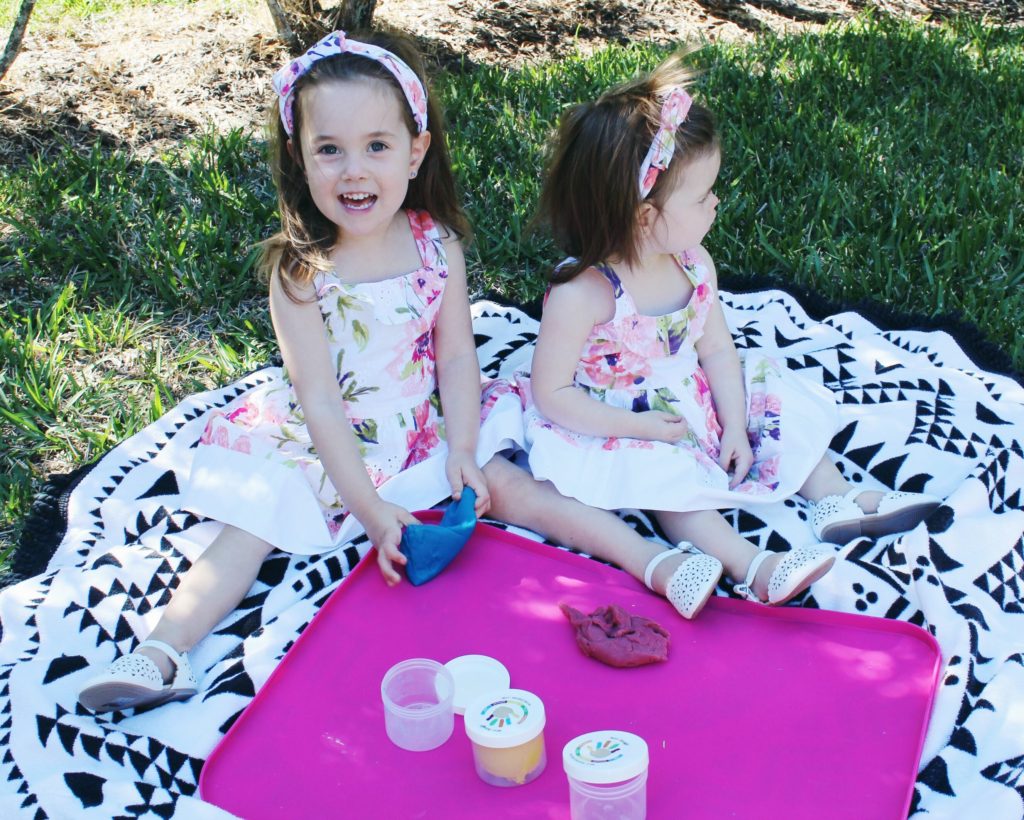 So here are 3 simple ways to be more present as a parent:
Respect your children's desire to be heard: When we can start looking at our children as individual (tiny) humans we can learn to treat them that way too. Most days when I am feeling overly stressed about a deadline, or anything really, I find those are the days my children act out the most. They don't know the burdens we as parents are carrying and honestly they shouldn't have to. What they need is to feel important by the people they trust the most. When I find myself losing my patience I have to take a deep breath and realize that they don't understand that mommy or daddy are stressed but what they do understand (or feel) is that they aren't being heard. So if you desire to be more present with your children it's simple: Listen. Look them in their eyes and listen! Their frustration comes from not being able to verbalize their feelings and that only escalates when they're fighting for attention on top of the words they need to explain how they feel. We respect our children and in return they respect us (most the time). It takes a lot of work and constant correcting. Instilling the proper use of manners is important here. Our que in our family is, "excuse me (mommy or daddy)" and if they start with that we 100% of the time will drop to their level and listen without distraction. We may ask them to be patient if we can't right away but we acknowledge and then we connect. Which leads me to the next…
Limit distractions: This is hard. In the days of social media and electronics this takes a lot to accomplish for most of us. Especially when there is work to get done and emails to respond too. In  the days of instant gratification people want answers asap and for me personally I feel like I need to make myself available for them. I have friends all over the country and as amazing as it is to be in a group chat and stay connected, it's also super time consuming. I simply had to learn to limit those distractions and create structure. I have designated times each day when the girls get my full blown attention with zero outside distractions. I read somewhere once that if you can dedicate at least 15 mins of distraction free time with your kids each day that you would see the effect it has on their mood immediately. 15 minutes is nothing! I made it my goal and we have since grown from there. Our cell phones don't come to the dinner table and I fully immerse myself in whichever activity we are doing (like playing dress up!). I engage and because I engage they feel connected and we all win.
Create structure and routine: Being present doesn't have to be stressful. If you can learn to structure your day and stick to the routine the rest will come easy. Every day there are certain times where I make myself 100% present and in the moment and there are other times where I expect the girls to have some independent play time. Bedtime is my favorite connection time out of these. We can all be tired at the end of the day but this time is for them too and I learned to stop rushing through it and be present. Be consistent and have routine all while following the above 2 steps and you will feel so much more connected with your children than ever before. This connection will pay off in their immediate future but also as they grow into teens and adults!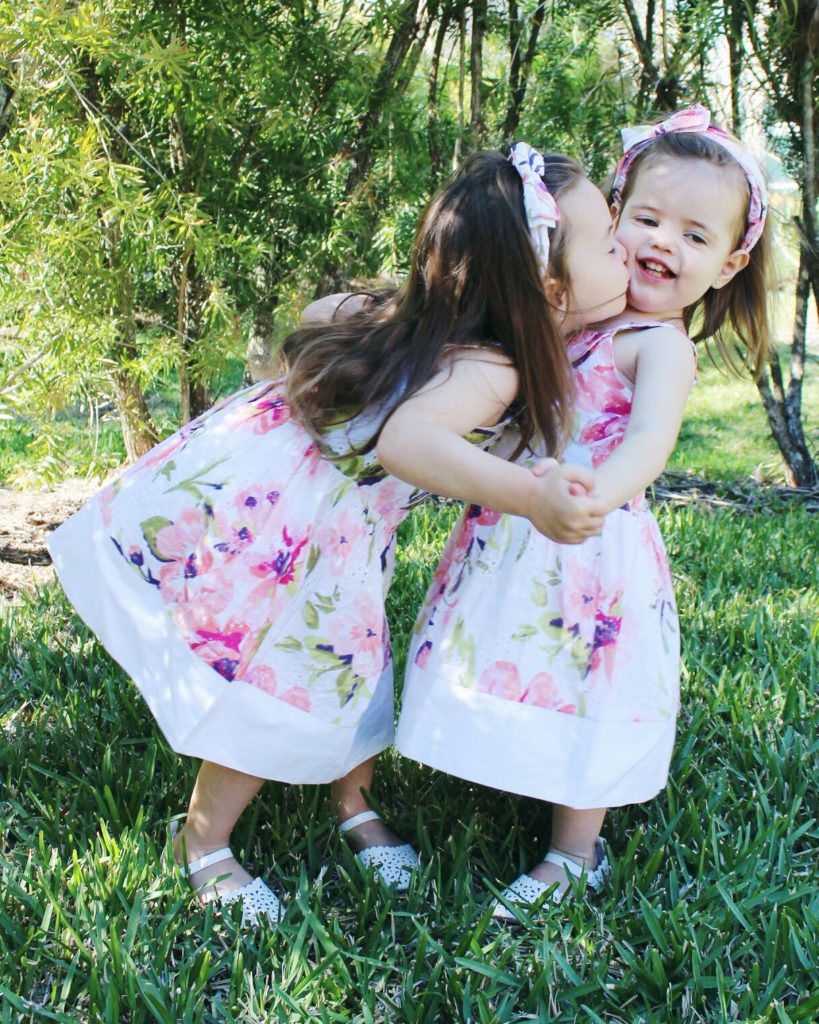 Making time for your children is one thing you will NEVER regret! Take these steps to heart and you'll be a better parent for it. Enjoy!