Transitional Thanksgiving Tablescape For The Christmas Lover
---
This Thanksgiving tablescape will last from September through to December!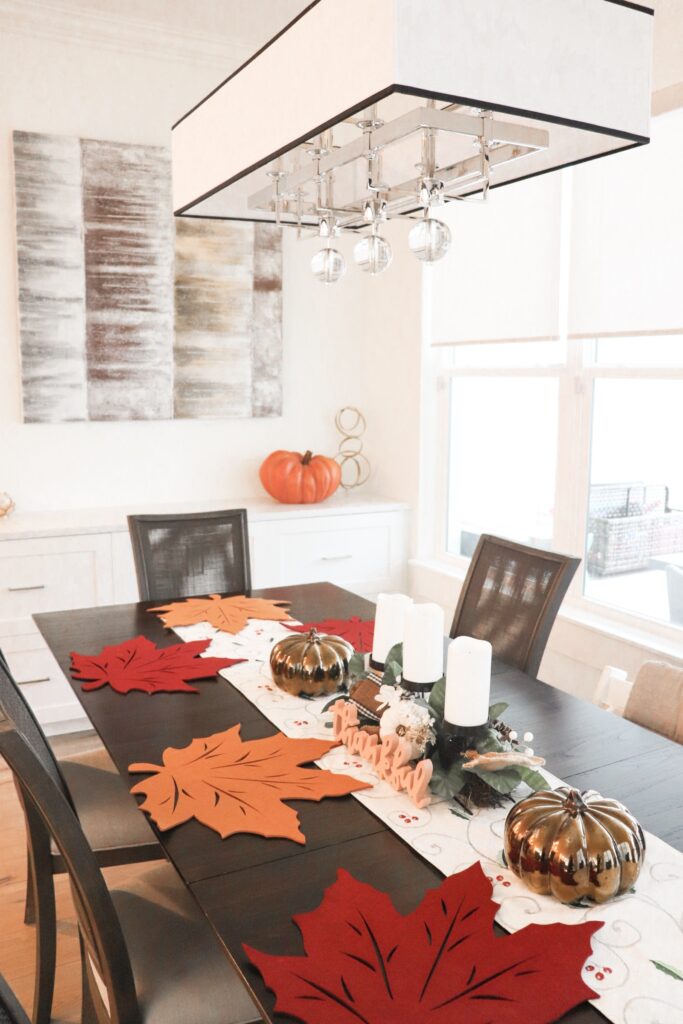 Thanksgiving/Christmas Tablescape In November
You can take one look at social media these days and see that Thanksgiving has been swept to the sideline when it comes to decorating. It is still getting celebrated and can arguably be one of the best holidays filled with thankfulness and family/friends. BUT let's face it, everyone is itching to pull out their Christmas decor as soon as Halloween passes. Christmas is the best time of year and I am on board with decorating early, however,  we still have Thanksgiving festivities ahead to prepare for. So for this reason, I wanted to share my simple Transitional Thanksgiving Tablescape for the Christmas lover!
It really doesn't get much more simple than this but I really love it! If you have seen in my Fall home tour AND with my Halloween table decor this black and white checkered candle stick holder will look familiar. I have had it up since September. I have dressed it with cobwebs for Halloween but now it is going to keep serving a purpose here through Thanksgiving as well!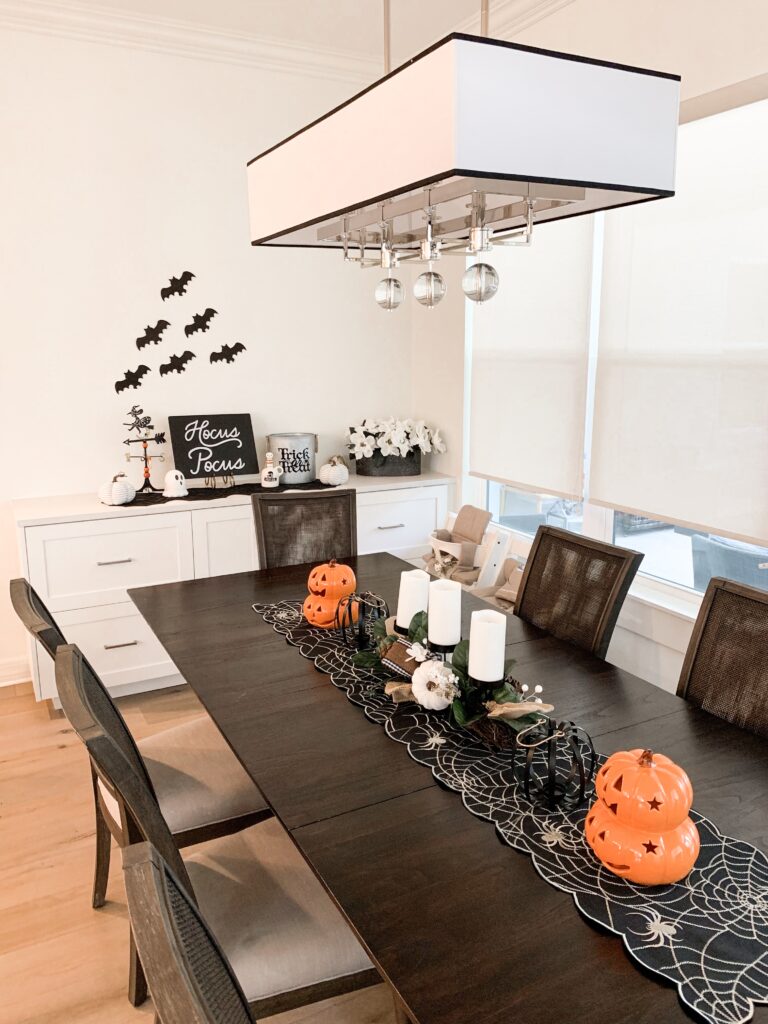 It was easy, I switched out our halloween table runner for this pretty white and silver sprinkled with Holly table runner. While it certainly is more a Christmas decor item I think the dark monochrome and green in the centerpiece tone down the Christmas look. To tone it down even more I added two shiny bronze pumpkins to either side. I had black and orange for Halloween but the bronze is much more universal and gives off the Thanksgiving vibe.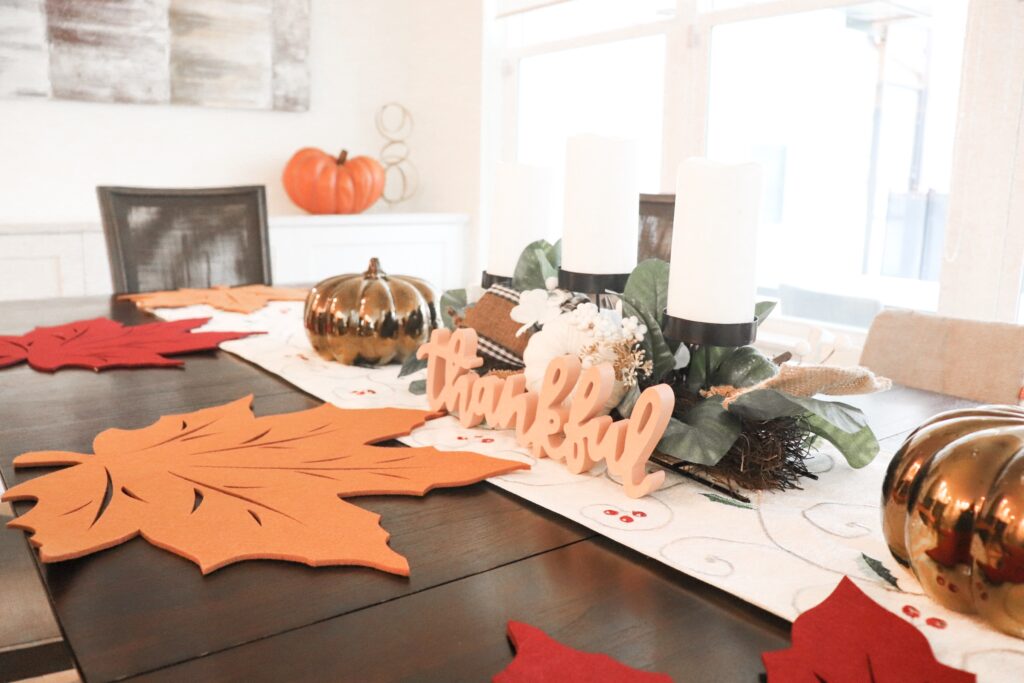 To top off the look I added this adorable "Thankful" wooden lettered sign I found at Target (in the bullseye section!) to the front of the candle holder. Being thankful is what the season is all about and I think this adds a simple but perfect nod to the holiday!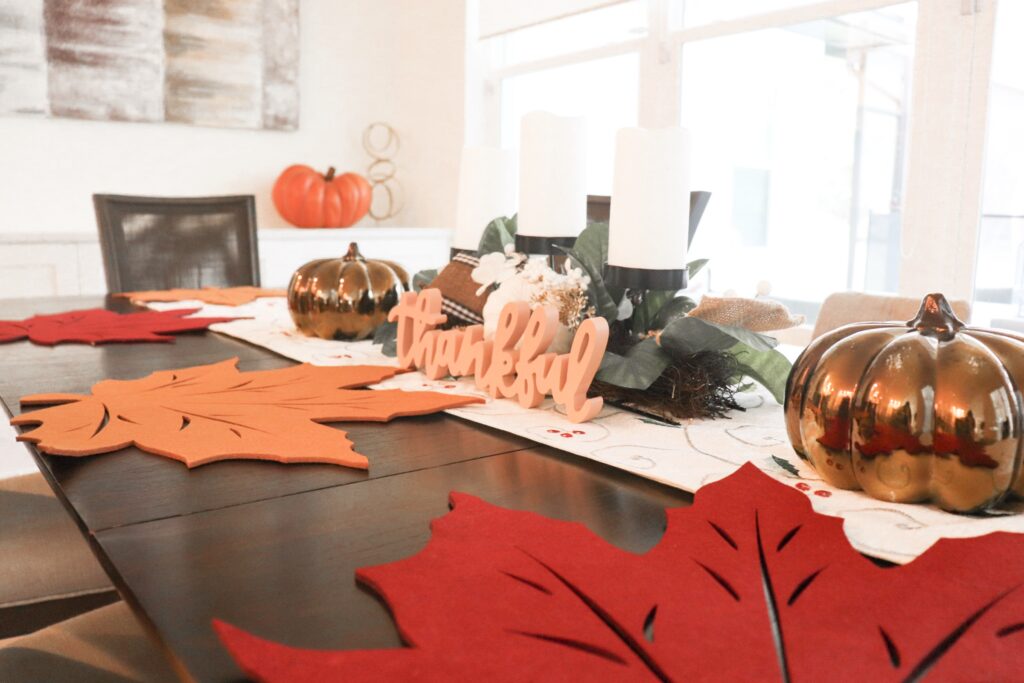 AND the best part of this post is that the inspiration doesn't stop here!
I have joined up with a bunch of blogger friends for a Friendsgiving Virtual Potluck! Be sure to check the recipes below out for wonderful Friendsgiving and Thanksgiving recipe and craft ideas!
Appetizers
Baked Brie with Honey & Walnuts from Kelley of Mountain Mama Cooks
Bacon Ranch Cheese Ball Bites from Nicole of I am a Honey Bee
Reindeer Bacon Cheddar Cheese Ball from Julie of Julie Blanner
Salads
Sauteed Kale and Brussels Sprout Salad with Cranberries and Walnuts from Shashi of Savory Spin
Creamy Brussels Sprouts Salad from Faith of An Edible Mosaic
Main Dishes
Savory Vegetable Crisp from Bree of Baked Bree
Rosemary Lamb Steaks from Danyelle of The Cubicle Chick
Turkey Pot Pie from Kelly of Eat Picks
Side Dishes
Fried Brussels Sprouts from Erin of The Almond Eater
Cheesy Horseradish Mashed Potato Casserole from Renee of Kudos Kitchen by Renee
Cranberry Cream Cheese Dip from April of April Golightly
Sauteed Garlic-Butter Mushrooms from Linda of Simply Healthyish Recipes
Easy Cheesy Hash Brown Casserole Recipe from Mel of Adventures of Mel
Cornbread Stuffing with Chorizo from Isabel of Isabel Eats
Bacon Brussels Sprouts from Kara of Kara J. Miller
Crockpot Sweet Potato Casserole from Jennifer of Show Me the Yummy
Amazing Gluten Free Thanksgiving Stuffing from Sommer of A Spicy Perspective
Pumpkin Caramelized Onion Gratin from Denise of Chez Us
Crockpot Mac & Cheese from Leanette Fernandez of Funtastic Life
Cheesy Brussels Sprouts au Gratin from Rachel Gurk of Rachel Cooks
Drinks
Spiced Pumpkin Margarita from Sharon of Cupcakes and Cutlery
Breads
Sourdough Pull Apart Rolls from Erica of Buttered Side Up
How to Make Homemade Butterhorn Rolls from Mel of Flour on My Fingers
Sweet Dinner Rolls from Jocelyn of Grandbaby Cakes
Parker House Rolls from Irvin of Eat the Love
Desserts
Sugar Pie from Julie of The Little Kitchen
Oatmeal Apple Crisp from Julie of Peanut Butter Fingers
Pumpkin Pie Milkshake from Eden of Sugar and Charm
Strudel Pastry from Justine of The Typical Mom
Tahini Hawaij Pumpkin Pie from Amy of What Jew Wanna Eat
turkey-themed something (will update) from Meaghan of The Decorated Cookie
Mini Apple Pie Bites from Lynsey of MoscatoMom
Kabocha squash pie from Hilah of hilahcooking
Pecan Pie Cupcakes from Courtney of Pizzazzerie
Coconut Cream Pie from Schnelle of Brooklyn Active Mama
Chocolate chip cheesecake from Jeannette of Hispana Global
Chocolate Pecan Pie from Kate of I Heart Eating
Mini Pumpkin Cheesecakes from Chelsea of Someday I'll Learn
Cinnamon Apple Crisp from Erica of The Crumby Kitchen
Turkey Donut Race Cars For Thanksgiving Treats from Theresa of Chewable Structures
Crafts and Centerpieces
Cinnamon Stick Holiday Candle Place Setting from Alli of Made with HAPPY
Metallic Pumpkin Luminaries from Amy of As The Bunny Hops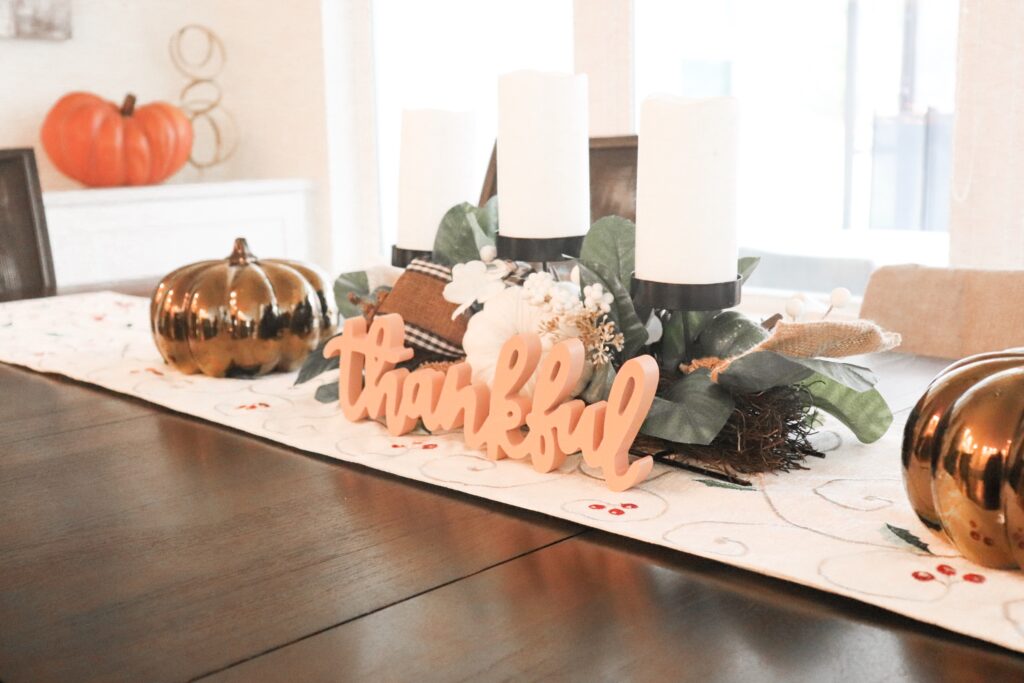 Enjoy!
Make sure you follow along on social media for more!