The Best Gifts For Babies Under 18 Months
|This post contains affiliate links and is sponsored. All selections are my own|
---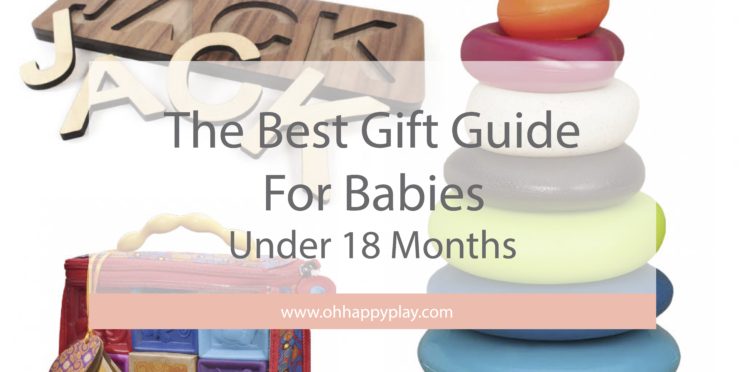 ---
The twins are almost ONE and it feels so unreal! They turn one around Thanksgiving then the next month is Christmas so the topic of the best gifts for babies under 18 months is in full swing right now in my world! If there is one question I see all the time it is, what are some gifts for my baby who is 1 year or 1.5 years old etc. This is especially hard when you have older siblings and the truth is they probably have it all! But that doesn't mean they shouldn't get special gifts too! SO here is my gift-guide for babies and what I consider the best gifts for babies under 18 months!
Gift Ideas for Babies Under 18 Months
Baby B. by Battat Skipping Stones Baby Toy: My boys LOVE this stacker set and the quality is amazing. The texture of each ring is perfect for tiny hands and developing the all important hand/eye coordination (and double as a teether around here too!) We also have these adorable One Two Squeeze Baby Blocks and the boys absolutely love them! 
Smiling Tree Toys Name Puzzles: I ALWAYS recommend these for baby gifts because they really are so versatile! I used them in my girls rooms long before they ever played with them and they are a great introduction to puzzles and letter/name recognition. You can read more about them HERE. I am SO happy to now have them for twins as well because they are one of our most used/favorite "toys" we own! The quality is beyond amazing and I can tell you from experience they will last for years to come! 
Modern Ball Pit: The incredible modern design goes without saying. You can take one look at these amazing dry pools/ball pit and see how unique they truly are! With different size/color options available you are sure to find something unique for any room in your house to make one lucky kid very happy! We have the XL Ball pit from Milky Bubble but it is no longer available so check around for a safe ball pit for your littles because they'll LOVE IT!
Micro Kickboard: I love a functional gift that can grow with your child and these Micro Kickboard MINI 3IN1 DELUXE scooters are just that! They can start as an adorable little ride on and turn into a scooter that they can enjoy until at least age 5! My girls absolutely LOVE their Micro Kickboard scooters and I am so happy to have two for the boys now as well.

VTech Smart Shots Sports Center, Red: I love this little sports center because it looks like it will provide a lot of entertainment for the little ones! I love the red options because it is a lot easier on the eyes (in my opinion) than the bright yellow/blue one (which is still just as fun!) but a little to bright for my liking! 
I hope this little list of gift ideas for babies under 18 months helps you when it comes to gift shopping for the wee little ones!
Follow more of our journey: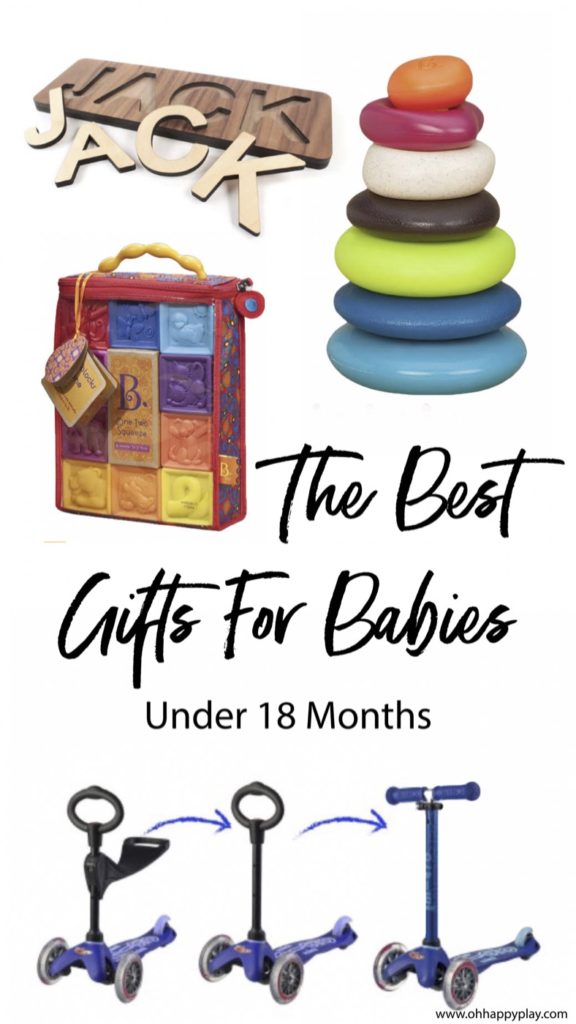 ---