Our Playroom Design Inspiration
|This post contains affiliate links. This means when you purchase through my site I get a little credit for it!|
---
Our kids' playroom design was one of the first spaces I dreamt up when we started designing our new home. I had an idea from the beginning and I wanted to make it come to life so I started planning for it from day 1! During our first meeting with our architect and builder I explained to them that I needed the stairs to share a wall with our playroom. The major theme of this house was to leave NO space unused. One of my major areas of focus was for the precious space under the stairs to not go to waste. By having the stairs share a wall with the playroom I could utilize it for our children. Of course I had a grand plan which I will detail below in our playroom design inspiration and I am excited to see it come to life!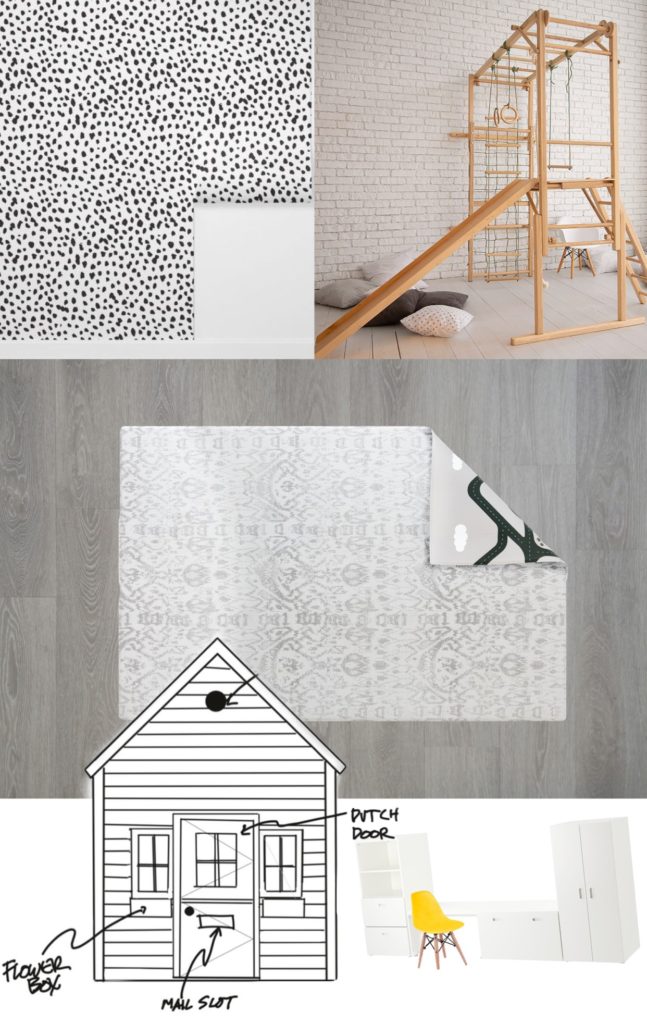 Under The Stairs Playhouse
This under the stairs playhouse was all part of the original playroom/home plans. We made sure the stairs were structured accordingly for this idea. The stairs are split with a landing in between for space saving purposes in the house but this also created a lot of seemingly unused space below. The idea was for the entire space below the stairs to be useable and accessible from the playroom. Shown below is the blueprint of the space on our final plans. Below that is the space BEFORE the playhouse facade goes in (which I will share next!)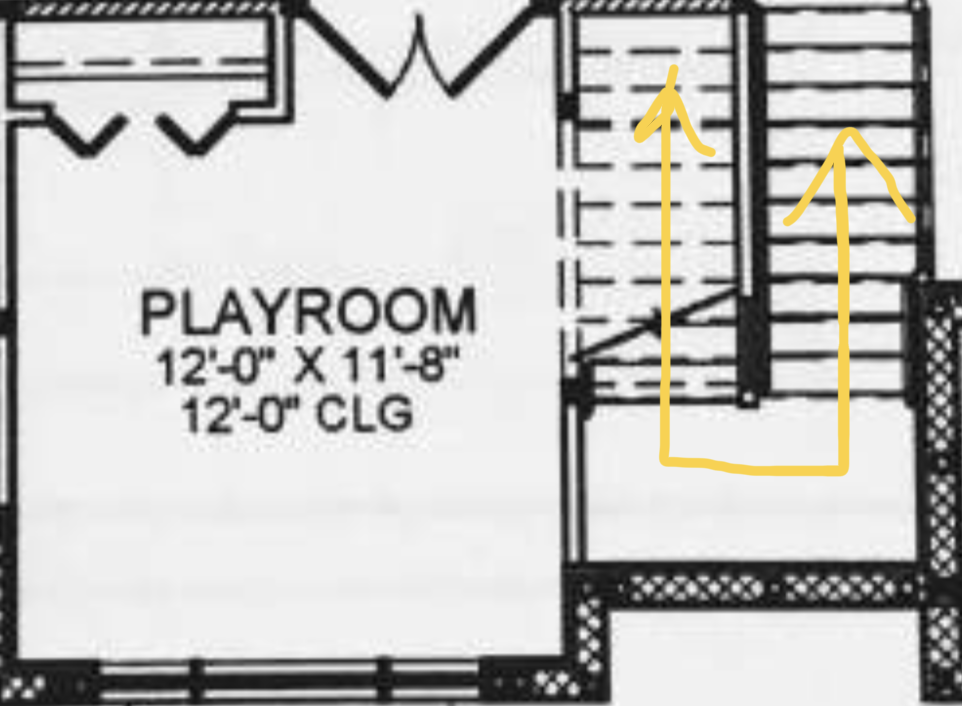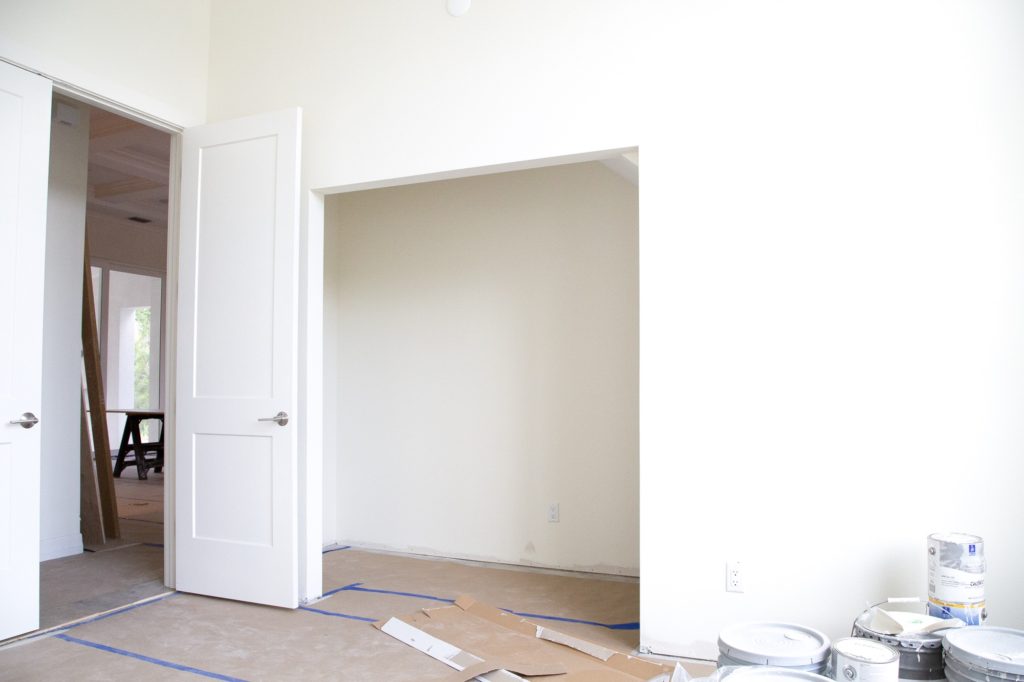 I pulled a lot of inspiration for this playhouse from Pinterest (which I detailed in my previous Building First Look post). Though all of that one of my favorites is still this indoor playhouse by Chris Loves Julia: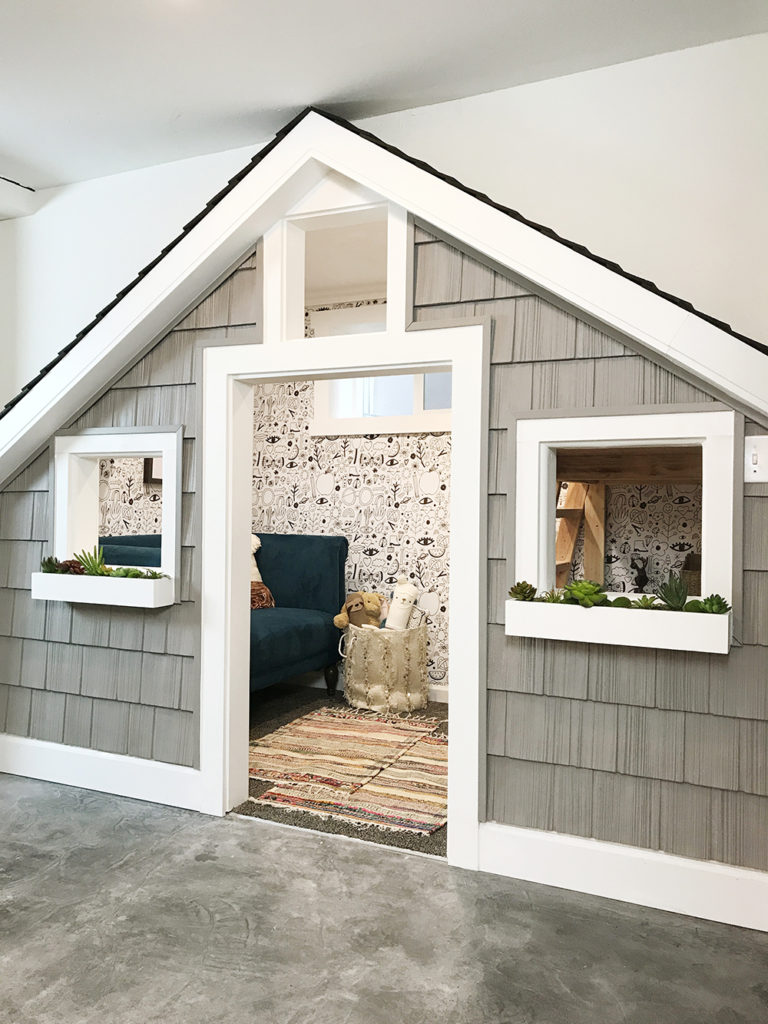 Playroom Design Inspiration For Kids
When it came to the interior design of the playroom I wanted to keep the basics simple yet functional AND eye catching. Below are a few of the staple design pieces of the room:
Dalmatian Peel And Stick Wallpaper: This wallpaper is super easy to install AND doesn't damage your wall if you want to change it up down the road. I also love the bold dots and I think a feature wall is plenty for this design.
Ruggish Play Mat Romy: These are my favorite play mats currently because the design is modern and the mat itself is reversible featuring a super fun monochrome town on the reverse side.
Playroom Toy Organization
Having a place for everything is huge to me. We have a closet in the room which will hold most our toy bins but I wanted to have some toys be more accessible to the kids. I am a huge fan of the Montessori method of children education and part of that is being independent. I talk about my daughters' Montessori floor bed inspired bedrooms a lot so I wanted that to translate in some way to the playroom. I found this STUVA all in one storage combination set from IKEA and I think it will work PERFECT for this space!
Indoor Playground
Wether. you live in the heat of the south or the freezing north, I think any parent can appreciate an indoor playground that their children can enjoy endless air-conditioned or heated fun using. That is why I absolutely LOVE the EZPlay Indoor Playground. This indoor jungle gym is not only sturdy and sleek but it FOLDS up too! We had the Panda Playground in our last house and we have the Koala Playground ready to go for this new playroom. (Make sure to use CODE: OHHAPPYPLAY at checkout!)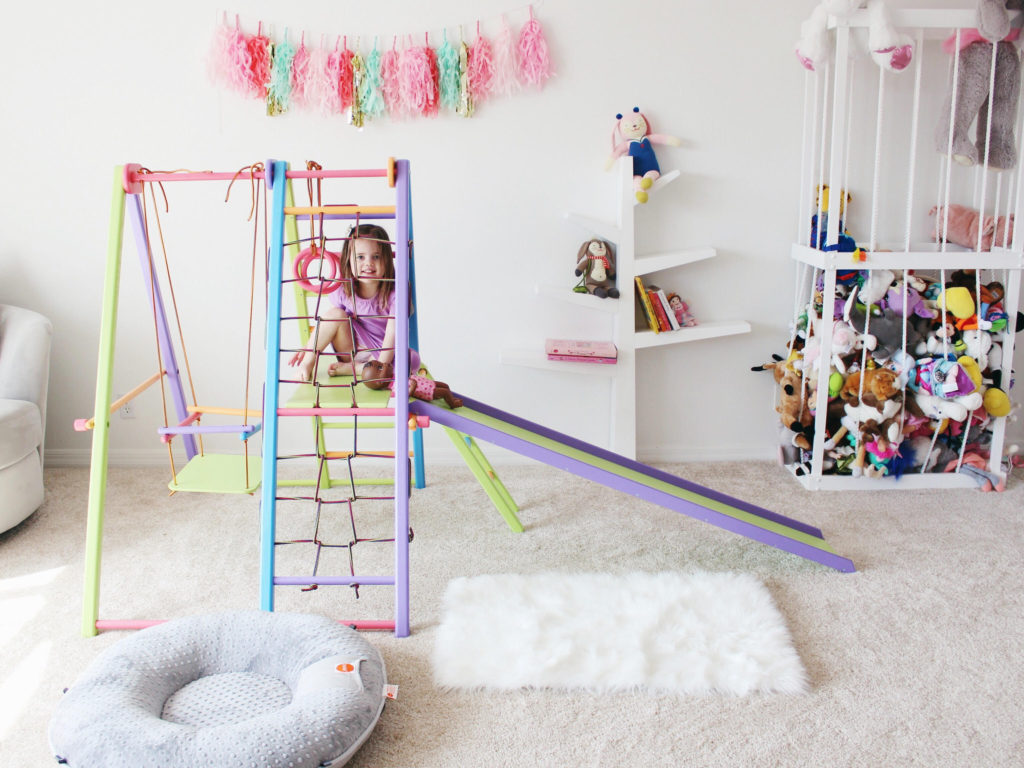 I hope this post  gave you a good feel for the space I am trying to create and I can't wait to bring it to life!
Enjoy!
---
Follow along on social media: