Big Boy Bedroom Makeover: Surfer Themed Bedroom Idea
The time has come to switch our last babies out of their cribs and I took the opportunity to give the twins' a big boy bedroom makeover! We have reached a huge milestone in our young family history, for the first time ever we don't have any cribs in the house! I knew I wanted to revamp their room and since these coastal babes love the beach I decided on a Beach/ Surfer themed bedroom for them. Details on this room are below for this surfer themed bedroom idea!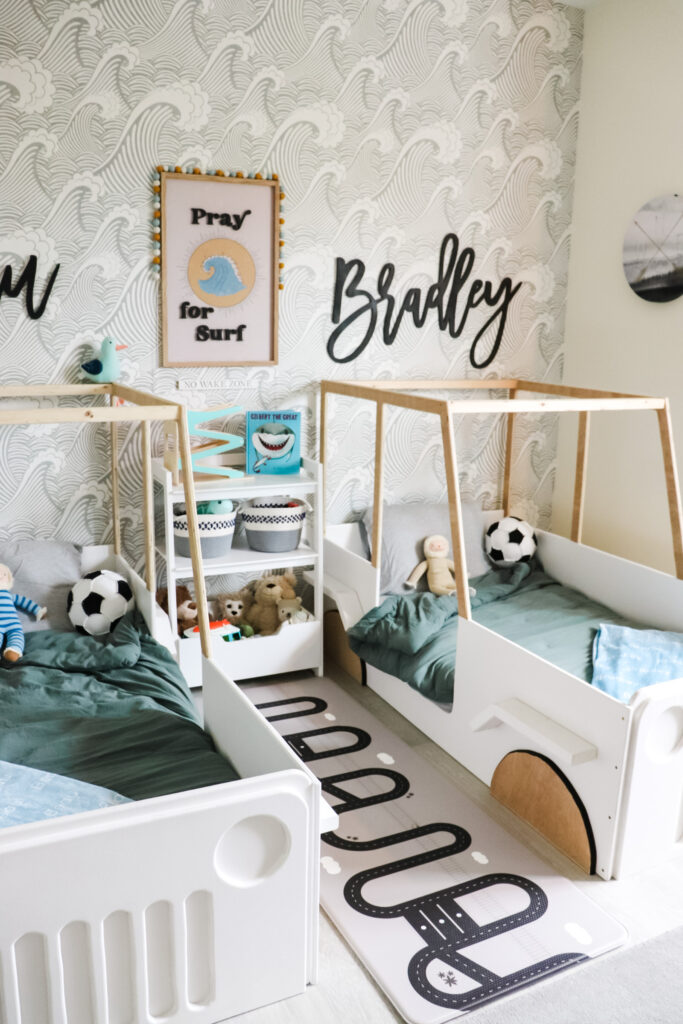 D.I.Y Modern Wood Car Floor Bed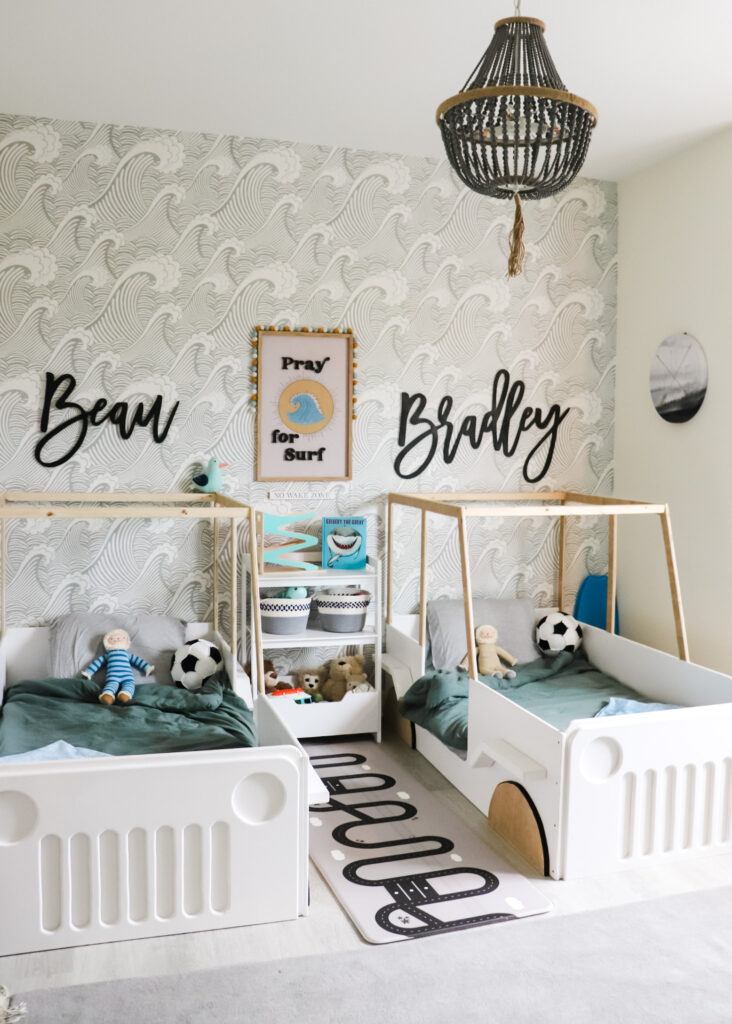 The biggest transformation of their room was most certainly their brand new Jeep inspired wood car floor beds! I speak ALL about them in THIS POST (read by clicking HERE.) From the start I searched for car bed options for them but the options I came across on my web searches were far from the aesthetic I was going for. It was my hopes to make this room work for them now but also grow with them for a while too. Jeep like beach cars seemed like the most fitting car for the coastal vibe but the only option I found was this bright red and plastic one. While I DID VERY seriously consider purchasing these and spray painting them (as I did our basketball hoop!) I ultimately decided against it and went with a totally custom floor bed design (which I am happy to offer the DIY to as well!) Most of you know my love of Montessori Floor Beds so keeping that in mind played a large role as well. I think they turned out pretty unique and modern! 
Twin Nursery Ideas
It wasn't too long ago that they shared a nursery so it is bittersweet to watch their room transform into a room for big boys! They actually had two nurseries and you can see the twin boy nurseries here: 
Big Boy Bedroom Makeover: Surfer Themed Bedroom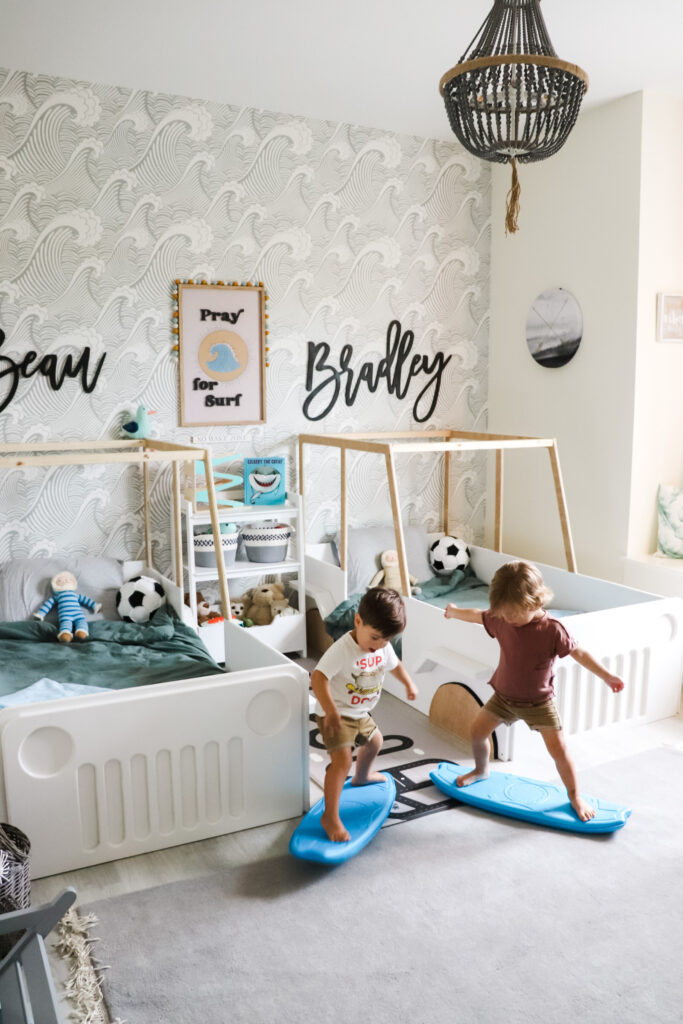 My Florida living boys LOVE the beach and they can spend hours there playing in the sand and waves. I figured what better theme for their big boy room makeover then taking on a cute surfer themed bedroom! This is definitely a theme they can grow with because the beach will always play a huge role in our lives!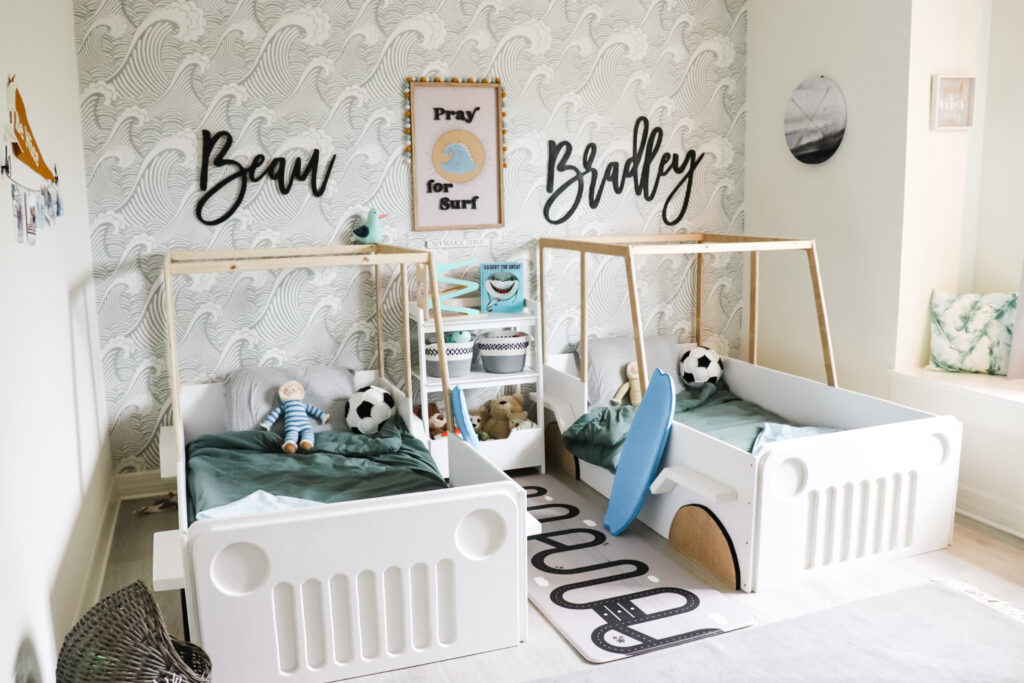 As you can tell in the pictures, I brought the surfer vibe in the bedroom to life with some wave wallpaper, beach themed wall decor, and a neutral color palette with hints of sage green!
Here are few pieces I used to accomplish this coastal vibe perfect for your surfer themed bedroom: 
I hope this has given you some fun big boy room ideas for your own little ones! Enjoy! 
Make sure you follow along on social media for more!