Disney Cruise With Toddlers – Must Have List + Tips And Tricks
We recently went on a hosted Disney cruise with our twin toddlers in tow and we learned a LOT during the trip. Here are some great tips for a Disney cruise with toddlers!
|This cruise was hosted by Disney – Post contains affiliate links|
---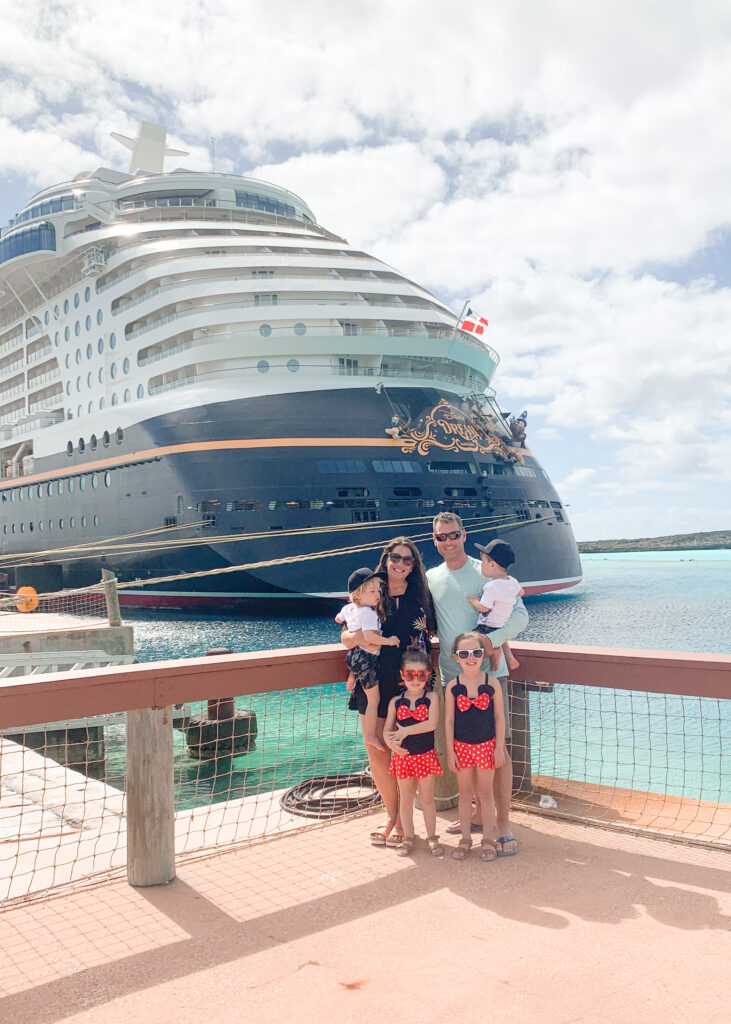 For those of you who have followed along on my social channels you have had the chance to come along with me on one of the most exciting conferences I have ever attended: The Disney Creators Land and Sea event! The event itself was incredible and I am excited to cover the most asked topic over on my insta page which was this: how did I make it through a Disney cruise with toddlers?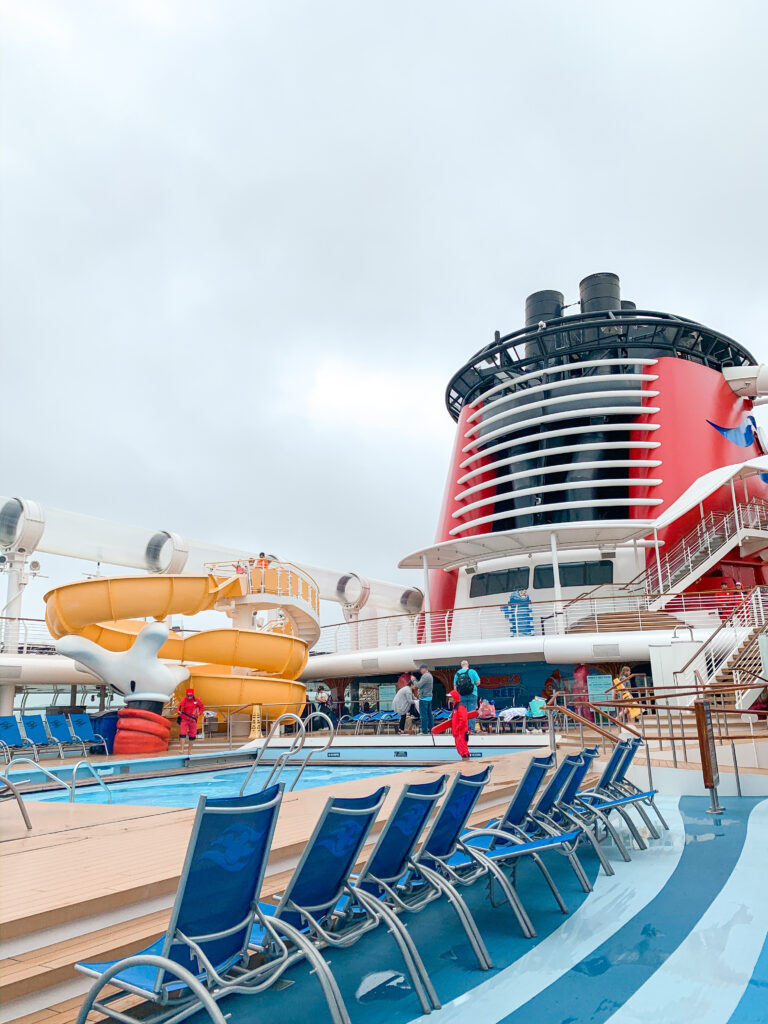 About The Disney Creator Days Conference 
The Disney Creator Days conference is an invite only conference for creators of sorts. As part of this conference we got to spend 3 nights at the brand new Disney World Riviera Resort which was followed by a 3 night Disney cruise onboard their Disney Dream ship! It was INCREDIBLE! I jumped at the chance and even with 4 young ones in tow we went for it! I guess that's the enneagram  7 in me! Hundreds of creators of ALL kinds were there. Youtubers, bloggers, social media gurus of alike and to be in their presence alone was simply incredible. We got to have some meetings where we were able to learn ALL the new and exciting attractions coming to Disney World as well as network with like minded families. IF you ever get the chance to go I would highly suggest not passing it up!
Disney Cruise with Toddlers Behind the Scenes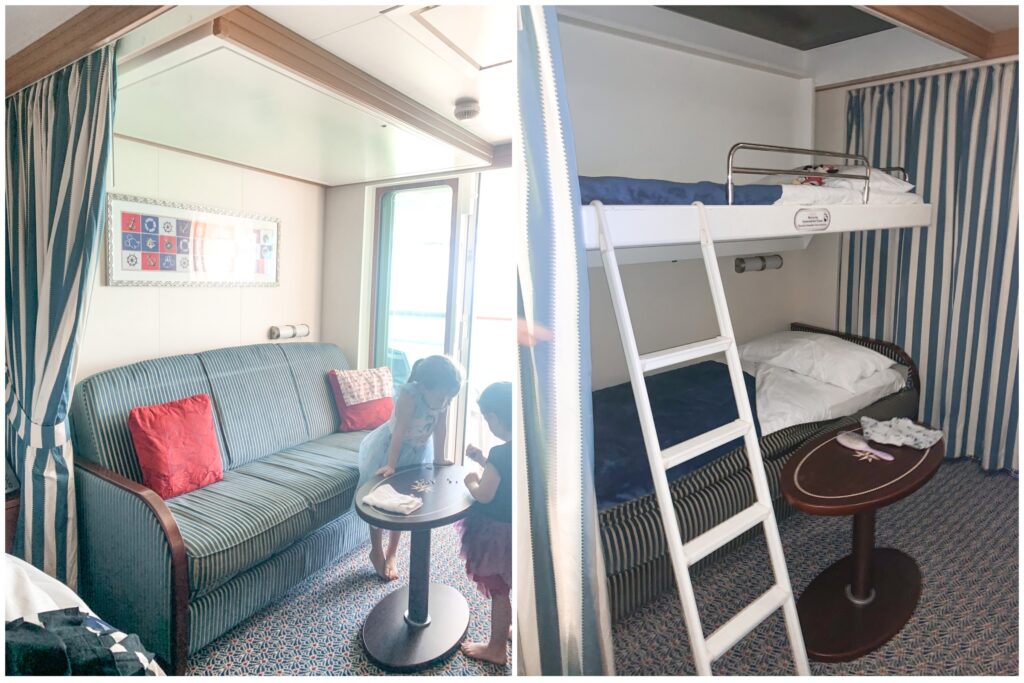 Going into the cruise I was a bit worried about space and how we would all fit but it ended up working out great! There are two options really that would work. Online you can only book a family of 5 per 1 room so that is important to note. We had 2 rooms because my mother also came along to be a helping hand. We had two of the Deluxe Family Staterooms with Veranda. These rooms offer 1 queen bed and then a super cool bunk bed that gets folded away during the day as well as a balcony with an Oceanview.  The room was quite spacious considering we were on a cruise. The bunk beds were a big space saver and the girls loved coming home from dinner to their bed magically appearing. They also have these same rooms available with an EXTRA fold down twin bed. You likely have to call to ensure you get this room as it is under the same name but that puts 1 queen, bunk bed twin beds AND another pull down twin bed all in one room which is incredible! There really is magic everywhere! 
A few previous Disney Posts:
Star Wars Galaxy's Edge At Disney World
Disney Cruise With Toddlers Must Have List: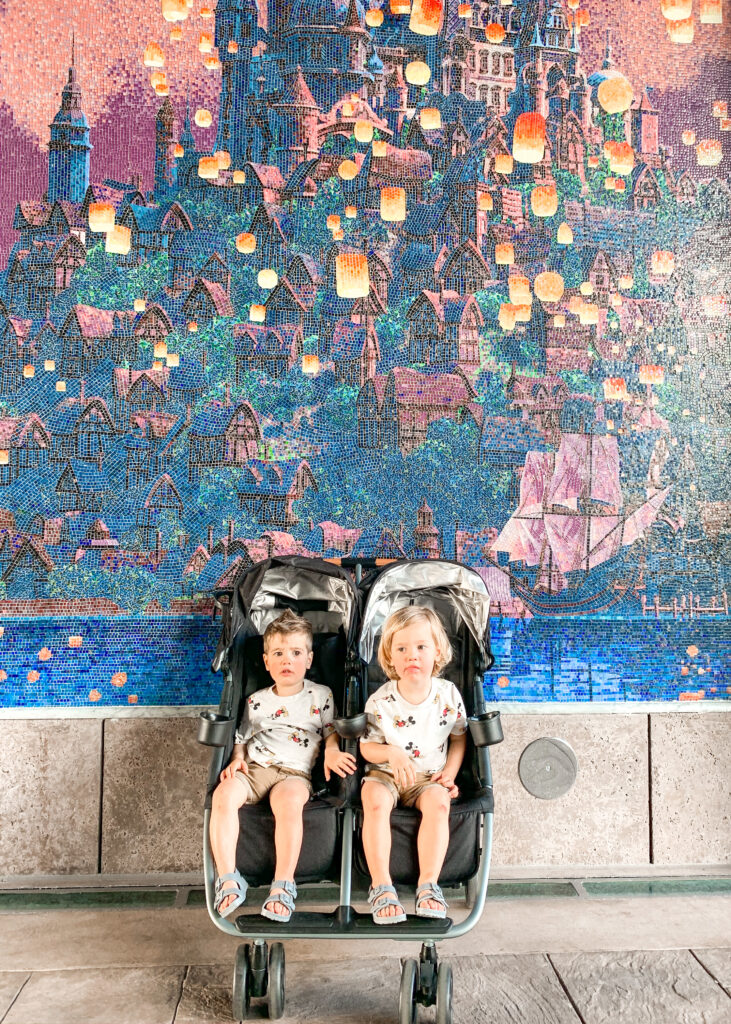 SlumberPods-

The twins are still in pack-and-plays which was our biggest hurdle as far as space goes. This is where having the two rooms came into play. We used the bunk bed area of the second room to put the two pack-and-plays and it worked wonderfully! We also used these amazing Slumber Pods so it was like the boys each had their own room and they slept great in them! Usually on vacation the boys wake up and see us in a shared room then don't want to go back to sleep but these Slumber Pods gave the perfect separation! These are coming with us on every trip following! 

Ultra Lightweight Travel Stroller

– Traveling anywhere with twins and toddlers in general can be tricky. Having a stroller to be able to keep them contained in super important. We got to try out the

Zoe XL2 Double stroller

and I LOVED it! A few things I loved included:

1 handle bar for easy maneuvering 

EASY fold for hoping on buses, boats and trams

Lightweight & folds super sleek 

Lightweight Sweater- It gets chilly on the boat at night so definitely pack a lightweight sweater for the kids! 
Swim Diapers

– I love using

these reusable ones

because they take up less space in your suitcase and you can just clean them after each use if needed! 

Snacks- You can bring your own snacks and for toddlers I found this super helpful! I was able to back some of their favorite bars for an easy snack on the run or by the pool! So grab those GOGO Squeeze packets and pack them up for your next trip!
Water Bottle Thermos – I highly suggest packing each child their own water bottle. It is easy to get dehydrated out in the sun and these are great to fill up and keep handy all day long! 
Travel Toys – I always make sure I bring a few items the kids can play with while in the stateroom or during down time. A few of my favorite traveling toys include:
While my list could go on and on I think these are probably the most important to keep in mind when going on a Disney cruise with toddlers! Traveling with toddlers isn't always easy but for our family it is always worth it. I hope you find joy in it too! 
Enjoy! 
Make sure you follow along on social media for more!