|This post is sponsored by The Home Depot but all selections and thoughts are entirely my own! Affiliate links are present. This means when you purchase through me I get a credit for the sale! So thank YOU for all your support!|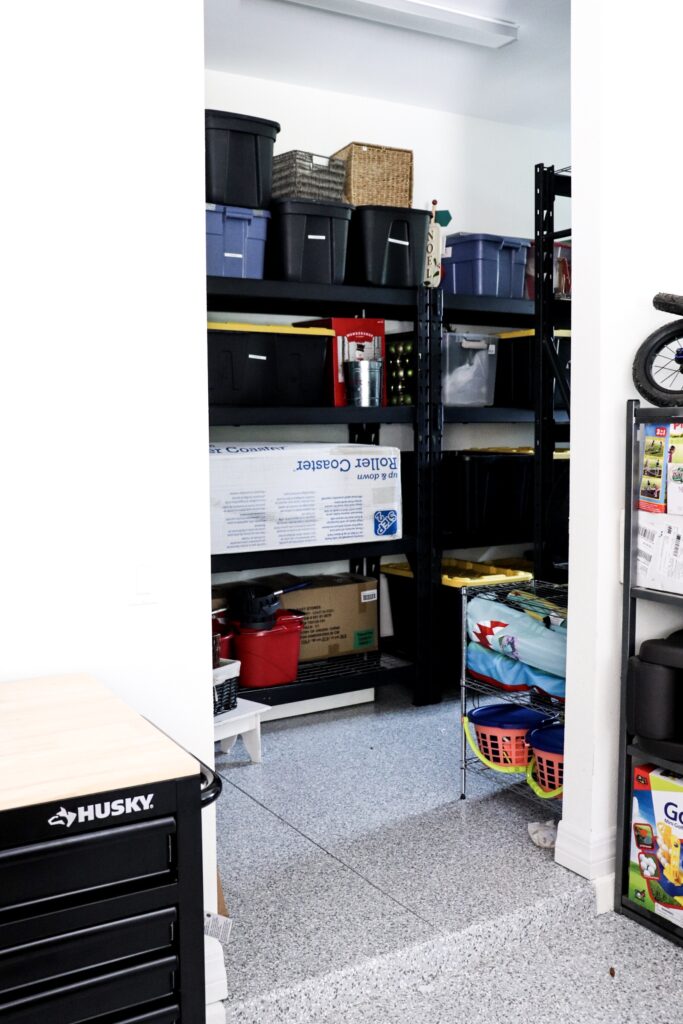 Functional Garage Organization Ideas For Parents
As many know we did a lot of customization when it came to building our current home. One of the spaces we wanted to ensure was TOTALLY functional and organized was our garage. We did plenty of research on functional garage organization ideas for parents and we kept them in mind from day one of designing. I can't wait to share with you just how we accomplished that!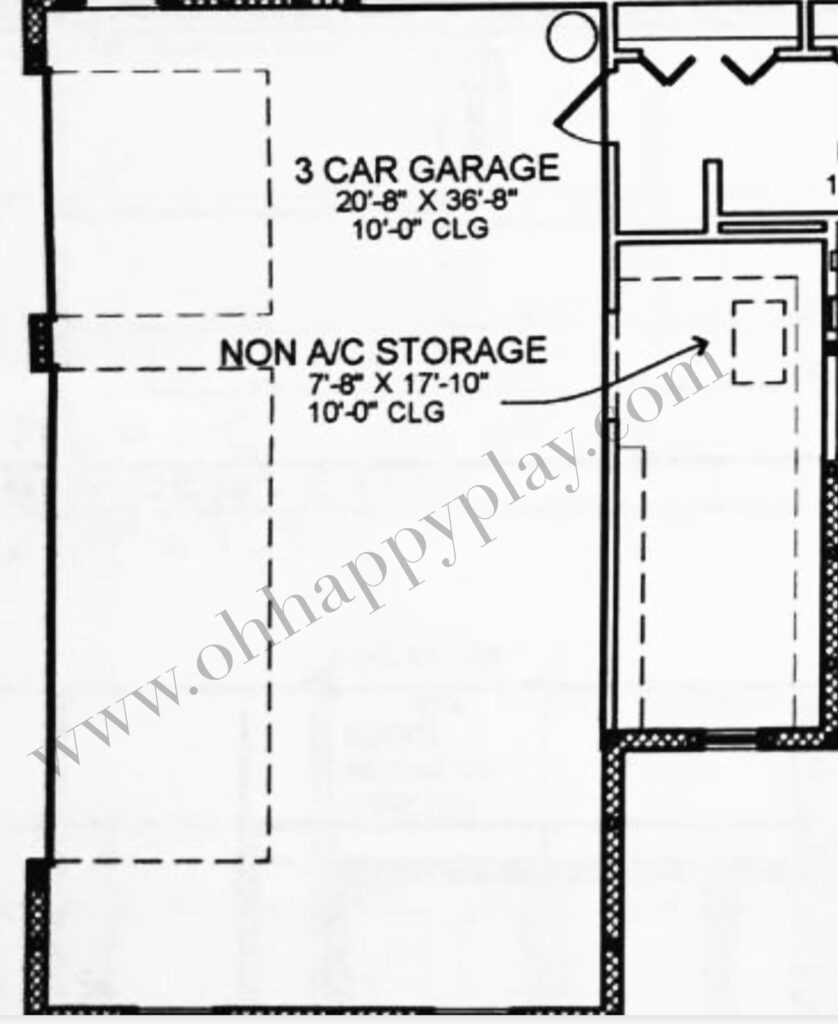 Garage Storage Room Idea 
It all started with this amazing idea my husband had for a non-air conditioned extra storage room off the main garage. The whole point of this space would be to store all our items that usually clutter up our garage space (holiday decor, paint and other home supplies etc.) Having this extra space would free up the rest of the garage for all our outdoor equipment, a home gym and my husband's tool bench. With 4 kids we know the future is going to be filled with smelly sports equipment and much more. Talk about the ultimate garage organization idea! I love that this space will grow with us and just how functional it actually is!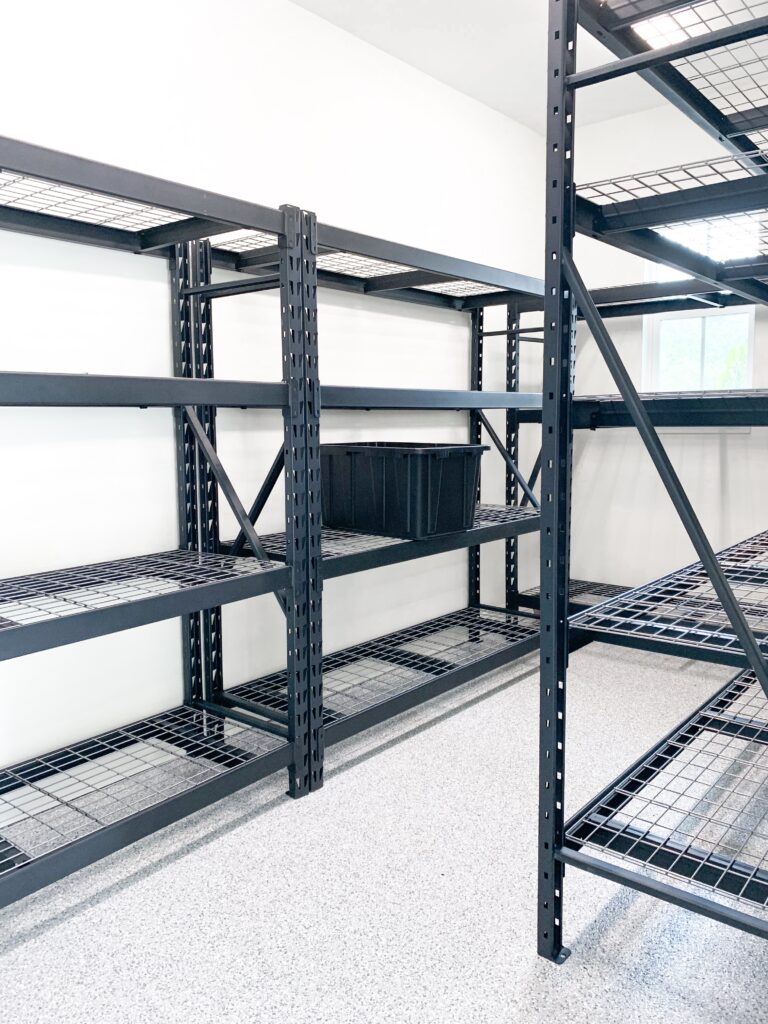 Home Depot Storage Solutions
I went to Home Depot with a drawing and a plan and I found EVERYTHING I needed and more. Their storage selection in store and online is incredible. I knew I needed quality products that could withstand the test of time (and 4 rough kids!) I know I found that with my selections. 
Where to Find Sturdy Garage Shelves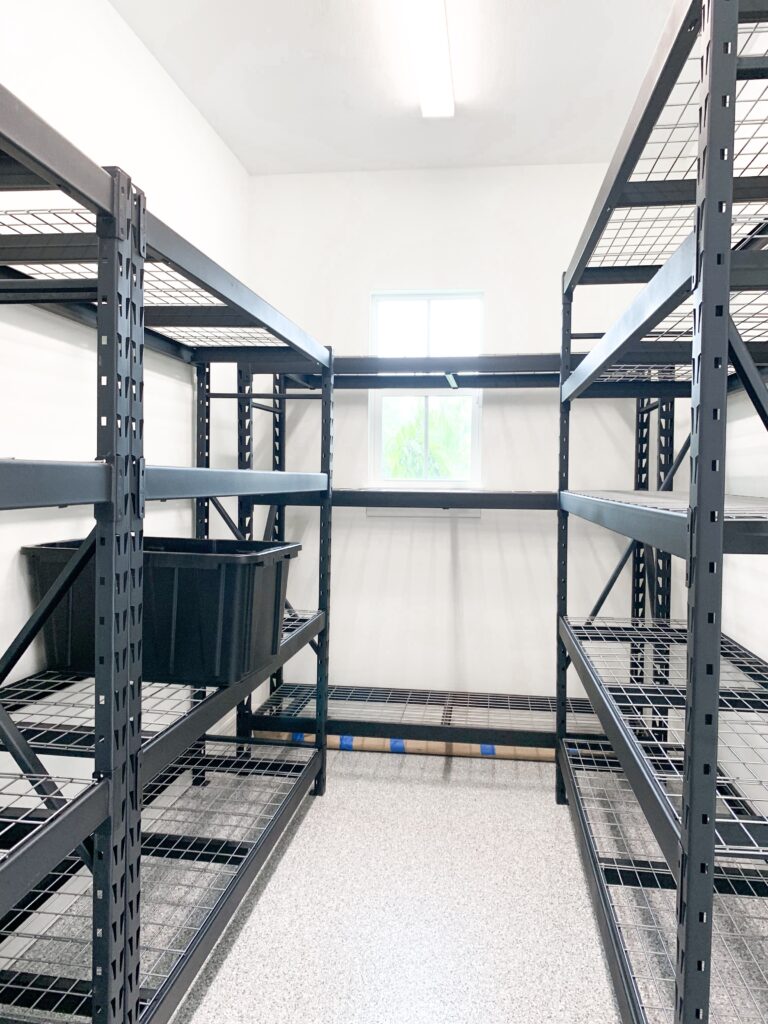 I found these Husky Steel Garage Shelving from Home Depot and immediately knew they would be perfect. They are sturdy and super well built. From the moment we started putting them together you can tell the quality of these shelves is truly solid. I feel very comfortable loading these up with all our bins! For bins we went with the HDX Tough Storage totes   and are currently in the process of switching all our old storage bins to these ones. They stack perfectly together and fit just right on our Husky shelving mentioned above! My goal is to have everything stored in only these bins because I feel much more comfortable with the quality of these over any of the others shown here!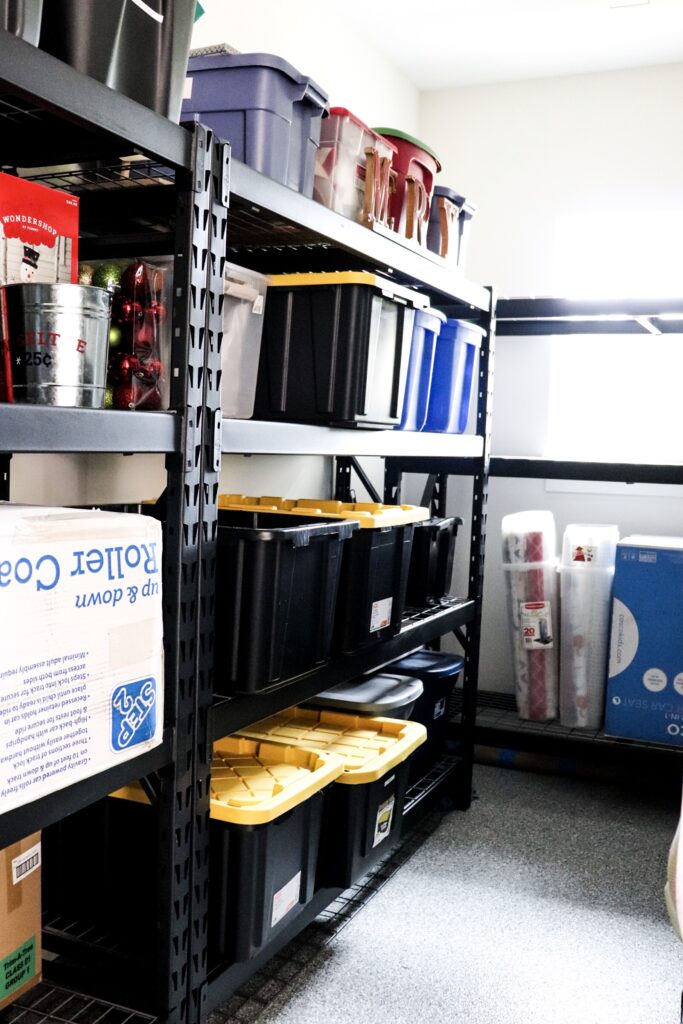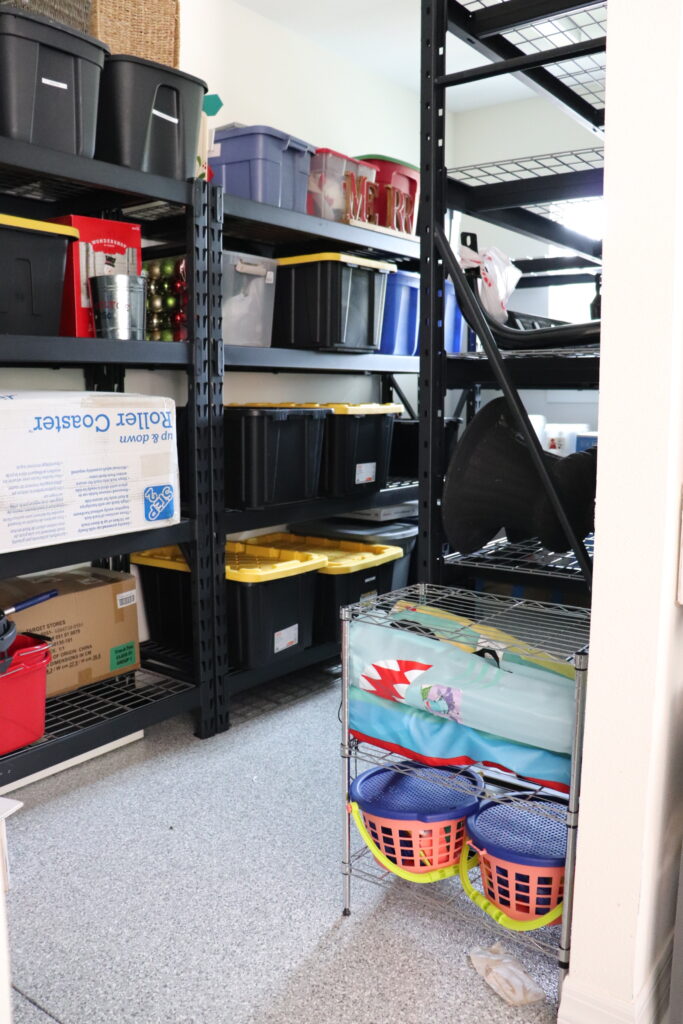 Mobile Tool Chest for Functional Tool Storage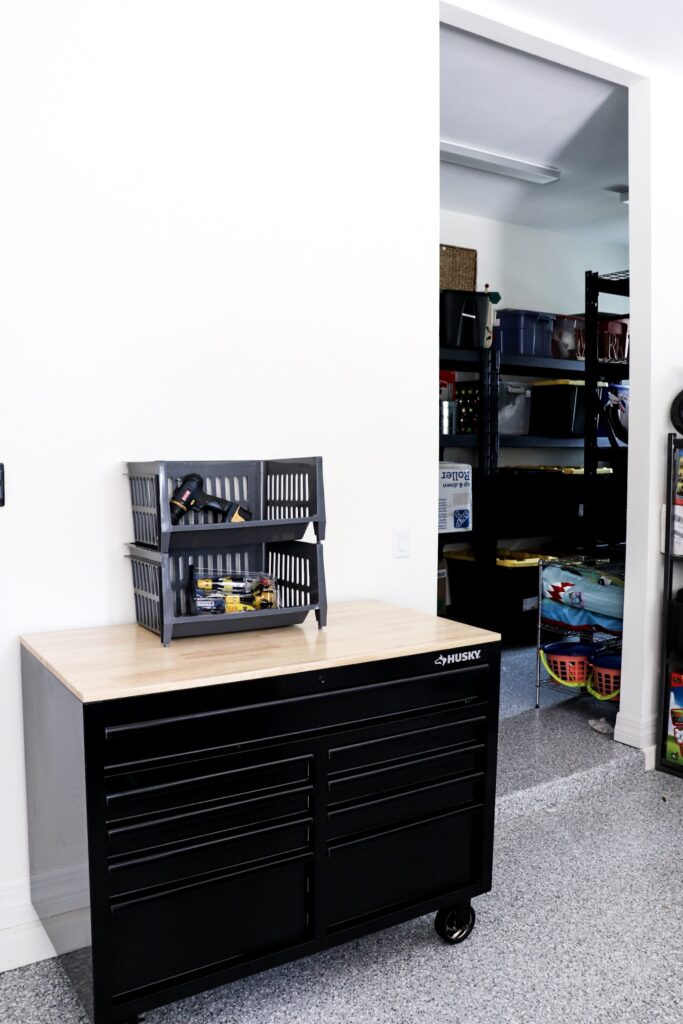 In years past all my husbands tools have been bunched together in bins and whenever we needed something it would take just as long to find it as we needed it for. I knew one of the things I wanted to buy him for the new garage was a place for all his tools! I found this Husky 9-Drawer Tool Chest Mobile Workbench with Solid Wood Top in All Black during the same storage sale at Home Depot and it is perfect! We don't have an overload of tools and this is the perfect size to store what we have. I love that it can be mobile so we can easily move it around the garage if needed.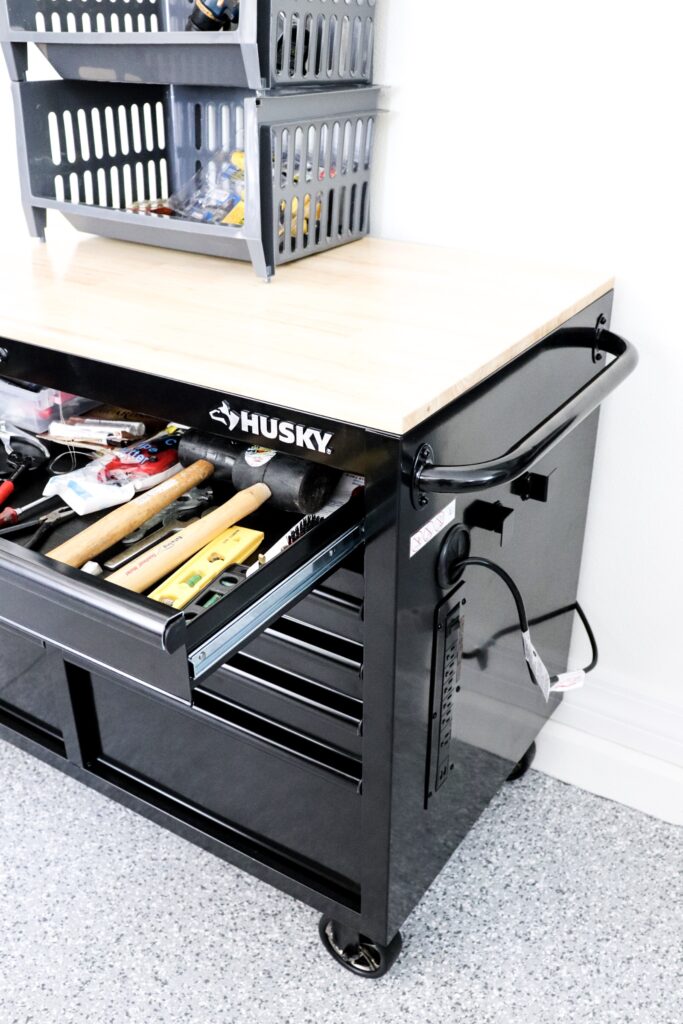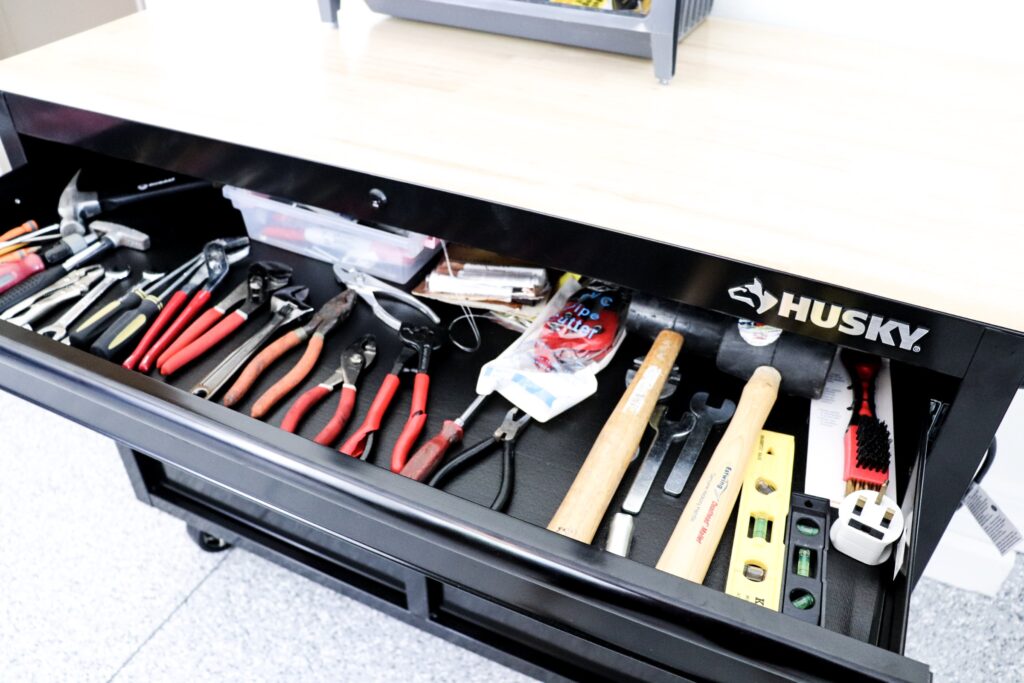 Garage Organization Ideas For Parents with Young Kids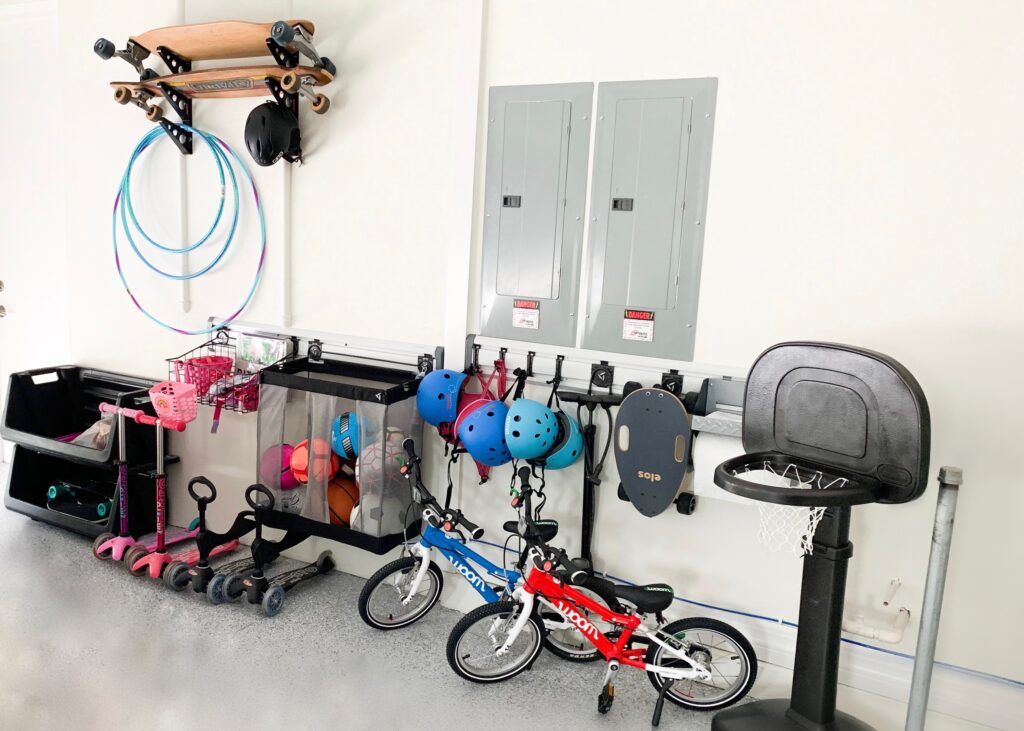 We are an outdoor family through and through! We LOVE playing outside whenever we can. This means we have a lot of outdoor toys and equipment. From balls to bubbles, bikes to scooters. The clutter can really get to me! So for this reason I wanted to find a solution to declutter our kids outside toys. I went on the hunt for some toy storage solutions for them so I they could have their own corner of the garage. Now everything of theirs has its own place to go back to once we are done outside.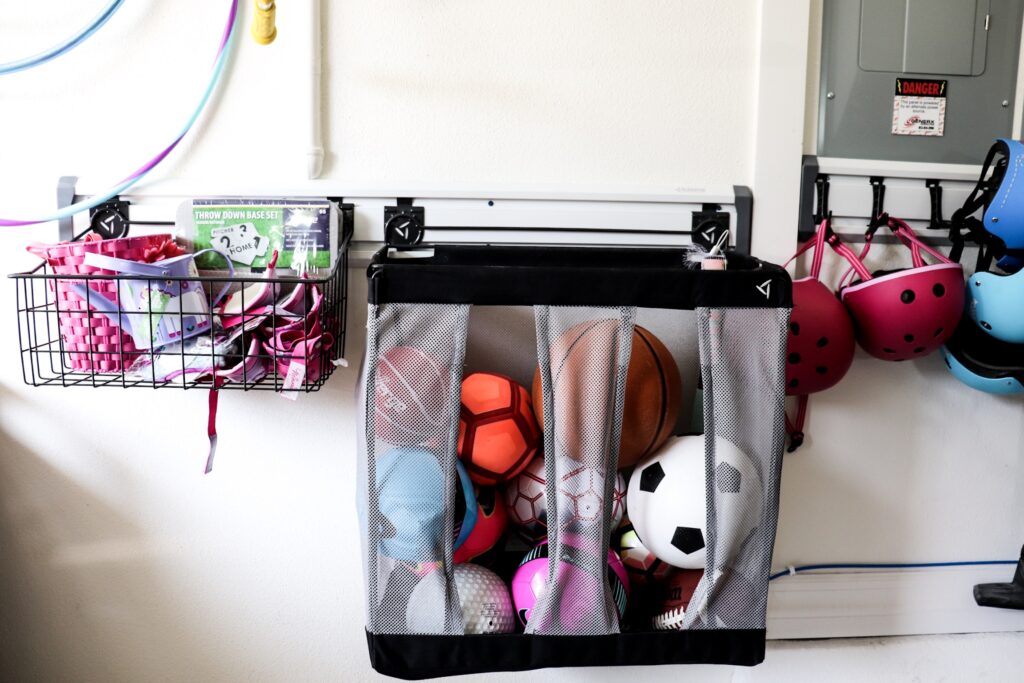 What I used to create this space: 
Other elements that make this space functional include:
I hope this was helpful for you whenever you decide to tackle your own garage! Let me know if you have any questions! Thank you for reading and if you enjoyed this please pin the image below on Pinterest! 
Make sure you follow along on social media for more!