Kindi Kids Interactive Doll 
|This is a sponsored post for Kindi Kids – All thoughts are my own.|
---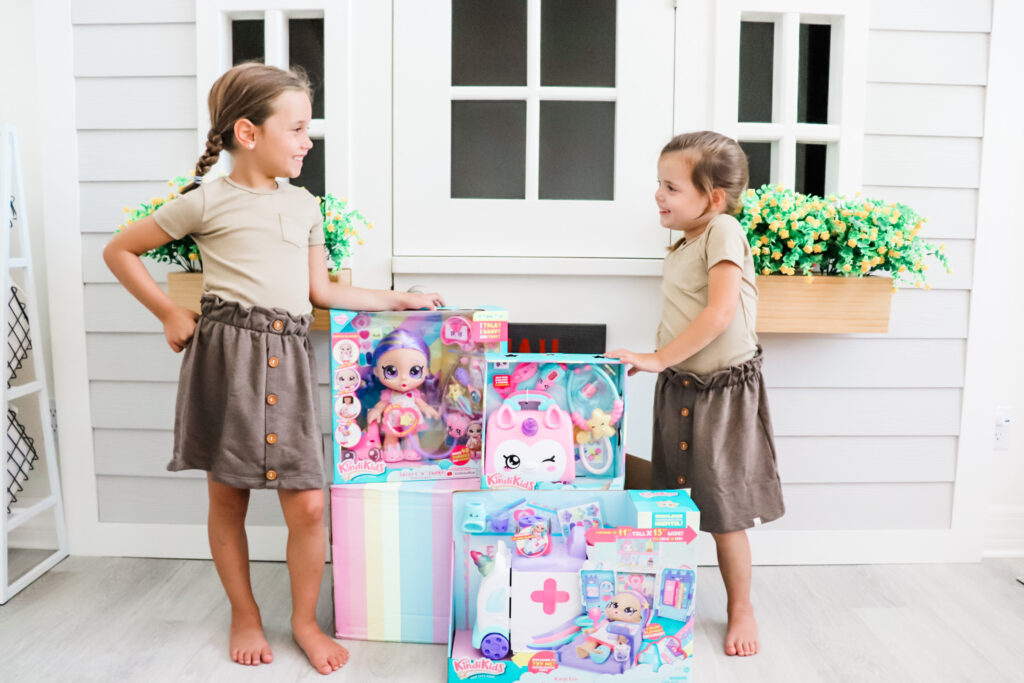 The Kindi Kids interactive doll is a fan favorite around our house. My two girls absolutely love them and have recently discovered them on Youtube too! There is something so nurturing about watching my little ones playing with their dolls. I just love the open ended play that comes out of them! We had a fun opportunity to check out Kindi Kids brand new interactive doll, Shiver 'n' Shake Rainbow Kate, as well as a few other new accessories, and I am excited to share them with you! 
Kindi Kids Interactive Doll: Shiver 'n' Shake Rainbow Kate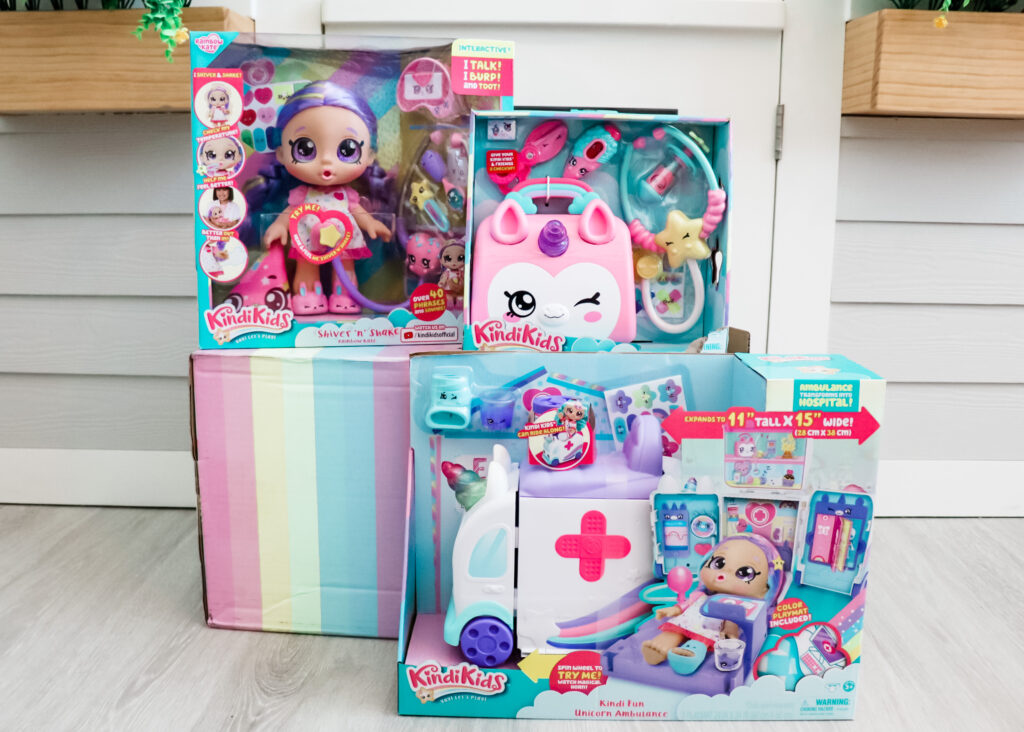 Kindi Kids are the cutest little preschoolers around and the captivating dolls have been loved by my girls for a while now. These adorable dolls are from the Moose Toys brand line. Moose Toys is a wonderful family owned, Australian based toy brand that we love! New to the Kindi Kids' brand is their new 'Kindi Kids Interactive Doll Shiver 'n' Shake Rainbow Kate. She brings you along to a new corner of Rainbow Star Kindergarten: The Doctors Corner! This new friend gives your child the opportunity to nurture her back to health with some interactive guides. The outcome is very rewarding for any little one and it is so fun to watch!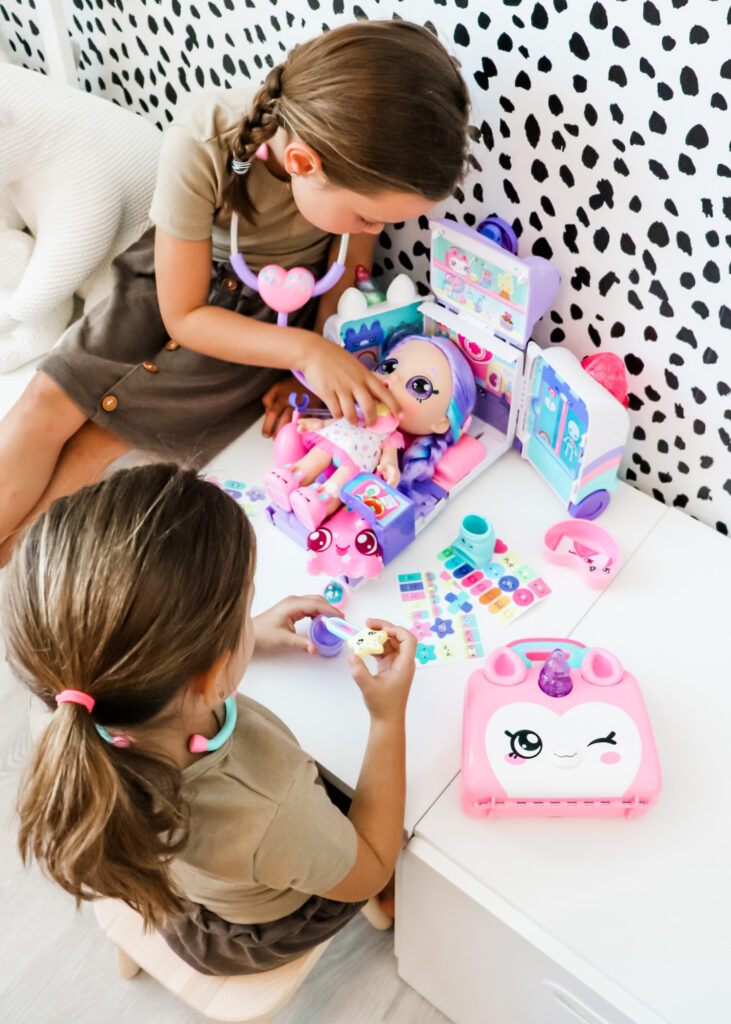 My middle daughter is called our household doctor because she is always the first one running to everyone's side when they get a boo-boo. It is so perfect that now she gets to nurture her new friend, Rainbow Kate, back to health too! While each doll is super unique with their big glittery eyes, fun bobble head and bright colored hair I think my daughter has picked her new favorite in Rainbow Kate! But every doll is unique and it really is hard to just pick one, which may be why we have so many!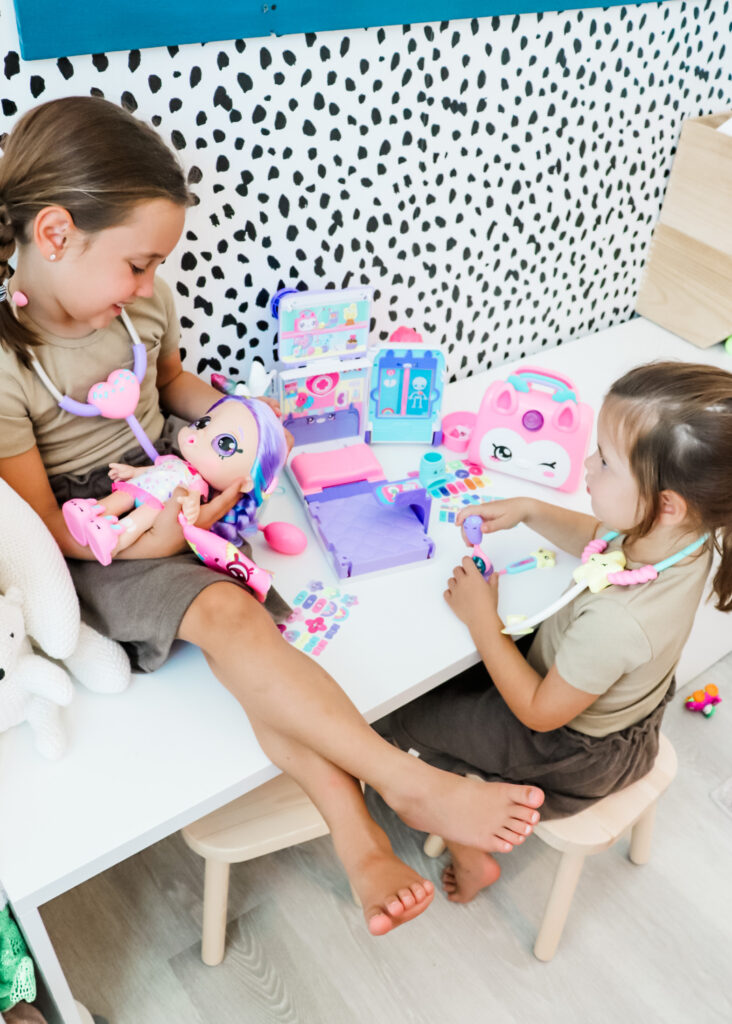 Shiver N Shake Rainbow Kate is $39.99 and is available at all major retailers such as Amazon, Walmart, Target and more.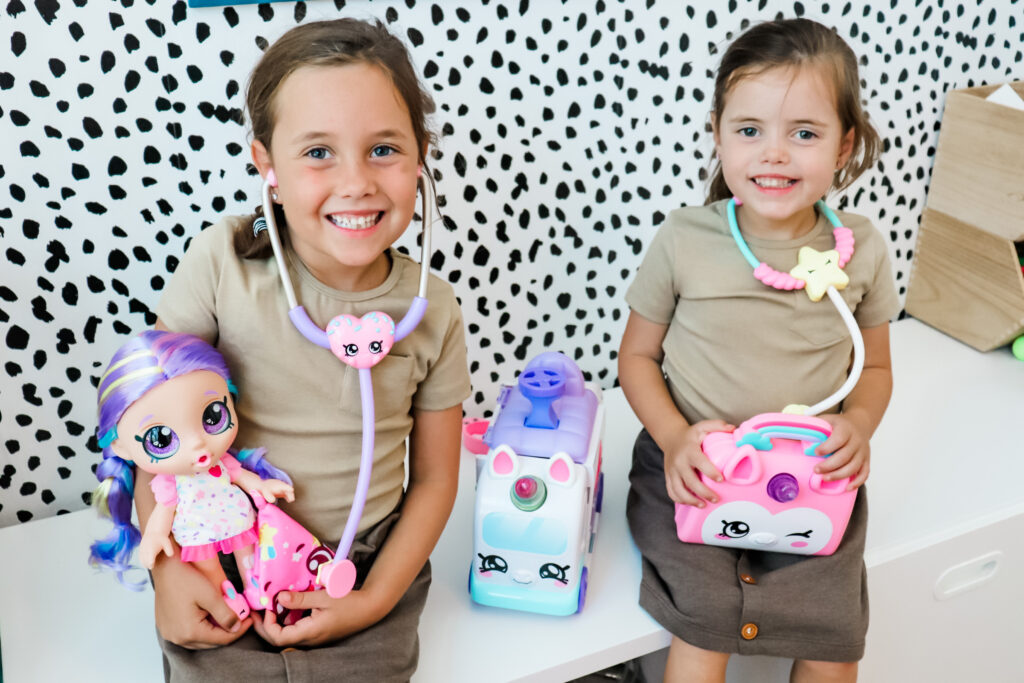 Kindi Kids Doll Accessories / Baby Doll Doctor Kits
Playing doctor is always fun for kids and now they get to do it with their favorite interactive dolls at Kindi Kids! Shiver N Shake Rainbow Kate on her own comes with multiple touch point sensors that let your child know how she is feeling (which isn't well at first!) BUT after some tender love and care Rainbow Kate gets "all better!" The best part too is all of the accessories available to go along with her! Here are the ones we received:
Kindi Fun Doctor Bag: This bag contains even more fun accessories to aid in ger check up and make her all better. It also is the cutest little doctor bag I've ever seen! It locks with the adorable purple unicorn horn and my girls love it! Bandaid stickers and stethoscopes are among a few of the adorable items inside!
Kindi Fun Unicorn Ambulance: This ambulance is super cute and compact. It serves as a doctors office when it is time to make Shiver N Shake Rainbow Kate feel better. Then turns into a ride on unicorn for her when is well again! I love how easy it folds and all the detailed components of this set! 
Together my girls have loved playing with these 3 sets by Kindi Kids and are enjoying their new kindergarten version doctor's corner! I hope you love them too! Enjoy! 
Make sure you follow along on social media for more!
Click here for more girls gift ideas!
If you loved this post, I think you'd like these ones too:
5 Unique Gifts For Kids This Holiday Season
Pretend/Imaginative-Play Themed Toys
Creative Gift Ideas For Young Girls – Gifting Outside The Box