Throwing a backyard outdoor movie night for your kids and their friends is a super fun idea for this summer, but you know what makes it even more fun? Some cheap inflatable kiddie pools! Yes, simply blow up the kiddie pools and have each kid make their own "nest" to watch the outdoor movie in. Making your own outdoor movie night with kiddie pools is easy; keep reading to find out how!
How to Host an Outdoor Movie Night
Hosting an outdoor movie night is simple. You only need a few things and some friends to make it a super fun summer activity for kids!
To put together your own outdoor movie night for your kids, take a look at the list of essentials for a fun outdoor movie night for kids below and make your shopping list!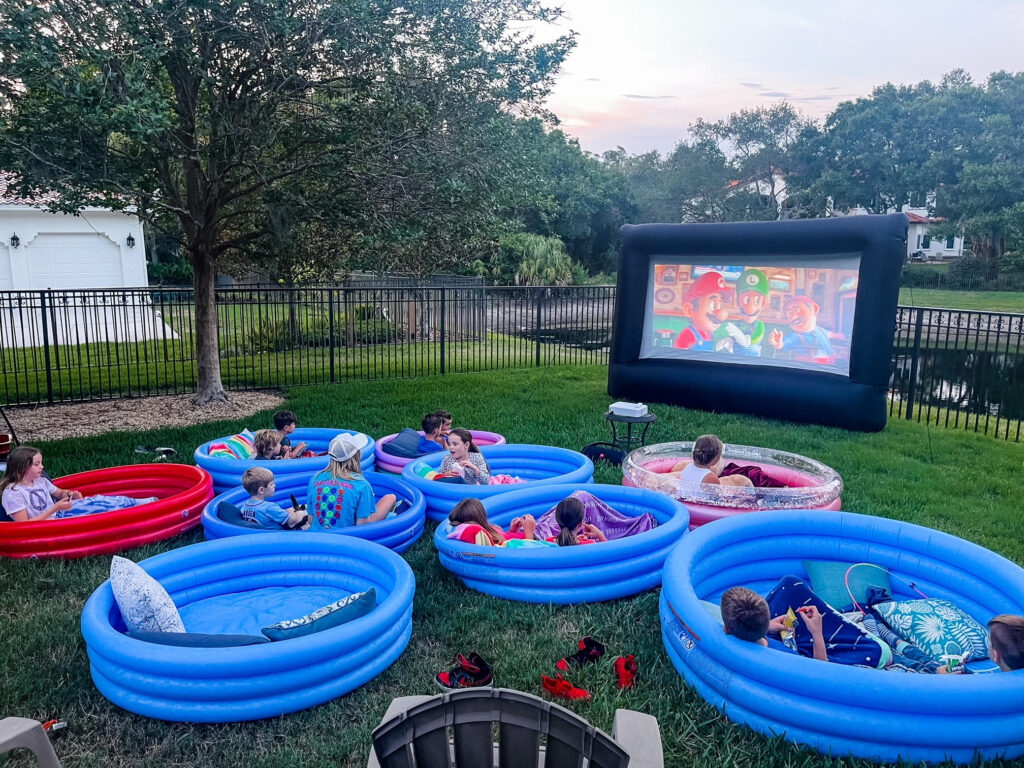 Essentials for a Fun Outdoor Movie Night for Kids
When it comes to putting together a fun outdoor movie night, you're going to need some basics.
1. Outdoor Movie Projector
When selecting a movie projector for outdoor movie nights for kids, there are a few key things to consider. 
First, you'll want to prioritize durability and portability, as the projector will likely be moved and set up frequently. Look for a model that is designed for outdoor use and has a sturdy build to withstand weather conditions.
Next, pay attention to the brightness and resolution of the projector. Opt for a higher brightness level, measured in lumens, to ensure clear and vibrant images. Additionally, a projector with a higher resolution will provide sharper details and a more beautiful viewing experience.
Consider the connectivity options available with the projector. Look for models that offer multiple input ports, such as HDMI or USB, to accommodate various devices like laptops, DVD players, or gaming consoles. Ones that work via Bluetooth are also so helpful for streaming from your phone! This versatility will allow you to easily connect different sources and provide a wide range of entertainment options for the kids.
Lastly, take into account the audio capabilities of the projector. While some projectors have built-in speakers, they might not provide the best sound quality for outdoor screenings. You might want to consider investing in external speakers or connecting the projector to a separate sound system to enhance the audio experience.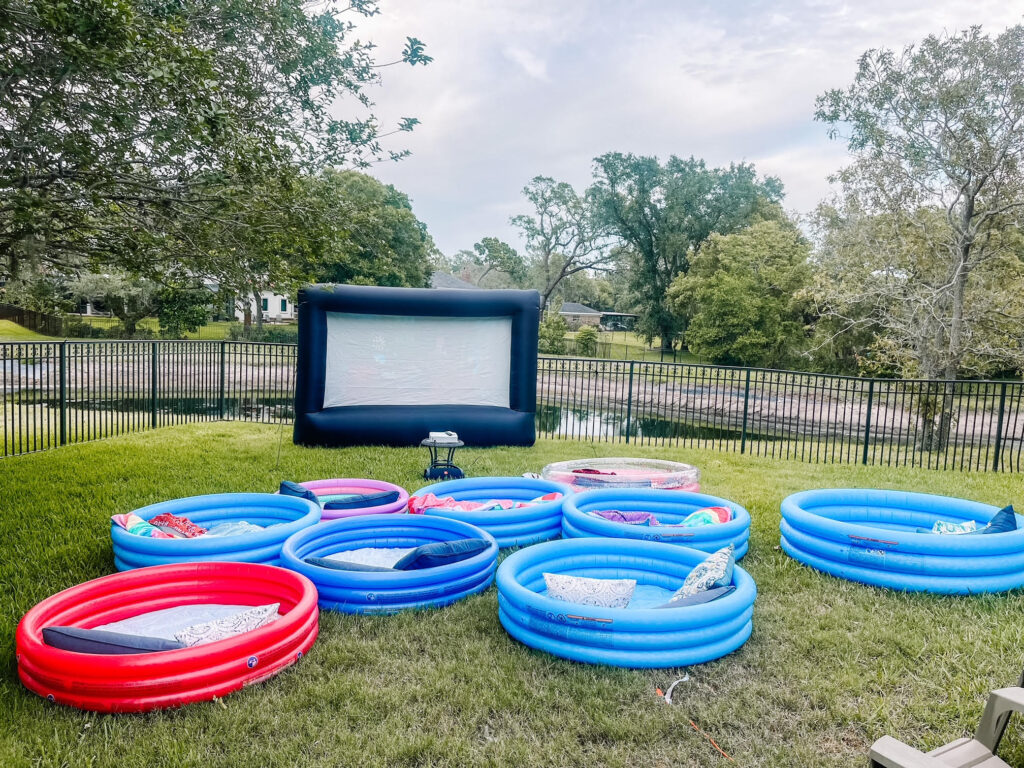 Shop my picks for an outdoor movie projector:

2. Screen
Choosing a screen for the projector to play the movie on is easy. Some projectors come with one, but if yours doesn't, Amazon has a huge selection. You can grab a screen specifically for outdoor movie nights, or you can grab a large King size white flat sheet. They work just as well!
Then you'll need your stand. If you have a tall fence, it would be easy enough to clip the screen to that. If not, you can buy stands. Again, they might come with the projector or with the screen but if not, Amazon to the rescue once again. Shop below or just type in "movie projector screen stand".
Shop my picks for movie night screens and stands:

3. Inflatable Pools
Now for the most fun part of the outdoor movie night with kiddie pools– the pools themselves!
This is where you can decide which direction you want to go. You could have each kid bring their own small inflatable kiddie pool, or you could purchase them yourself. For our outdoor movie night, I purchased my own for the kids to make the other parent's lives easier. 
Then comes choosing your budget. How much do you want to spend on them? Remember, you'll be purchasing one for each child so it might add up quickly. I purchased ours from ____ and loved them! They worked out great.
You can easily shop from Amazon for a large selection of inflatable kiddie pools for your movie night. Choose from different colors and designs to make the night even more fun!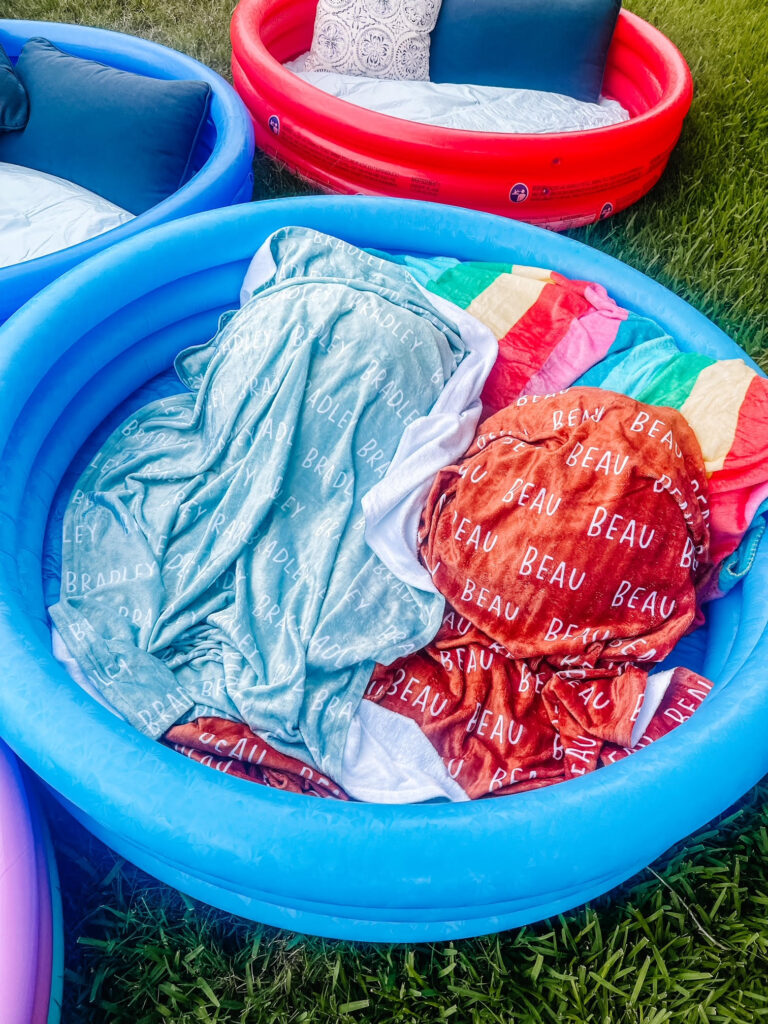 Shop my picks for inflatable kiddie pools:

4. Blankets and Pillows
Now for making the kiddie pools comfortable. You can, again, decide whether you want the kids joining the party to bring their own or if you want to provide them. It might make the kids more comfortable to bring their own, but that's up to you!
I do recommend either asking them to bring or purchasing at least (1) pillow and (1) blanket to make the evening as cozy as possible. But of course, the more the merrier and the more comfortable they will be!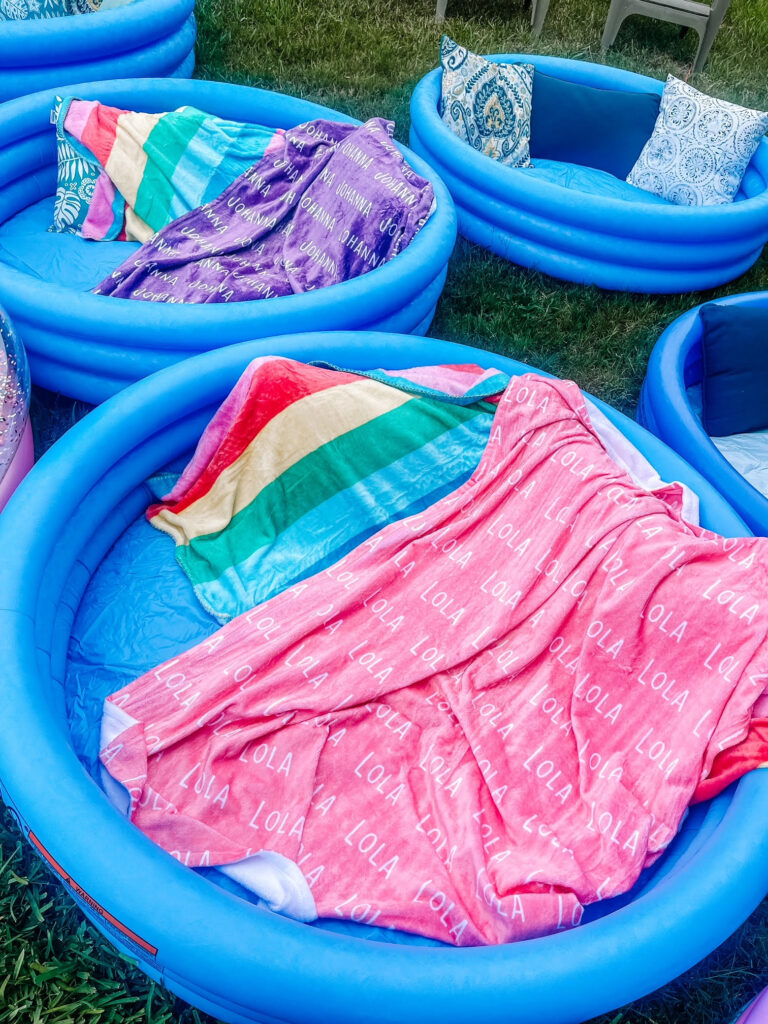 5. Snacks
Keep the snacks simple! Here are some ideas for snacks for your outdoor movie night with kiddie pools:
Popcorn: Classic and always a hit, popcorn is a must-have movie snack. You can offer different flavors like buttered, caramel, or cheesy. Tip: did you know you can purchase movie theater popcorn without seeing a movie? Such a fun option for getting large amounts of yummy popcorn for the outdoor movie night!

Pretzels: Pretzels are a crunchy and salty snack that kids love. You can provide traditional pretzels or try out different shapes and flavors for variety. Bonus: get some chocolate hummus for dipping.

Fruit Kabobs: Skewer some colorful fruits like strawberries, grapes, and pineapple for a refreshing and healthy snack option. This is a pretty mess free option for the kids!

Mini Pizzas: Make

mini pizzas using English muffins

or bagels as the base and let the kids add their favorite toppings. Bake them ahead of time and serve them during the movie.

Cheese and Crackers: Set up a platter with an assortment of cheese slices and different types of crackers. It's a simple yet snack option for kids that requires minimal prep.

Vegetable Sticks with Dip: Offer a variety of sliced vegetables like carrots, celery, and bell peppers with a delicious dip such as ranch or hummus. 

Nachos: Create a

DIY nacho bar

with tortilla chips, melted cheese, salsa, guacamole, and sour cream. Kids can customize their nachos to their liking. If you're worried about the mess– this option might not be the best idea. Try walking tacos instead!

Mini Sandwiches: Prepare bite-sized sandwiches with kid-friendly fillings like ham and cheese or peanut butter and jelly. Cut them into fun shapes with cookie cutters. I love this mess free idea for a late dinner for the kids.

S'mores: Set up a small fire pit or use a portable s'mores maker for a classic outdoor treat. I suggest investing in a portable s'mores maker! Provide graham crackers, marshmallows, and chocolate for kids to assemble their own s'mores.

Fruit Popsicles: Make or buy fruit popsicles in various flavors and offer them as a yummy frozen treat during the movie. Offer them napkins or a bowl to avoid the mess!
Remember to consider any dietary restrictions or allergies when planning the snacks, and provide alternative options if needed. Enjoy the movie and the delicious snacks!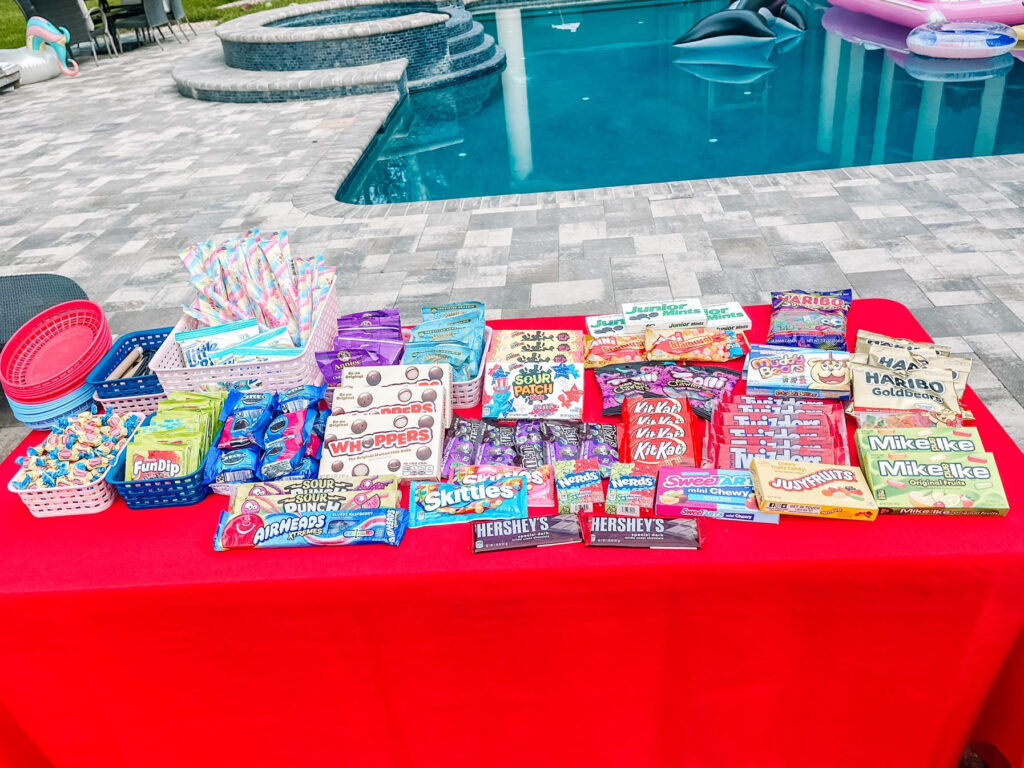 6. Movies
The classics are the obvious go-to's here in my book. Here are some movies that we adore for movie nights with friends:
The Lion King" – A classic Disney animated film that tells the story of Simba, a young lion prince, and his journey to reclaim his rightful place as king.

"Toy Story" – Join Woody, Buzz Lightyear, and their toy friends in this heartwarming Pixar film about friendship and adventure.

"Moana" – Follow the courageous and spirited Moana as she sets sail on a daring journey to save her island and discover her true identity.

"Finding Nemo" – Dive into an underwater adventure with Nemo, a young clownfish, and his father Marlin, as they search for Nemo who has been captured by a diver.

"Frozen" – Enter the magical world of Elsa, Anna, and Olaf in this enchanting Disney film filled with memorable songs and a heartwarming story of love between sisters.

"Zootopia" – Join Officer Judy Hopps, a determined rabbit, and the sly fox Nick Wilde as they uncover a conspiracy in the bustling animal metropolis of Zootopia.

"The Incredibles" – Follow the Parr family, a group of superheroes with extraordinary powers, as they team up to save the world from a supervillain.

"Shrek" – Enter the whimsical world of Shrek, the ogre, and his hilarious adventures with his sidekick Donkey, as they rescue Princess Fiona from a tower guarded by a dragon.

"The Princess and the Frog" – Set in the vibrant city of New Orleans, this Disney film follows Tiana, a hard working waitress, as she embarks on a magical journey to fulfill her dreams.

"Paddington" – Join the lovable and polite Paddington Bear as he navigates life in London and brings joy to those around him.

"Coco" – Embark on a colorful and musical journey with Miguel as he explores the Land of the Dead and uncovers family secrets in this heartwarming Pixar film.

"Despicable Me" – Meet the lovable supervillain Gru and his mischievous Minions in this animated comedy that follows their adventures as they attempt to steal the moon.

"Tangled" – Join Rapunzel, the long-haired princess, and the charming bandit Flynn Rider in a magical and humorous adventure filled with music and romance.

"How to Train Your Dragon" – Fly into the fantastical world of Vikings and dragons as a young Viking named Hiccup befriends a dragon and helps his village understand the true nature of these creatures.

"The LEGO Movie" – Enter the imaginative LEGO universe as Emmet, an ordinary construction worker, is mistaken for the extraordinary MasterBuilder and joins a group of heroes to save the world from an evil tyrant.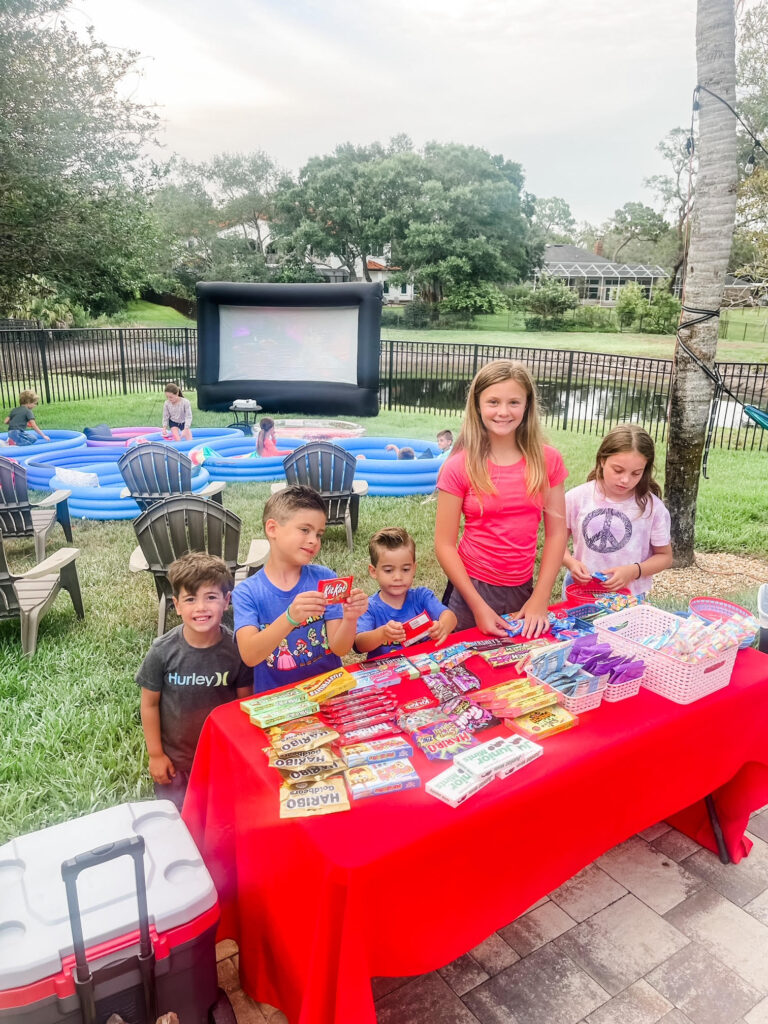 How to Put Together an Outdoor Movie Night with Kiddie Pools
You might have already figured it out by now, but putting together the outdoor movie night with kiddie pools is incredibly simple. 
Invite the friends

Purchase the kiddie pools

Inflate kiddie pools day of in the backyard

Set up the movie projector and screen

Put together your snack table

Offer guests pillows/blankets or have them bring their own and have them make their own kiddie pool their own version of comfortable

Encourage guests to grab their snacks

Play the movie come dusk/evening time for the most fun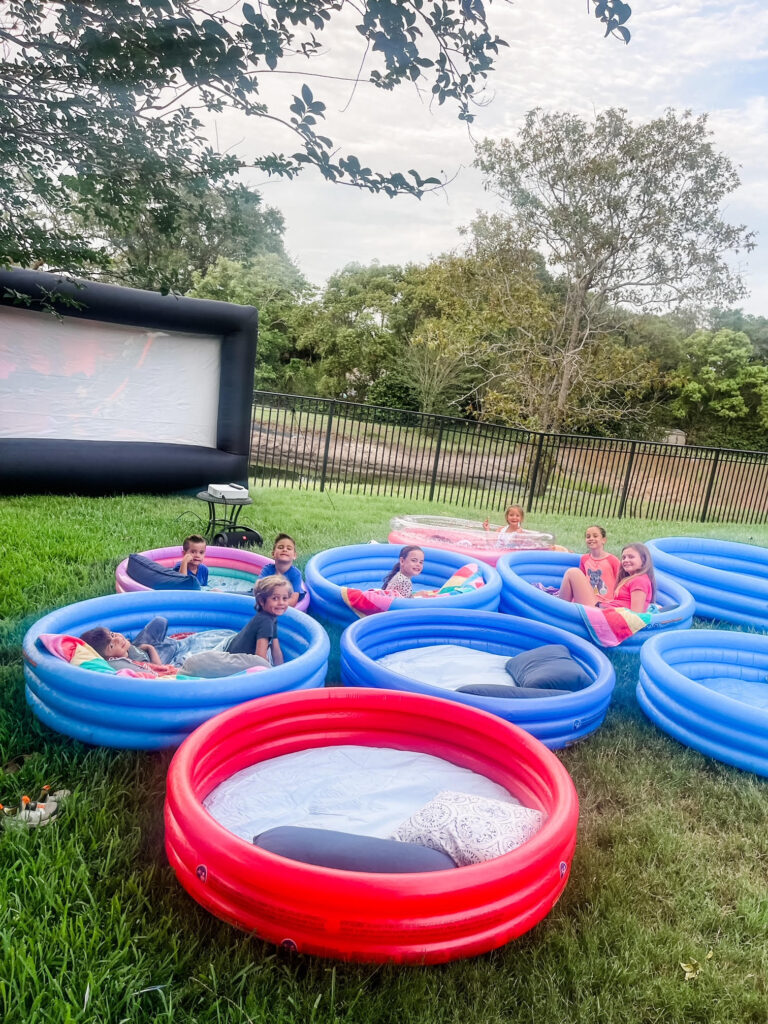 That's it! That is all you need to have a successful and fun outdoor movie night with kiddie pools.
I hope this post gave you some ideas for putting together your own outdoor movie night with kiddie pools! Now have some fun and make those summer memories.
For more kids ideas, check out this post about a pop it themed party and this one about a koala themed party!