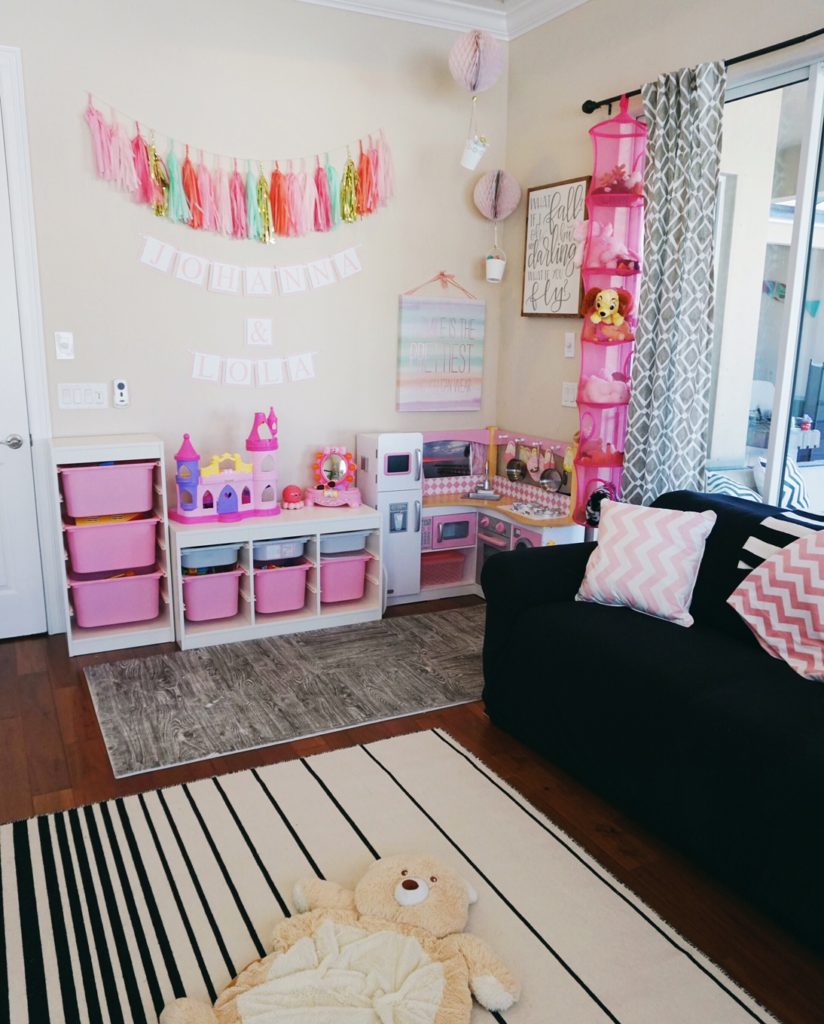 Realistic Playroom for Toddlers Reveal
The wait is over and I am finally ready to show you the girls realistic playroom! I don't have to tell any mom that an influx of toys is just par for the course when it comes to having children, you all know that already. But what I can say is that organizing them and displaying them in such a way that toys don't get forgotten about can be fun and easy! This room is truly a realistic playroom for toddlers!
When we first built our house this room was DEFINITELY going to be our home gym. Then came along our first daughter. This room slowly transitioned from gym, to home office, to guest room + play area + home office until I finally threw in the towel, said sorry to our guests and made this area 100% the girls playroom paradise!
Let me walk you the realistic playroom for toddlers and give you a few must haves along the way.
How to Set Up a Realistic Playroom for Toddlers
Storage
Find your local IKEA and go get some storage. Their pieces are totally kid friendly and perfect for this type of use. I spruced up some of the Ikea pieces with some storage bins from Target's new pillowfort collection and I think it adds a little more elements to the room!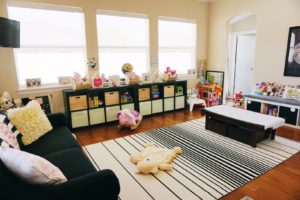 Reading area and books
We have SO many books. It was important to me to make a space that was inviting and made anyone want to curl up and grab a book. I think this cuddler from ZGallerie and this Canopy from Land of Nod does just that! Along side is another storage shelf from Ikea holding a handful of our children's book collection.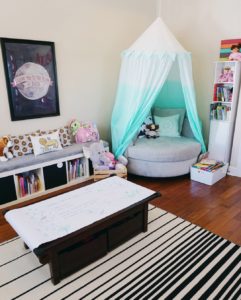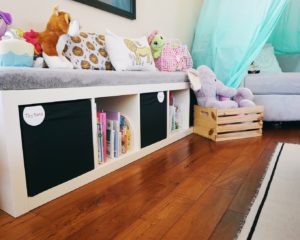 Imaginative Play
I try to encourage my girls to have some independent playtime in the mornings before breakfast (not going to lie, mama needs her coffee). It's good for them and it's good for me. This area of their playroom does just that. It's colorful and inviting and they can truly use their imagination. Here we have a KidKraft kitchen set as well as some of their most played with toys like the playfood that goes along with the kitchen, her Disney character dolls and all of her "Little People by Fisher Price" toys. The floor in this area is padded by an adorable playmat I found at Diapers.com. This whole area is a favorite of mine and I love how it came out!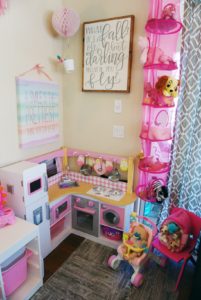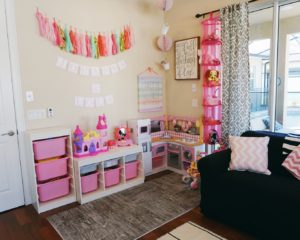 Wall Décor
I wanted some personalized pieces in the room and I love how these name banners by Two Chihuahuas turned out as well as the tassle from Glamfete! My favorite artwork in the room is this sign by Home Spun Signs. This quote is perfect for two young girls and it really adds to the room. It was almost hard to choose which piece of theirs to order because as you can see here they have an AMAZING collection!!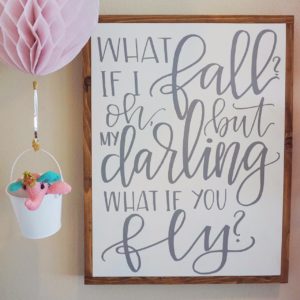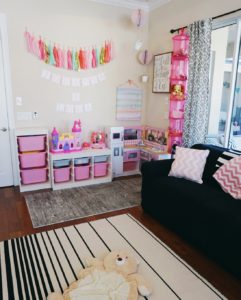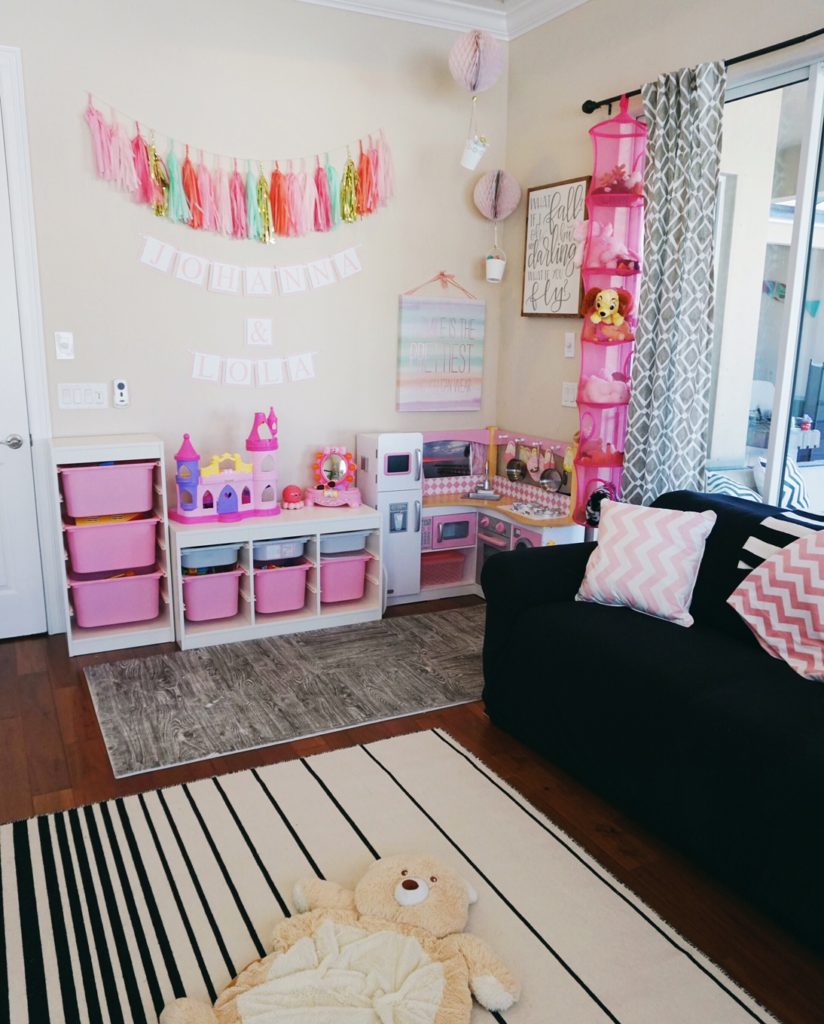 Learning Area
This little corner is meant for learning. This LeapFrog ABC Bus is probably one of my favorite educational toys we have for the girls. It was well beyond worth the tiny price tag and we use it daily. Our first has an amazing vocabulary and this helps her with that in a fun way. The floor pillows are by Ruffles and Beaux Baby and they are the perfect little cushions for this area.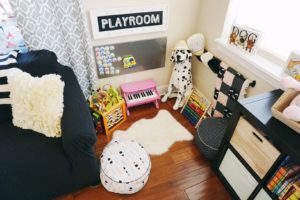 This art/activity table (in the photo above from #2) is from Land of Nod as well and the bottom is filled with crayons, markers, stickers and stamps. The roll of paper makes for an easy canvas for the girls creations! The table also has extender legs so it can grow taller with the girls. I definitely love that aspect of it.
The last thing I'll feature is the girl's new lego table. Which was actually a last minute inclusion. I have seen the cutest DIY lego table on Pinterest for a while now but in true non-DIY'er fashion I just held out for Ikea to realize this was a need/want and make one of their own. AND TA-DA…they did! I LOVE this FLISAT children's table and it is so perfect to throw a lego mat over and build whatever your mind can dream!
I hope you all enjoyed this playroom tour and I would love to know what you think below! Let me know!
More Playroom Inspiration:
Our Modern Playroom Design Reveal
Covered Outdoor Play Area For Kids